LaValley blasts North to All-Star victory
Yankees' Schwaab proposes during ceremonial first pitch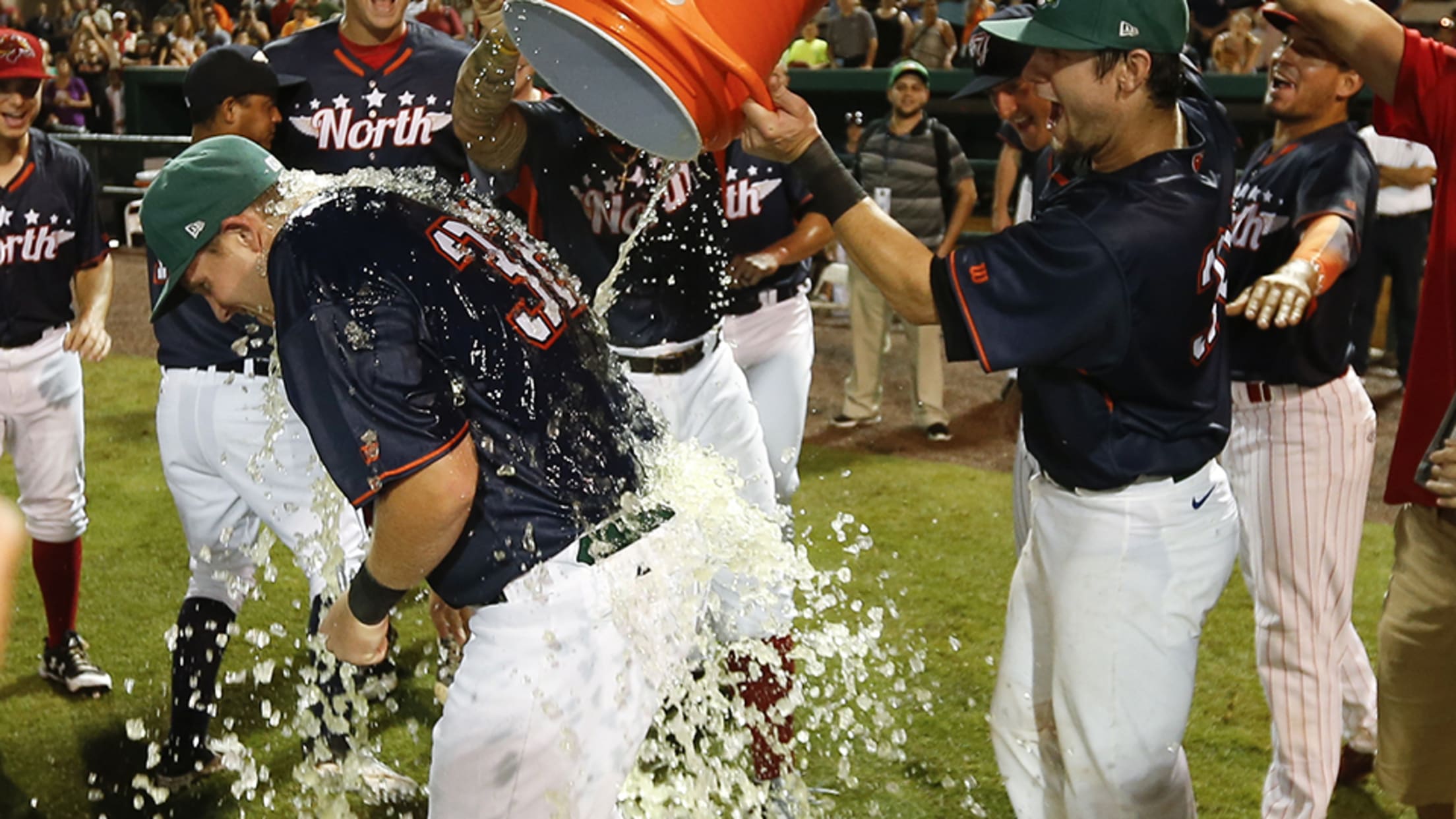 Gavin LaValley gets a Gatorade bath after earning MVP honors at the Florida State League All-Star Game. (Mark LoMoglio/Tampa Yankees)
LAKELAND, Fla. -- Gavin LaValley's invitation to the Florida State League All-Star Game came a little late. He turned out to be the guest of honor.The Daytona Tortugas slugger hit a pair of two-run homers to lead the North Division to a 5-2 triumph over the South before 3,553 at
LAKELAND, Fla. -- Gavin LaValley's invitation to the Florida State League All-Star Game came a little late. He turned out to be the guest of honor.
The Daytona Tortugas slugger hit a pair of two-run homers to lead the North Division to a 5-2 triumph over the South before 3,553 at Joker Marchant Stadium. Tortugas teammate Shed Long went 2-for-2 and scored twice.
Tampa Yankees reliever Andrew Schwaab pitched the North out of two bases-loaded jams -- but that ended up being the easiest part of his night.
When the league announced its initial All-Star rosters on June 1, LaValley was not on them, despite hitting 13 homers. Five days later, he went yard twice to grab the FSL lead. Injuries and promotions mounted on the North roster -- 13 players were unable to participate -- and LaValley earned a nod.
"I was relaxed," the Reds' 25th-ranked prospect said. "I was just trying to have fun. I just went out and played. If I didn't make it, I didn't make it. I didn't let it affect me too much either way."
Serving as the North's designated hitter, LaValley wasted little time showcasing his power and went on to earn unanimous MVP honors. He declined to participate in the pregame Home Run Derby, which ended up being shortened due to rain. The decision turned out to be a wise one.
With one out in the first inning, Long singled to center field. LaValley battled through a seven-pitch at-bat against South starter Pedro Vazquez (0-1) before putting the North ahead for good with a blast to left-center.
"We feed off each other and that's what happens," Long said. "I get on and, boom, damage."
The teammates repeated the feat in the third. Long singled to left with two outs before LaValley went deep again, this time to left off Dereck Rodríguez, extending the lead to 4-0.
"First one was just a 3-2 fastball," LaValley said. "The second one was a curveball in, it just didn't break out over the plate."
Schwaab preserved the shutout with clutch pitching in the fourth and fifth. Lakeland's Kyle Dowdy started the fourth for the North but walked two batters and hit another around two strikeouts. Schwaab came on got Bradenton outfielder Casey Hughston to ground out to second.
"I was just so pumped up to come in because I definitely needed to get out of that situation," Schwaab said. "It was a real good feeling. Then they send me out [in the fifth] and I felt even better."
An inning later, Schwaab got into trouble on his own. With one out, Charlotte's Jake Cronenworth doubled, St. Lucie's Jhoan Urena and Mets DH Patrick Mazeika singled to load the bases. Schwaab struck out Logan Hilland got fellow Marauder Will Craig to fly to center.
"I kind of did it to myself a little bit, the bases loaded situation," Schwaab said. "I thought after one hitter, they're going to take me out. But they left me in and I thought, 'I'm going to get him.' I walk him. I think they're going to take me out and they leave me in -- I had to get out of it."
Before the game, Schwaab worried a rainout would affect plans to propose to his girlfriend, Lauren Stoeckle, during the ceremonial first pitch. When she took the mound, he got up from behind the plate and asked for her hand.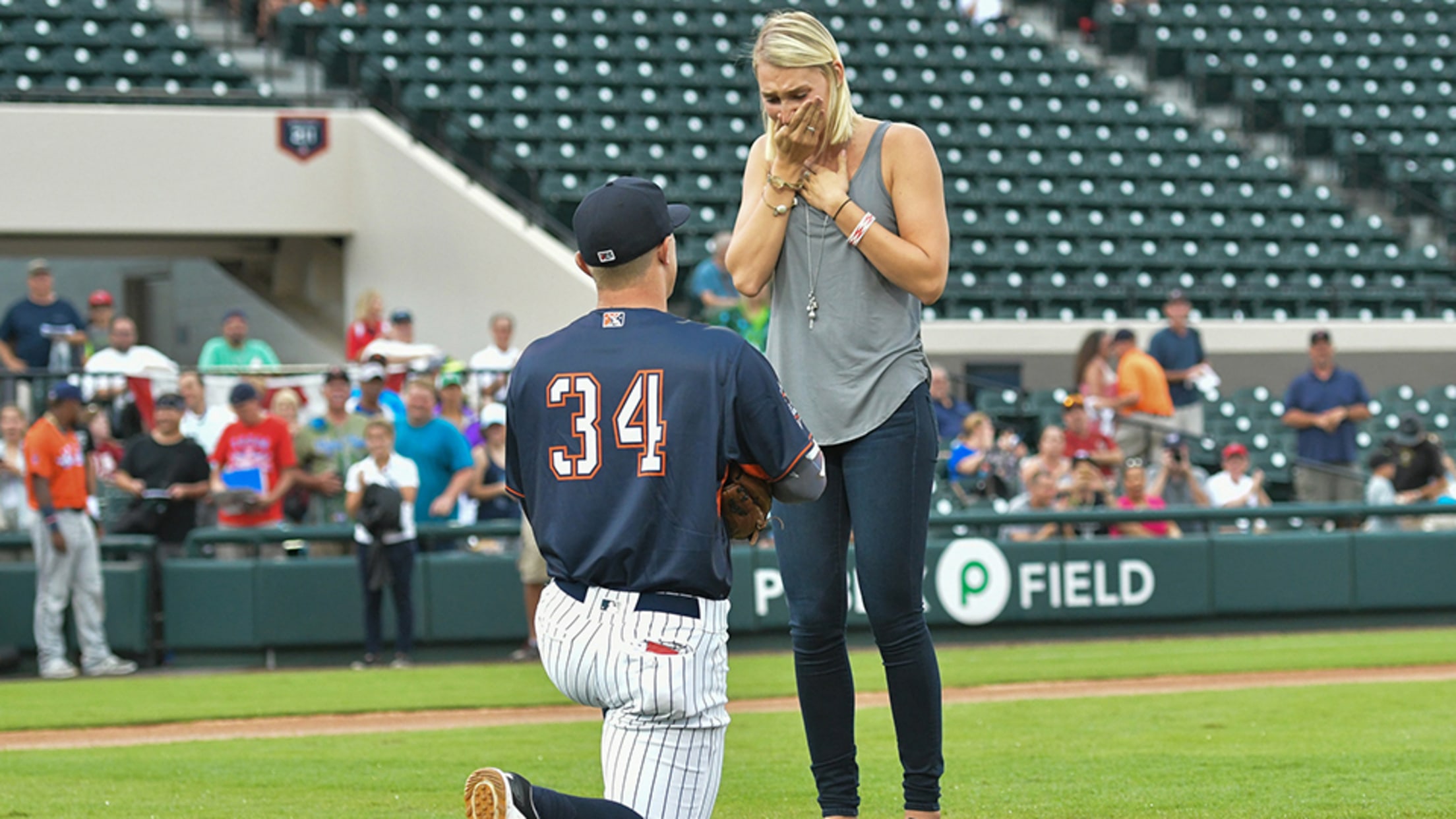 Andrew Schwaab proposed to his girlfriend, Lauren Stoeckle. (Tom Hagerty/MiLB.com)
"I was really praying the rain would go away and we would at least get the start of the game in," Schwaab said. "If it didn't go away, I'm sure I'd have come up with something nice upstairs, but I'm just thankful we got the game in.
"I told some of the guys I was more nervous to do that than pitch in front of 40,000 fans in a big league game. I was freaking out. It was a whole different feeling."
Even for LaValley, the pregame moment turned out to be a highlight of the night.
"I didn't know until two minutes before he was doing it," he said of the proposal. "He was catching the first pitch and [Tortugas catcher] Chris Okey told me. I thought, 'This is going to be exciting.'"
Long said he was impressed by Schwaab's poise on the mound -- for both the proposal and the pressure situations.
"I asked him, 'Did she say no?' I told him she took too long to answer," Long joked. "That's a huge step in life for him. He did a great job on the mound. To handle that adversity he went through, that moment, that's big-time. That's showing a lot."
The North padded its lead with a run in the sixth when Florida outfielder Tyler Neslony scored on Okey's sacrifice fly.
After failing to put runners on base in the sixth, seventh and eighth, the South avoided the shutout with two outs in the ninth. St. Lucie's J.C. Rodriguez singled home Palm Beach's Randy Arozarena and scored on a throwing error by Fire Frogs third baseman Austin Riley.
"I don't think there's frustration with anyone here," Cronenworth said. "It's an All-star Game. Everyone is here to have a good time. It's the best arms in the league, it's the best hitters in the league. They just came out on top."
Cronenworth went 2-for-3 for the South, which left nine on base.
Erin Brown is a contributor to MiLB.com.