Dudley Field played home to historic outburst
Diablos, Golden Gators set Texas League records in 35-21 slugfest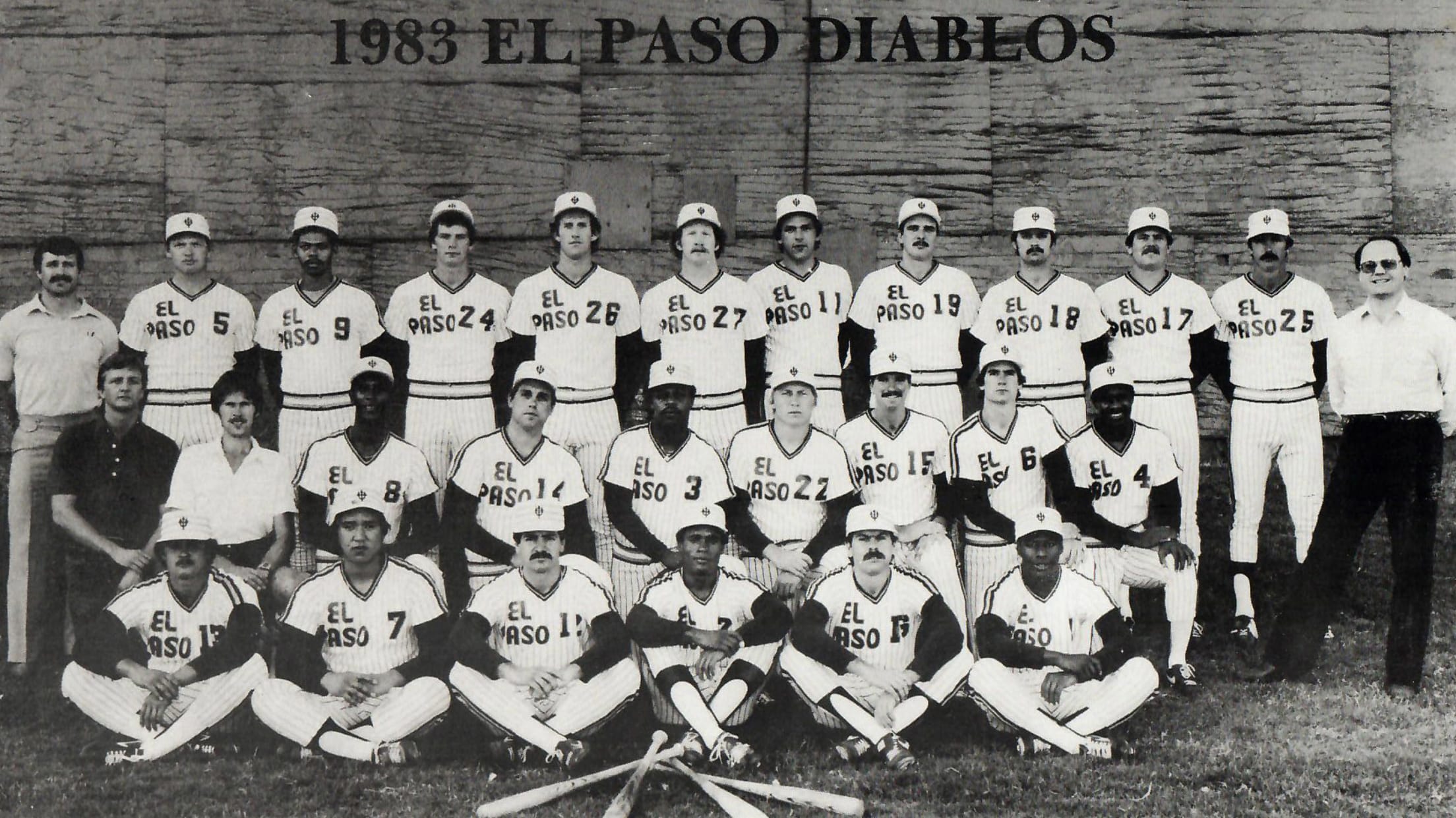 The Double-A El Paso Diablos scored more than 900 runs during the 1983 Texas League season. (courtesy Texas League)
No place in Minor League Baseball history provided the spectacle that El Paso's Dudley Field did regularly in its heyday. At an elevation of more than 4,000 feet, the dry desert air and constant high winds combined with quirky outfield dimensions made the stadium a launching pad for baseballs. Throw
No place in Minor League Baseball history provided the spectacle that El Paso's Dudley Field did regularly in its heyday.
At an elevation of more than 4,000 feet, the dry desert air and constant high winds combined with quirky outfield dimensions made the stadium a launching pad for baseballs. Throw in a zany public-address announcer -- Brooklyn-born Paul Strelzin -- who kept fans engaged and entertained, and the birth of innovative traditions like receiving a tissue at the gate to wave goodbye to an opposing pitcher taken out of a game while "Bye Bye Baby" by Janis Joplin blared over the speakers, and there was never a dull moment at the adobe-block ballpark.
Home of the El Paso Diablos since the team's inception in 1974 in the high-powered Texas League, crooked numbers graced its scoreboard early and often. With 340-foot fences in left and right field and not much of a dropoff in center except for a 36-foot-tall green wall, the park commonly referred to as "The Dudley Dome" was a dream for hitters and a nightmare for pitchers.
Still, what occurred there on April 30, 1983 remains extraordinary.
On what felt like a normal Saturday night, with 7 percent humidity and 35-mph wind gusts to right field, the Diablos and Beaumont Golden Gators made Texas League history:
El Paso 35, Beaumont 21.
The highest-scoring game ever played on the fabled circuit.
"This ballpark is just absolutely electric. That's the only way I can explain it," then-Diablos manager Tony Muser told The Galveston Daily News. "Honest, I came into the dugout one time to get a chew and saw sparks flying."
The teams combined for 56 hits and 53 RBIs to break records that had stood since June 15, 1902. The 38 combined singles set another league mark. All four previous records were notched in Corsicana's 51-3 victory over Texarkana, when the teams totaled 53 hits and 45 RBIs. And according to Texas League officials, there was no outfield fence in that park and Texarkana had only two pitchers.
The Double-A affiliates of the Brewers and Padres respectively also combined for eight dingers and 10 doubles while committing nine errors. Eight pitchers were used and six-and-a-half dozen baseballs were disposed of. El Paso scored in every inning -- eight as the home team -- and Beaumont crossed the plate in seven of the nine frames.
And all of that doesn't even include the wildest stat from the game: everything unfolded in three hours and 39 minutes. (inset mind blown emoji)
"My scorecard was unlike anything you've ever seen. It looked like it had a case of the measles," then-Diablos play-by-play radio voice Jon Teicher said. "You only have a certain number of squares for a nine-inning game and this was just a nine-inning game. Everything was completely filled in and a really dark color for runs scored. … The scorecard is the first thing that comes to mind when I think back to this night.
"But it really wasn't all that surprising, given what The Dudley Dome was renowned for back in the day. The park had no warning tracks, no power alleys to speak of, there was a hill in front of the fence in center that center fielders had to navigate if a ball was hit there. There was also a ledge that came out at the middle of the center-field fence, and if the ball struck that ledge, there was no telling where it would bounce … it was like a pinball game where they happened to play baseball."
Mike Felder led the Diablos offense with a career-best nine RBIs -- on only two hits. The speedy center fielder clubbed a grand slam and a three-run homer, adding a sacrifice fly and … a sacrifice bunt?
"It was early in the game and we had a runner on third. I wasn't swinging the bat that well at the time and we were down a run," Felder said. "So I thought, 'Let me put this bunt down and try to beat it out. At the very least, I'll get the run in and tie the game.' And that's what happened."
The Golden Gators took a 3-0 lead in the top of the first. Felder's bunt in the bottom of the inning squared things and was part of a six-run frame. The thought of laying down another bunt did not cross Felder's mind the rest of the game.
"We all know when it comes to hitting, even if you're not swinging well, it becomes contagious," he said. "All of a sudden, your whole psyche changes. You never want to be the one to kill a rally, and I just got into a flow and everyone in front of me started getting hits and it's just like, 'I gotta keep the line moving.' … But it seemed like I was getting up every inning, I couldn't believe it. I remember constantly thinking, 'I'm up again?'"
Known more for his speed and basestealing ability than his power, Felder admitted he changed his approach at the plate that night to swing for the fences. And another Dudley Field tradition was a big reason why.
"In El Paso, when you hit a home run, you pass your helmet around in the stands and the fans would put money in it. So you try to stay out there as long as you can, and people would come down and put money in your helmet," he recalled.
"You really didn't make much money in the Minors in those days -- even less than today -- so when I saw guys hitting home runs and getting paid, I thought to myself, 'Let me get some rent money.' It was the last of the month, rent was due the next day. So I just tried to join the party."
Teicher elaborated on the tradition.
"In every home game, after an El Paso batter would cross home plate he'd take his helmet off and head to the backstop screen. It was made of chicken wire and fans would stick their bills into the chicken wire and the players, while the next guy was batting, would walk around behind home plate plucking the money out of the chicken wire fence. And as long as the inning didn't end, they would pass their helmets around the bleachers behind the home dugout and even go walk across in front of the visiting dugout and collect bills there. A lot of these guys who were big home run hitters probably made more money at the park than from their salaries.
"That night, Felder probably made a month's worth of salary."
The 5-foot-8, 160-pounder, who became known as "Tiny Felder," also recalled a change in his manager's philosophy that night.
"Tony was used to high-scoring games, but he couldn't believe what was happening," Felder said. "He always would preach smart baseball: move guys over, steal bases. But that night, he threw strategy out the window. He kept telling us, 'Just make contact. Get the ball up.' And we weren't going to argue, we were all trying to make a few extra bucks."
Diablos first baseman Jim Paciorek entered the game in an 0-for-9 funk and went 6-for-7, all singles. Right fielder Stan Levi chipped in five hits, drove in seven runs and scored seven times.
"Sometimes it was hard to keep the concentration up high," Levi told The Baytown Sun. "But you just keep telling yourself that anything could happen."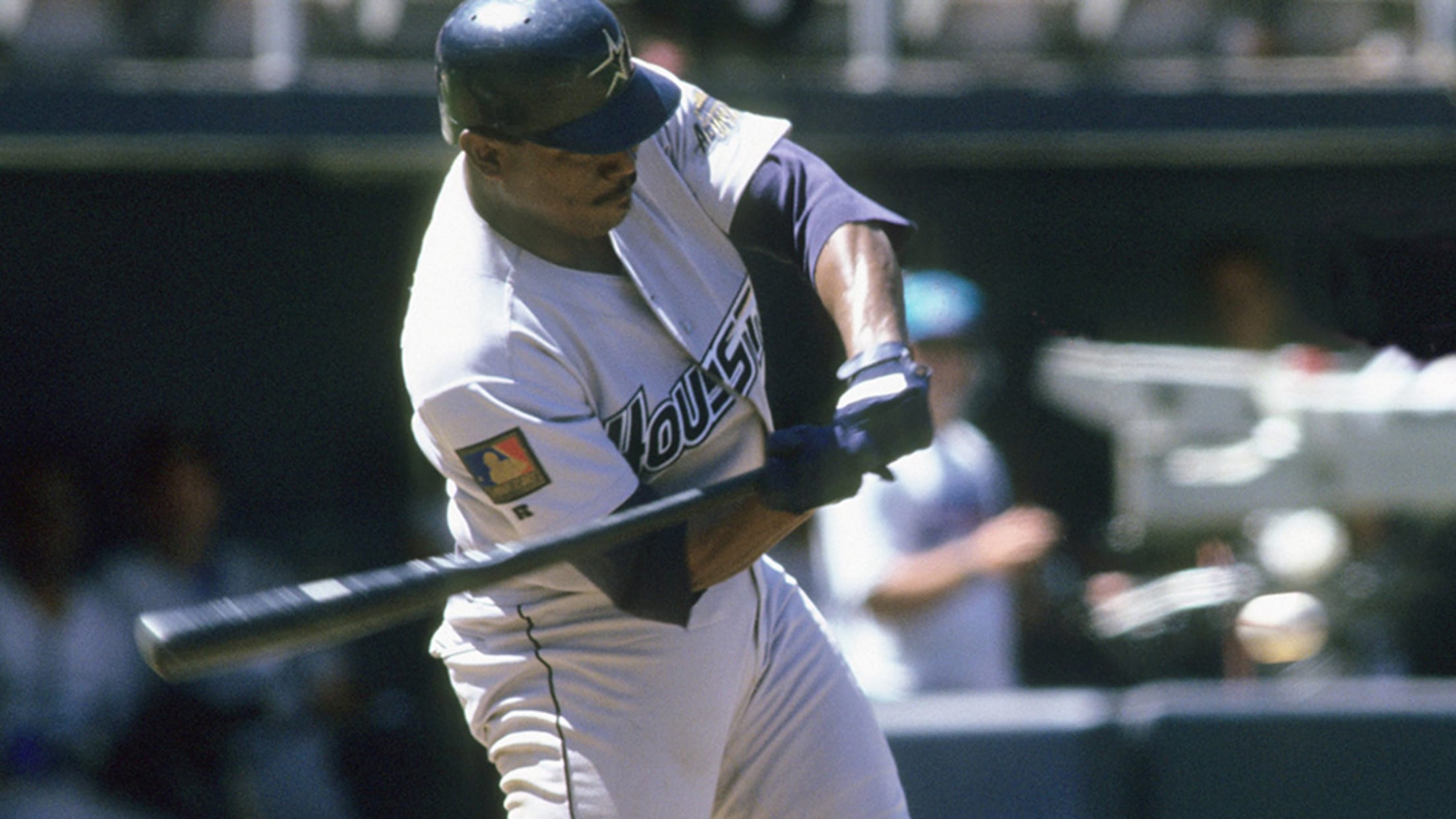 After taking a 6-3 lead heading into the second, El Paso fell behind, 11-10, in the fourth. But back-to-back six-run innings in the fourth and fifth put the Diablos ahead for good, although the Golden Gators continued to put up a good fight. Beaumont pushed three runs across in the fifth, seventh and ninth, also scoring in the sixth.
"The Padres had some guys on that side -- Ozzie Guillen, Jim Steels, Mark Parent -- who were swinging great too, so we couldn't just let up. Everyone was going up there and hitting the ball hard. And if you got it in the air, it was gone, and that's what everyone was just trying to do," Felder said. "So we had to keep focus and keep the hit parade going."
Jeff Ronk and Tony Incaviglia led the Golden Gators with four knocks apiece. Ronk also drove in four runs. Just one player on either side failed to record an RBI as the clubs totaled 107 at-bats.
"Everything that made contact with the bat was a hit," Muser, who often referred to the ballpark as "The House of Horrors" and "The Deadly Dome," told The New York Times. "The wind was blowing 30 miles an hour toward right field. Anything hit up in the air in that area was blown out.
"And the infield was hard as cement. We had 14 inches of snow not long ago that left the field in bad shape. Plus the University of Texas-El Paso has been playing doubleheaders here all week. A batted ball on that infield was like a golf ball in a bathtub."
Left-handed reliever Bob Schroeck notched his third win of the season, despite allowing seven runs on seven hits over four frames. On the other side, starter Jim Coffman was tagged with the loss after surrendering 13 runs -- eight earned -- on 10 hits over 2 1/3 innings.
Coffman was removed after cutting his finger while cleaning his spikes. He was replaced by infielder Dan Purpura, Beaumont's backup shortstop.
"The lineup cards back then had a spot for 'EP' (emergency pitcher) so that if you ran out of arms or the game was getting out of hand you just used one of your position players to pitch," Purpura said. "I remember I wasn't playing that game and I was upset because everyone was getting three, four, five hits and their batting averages were shooting way up. … But I went in and pitched a few innings. It was fun, but I remember being pretty sore the next day."
Purpura worked 2 2/3 frames and gave up 11 runs on 10 hits, including both jacks by Felder.
"It was a weird night," he recalled. "The balls were just flying all over the place. But I didn't do worse than the guys who were real pitchers, so I didn't feel too bad about it. My ERA didn't take as big a hit as some of our other guys."
Teicher, who was on the call for every Diablos home game from 1980-84, agreed.
"No one ever wanted to pitch here," he said. "Guys used to come down with sore arms when they came down to El Paso. When it came to Dudley Field, you would see the best of them miss their turn or have a hole shot in their statistics until they got out of there. … I remember in particular the San Antonio guys, in the Dodgers days -- Orel Hershiser and Fernando Valenzuela -- all came in and got lit up from time to time."
As Muser told The New York Times: "Nolan Ryan couldn't have gotten anybody out on Saturday night. Fernando Valenzuela pitched here three times before he went to the Dodgers and he never got past the fifth inning."
The record-setting contest was part of a five-game set between El Paso and Beaumont. The following afternoon, the Golden Gators scored nine runs in the opening frame en route to a 20-13 victory. In fewer than 24 hours, the clubs had scored 89 runs (Diablos 48, Golden Gators 41).
Beaumont went on to take the series, 3-2, having scored 79 runs on 90 hits, including 11 dingers. El Paso plated 70 runs on 81 hits with 14 roundtrippers.
"That ballpark was just so electric, man. The Dudley Dome, it just turned into a circus atmosphere real fast," said Felder, who played 899 games in the Majors with the Brewers, Giants, Mariners and Astros. "You always came in trying to feed off the night before, and the hitters on the other side thought the same thing. They knew playing there was a chance to raise their averages, so they circled those games on the calendar."
In 136 games in 1983, the Diablos scored more than 900 runs or an average of about seven per contest.
"It was all fun, you were never out of it in the Dudley Dome. … Such an electric year," Felder said.
On June 13, 1990, the Diablos officially said goodbye to the ballpark, which was demolished on Nov. 5, 2005.
"The Western Division of the Texas League was always especially high-powered offensively, in particular with Midland, Amarillo and San Antonio," Teicher said. "So to call a game that was the highest-scoring game in Texas League history and generated national interest back in that time was something you never forget."
Rob Terranova is a contributor to MiLB.com. Follow him on Twitter @RobTnova24.