Early Runs Set The Pace in 9-5 Shuckers Win Over Montgomery
Henry Notches First Four-Hit Night of the Season for Biloxi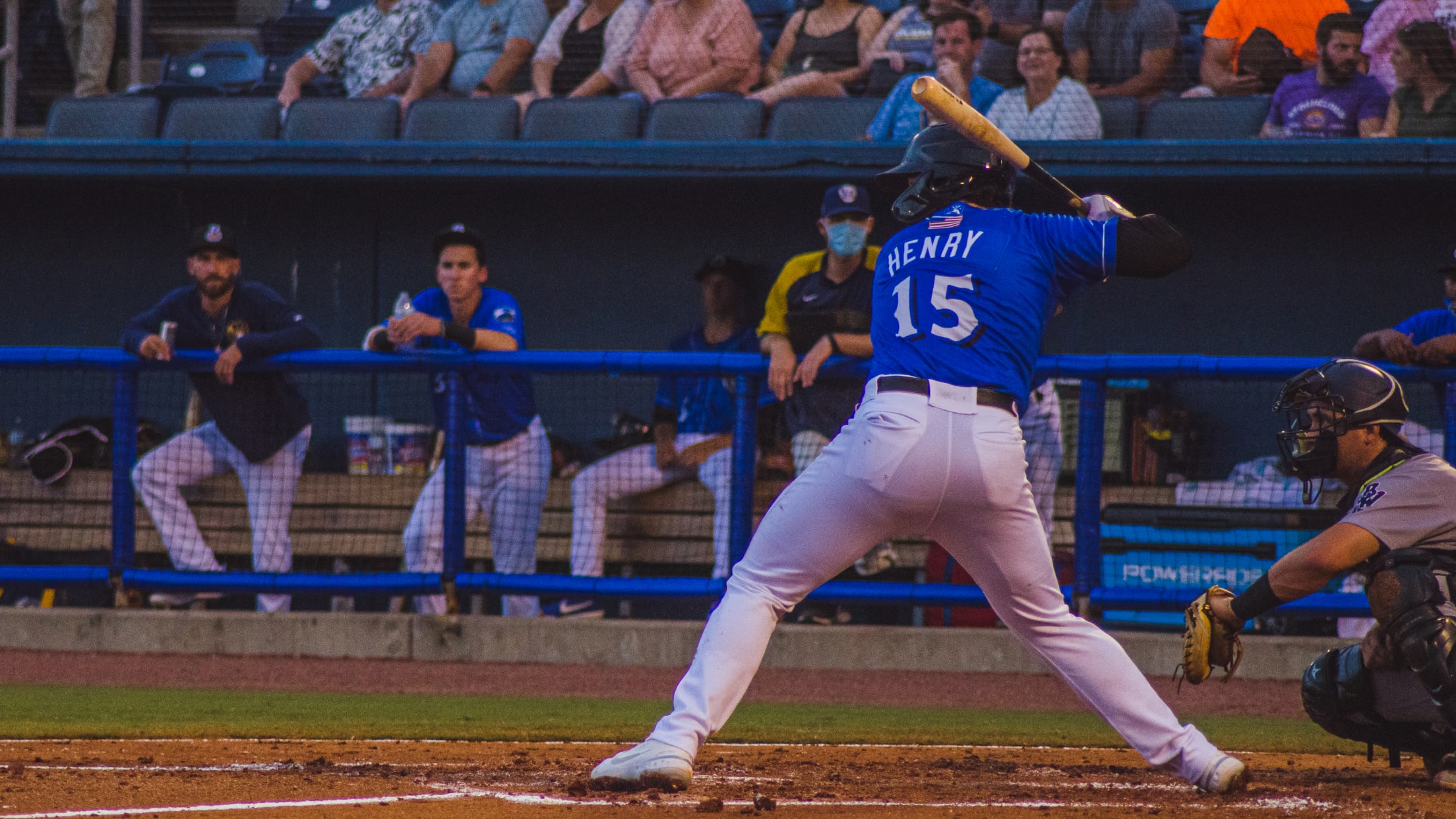 (Photo - Katy Knauss)
A four-run first inning by the Biloxi Shuckers (11-15) set the tone in a 9-5 win over the Montgomery Biscuits (9-16) on Wednesday night in Montgomery. The Biscuits committed five errors in the ballgame. Brice Turang started the action with a single in the first and advanced to third on
A four-run first inning by the Biloxi Shuckers (11-15) set the tone in a 9-5 win over the Montgomery Biscuits (9-16) on Wednesday night in Montgomery. The Biscuits committed five errors in the ballgame.
Brice Turang started the action with a single in the first and advanced to third on a failed pickoff by LHP Faustino Carrera (L, 1-2). Jamie Westbrook drove Turang home with a single and came in to score himself on a double Lucas Erceg, putting Biloxi up 2-0 four batters into the game. Payton Henry then slashed a single to right and David Fry followed with an RBI single, adding to the Shuckers lead. Cam Devanney put a good swing on the ball in his plate appearance and reached on a fielding error by Jonathan Aranda at third which also allowed Henry to score, completing the four-run first.
Montgomery rallied back three runs between the first and the second on home runs by Miles Mastrobuoni and Aranda, but RHP Noah Zavolas (W, 2-1) limited the damage in the third and fourth. After receiving another run of support thanks to a fielding error by the Biscuits, Zavolas surrendered a home run to Cal Stevenson in the bottom of the fifth and faced runners on the corners with two outs but induced a flyout from Rene Pinto to strand the tying run at third. Over five frames, Zavolas allowed four runs on eight hits while walking just one batter and striking out a season-best seven hitters.
The Shuckers separated in the top of the sixth. Westbrook was hit by a pitch and Erceg followed with his second double of the night, putting two men in scoring position for Henry. The Shuckers catcher roped a single into left, driving in both runners to extend Biloxi's lead to 7-4.
RHP Robbie Hitt (H, 2) worked a scoreless bottom of the sixth and RHP J.T. Hintzen (H,2) allowed one run on a sacrifice fly in his inning of work. Biloxi responded with two runs in the top of the eighth inning on a sacrifice fly from Erceg and wild pitch by LHP Dalton Moats that allowed Westbrook to race home from third, recapturing a four-run lead at 9-5. Henry capped off his night at the plate with an infield double in the eighth, part of a 4-for-5 performance for the catcher with two RBI and two runs scored.
With the series even at a game apiece, the Shuckers continue their six-game tangle with Montgomery on Thursday night at Riverwalk Stadium. Biloxi is set to send LHP Leo Crawford (1-1, 7.02) to the mound opposite Biscuits' RHP Shane Baz (0-4, 3.57) for a 6:35 pm first pitch. The game can be heard locally on Cruisin' WGCM AM 1240/FM 100.9, online here or on the MiLB App.
Individual tickets are on sale now for all 2021 Shuckers home games and promotions for June can be found here. Full Shuck Nation Membershipsand Half Shell Shuck Nation Memberships, flex plans and group outings are available by calling 228-233-3465 and selecting Option 3.
ABOUT THE BILOXI SHUCKERS:
The Biloxi Shuckers are the Double-A Affiliate of the Milwaukee Brewers. The Shuckers play at MGM Park in Biloxi, Mississippi and are members of the Double-A South. For more information, please visit biloxishuckers.comand follow us on Twitter @biloxishuckers and at facebook.com/biloxishuckers.