Fernandez joins record books, but Grizzlies lose 13-9 slugfest to 66ers
Yanquiel Fernandez: 10th all-time in Grizzlies single-season doubles; Bryce McGowan: 2.0 IP, 0 R, 5 K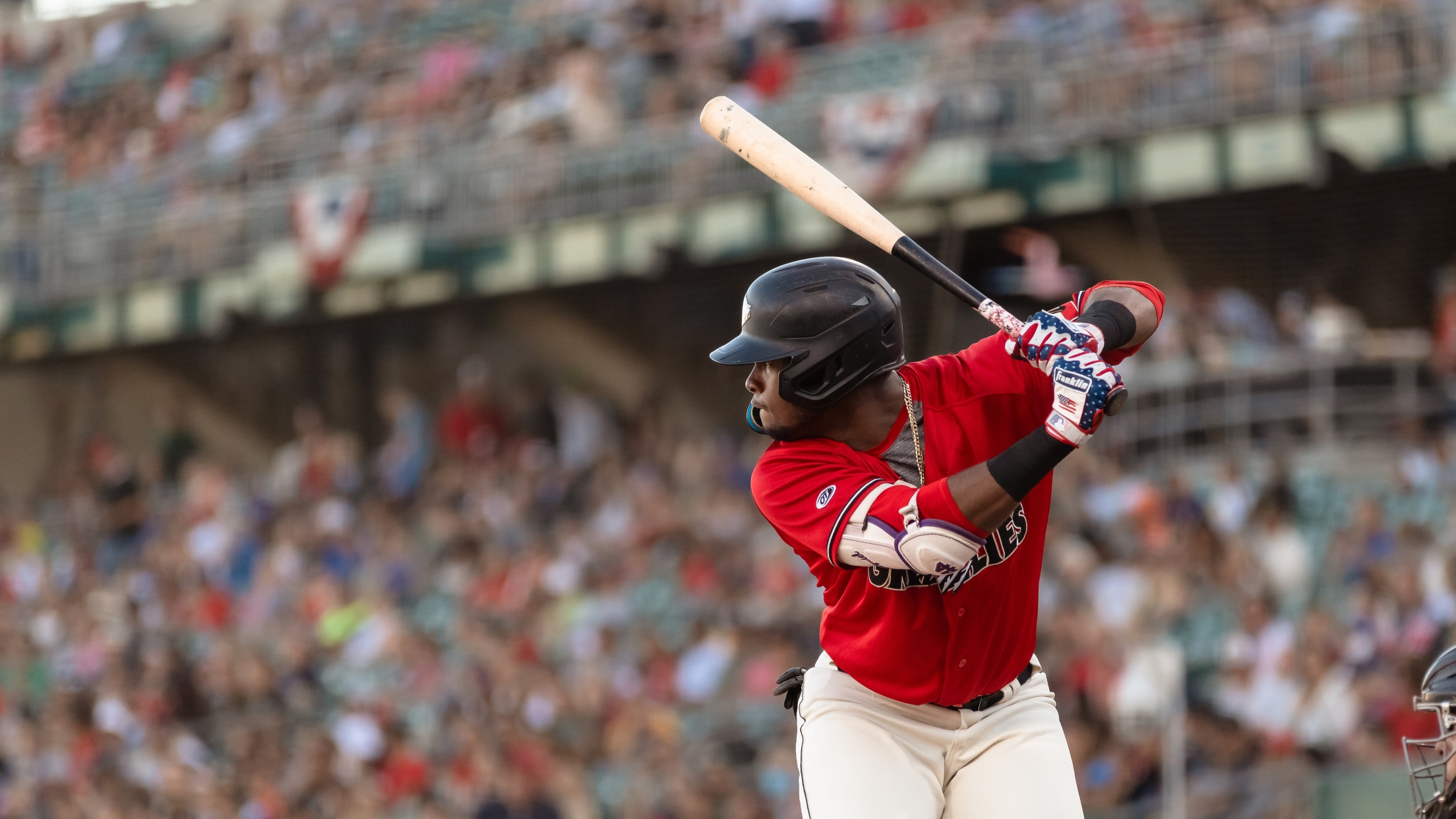 San Bernardino, CA (Sunday, August 14) – The Fresno Grizzlies (63-45, 22-20) were out-slugged by the Inland Empire 66ers (56-52, 24-18) 13-9 Sunday evening from San Manuel Stadium. The squads played eerily similar series in back-to-back seasons, with the Grizzlies taking the first three contests and the 66ers winning the
San Bernardino, CA (Sunday, August 14) – The Fresno Grizzlies (63-45, 22-20) were out-slugged by the Inland Empire 66ers (56-52, 24-18) 13-9 Sunday evening from San Manuel Stadium. The squads played eerily similar series in back-to-back seasons, with the Grizzlies taking the first three contests and the 66ers winning the final three games. It was Fresno's fourth series split of the season and third on the road. The Grizzlies fell to 38-12 when tallying 10 or more hits and 12-8 on Sundays.
Fresno's offense supplied 13 hits with nine of their 10 batters reaching base safely. Five starters notched multiple hits while a pair of batters recorded two or more RBI and runs. Of their 13 hits, four of them landed for extra-bases. Yanquiel Fernandez was the recipient of half of the extra-base hits, mashing a homer and double. Fernandez crushed his third clout of the series and 16th of the season in the seventh. The solo shot left the yard in a hurry down the right field line. In the ninth, Fernandez powered his 31st two-bagger of the year, putting him 10th all-time in Grizzlies single-season doubles. He ties Jack Mayfield (2018), Nate Schierholtz (2007) and Calvin Murray (1999) for that feat. Up next is Jason Ellison (2004), Scott McClain (2008) and Brett Harper (2008), who all smoked 32 doubles in their respective years. Fernandez finished the game with two RBI and three runs. In the series, Fernandez went 9-for-26 (.346) with three homers, three doubles, 10 RBI, eight runs and two walks.
Besides Fernandez, a couple other Fresno batters had huge nights. Zach Kokoska whacked a trio of singles and drove in three runs. He also swiped his 14th base of the season in a double steal with Braxton Fulford, who stole home. Fulford smacked a ground-rule double among his two hits, yielding one RBI. Juan Brito spanked two hits and scored twice, bringing his average to .283. EJ Andrews Jr. roped a double and single, plating one run.
On the other side, Inland Empire's lineup collected 17 hits with seven of them going for extra-bases. Every 66ers starter enjoyed at least one hit with five of them grabbing multiple rips. In the first, Edgar Quero and Adrian Placencia clobbered back-to-back one-out taters. It was Quero's third longball of the series and 14th of the season. BJ Boyd laced a double among his two hits and knocked in three runs. Arol Vera thumped a double and picked up two RBI. David Calabrese was not retired on the night, securing four singles and a walk. He brought in two runs and waltzed home twice. Alexander Ramirez swatted a pair of doubles while Tate Kolwyck delivered three hits in the triumph.
Fresno righty Jarrod Cande (4-4) suffered the decision after two and one-third frames of work. He allowed eight runs (seven earned) on nine hits while striking out three. Relievers Bryce McGowan and Luis Amoroso tossed scoreless outings. McGowan fanned a career-high five over two innings while Amoroso punched out a pair in a clean eighth. Inland Empire starter Gabriel Hernandez hurled three frames in a spot start. He gave up three runs, but all were unearned. Michael Darrell-Hicks (1-0) was awarded his first professional win after fanning three over two shutout innings. Max Gieg struck out all four batters he faced while Julio Goff locked down his second save of the series. Both clubs will take Monday off before returning to action on Tuesday. The Grizzlies battle the Visalia Rawhide at Valley Strong Ballpark.
Top Performers: Fresno Grizzlies (Colorado Rockies)
• RF Yanquiel Fernandez (2-5, HR, 2B, 2 RBI, 3 R)
• LF Zach Kokoska (3-5, 3 RBI, R, SB)
• RHP Bryce McGowan (2.0 IP, 2 H, 0 R, 0 ER, 0 BB, 5 K)
Top Performers: Inland Empire 66ers (Los Angeles Angels)
• CF David Calabrese (4-4, 2 RBI, 2 R, BB, SB)
• LF BJ Boyd (2-5, 2B, 3 RBI, R)
• RF/LF Alexander Ramirez (2-5, 2 2B, RBI, R)
On Deck:
Tuesday, August 16 @ Visalia Rawhide, Fresno RHP Jordy Vargas (0-0, 6.75) vs. Visalia LHP Diomede Sierra (3-4, 5.32), 6:30 pm PT
ON THAT FRES-NOTE:
The Grizzlies offense may lead all of Minor League Baseball in hit-by-pitches, but Fresno pitching beaned four batters on Sunday.