First things first for Hooks' All-Star Jones
Astros prospect's breakout leads him to Texas midseason classic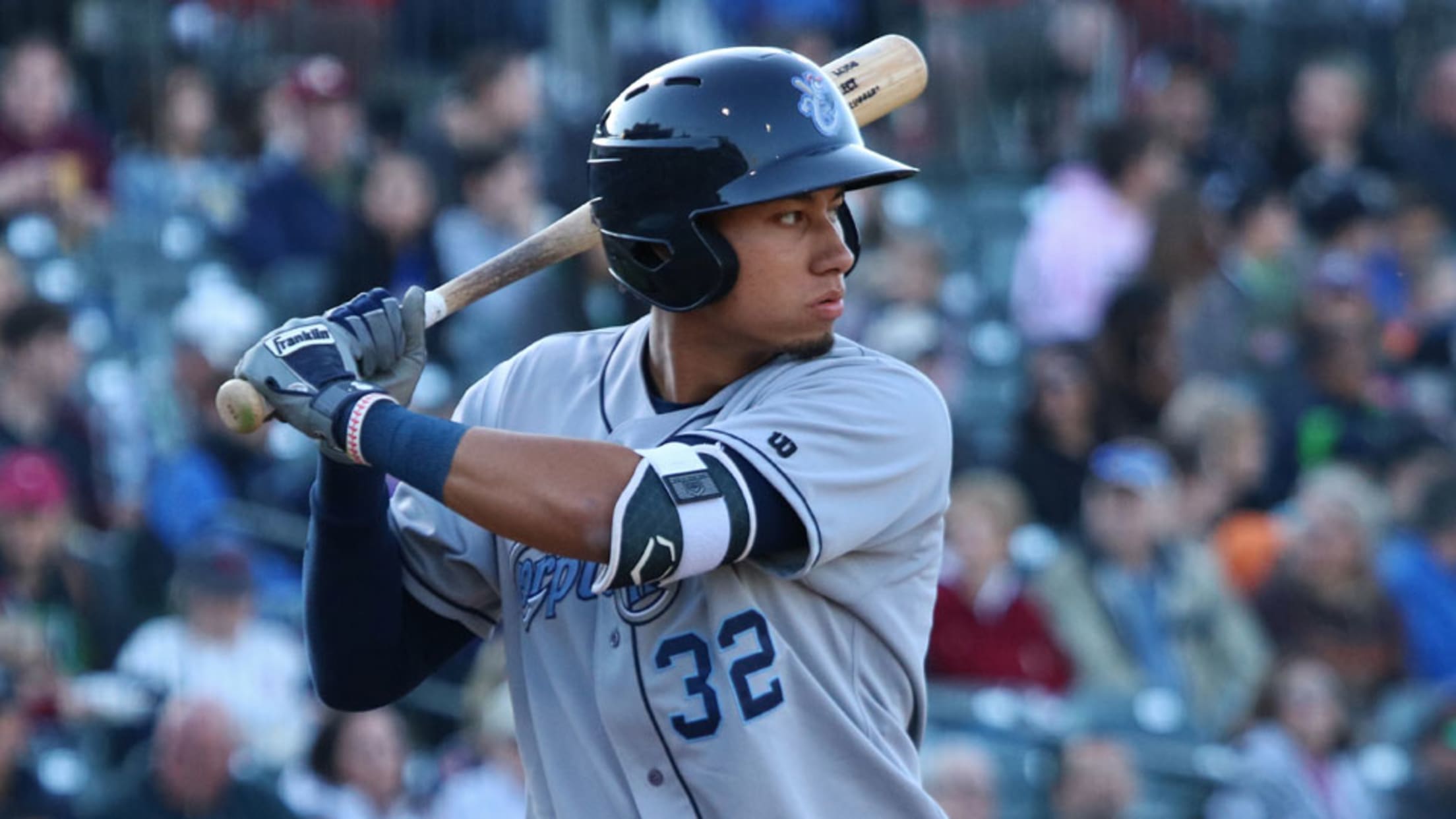 Taylor Jones hit .323 with 12 home runs, 53 RBIs and 42 runs in the first half for Corpus Christi. (Tammy Tucker/MiLB.com)
MIDLAND, Texas -- Corpus Christi Hooks first baseman Taylor Jones made a life-changing decision before his junior season at Gonzaga in 2015. The two-way player decided to drop pitching to solely focus on being a full-time position player."They were always super supportive at Gonzaga," Jones said. "They just wanted whatever
MIDLAND, Texas -- Corpus Christi Hooks first baseman Taylor Jones made a life-changing decision before his junior season at Gonzaga in 2015. The two-way player decided to drop pitching to solely focus on being a full-time position player.
"They were always super supportive at Gonzaga," Jones said. "They just wanted whatever I could provide for the team, they were going to back me and support me. When it came to swinging the bat as well as I was, they were all for it."
The 24-year-old's choice paid off. Jones was the starting first baseman for the South Division during Tuesday's Texas League All-Star Game at Security Bank Ballpark. The Astros prospect earned his spot by hitting .323 with 12 home runs, 53 RBIs and 42 runs scored in 251 at-bats with the Double-A Hooks.
Jones tops the Texas League with a .430 on-base percentage, while his .558 slugging percentage is second in the circuit to San Antonio's Austin Allen (.577).
The Washington native has enjoyed a breakout season after batting .222 with seven homers and 45 RBIs over 105 games between Class A Quad Cities and Class A Advanced Buies Creek in 2017.
"It's always a goal," Jones said of playing in the midseason classic. "You want to perform at a top level with all these guys. For it to happen. It's been unbelievable. It's awesome."
Jones wins unique All-Star swing-off
The 6-foot-7, 225-pound Washington native didn't take an expedited route to the All-Star Game. After his junior year, the Cubs selected Jones in the 35th round of the First-Year Player Draft in 2015, but the Zags star decided to stay for his senior season after batting .358 with a .414 on-base percentage and .545 slugging percentage to garner All-West Coast Conference honors.
"Because it was the first breakout year of me hitting," Jones said. "I wanted to make sure I was prepared before I jumped into pro ball. It was kind of a new thing for me, so I didn't want to throw myself into it without actually really wanting to be a hitter. And two, understanding the thought process of being a hitter and working on things to get me ready for the professional level."
After batting .332 his senior year, Jones was taken in the 19th round of the 2016 Draft by the Astros.
The former basketball player at Kentwood High in Covington, Washington is one of the rare position players who stands 6-foot-7. His strike zone might be one of the most expansive in pro ball, but Jones said his long frame gives him leverage to tap into his power.
"I've got a big zone to cover," he said. "A lot of guys want to expose me with my long arms and get inside. I've just got to battle, do what you do, and kind of use my size to take those advantages that I have with it ... use that and not try to worry about all the negatives."
On defense, Jones' height is beneficial to his Hooks teammates in the infield -- he provides a sizable target on throws to first.
"It's easy with him there," Corpus Christi infielder and fellow All-Star Alex De Goti said. "You just got to throw it in the vicinity and he will catch it. It doesn't matter if it's in the dirt, high, or to the side. He catches it. That guy is special over there."
In brief
Hometown hero wins:
Midland's
Sean Murphy
hit eight homers in the final to capture the Home Run Derby title. Springfield's
Victor Roache
fell one short in the final.
"It's exhausting," Murphy said. "You never do that in practice."
In the Athletics catching prospect's first derby, he parked four long balls to win the South Division portion of the first round and advance to the final.
"Me and (RockHounds hitting coach Tommy Everidge) did a practice round the other day just to get used to it and try to get into a groove," Murphy said.
Roache tied Arkansas'
Joey Curletta
with seven dingers in the first round for the North. Roache beat Curletta, 2-1, in the playoff.
Legendary presence:
Hall of Fame reliever Rollie Fingers and 1988 American League MVP Jose Canseco represented Oakland at the game and signed autographs for fans. Canseco participated in the derby for the North, swatting three home runs.
Christopher Hadorn is a contributor to MiLB.com.