Mussels come up mighty during COVID-19 testing
FSL club serves lunch to state workers, provides food for charities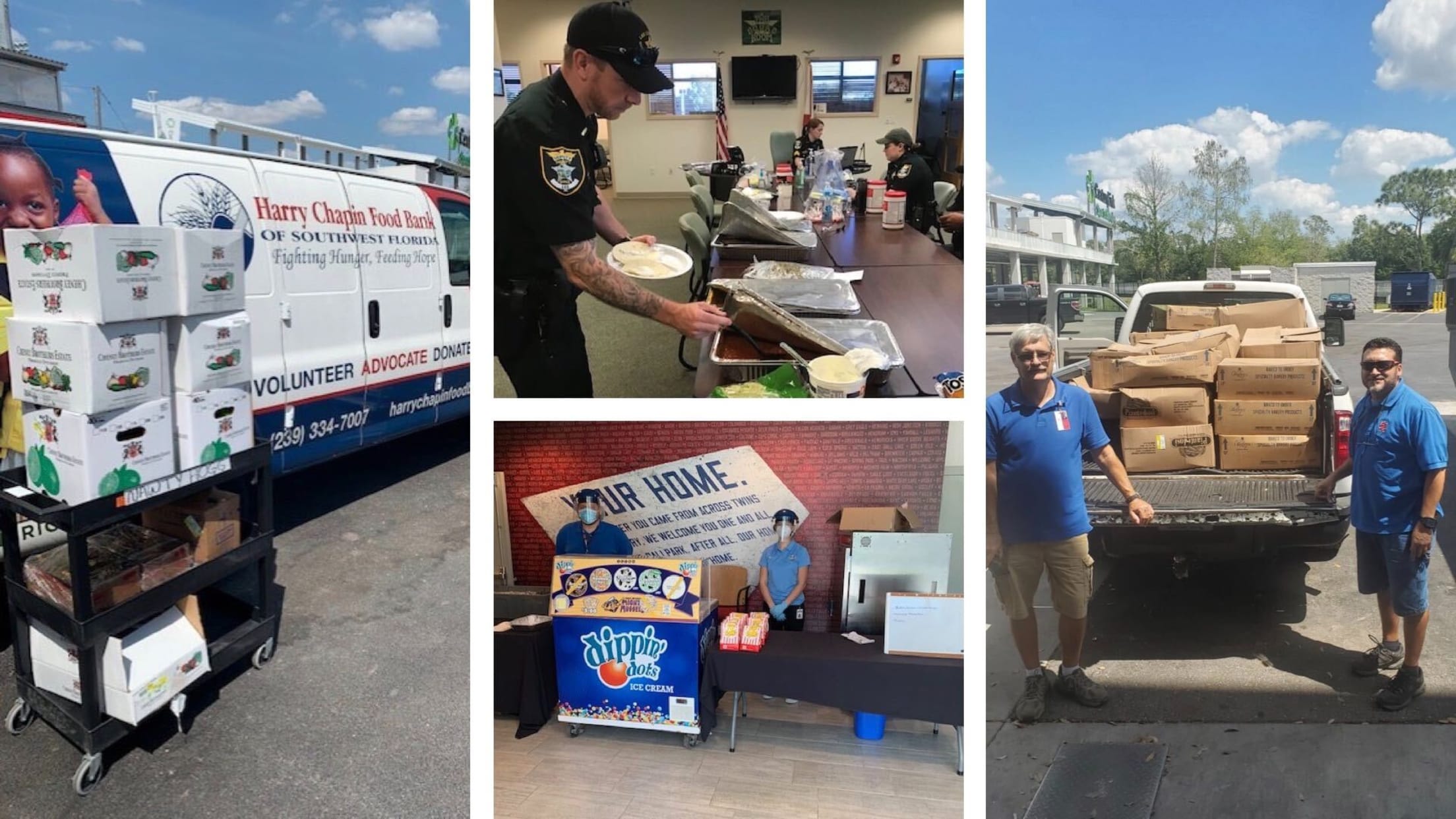 FORT MYERS, Florida -- Things were finally starting to get back to a semblance of normal for general manager Judd Loveland and employees of the Fort Myers Mighty Mussels. After a month of working from home due to the statewide shutdown from the COVID-19 pandemic, Loveland began going back into
FORT MYERS, Florida -- Things were finally starting to get back to a semblance of normal for general manager Judd Loveland and employees of the Fort Myers Mighty Mussels. After a month of working from home due to the statewide shutdown from the COVID-19 pandemic, Loveland began going back into his office at Hammond Stadium, trying to think of ways for the club to assist the community.
"We kicked around a lot of different ideas at that point," Loveland said while standing on the warning track. "The first one that we wanted to get off the ground was to do a warehouse sale. So take a lot of the food and beverage product that we had in-house, your beer, your soda and grilled items -- hot dogs, bratwurst, sausages, all that stuff, hamburgers -- and sell it off at cost."
That would help in two ways. First, the food would go toward good causes during a national crisis. Also, the club would get its inventory down to a level it typically would have during the season.
"We started to go with that and we started to go with some merchandise auctions and some of the merchandise auctions, we went in partnership with Goodwill and benefited them," Loveland said. "We partnered with another one with the Lee County Sheriff's Office. So a lot of the proceeds, a lot of these sales, we've used to go to those partners."
Loveland and the Mighty Mussels encountered a problem four days before they were set to promote the efforts, namely a call from the Lee County Emergency Operations Center.
"They may be using [Hammond Stadium] as a COVID testing site," Loveland was told. "I'm assuming they were getting direct communication from the state at that point. So when they called and said that, it was like, 'OK, well, we're going to have to put our plans on hold for the time being and see how this all shakes out.'"
Loveland, who also serves as director of operations for the Twins during Spring Training at the same site, had to work on a new plan, one that would make sense logistically and -- more importantly -- safety-wise. He came up with another idea: let's see how we can feed the employees who'll be administering the tests.
"We discount them [lunches] down to a, not a Spring Training rate but a discount that either the state or the county or somebody would pay for the product. We provide the employees that'll cook it and serve it," Loveland said. "And so it's kind of a combined effort to where we can provide these lunches."
People who, in normal times, sold sponsorships or oversaw operations have become cooks, dishwashers and sanitizers while an abundance of responsibilities have to be performed to prepare the stadium for the workers on a daily basis.
"We had to take our press dining room and say, 'OK, how do we turn this into a lunch dining area for people that are actually out there COVID testing and how do we take our precautionary standardizations, PPE [personal protective equipment], all that kind of stuff?" Loveland said. "So over that weekend, we developed those plans, sent them over to the county for their approval. And that Monday morning, we met with the state people and we had them actually walk through and we had to create, limit your touch points, single lanes going in, distance your seating in there, sanitization procedures, PPE procedures, all that stuff for a lunch of about 25 or so people a day."
Having secured county approval, testing began on May 3 and the Mighty Mussels started serving lunches. As one might expect, the endeavors require a lot of preparation beforehand.
"The way it works now, just for lunches, our routine starts at 9:30 in the morning," Loveland said. "Everybody gets in, we do our thermometer checks and we meet and we go over what the menu is that day, what we need to do. And it's usually pretty routine, get there, make sure from the day before everything has been mopped and it's still clean, trash has been pulled, new liners, sanitization starts. It usually takes two of us. ... I'm the one that usually goes up and down all the common areas and does all the common touch services -- doorknobs, elevator buttons, all that kind of stuff.
"And then we have another person that takes care of the dining room. And then from there we have one person cooking. We have one person that's serving and then we have a gate security, but just kind of a gate person, the gatekeeper, which is usually either myself or another person that stands at the gate and makes sure it's just the employees coming back in."
The lines instantly began to form on Six Miles Cyprus, the road that runs past the stadium.
"It was very, very crowded out there," Loveland said. "The first couple of days ... lines were backed up even all the way out the complex, like you would see for a Spring Training game. And then once that died down, midweek, that week you'd still see waves. And since then I would say it has slowed, but it's still pretty steady."
Fort Myers employees still have a ballclub to run, so once lunch service is completed around 2 p.m., Loveland and his crew switch back to thinking about the Mighty Mussel Market.
Food and other items get picked up at the stadium by the organizations with which the club had worked prior to the beginning of testing. With safety in mind, however, daily volume has been kept down with security tight.
"We were advertising on social, we would post a menu about once a week," Loveland said. "And then we would schedule people by appointment only after COVID testing hours. And the way it would work is they would start at 4 [o'clock], 4:30 every day.
"They'd give us their card, we'd run it. Gloves, masks, that whole nine yards ... give it to them and out they would go. And we would schedule if we'd be open three nights a week, we'd schedule usually like six or so pickups per night."
And then it begins all over again. Knobs have to be sanitized. Buttons have to be washed down. Everything has to be ready for another wave of testing in the morning. For Loveland, it's been all about trusting the people who've been working tirelessly since the start of the pandemic.
"We're dealing with health professionals," he said. "They know enough to do what needs to be done."