Kilome spins eight dominant frames for Fightins
Phillies No. 8 prospect allows three hits during career-long outing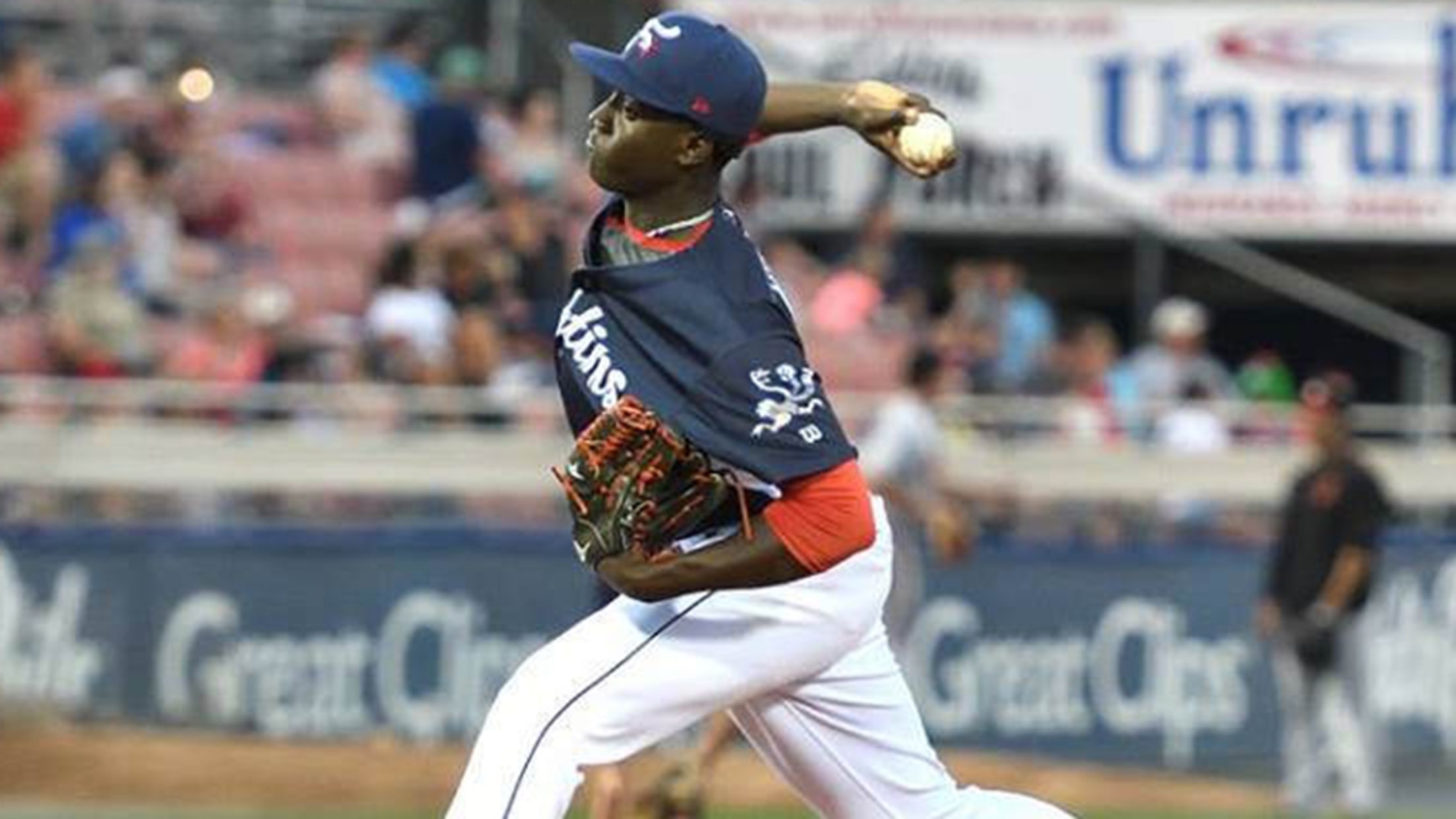 Franklyn Kilome has held opponents to a .203 average through three Double-A starts.. (George Youngs Jr./Reading Fightin Phils)
Franklyn Kilomé has been in Double-A for just over two weeks, but he's already shown he's capable of making the necessary adjustments to be successful. Philadelphia's No. 8 prospect went a career-high eight innings as Double-A Reading blanked Bowie, 5-0, on Monday night at Prince George's Stadium. The 22-year-old right-hander allowed
Franklyn Kilomé has been in Double-A for just over two weeks, but he's already shown he's capable of making the necessary adjustments to be successful.
Philadelphia's No. 8 prospect went a career-high eight innings as Double-A Reading blanked Bowie, 5-0, on Monday night at Prince George's Stadium. The 22-year-old right-hander allowed three hits and four walks -- all in the first two frames -- and finished with five strikeouts.
Gameday box score
"I just made a couple pitches. Last time I faced them, I threw a lot of fastballs and curves. This time, I changed a little bit," Kilome said. "My curve is my best pitch after the fastball, but I used a lot more of my slider and changeup today and mixed all those pitches -- my two-seam as well -- out and in, in and out. [Catcher Deivi Grullon] called an outstanding game, a nine-inning shutout, and the defense was great."
Kilome (1-1) got off to a bit of a shaky start, though, as Orioles No. 5 prospectCedric Mullins led off with a bunt single to third base and Austin Wynns singled to left. But second-ranked Baltimore prospect Austin Hays grounded into a double play and Garabez Rosa lined out to right to end the frame.
D.J. Stewart, the Orioles' No. 18 prospect, doubled to center to begin the second inning, but Kilome retired the next three batters and didn't allow a hit the rest of the way.
The native of the Dominican Republic issued a walk in each of the next three innings, but none of those runners advanced. Stewart drew a free pass leading off the seventh before Kilome retired the final six batters. He threw 56 of 94 pitches for strikes.
"I threw like 94 pitches and they said, 'Good job,' Kilome said. "I was excited, I thought I was going to go the full nine, but I'm happy with what they gave me. They know what they're doing."
This marked the second straight start against Bowie for Kilome. Last Tuesday, he threw a season-high 98 pitches over seven innings, but didn't factor in the decision as Reading fell at home, 4-3. Some pitchers tend to struggle against lineups they just faced -- especially newcomers -- but Kilome was able to to take a step forward by understanding how opponents were reacting to his pitch sequencing.
"Here [in Double-A], they're really smart. If you throw a first-pitch fastball past them, next time you face them, they swing at it, they don't wait," he said. "There are some pitches where they might think it's a strike and you throw a ball. Everything else is the same -- it's just baseball."
Kilome has allowed five runs over 20 innings in three starts for the Fightin Phils, going deeper into games and pitching more efficiently each time out. He credited Reading's coaching staff for helping him thrive and providing him with the confidence to work in his secondary pitches more often.
• Get tickets to a Fightin Phils game »
"They were trying to get me to use my changeup, because it's a very good pitch off the fastball," Kilome said. "When we're behind in the count, we use the changeup. It's a great pitch in an 0-1 count, if you can control your changeup instead of the fastball."
Kilome was promoted Aug. 5 after going 6-4 with a 2.59 ERA and 83 strikeouts in 97 1/3 innings for Class A Advanced Clearwater in the pitcher-friendly Florida State League, and he's been even better moving up a level.
"I always say ... without God, we can't do anything," Kilome said. "I always thank God for everything. That's my word and then let's go and let's do it."
Drew Stankiewicz had two hits, including a two-RBI double that keyed a four-run fourth, while Grullon and Zach Green added two hits apiece for the Fightin Phils.
After defeating Reading last week, left-hander John Means (9-8) yielded five runs -- four earned -- on seven hits and a walk with six strikeouts in 4 2/3 innings for Bowie.