Fresno erases early deficit, stuns Stockton 10-9 
Grizzlies trailed 6-0 in 2nd; Andrews Jr. and Martin go deep in win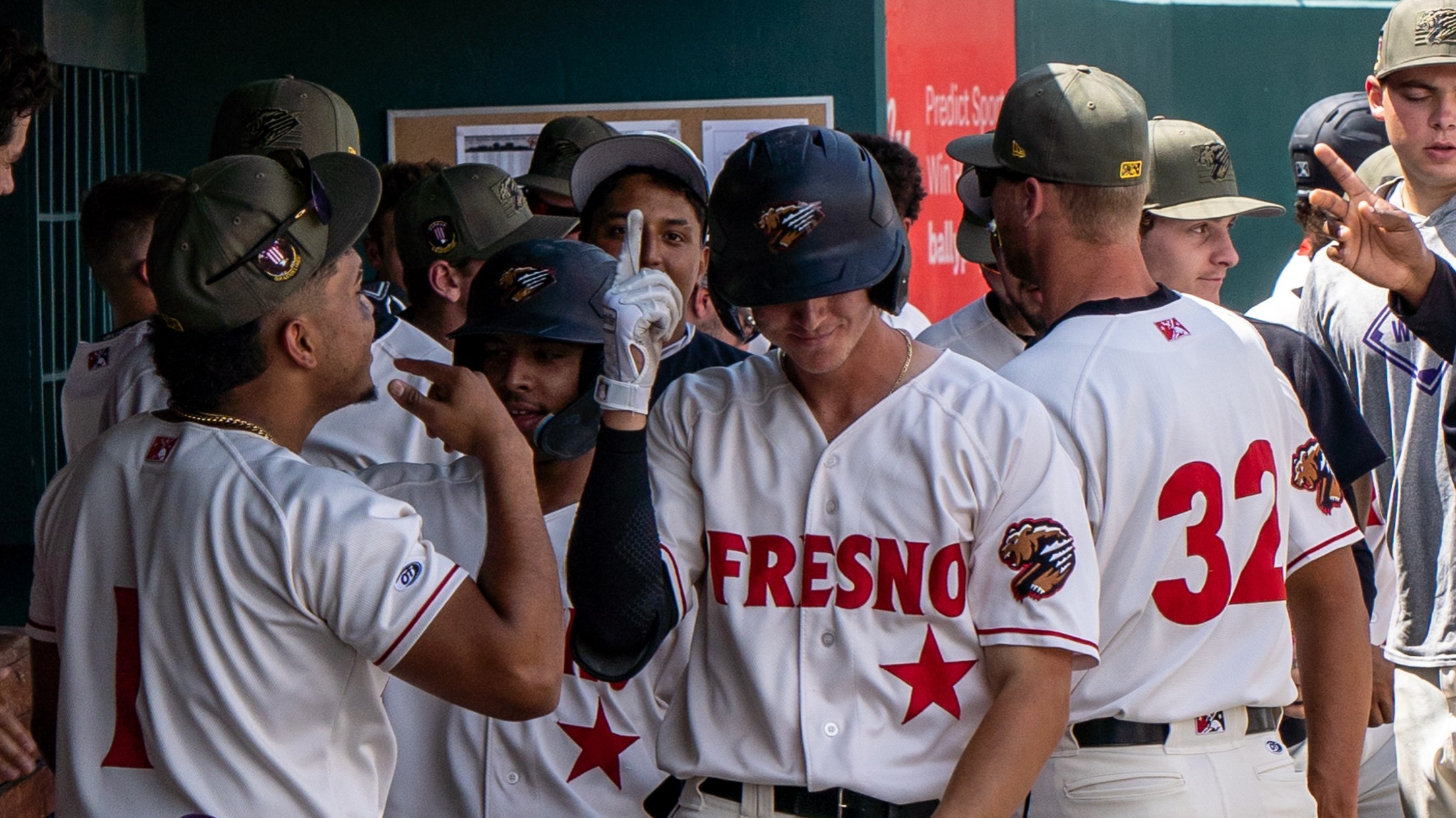 Fresno, CA (Sunday, May 28) – The Fresno Grizzlies (23-22) clawed past the Stockton Ports (16-29) 10-9 Sunday afternoon from Chukchansi Park. Fresno improved to 52-20 all-time against Stockton and have split the 18 matchups so far this season (nine victories each). The Grizzlies have won four straight Sunday games
Fresno, CA (Sunday, May 28) – The Fresno Grizzlies (23-22) clawed past the Stockton Ports (16-29) 10-9 Sunday afternoon from Chukchansi Park. Fresno improved to 52-20 all-time against Stockton and have split the 18 matchups so far this season (nine victories each). The Grizzlies have won four straight Sunday games and have scored double-digit runs in three of them.
In the top of the second, Stockton jumped out to a 6-0 lead. T.J. Schofield-Sam powered a solo shot to center field, his second of the season. Then, Jose Escorche and Colby Thomas brought home three on a pair of singles. Finally, Brennan Milone plated a pair on a double to left.
Fresno answered back with five runs in the bottom of the second. Skyler Messinger ripped a two-run single to right, adding Jesus Bugarin and Andy Perez. Then, EJ Andrews Jr. pummeled a three-run homer to left field, his seventh of the year. The Grizzlies tied the affair at six in the third when Robby Martin singled and a pickle allowed Perez to scamper home.
In the fifth, Fresno took a 10-6 lead after a four-run fifth. Jesus Ordonez roped a double that stayed barely fair down the left field line, scoring Ryan Ritter and Perez for a third time. Then, Robby Martin unleashed a two-run blast to right field, his fourth longball of the season.
Stockton made it interesting down the stretch, tallying three runs over two innings. Milone swatted his third big fly of the series and sixth of the year. Thomas yielded his third and fourth RBI with a single to left. The Grizzlies went to their closer Zach Agnos, who secured his eighth save of 2023. Agnos fanned one over one and two-thirds scoreless innings.
Fresno starter Jackson Cox permitted six runs in one and one-third frames. Brady Hill and Gabriel Barbosa followed Cox with five and two-thirds of outstanding relief. Hill fanned a pair of batters while Barbosa enjoyed his second win of the year. Barbosa tossed four frames of one-run ball, punching out five. Stockton righty Yehizon Sanchez (1-6) was dealt the defeat.
Today's article was written by ChatGPT
Top Performers: Fresno Grizzlies (Colorado Rockies)
RF Robby Martin (3-4, HR, 3 RBI, R)
LF/CF EJ Andrews Jr. (1-4, HR, 3 RBI, R, BB, SB)
3B Andy Perez (3-4, 3 R)
Top Performers: Stockton Ports (Oakland Athletics)
DH Brennan Milone (2-5, HR, 2B, 3 RBI, R)
LF Colby Thomas (2-5, 4 RBI, R, SB)
3B T.J. Schofield-Sam (3-5, HR, 2B, RBI, R)
On Deck:
Monday, May 29 @ San Jose Giants, Fresno LHP Caleb Franzen (1-1, 4.81) vs. San Jose LHP Hayden Wynja (3-0, 5.32), 1:00 pm PT
ON THAT FRES-NOTE:
Today's promotion at Chukchansi Park was Pickle Palooza. There were pickle themed events throughout the game and special food/drink options involving pickles. In the Kodiak Club and Fresno Social, there were Pickle Backs and Pickled Bloody Mary. In Stand 3, there were Pickle Bacon Fries, Fried Pickle Chips with Ranch and Pickle and Jalapeno Pepperoni Pizza. And did you know that the Rockies Double-A affiliate (Yard Goats) played as the Hartford Bouncing Pickles this year? Also in Connecticut, a pickle cannot legally be considered a pickle unless it bounces when dropped from the height of one foot.