Fresno falters 3-2 to Modesto as home win streak comes to an end
Grizzlies finish 1st half with the best record in the California League (41-25)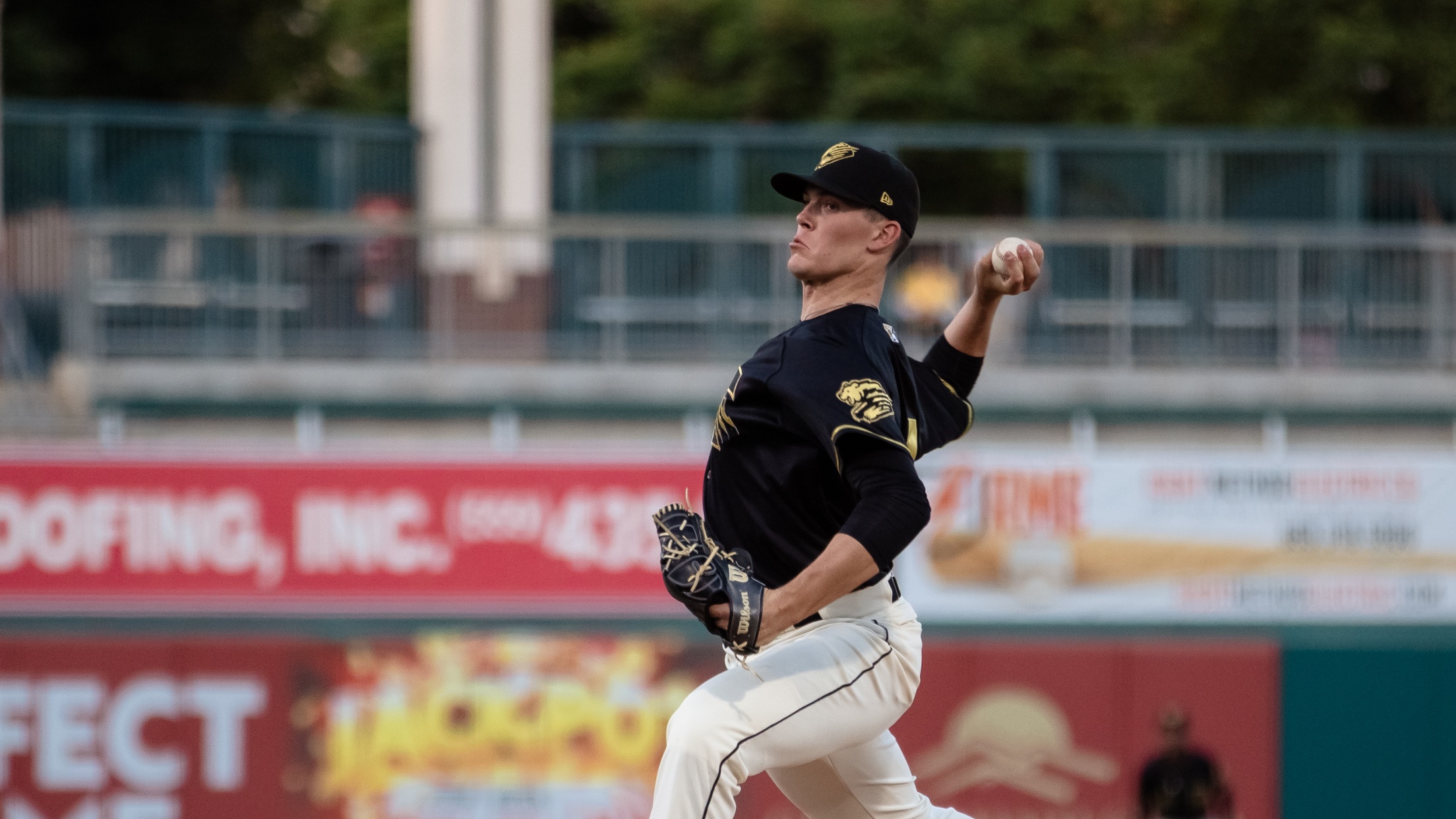 Fresno, CA (Thursday, June 23) – The Fresno Grizzlies (41-25) stumbled to the Modesto Nuts (30-36) 3-2 Thursday night from Chukchansi Park. With the loss, Fresno saw their nine-game home winning streak come to an end. Despite the outcome, the Grizzlies still finished the first half with the best record
Fresno, CA (Thursday, June 23) – The Fresno Grizzlies (41-25) stumbled to the Modesto Nuts (30-36) 3-2 Thursday night from Chukchansi Park. With the loss, Fresno saw their nine-game home winning streak come to an end. Despite the outcome, the Grizzlies still finished the first half with the best record in the California League.
Modesto took a 1-0 lead in the first from an Edwin Arroyo solo shot to center. It was Arroyo's 11th homer of the year. The Nuts extended the advantage to 3-0 in the fourth when Ben Ramirez spanked a two-RBI single to right. Fresno cut into the deficit in the fifth when Ben Sems launched a pitch to right field. It was Sems' first clout in a Grizzlies uniform. In the eighth, Zach Kokoska roped a double and scored a few batters later on a Bryant Quijada sacrifice fly.
The one-run lead was just enough for Modesto closer Jorge Benitez. The lefty secured his eighth save of the season after a 1-2-3 ninth. Nuts' starter Bryan Woo was perfect in his first outing at Single-A. Woo did not allow a hit or walk over three innings of work. He fanned five before giving way to Tyler Driver (4-0) and Juan Burgos. The duo punched out four over five frames with Driver relishing the triumph.
Grizzlies starter McCade Brown (0-3) agonized a tough-luck defeat. Brown tossed a career-high six innings, striking out 10. The 10 punchouts tied his career-best and a season-high by a Fresno pitcher (also Brown). Ever Moya, Bryce McGowan and Tyler Ras all chucked scoreless appearances. The clubs start the second half of the league schedule tomorrow evening from downtown Fresno.
Top Performers: Fresno Grizzlies (Colorado Rockies)
• RHP McCade Brown (6.0 IP, 4 H, 3 R, 3 ER, 1 BB, 10 K)
• Grizzlies bullpen (3.0 IP, 2 H, 0 R, 0 ER, 2 BB, 3 K)
• 2B Ben Sems (1-3, HR, RBI, R)
• LF Zach Kokoska (1-3, 2B, R)
Top Performers: Modesto Nuts (Seattle Mariners)
• Nuts pitching (9.0 IP, 3 H, 2 R, 2 ER, 0 BB, 9 K)
• SS Edwin Arroyo (2-3, HR, RBI, 2 R, HBP, SB)
• 1B Ben Ramirez (1-3, 2 RBI, BB)
On Deck:
Friday, June 24 vs. Modesto Nuts, Modesto RHP Michael Morales (3-5, 5.49) vs. Fresno RHP Brayan Castillo (1-3, 4.33), 6:50 pm PT
ON THAT FRES-NOTES:
Tonight, the Grizzlies celebrated Diversity & Inclusion Night presented by Healthy Fresno County. The event featured numerous community organizations tabling on the concourse throughout the game including the departments of Public Health, Behavioral Health, Public Works and Planning, District Attorney, and many more
Tomorrow night, the Fresno Grizzlies will transform into the Fresno Tigers in honor of the 1946 West Coast Negro League Baseball team that played under the same name. This tribute to the 1946 team will feature the organization's first time donning the newly-reimagined Tigers uniform and will celebrate Juneteenth. Tomorrow evening will also include a first pitch from former-NFL player, and founder of Golden Charter Academy, Fresno-native Robert Golden. The game will be followed by Friday Night Fireworks.