Getting the call: Barons' Curt Bloom
Birmingham broadcaster to make White Sox debut in 31st season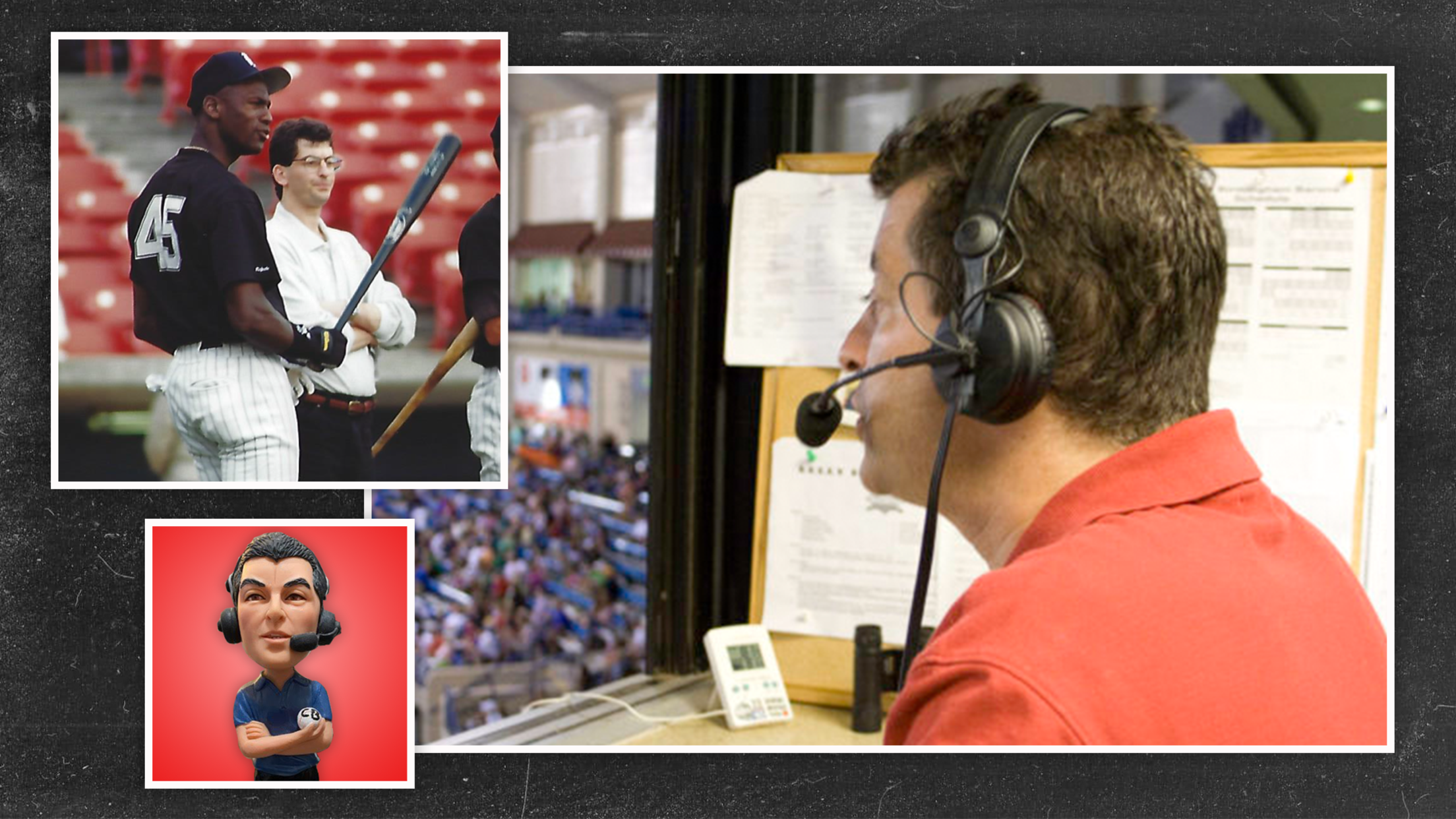 Curt Bloom began his Minor League broadcasting career with the Bakersfield Dodgers in 1988. (Curt Bloom/Birmingham Barons)
In the Minors, it's not just the players and coaches who are grinding toward a big league opportunity. This series tells the story of Minor League broadcasters getting their own Major League experience this season. First up, Double-A Birmingham broadcaster Curt Bloom. Advice that originated from Bear Bryant is usually
In the Minors, it's not just the players and coaches who are grinding toward a big league opportunity. This series tells the story of Minor League broadcasters getting their own Major League experience this season. First up, Double-A Birmingham broadcaster Curt Bloom.
Advice that originated from Bear Bryant is usually worth taking, especially for someone working in sports in Alabama.
"Act like you've been there before."
Curt Bloom called his first Minor League game on the radio for the Bakersfield Dodgers in 1988. After stops in Woodbridge, Virginia, and Huntsville, Alabama, he's been on the call for Double-A Birmingham since 1991. For more than three decades, Bloom has provided play-by-play and color commentary as superstars like Tim Anderson, Mark Buehrle and Mike Cameron passed through town on their way to the White Sox. Now in his 31st season, Bloom can count himself among those on that list.
"'Act like you've been there before,'" said Bloom, echoing Bryant's words. "I don't want this moment to be too big. But, this is where I want to be. This is what I wanted to do."
This Sunday, Bloom will join Len Kasper in the White Sox radio booth as the club hosts the Guardians at Guaranteed Rate Field. Bloom has some Major League experience, filling in for six games for the Braves and Orioles in 2003 and 2004, respectively. But this Sunday's contest will be his first call of a regular season White Sox game.
"I don't plan on this being my one and only -- 'Hey, thanks for your years of service. You can tell your family you got to the big leagues,'" Bloom said. "I'm looking forward to hopefully making an impression and to hopefully have 30 clubs go, 'Wow, these Minor League guys can do it.'"
🎥➡️ "It's your time."

Check out the moment our very own @CurtBloom4 learned he's getting called up to Chicago for his MLB broadcasting debut on Sunday, July 24th 🎙#BuiltinBham | @whitesox pic.twitter.com/rT207y3Zoy

— Birmingham Barons (@BhamBarons) July 13, 2022
White Sox senior director of broadcasting Cris Quintana gave Bloom the good news on a Zoom call last week. With Jason Benetti, the lead White Sox play-by-play TV announcer, working the Sunday morning game of the week on Peacock, and Darren Jackson, who usually works on the radio broadcasts on Sundays, not around this weekend, a spot opened up for Bloom.
"We wanted to take this time to acknowledge the fact that you've been a great teammate of ours," Quintana said in the Zoom call when he invited Bloom to The Show.
Bloom's time spent with Birmingham puts him in a unique position as he moves up to the White Sox booth. He was with the Barons long enough to see, what he estimates to be, about 70 percent of Chicago's active roster play in Birmingham. The familiarity with the specific players, especially in the many disarming settings that the Minor Leagues provide, could help him color his broadcast in a way that few around the Majors can.
"That's what your bus rides, your pregame and postgame interviews, your late night stops on the road are for," Bloom said. "When you're flip-flopping down the bus and your legs are dead at 3 in the morning and one day you're with Dylan Cease or Michael Kopech and years ago Mike Cameron and Ron Coomer. That's where the stories come in."
Of course, among the many All-Stars and Hall of Famers he's seen pass through Birmingham or the Southern League, Bloom also comes from the unique position of having called all of Michael Jordan's games for the Barons in 1994.
"I have a novel prepared," Bloom joked. "All Len's got to do is serve me a softball."
Bloom's personal website has its own tab dedicated to his experiences with Jordan. Clips of his call of Jordan's first game, hit and homer can be found between photos of Bloom and Jordan on the field together at batting practice and a photo of Jordan holding Bloom's infant daughter, Chloe, alongside Bloom and his wife, Laura.
As fate would have it, this Sunday's game should serve as a reunion of the Jordan years once Bloom arrives. Cleveland manager Terry Francona and hitting coach Mike Barnett served in the same roles for Birmingham during Jordan's lone Minor League season.
"My all-time personal favorite story is the time I set a pick for Jordan on an asphalt basketball court," Bloom said with a laugh. "But wherever [Len] wants to steer it, I'll go from there. … What [Jordan] was able to do was beyond anybody's comprehension. So, I'm hoping that Len throws me some softballs. … I don't want to necessarily bring it up unless he goes in that direction. But we'll take it from there."
Bloom grew up in Westchester county, New York, listening to the Yankees' trio of Phil Rizzuto, Bill White and Frank Messer. Hearing those games on a transistor radio, he knew that he wanted to be a baseball broadcaster. After he'd achieved his goal, and subsequently spent decades in the profession, he still goes to that well everyday at the ballpark.
"[Kasper] is a guy who is recognized as a pro, and people tell me that he's even a better person. Being from the area, I'll tune in to hear what John Sterling has to say. And two of the best right now, John Rooney and John Miller, those guys you want to go out of the way to listen to," Bloom said, explaining that, if the timing is right, he'll listen to those White Sox, Yankees, Cardinals and Giants broadcasts on the MLB app as he prepares for Barons games. "That's where I start my broadcast. And I absolutely love listening to a [Major League] game while prepping for our game. … It's something that I love getting to the ballpark as the background."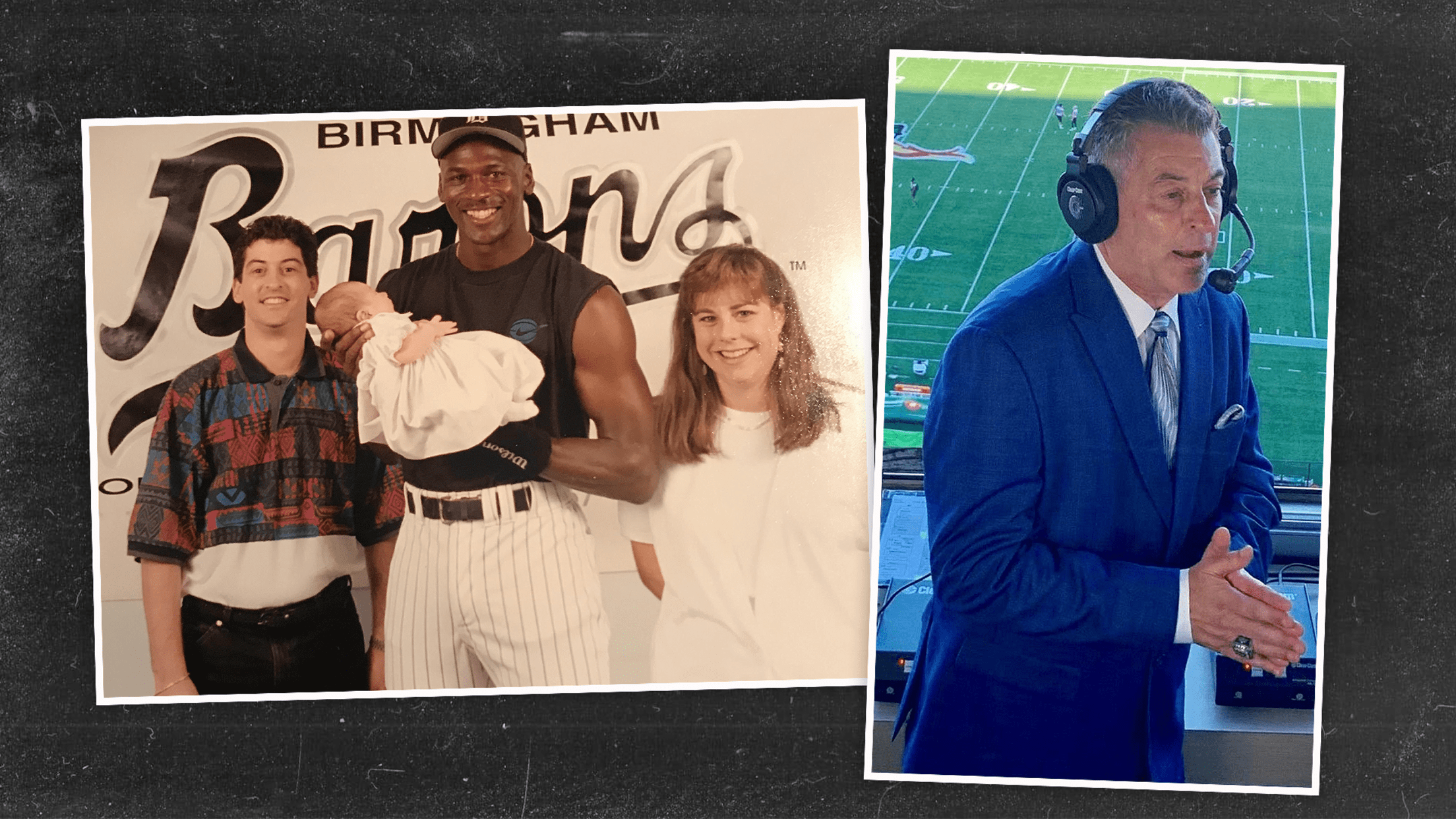 While Bloom has some friends in high places and more experience behind the mic than most in the industry, he's sought guidance from other broadcasters who are either in his current position or have been in recent years.
Tommy Thrall worked as Pensacola's play-by-play broadcaster for seven seasons before joining the Reds booth in 2019. Bloom credits a conversation with Thrall -- which, as it so often does between friends, devolved into an argument -- as some of the best advice he's received since learning of his big league opportunity.
"He said, this could be something of an opportunity where other teams see what you can do. His message was, don't be so confident, cocky or laid back that you're not yourself, you're not enthusiastic, you're not on," Bloom said. "You're just so worried about keeping cool, that you're losing this opportunity that could or may not lead to other gigs. You don't want to get nervous and have the moment too big, that's why I said, 'act like you've been there before.'
"Tommy said, 'I want you to take it in and understand that this could lead to something else, so just make sure you don't turn off what got you there.'"
Bloom recalls a time when this opportunity would not have been possible. Teams simply didn't call up broadcasters from Double-A. But, as it's happened with players -- like Lenyn Sosa, who also went from Birmingham to Chicago this season -- the shift in the booth has been put into practice more in recent years. Teams are less reluctant to call upon broadcasters from all levels and even different teams to work as fill-ins, which does open a world of opportunities for someone like Bloom.
"This is what I've wanted to do my entire life," Bloom said. "Why should I be nervous about it? And why should I be afraid or scared?"