Goodman's early wallop not enough as Fresno drops 9-5 contest to Visalia
Hunter Goodman blasts 8th homer of the season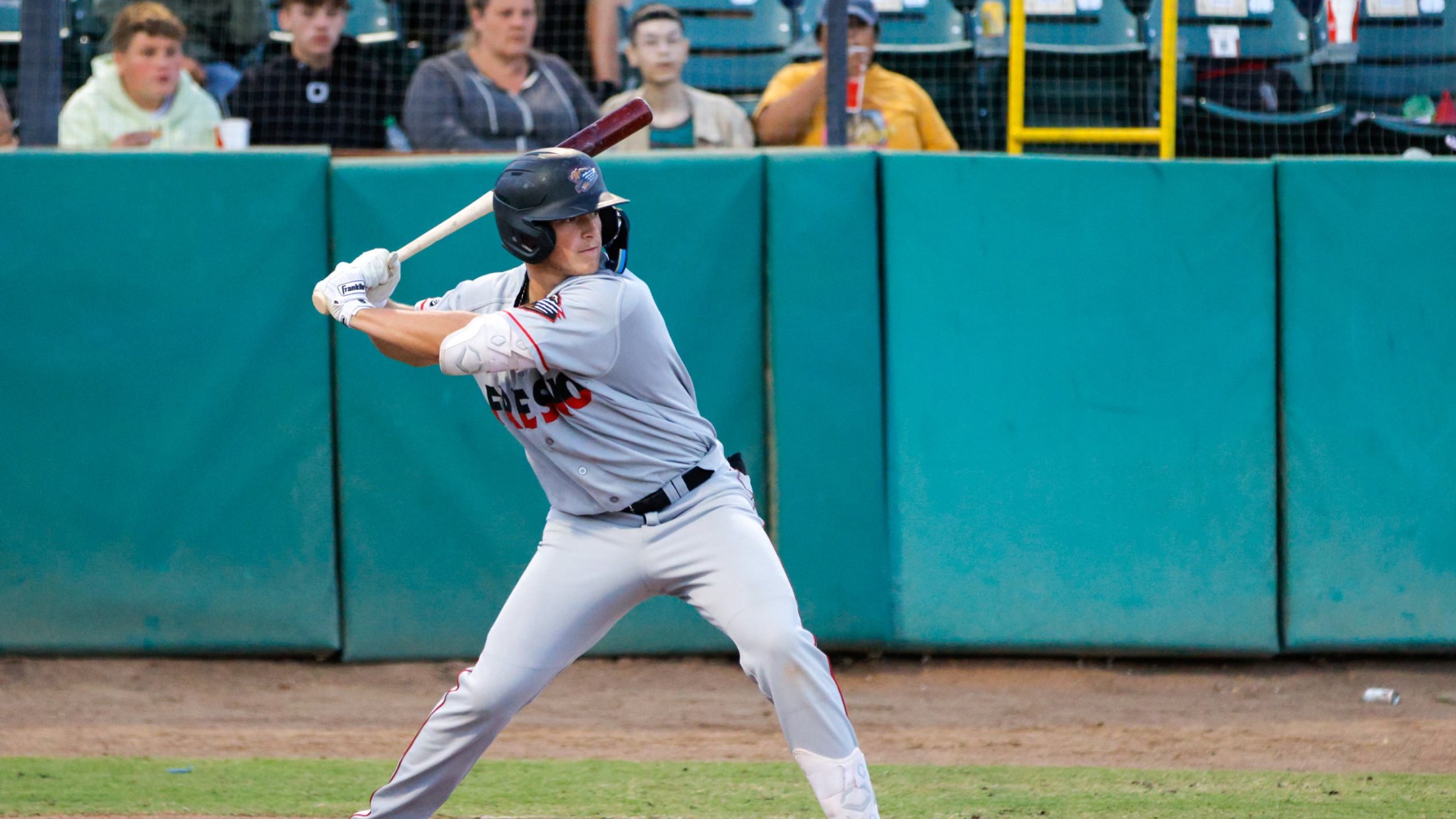 Visalia, CA (Saturday, May 14) – The Fresno Grizzlies (19-13) were defeated by the Visalia Rawhide (10-22) 9-5 Saturday night from Valley Strong Ballpark. With the loss, Fresno is now 22-7 against Visalia over the past two seasons while outscoring the Rawhide 174-124 in those 29 contests. In the top
Visalia, CA (Saturday, May 14) – The Fresno Grizzlies (19-13) were defeated by the Visalia Rawhide (10-22) 9-5 Saturday night from Valley Strong Ballpark. With the loss, Fresno is now 22-7 against Visalia over the past two seasons while outscoring the Rawhide 174-124 in those 29 contests.
In the top of the first, Hunter Goodman gave the Grizzlies a 3-0 lead with a booming homer to left field. It was Goodman's team-leading eighth bomb of the season. In the bottom of the first, the Rawhide cut into the deficit when Deyvison De Los Santos plated Jordan Lawlar with a sacrifice fly. Fresno added a run in the fourth and another in the fifth to extend the advantage to 5-1. Juan Brito smoked a double, advanced to third on a wild pitch and waltzed home on a fielder's choice. A passed ball netted Zach Kokoska to help the cause.
Despite trailing by four, Visalia never stopped hitting. In the fourth, Jacen Roberson mashed a double, scoring De Los Santos. A frame later, the Rawhide gained control thanks to five runs. Wilderd Patino and Juan Batista both enjoyed RBI singles, Shane Muntz relished a sacrifice fly while Sheng-Ping Chen drew a bases-loaded walk. After the dust settled, Visalia had a 7-5 advantage.
The Rawhide delivered two more insurance runs in the eighth from a Muntz single, putting the game out of reach. That provided Visalia reliever Jose Alcantara (2-1) the decision and Yilber Diaz the save, his first of the year. Diaz hurled four shutout frames, allowing two hits while striking out seven. Fresno righty Juan Mejia (1-1) suffered the setback. The clubs conclude the set tomorrow afternoon with the Grizzlies looking for a series win.
Top Performers: Fresno Grizzlies (Colorado Rockies)
• 1B Hunter Goodman (1-4, HR, 3 RBI, R)
• SS Adael Amador (2-3, R, BB, HBP, SB)
• 2B Juan Brito (1-4, 2B, R, BB, CS)
• RF Yanquiel Fernandez (2-4, RBI)
Top Performers: Visalia Rawhide (Arizona Diamondbacks)
• RHP Yilber Diaz (4.0 IP, 2 H, 0 R, 0 ER, 0 BB, 7 K)
• DH Jordan Lawlar (3-4, 2B, 3 R, BB, SB, CS)
• CF Wilderd Patino (2-4, 2B, RBI, 2 R, BB, 3 SB)
• 1B Shane Muntz (1-4, 3 RBI)
On Deck:
Sunday, May 15 @ Visalia Rawhide, Fresno LHP Mason Green (2-1, 2.96) vs. Visalia LHP Liam Norris (0-0, 3.66), 1:00 pm PT
ON THAT FRES-NOTE:
Grizzlies starter Victor Juarez tossed four innings of two-run ball. The righty permitted five hits and no walks while punching out five.