Grizzlies display their comeback claws in 9th with 2-1 win over Giants
With 2 outs and 2 strikes, Juan Brito singles in a pair as Fresno splits series with San Jose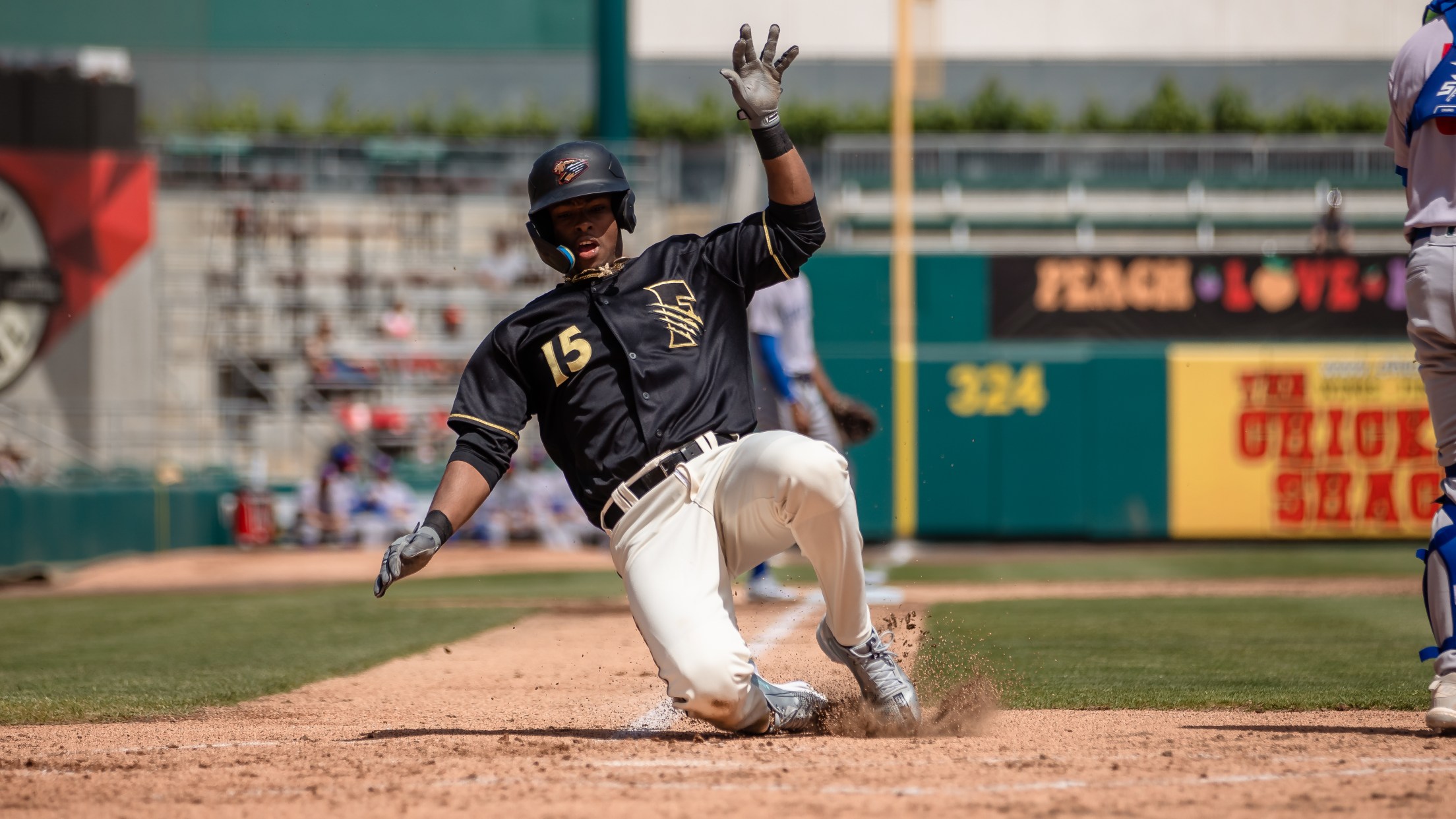 San Jose, CA (Sunday, April 17) – The Fresno Grizzlies (6-3) squeaked past the San Jose Giants (5-4) 2-1 Sunday afternoon from Excite Ballpark to earn a series split in their first road trip of the season. Fresno relished their second comeback win of the 2022 campaign and moved to
San Jose, CA (Sunday, April 17) – The Fresno Grizzlies (6-3) squeaked past the San Jose Giants (5-4) 2-1 Sunday afternoon from Excite Ballpark to earn a series split in their first road trip of the season. Fresno relished their second comeback win of the 2022 campaign and moved to 3-1 in one-run affairs.
After both teams traded goose eggs for half a dozen innings, the Giants hopped ahead 1-0 in the seventh on a wild pitch. The Grizzlies still couldn't find their bearings until the ninth. With one gone in the frame, Juan Guerrero worked a 10-pitch walk. He would sprint to third on a two-out, sharp single by pinch hitter Yanquiel Fernandez. The Cuban native swiped second just a few pitches later during Juan Brito's at bat. Brito operated the count to 2-2 before dumping a shallow single into center, allowing both Guerrero and Fernandez to tumble home. The two-run single gave Fresno the advantage.
In the bottom half of the frame, Grizzlies closer Juan Mejia secured his third save of the year when Alexander Suarez grounded into a 6-4-3 game-ending double play. The comeback victory supplied Joel Condreay (2-0) the decision and Hunter Dula (0-1) the loss. Fresno starter Mason Green hurled five scoreless innings, allowing one hit and two walks while striking out five. San Jose lefty Matt Mikulski tossed four shutout frames in a no-decision effort.
Adael Amador and Benny Montgomery combined to smack five singles in the triumph. Amador at one point had reached base safely in seven straight at-bats dating back to yesterday. Montgomery's three hits tied a career-high for the Rockies #3 prospect. Both squads will take Monday off before returning to action Tuesday night.
Top Performers: Fresno Grizzlies (Colorado Rockies)
• 2B Juan Brito (1-1, 2 RBI)
• CF Benny Montgomery (3-4, SB)
• PH Yanquiel Fernandez (1-1, R, SB)
• LF Juan Guerrero (0-2, R, 2 BB)
• SS Adael Amador (2-5)
• Grizzlies pitching (9.0 IP, 6 H, 1 R, 1 ER, 2 BB, 8 K)
Top Performers: San Jose Giants (San Francisco Giants)
• 2B Abdiel Layer (2-4, 2B, R)
• SS Aeverson Arteaga (2-4, 2B)
• Giants pitching (9.0 IP, 7 H, 2 R, 0 ER, 2 BB, 5 K)
On Deck:
Tuesday, April 19 vs. Lake Elsinore Storm, Lake Elsinore RHP Ruben Galindo (0-1, 18.00) vs. Fresno RHP Cullen Kafka (0-1, 4.50), 6:50 pm PT
ON THAT FRES-NOTE:
Warming Bernabel saw his eight-game hit streak come to an end on Sunday. The returning third baseman is still batting .361.