Grizzlies power past Rawhide 8-7 thanks to grand slam and back-to-back homers 
Fernandez: grand slam; Bernabel and Goodman: back-to-back homers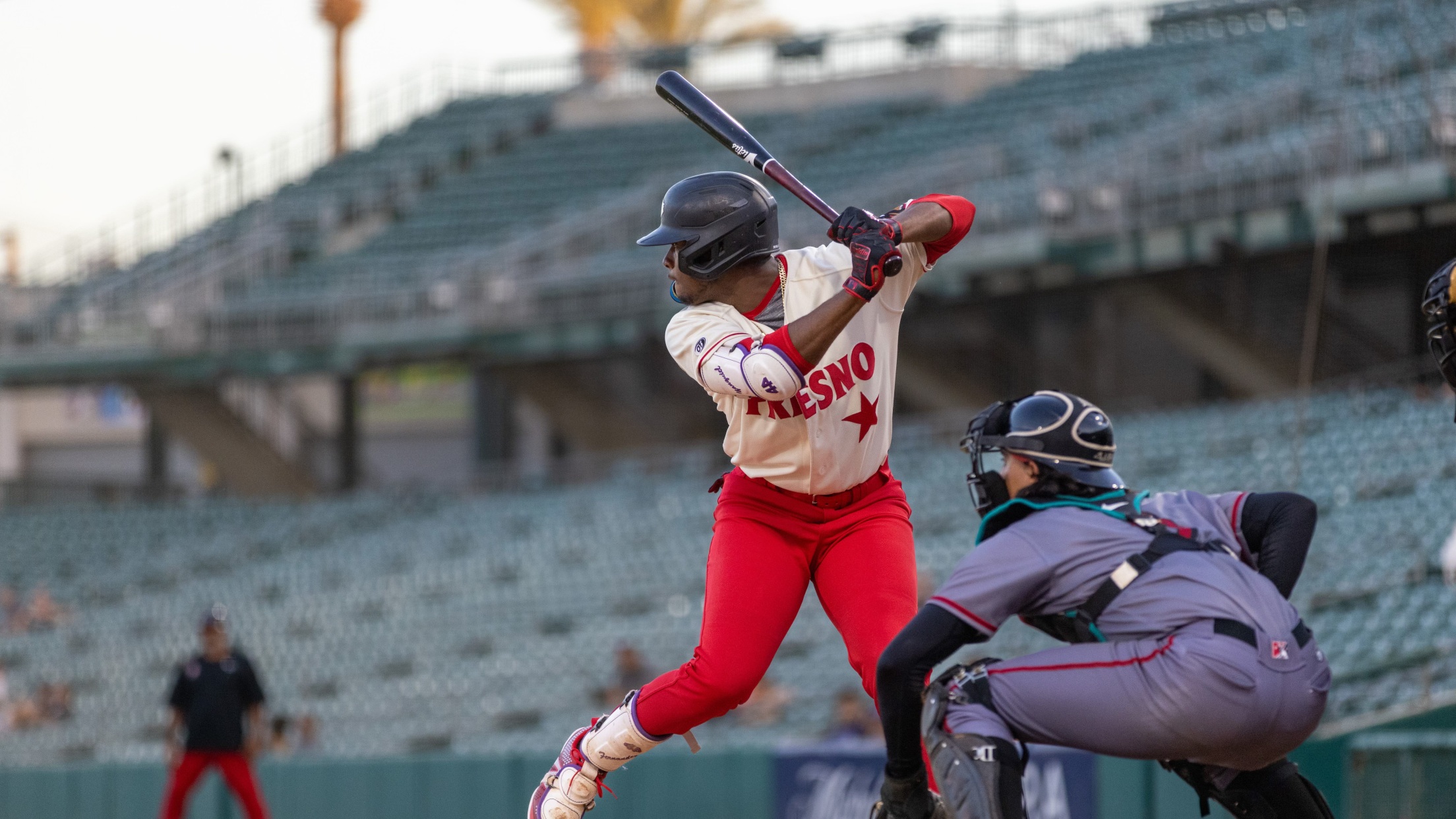 Fresno, CA (Tuesday, June 7) – The Fresno Grizzlies (33-19) powered past the Visalia Rawhide (16-36) 8-7 Tuesday night from Chukchansi Park. Fresno improved to 13-0 at home and 24-7 overall against Visalia in the last two seasons, outscoring the Rawhide 190-136. The Grizzlies still hold a two-game division lead
Fresno, CA (Tuesday, June 7) – The Fresno Grizzlies (33-19) powered past the Visalia Rawhide (16-36) 8-7 Tuesday night from Chukchansi Park. Fresno improved to 13-0 at home and 24-7 overall against Visalia in the last two seasons, outscoring the Rawhide 190-136. The Grizzlies still hold a two-game division lead over the San Jose Giants with 14 games left in the first half.
Fresno exploded for six runs in the bottom of the second. A Visalia throwing error allowed Juan Brito to sprint home. Then, Adael Amador ripped a single to right, plating Juan Guerrero. Finally, Yanquiel Fernandez demolished a grand slam to right field, making it 6-0 Grizzlies. It was the second grand slam belted by Fresno this year (Trevor Boone, May 28 vs. Stockton) and Fernandez's fourth bomb of the season.
Despite the deficit, the Rawhide scored seven unanswered runs with five coming in the third and another two in the seventh. S.P. Chen mashed a triple to left, adding a pair of runs. Then, Junior Franco roped a single, netting Chen. The final two runs in the third were notched by a JJ D'Orazio double. Visalia grabbed a 7-6 advantage in the seventh from a sacrifice fly and a single by Deyvison De Los Santos.
In the bottom half of the seventh, the Grizzlies clawed ahead 8-7 after back-to-back homers. Warming Bernabel smashed a solo shot to left, his sixth of the 2022 campaign. That was followed up by a Hunter Goodman clout to dead center, his 14th longball of the year. It was the second time this season that Fresno whacked back-to-back taters (Fernandez and Bernabel, April 29 at Stockton).
The one-run advantage would stick after scoreless relief appearances by Juan Mejia and Joel Condreay. Mejia struck out the side while Condreay relished his sixth save of 2022. Righty Sergio Sanchez (5-1) enjoyed the win and starter Jarrod Cande did not factor in the decision. Cande punched out a career-high six batters over five innings.
Miguel Gil (0-1) suffered the Visalia loss after three-plus frames of work. He fanned five, but permitted the seventh comeback victory for the Grizzlies this year. The clubs are back in action tomorrow evening.
Top Performers: Fresno Grizzlies (Colorado Rockies)
• RF Yanquiel Fernandez (1-5, HR, 4 RBI, R)
• DH Hunter Goodman (2-4, HR, RBI, R)
• 3B Warming Bernabel (1-4, HR, RBI, R)
Top Performers: Visalia Rawhide (Arizona Diamondbacks)
• 2B S.P. Chen (1-5, 3B, 2 RBI, R)
• C JJ D'Orazio (1-4, 2B, 2 RBI)
• LF Junior Franco (1-4, 2 RBI, R)
On Deck:
Wednesday, June 8 vs. Visalia Rawhide, Visalia RHP Josh Swales (0-3, 8.46) vs. Fresno RHP Case Williams (3-1, 3.50), 6:50 pm PT
ON THAT FRES-NOTES:
Fresno skipper Robinson Cancel is three games away from 300 wins as a Minor League manager.