Grizzlies shell Nuts 9-1 as Bugarin ties franchise record for most triples in a game
Jesus Bugarin: 3-for-5, 2 3B, RBI, 2 R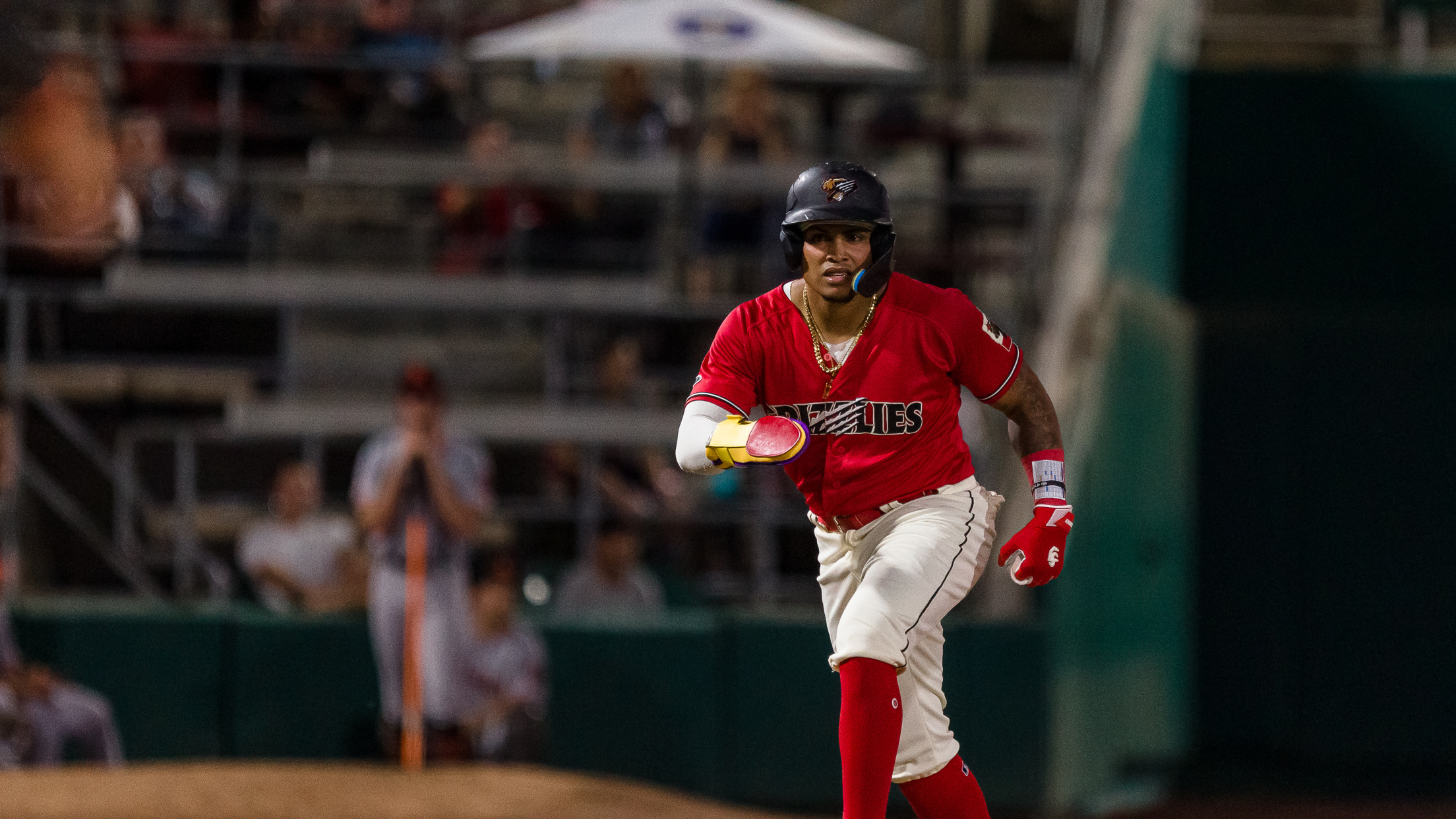 Modesto, CA (Friday, May 19) – The Fresno Grizzlies (20-17) cracked the Modesto Nuts (19-18) 9-1 Friday night from John Thurman Field. Fresno tied the series at two games apiece after an offensive explosion. The Grizzlies scored nine unanswered runs on 10 hits, nine walks, one hit by pitch and
Modesto, CA (Friday, May 19) – The Fresno Grizzlies (20-17) cracked the Modesto Nuts (19-18) 9-1 Friday night from John Thurman Field. Fresno tied the series at two games apiece after an offensive explosion. The Grizzlies scored nine unanswered runs on 10 hits, nine walks, one hit by pitch and one error. Eight of the nine Fresno starters reached base safely with four batters tallying multiple hits.
Fresno fell behind 1-0 in the third after a Modesto sacrifice fly. Despite the early deficit, the Grizzlies offense roared for nine runs over five of their final six innings. Fresno improved to 1-8 on the road when their opponents score first. In the fourth, Jesus Bugarin laced a triple and waltzed home on a balk. A frame later, Ryan Ritter pushed the Grizzlies ahead 3-1 with a two-run double to left. In the seventh, Fresno added three runs from a pair of singles. Andy Perez roped a single off the second base bag, plating Ritter. Then, Jesus Ordonez ripped a two-run single to left.
The Grizzlies supplied two more runs in the eighth, extending their advantage to 8-1. Bugarin swatted his second triple of the evening, scoring EJ Andrews Jr. With that hit, Bugarin tied a single-game franchise record with two triples, most recently done by Braxton Fulford on September 13, 2022 in a playoff game. He would race home on a Ritter sacrifice fly. Ritter mashed two doubles, the most by a Fresno batter this season. In the ninth, Ordonez spanked a double, giving the Grizzlies another run for good measure. Both Ritter and Ordonez drove in three RBI for Fresno.
The offensive outpouring was matched by the Grizzlies pitching staff. Righty Jordy Vargas (4-1) earned the win after five innings of one-run ball. Vargas pitched in and out of trouble, but struck out the side in the fifth to end his evening. The Rockies #12 prospect punched out seven overall and allowed just four hits. Carson Skipper (hold, 3), Carlos Torres and Davis Palermo followed Vargas with four shutout frames. The trio fanned six to close out the victory.
Nuts' southpaw Brandon Schaeffer (2-3) took the defeat after five innings of work. He was dominant early before running into trouble in the fourth and fifth. Catcher Tatem Levins poked two doubles for Modesto. The clubs are back to battle tomorrow night from John Thurman Field.
Tonight's article was written by ChatGPT
Top Performers: Fresno Grizzlies (Colorado Rockies)
CF Jesus Bugarin (3-5, 2 3B, RBI, 2 R)
2B Ryan Ritter (2-3, 2 2B, 3 RBI, R, BB)
C Jesus Ordonez (2-4, 2B, 3 RBI, BB)
Grizzlies pitching (9.0 IP, 7 H, 1 R, 1 ER, 4 BB, 13 K)
Top Performers: Modesto Nuts (Seattle Mariners)
C Tatem Levins (2-4, 2 2B)
SS Cole Young (2-5, R, SB)
LHP Brandon Schaeffer (5.0 IP, 3 H, 3 R, 1 ER, 3 BB, 7 K)
On Deck:
Saturday, May 20 @ Modesto Nuts, Fresno RHP Connor Staine (2-2, 5.26) vs. Modesto RHP Shaddon Peavyhouse (3-2, 4.42), 6:05 pm PT
ON THAT FRES-NOTES:
Jesus Bugarin extended his hit streak to seven games, a current team-long.
Jake Snider celebrated his 25th birthday with a pair of walks and one run scored.
Carson Skipper has struck out six batters over his last two and one-third innings pitched (two games).
Over their past 13 games (9-4 record), the Grizzlies have scored 49 of their 72 runs in innings 7-9. In that span, Fresno has recorded 27 runs in the eighth inning. The Grizzlies have enjoyed five comeback victories and two walk-offs in the seventh inning or later during this stretch.
The Grizzlies rotation has been dominant over their past 10 games. Fresno starters are 3-3 with a 2.29 ERA in that stretch. They have combined to toss 55 innings, allowing 14 runs (all earned) on 37 hits and 15 walks while fanning 57.