Guerrero's clout in 9th highlights Grizzlies 6-4 comeback win against Rawhide
Juan Guerrero: 3-run homer with two outs in the 9th; 3rd comeback victory for Fresno of 2022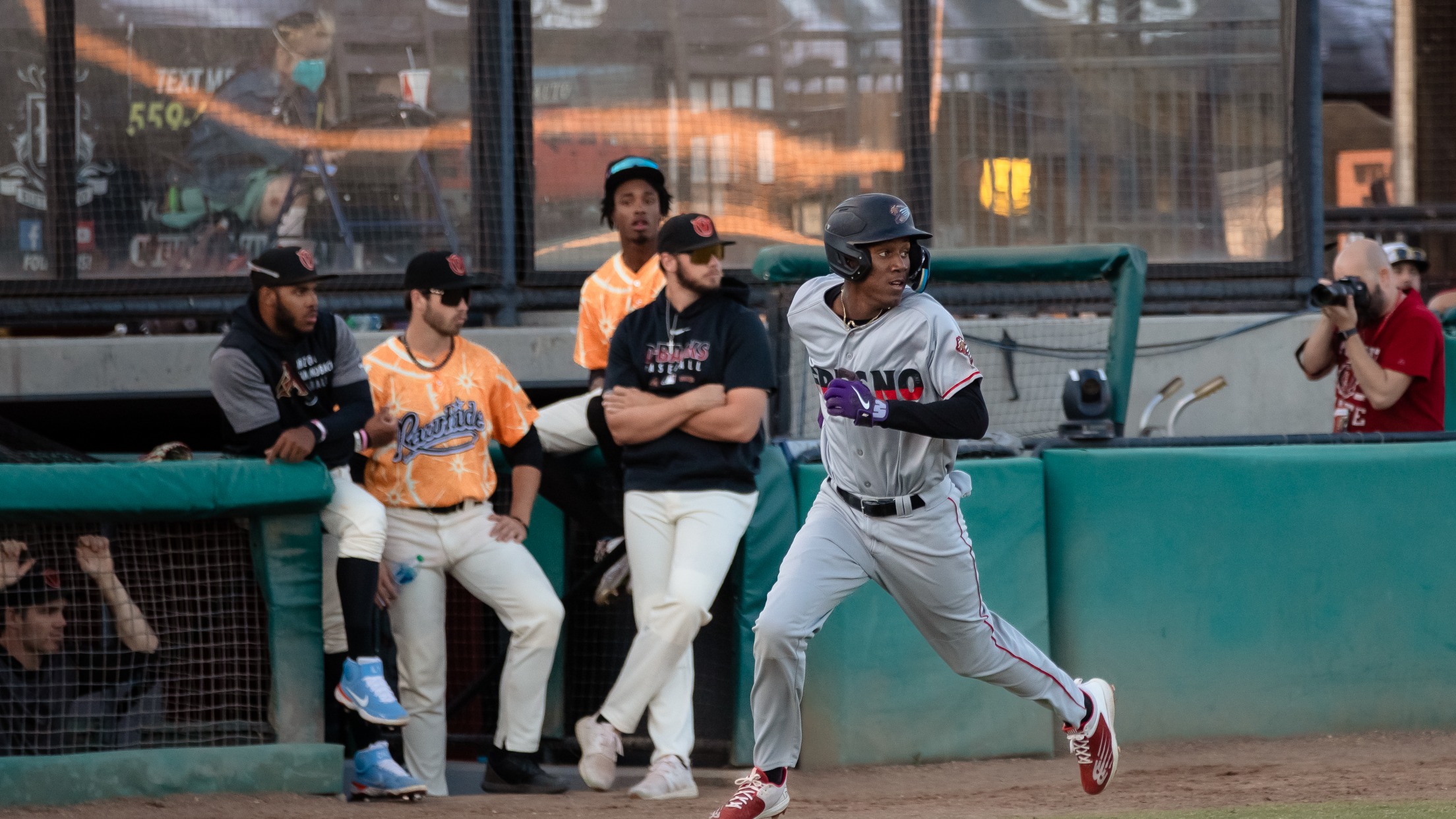 Visalia, CA (Friday, May 13) – It may have been Friday the 13th, but the Fresno Grizzlies and their comeback claws weren't afraid to come out in the 9th inning from Valley Strong Ballpark. Trailing 4-2 with two outs, the Grizzlies (19-12) scored four unanswered runs thanks to a three-run
Visalia, CA (Friday, May 13) – It may have been Friday the 13th, but the Fresno Grizzlies and their comeback claws weren't afraid to come out in the 9th inning from Valley Strong Ballpark. Trailing 4-2 with two outs, the Grizzlies (19-12) scored four unanswered runs thanks to a three-run homer and RBI double. With the comeback win, Fresno is now 22-6 against Visalia over the past two seasons while outscoring the Rawhide (9-22) 169-115 over those 28 contests.
The Grizzlies seized a 2-0 advantage in the top of the third. Adael Amador roped a single to right, adding Zach Kokoska. Then, Amador was caught in a rundown, allowing for Juan Guerrero to scamper home. The Rawhide would then plate four runs spanning across three innings. A balk in the fourth, two RBI singles in the fifth and a Shane Muntz solo shot in the eighth gave Visalia a 4-2 lead.
In the top of the ninth, Hunter Goodman mustered an infield single and Braxton Fulford was hit by a pitch. The two baserunners were offset by a pair of strikeouts, making Guerrero the last hope for Fresno on the night. On a 1-1 count, Guerrero powered the next pitch he saw to deep left field. The three-run longball was his second dinger of the year, pushing the Grizzlies ahead. Later in the frame, Braiden Ward extended the advantage to 6-4 with a double to center.
The two-run lead would hold in the bottom half of the ninth when Joel Condreay mowed down Visalia 1-2-3. Condreay secured his fourth save of the 2022 campaign. Bryce McGowan (1-0) relished the decision and Rael Santos (0-2) suffered the loss.
Fresno starter Brayan Castillo tossed a season-high five innings. He allowed three runs on four hits while fanning five. Visalia righty Peniel Otano hurled five and one-third frames, permitting one earned run on five hits. The clubs are back in action tomorrow evening.
Top Performers: Fresno Grizzlies (Colorado Rockies)
• LF Juan Guerrero (1-4, HR, 3 RBI, 2 R)
• CF Braiden Ward (2-5, 2B, RBI)
• RF Zach Kokoska (2-4, 2B, R)
• 1B/C Hunter Goodman (2-4, R)
Top Performers: Visalia Rawhide (Arizona Diamondbacks)
• 1B Shane Muntz (2-4, HR, RBI, R)
• SS Jordan Lawlar (2-4, RBI, R)
• LF Junior Franco (1-3, R, BB)
On Deck:
Saturday, May 14 @ Visalia Rawhide, Fresno RHP Victor Juarez (2-0, 3.20) vs. Visalia LHP Yaifer Perdomo (0-3, 9.49), 6:30 pm PT
ON THAT FRES-NOTE:
This was the third comeback win for the Grizzlies this season (April 8 and 17th).