Gutierrez's HR helps Hoppers snap 3-game skid
Abrahan Gutierrez hits 3-run shot in 8th inning as Greensboro rallies for 6-5 win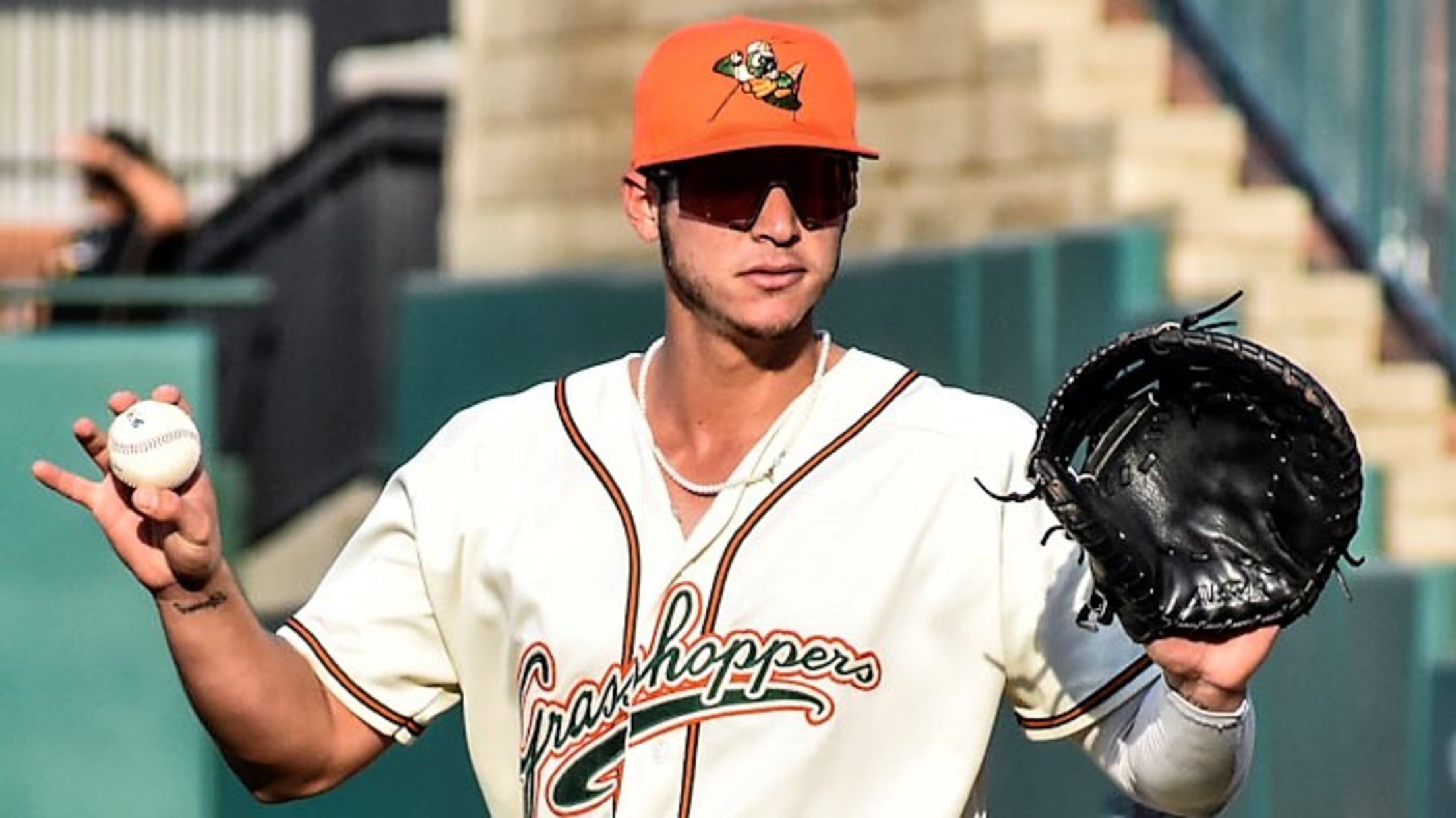 Greensboro's Abrahan Gutierrez (Kaylen Ayres/contributed photo)
BROOKLYN ― Abrahan Gutierrez hit a three-run home run in the top of the eighth inning, and the Greensboro Grasshoppers rallied from an early 4-1 deficit to beat the Brooklyn Cyclones 6-5 at Maimonides Park on Thursday night. Endy Rodriguez went 2-for-3 with two doubles, a walk, an RBI and
BROOKLYN ― Abrahan Gutierrez hit a three-run home run in the top of the eighth inning, and the Greensboro Grasshoppers rallied from an early 4-1 deficit to beat the Brooklyn Cyclones 6-5 at Maimonides Park on Thursday night.
Endy Rodriguez went 2-for-3 with two doubles, a walk, an RBI and a run scored for the Hoppers (35-47 overall, 8-9 second half), who snapped a three-game losing skid.
Jacob Gonzalez was 2-for-5 with a double, and Yoyner Fajardo had two hits and an RBI for the Hoppers, who trail first-place Hudson Valley by 2½ games in the South Atlantic League's North Division standings.
Right-hander Eddy Yean (3-2) pitched a scoreless seventh inning to pick up the win in relief.
Greensboro middle relievers Jack Carey, Christian Charle, Yean and Michell Miliano combined for five scoreless innings to enable the comeback. Hard-throwing Oliver Mateo allowed a run on a triple and a wild pitch in the ninth, but got the final three outs for his fourth save.
CYCLONES 9, GRASSHOPPERS 0
Brooklyn pitchers Garrison Bryant (5-1) and Daison Acosta combined on a four-hit shutout to win Wednesday's game.
Greensboro starter Nick Garcia (3-2) took a tough-luck loss. Garcia deserved better, allowing two runs in five innings, walking none and striking out nine. The Hoppers offense managed just four singles, one each from Fajardo, Rodriguez, Gutierrez and Dariel Lopez.
CYCLONES 6, GRASSHOPPERS 5
Jacob Gonzalez went 2-for-5 with a double and two RBIs, and Francisco Acuna doubled twice and scored twice for the Hoppers, who fell behind 6-0 early and came up short with a late rally in Tuesday's series opener.
NOTES
Greensboro is 14-13 in one-run games this season. The Hoppers have won 13 of their last 21 one-run games.
Designated hitter Abrahan Gutierrez went 1-for-3 with his sixth home run of the season Thursday. Gutierrez has reached base in 17 of his last 21 games, going 22-for-75 (.293) during that span with five doubles, two home runs and 16 RBIs.
Wednesday's starter Nick Garcia holds a 3.59 ERA that ranks sixth among South Atlantic League qualifiers, and he's still the only pitcher in the league to throw a complete-game shutout this season. Garcia has struck out 69 in 72 ⅔ innings, and he has held opponents to a .211 batting average.
Catcher Endy Rodriguez hit his 19th and 20th doubles of the season Thursday. He has hit safely in 26 of his last 31 games, going 32-for-95 (.337) with 13 doubles, three home runs, 21 RBIs and 19 runs scored. The versatile 22-year-old is rated by MLB Pipeline as Pittsburgh's No. 7 prospect, and he has played four positions ― catcher, first base, second base and left field ― this season.
Shortstop Dariel Lopez has hit safely in 24 of his last 27 games, going 40-for-114 (.351) with six home runs, six doubles, 20 RBIs and 21 runs scored. He has 12 multi-hit games in that span.
In his career at the News & Record, journalist Jeff Mills won 10 national and 12 state writing awards from the Associated Press Sports Editors, the Society for Features Journalism, and the N.C. Press Association.