Home Sweet Home: Grizzlies roar past Giants 20-5 for 9th straight win at Chukchansi Park
Juan Guerrero smacks 2 triples, tying Grizzlies single-game franchise record; Yanquiel Fernandez: 3B, 5 RBI (tied for most RBI by a 2022 Fresno batter)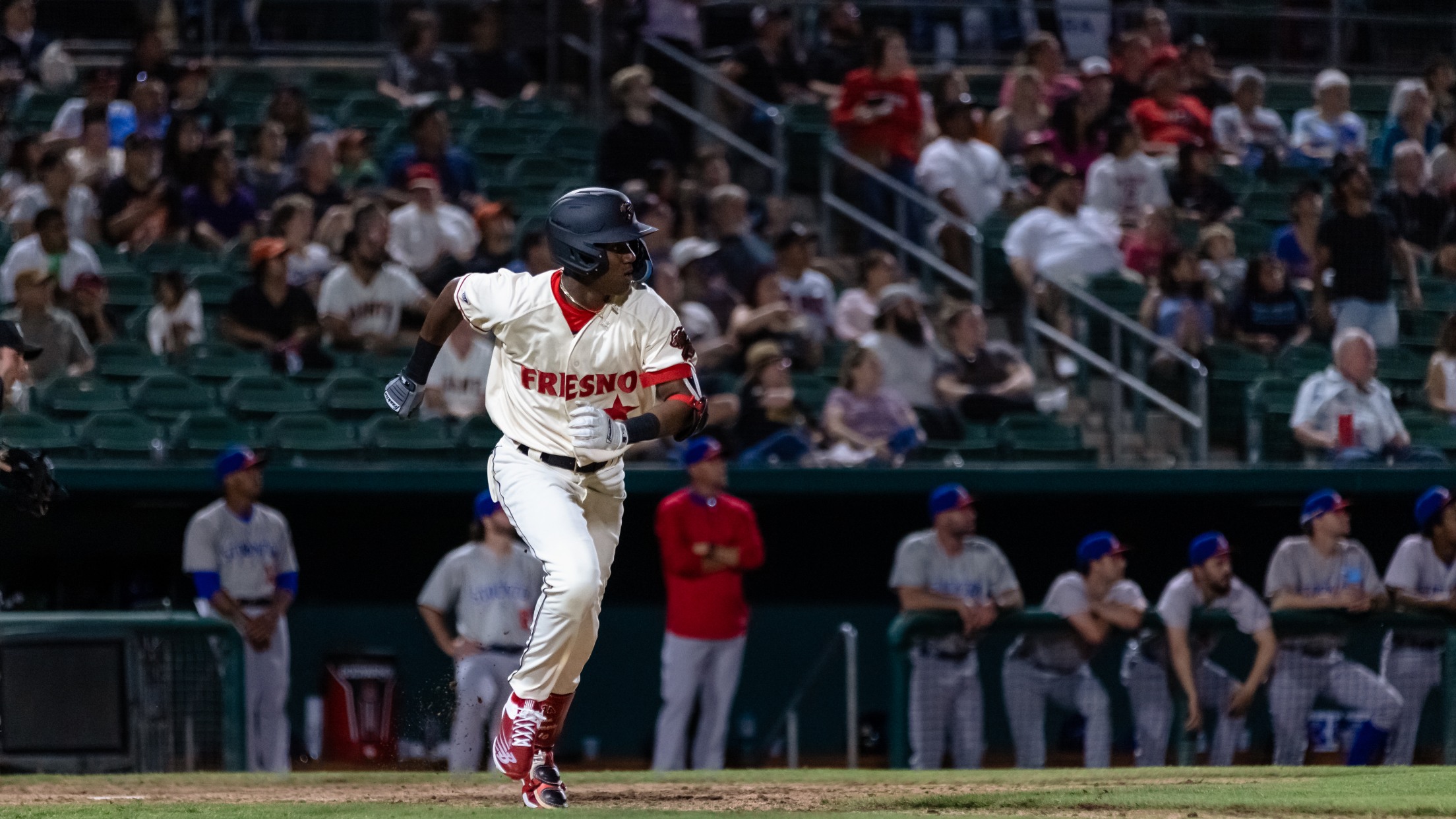 Fresno, CA (Tuesday, August 2) – The Fresno Grizzlies (57-40, 16-15) started August on the right paw, routing the San Jose Giants (56-41, 16-15) 20-5 Tuesday evening from Chukchansi Park. Fresno won their ninth straight game at home, tying a season-long and improved to 33-16 overall. The Grizzlies have defeated
Fresno, CA (Tuesday, August 2) – The Fresno Grizzlies (57-40, 16-15) started August on the right paw, routing the San Jose Giants (56-41, 16-15) 20-5 Tuesday evening from Chukchansi Park. Fresno won their ninth straight game at home, tying a season-long and improved to 33-16 overall. The Grizzlies have defeated the Giants six straight times and moved to 10-9 (6-1 at home) on the year against their Northern division foe. Fresno also improved to 7-0 at Chukchansi Park on Tuesdays and 9-1 in the first game of a series.
The Grizzlies offense roared for 20 runs on 16 hits, seven walks and four hit-by-pitches. The 20 runs were the most scored by Fresno at home this season and the second most runs plated in 2022 (22, June 28 at Stockton). Every Grizzlies starter reached base at least once by the sixth inning and seven different batters collected multiple hits. Fresno pounded five doubles and a season-high three triples. The Grizzlies also had eight hitters score two or more runs and five starters collect multiple RBI. The squad netted five runs in the third, six runs in the second and seven runs in the sixth.
Rockies #16 prospect Yanquiel Fernandez and #22 prospect Juan Guerrero highlighted the Fresno blowout. Fernandez laced a bases-clearing triple among his two hits and drove in a game-high five runs (tied career-high). The five RBI by Fernandez tied the mark for the most RBI by a Fresno batter in 2022 (done five times). Guerrero whacked two triples and a double while providing two RBI. He tied the Grizzlies single-game franchise record for most triples in a contest, most recently done by Julio Carreras in 2021. Guerrero also became the first Fresno batter this season to have multiple two-hit innings. He recorded that feat on June 12 versus Visalia.
Besides the duo above, the rest of the Grizzlies lineup had spectacular nights. Yorvis Torrealba roped two doubles among his three hits, knotting a game-high by a Fresno batter. He powered in a trio of runs and raced home three times. Both Adael Amador and Benny Montgomery had similar lines, picking up two hits, three RBI and a pair of runs each. Montgomery had three at-bats with the bases-loaded. AJ Lewis clobbered two hits and scratched across three runs. Lewis also made multiple web gems in the field. Juan Brito reached base three times, grabbing a double (RBI) and etching two runs. Braxton Fulford was plunked twice, helping the Grizzlies extend their Minor League lead in hit-by-pitches. Ben Sems walked a season-high four times, the most by a Fresno batter this season and secured three runs.
Thanks to the run support, Grizzlies starter Cullen Kafka (4-3) earned the victory. He tossed five frames of three-run ball. Felix Ramires struck out three over two scoreless innings. He has continued to pitch well out of the Fresno bullpen. Newcomer Francis Rivera allowed a pair of hits, but wrapped up the win. On the other side, the Giants permitted a season-high in runs. San Jose used eight pitchers, the most in a single-game by an opponent pitching staff. Seth Lonsway (7-2) agonized the defeat, with both losses coming at Chukchansi Park and against the Grizzlies. The Giants combined to fan 16 batters with a quartet of arms yielding three punchouts apiece.
San Jose's offense spanked 14 hits with four of them landing for extra-bases. Three of the four extra-base knocks left the yard. Jared Dupere, Victor Bericoto and Aeverson Arteaga were the recipients of the longballs. The latter two of the batters each went deep in the sixth inning. Every Giants batter except Alexander Suarez mustered a hit, who was ejected in the second for arguing balls and strikes. The squads are back to battle tomorrow evening from downtown Fresno.
Top Performers: Fresno Grizzlies (Colorado Rockies)
• LF Juan Guerrero (3-6, 2 3B, 2B, 2 RBI, 2 R)
• DH Yorvis Torrealba (3-5, 2 2B, 3 RBI, 3 R)
• RF Yanquiel Fernandez (2-6, 3B, 5 RBI)
Top Performers: San Jose Giants (San Francisco Giants)
• RF Victor Bericoto (2-3, HR, RBI, R)
• SS Aeverson Arteaga (1-4, HR, 2 RBI, R)
• DH Jared Dupere (1-5, HR, 2 RBI, R)
On Deck:
Wednesday, August 3 vs. San Jose Giants, San Jose RHP Trevor McDonald (3-3, 2.62) vs. Fresno RHP Brayan Castillo (1-4, 6.22), 6:50 pm PT
ON THAT FRES-NOTES:
The Grizzlies finally won as the Grizzlies for the first time since July 13 at Rancho Cucamonga. Fresno's four wins prior to tonight came in alternate jerseys (Tacos, 3 and Lowriders, 1). The last win prior to that was July 7, which means that Fresno had won four games as the Lowriders, three games as the Tacos and one as the Grizzlies since July 7.
Fresno second baseman Juan Brito currently has six triples, one shy of joining the Top 10. Outfielder Yanquiel Fernandez currently has five triples, two shy of joining the Top 10. Preston Tucker (2017), Nate Schierholtz (2007), Jason Ellison (2004) and Calvin Murray (1999) each registered seven triples in their respected years.
San Jose rehabber Scott Alexander became the second opposing pitcher to face Fresno at both the Triple-A and Single-A levels, joining fellow teammate JJ Santa Cruz.
The Rockies were the only MLB team to not make a trade at the trade deadline.