Hoppers pitch back-to-back shutouts in doubleheader
Right-hander Nick Garcia, Sean Sullivan lead Greensboro to 2-0 and 1-0 wins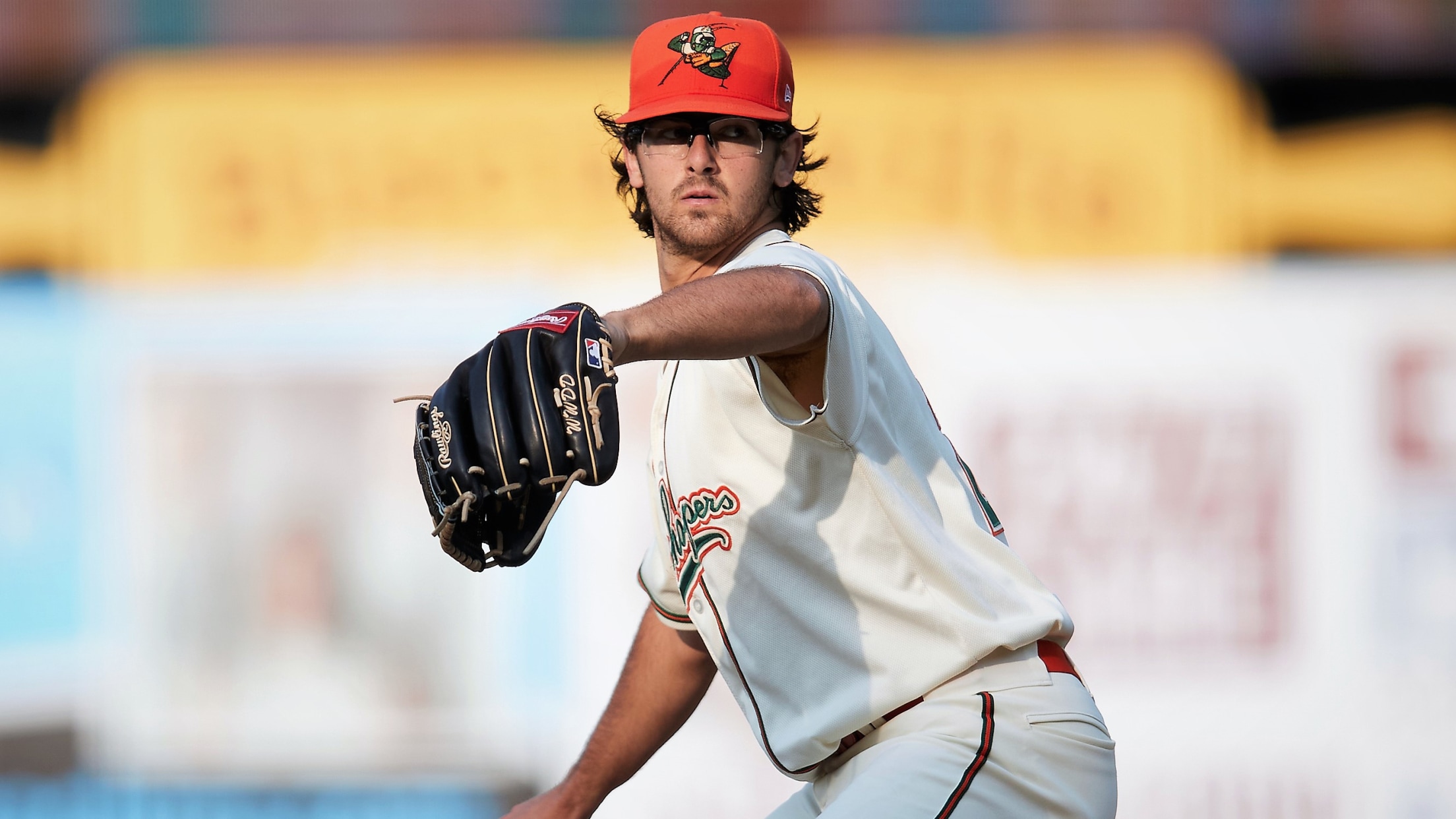 Greensboro right-hander Nick Garcia. (Derrick Brady/bcookmedia)
GREENSBORO ― What a difference a day makes. Well, to be honest, what a difference a day and a come-to-Jesus team meeting 30 minutes before the start of regular game-day prep. Right-handers Nick Garcia and Sean Sullivan pitched dominant games, and the Greensboro Grasshoppers bounced back from the worst day
GREENSBORO ― What a difference a day makes.
Well, to be honest, what a difference a day and a come-to-Jesus team meeting 30 minutes before the start of regular game-day prep.
Right-handers Nick Garcia and Sean Sullivan pitched dominant games, and the Greensboro Grasshoppers bounced back from the worst day of the season by sweeping a doubleheader from the Hudson Valley Renegades with back-to-back shutouts Saturday night.
Garcia (3-1) pitched a three-hitter, logging just the second complete game in the South Atlantic League this season, as the Hoppers won the opener 2-0. He walked none and struck out four in seven innings, facing just three batters over the minimum.
The hard-throwing Sullivan (1-3), pitched six scoreless innings in the nightcap, scattering five hits and three walks. Bullpen closer Cameron Junker struck out three in the seventh to nail down the 1-0 victory and earn his sixth save.
"I was expecting a good response to our team meeting, and both Garcia and Sullivan have thrown the ball exceptionally well over their last four or five starts," Hoppers manager Callix Crabbe said. "Now, I didn't expect back-to-back shutouts or getting seven innings out of Garcia. But both those guys competed. They threw with conviction, attacked the inner half of the plate. And when they got behind in counts, they still didn't allow hitters freedom with their hands and clear swing paths."
The back-to-back shutouts came less than 24 hours after the Renegades clobbered the listless Hoppers 22-2 on Friday night ― a loss that prompted Crabbe to call the team meeting Saturday.
"We brought the entire team in as a group, not just pitchers and not just hitters," Crabbe said. "I wanted to remind them that they were (Low-A Southeast) champions last year. They're better than this. Look, not all adjustments are physical adjustments. Some adjustments are mentality based. I put it to them: 'What do we have to do collectively to put ourselves in a better place?' Losing sucks. So what do we do?"
Crabbe saw a lack of aggressiveness Friday, a lack of leadership.
"We were laying down a little bit," Crabbe said. "Now, Hudson Valley is a good team, and they have some guys who are going to be major leaguers. But we allowed them to dictate the fight, and I did not like that. I was bothered by it. So I sent a message, and you can see the way the group responded. …
"The intent, the effort, the focus, the attitude was there today."
In the opener, Sammy Siani lined a single through the drawn-in infield to drive home Ernny Ordonez with the first run. And then Siani scored all the way from first base on Hudson Head's single to right field, challenging the outfielder's arm with daring baserunning.
Head finished 2-for-2 with a walk, and Endy Rodriguez hit a double for the only extra-base hit of the game.
Garcia took care of the rest, allowing just three singles. None of those runners reached second base.
In the nightcap, Sullivan struck out three, mixing a fastball clocked from 91 to 95 mph with good breaking stuff. The Renegades were 0-for-5 against him with runners in scoring position.
Sullivan struck out two and coaxed a flyout to get out of a bases-loaded jam in the sixth inning.
Junker walked the lead off batter in the seventh, then struck out the next three to end it.
Greensboro managed just three hits off losing pitcher Josue Panacual (2-1), but scratched out the only run it needed in the first inning.
Leadoff hitter Yoyner Fajardo singled, but he was forced out at second on Siani's fielder's choice grounder. Siani stole second base, then scored on Abrahan Gutierrez's two-out single.
NOTES
The Hoppers and Renegades wrap up their six-game series at 2 p.m. Sunday afternoon.
Greensboro is 11-10 in one-run games this season. The Hoppers have won 10 of their last 15 one-run games.
Right-hander Nick Garcia's 3.31 ERA ranks fourth among South Atlantic League qualifiers, and his shutout is the only one in the league so far this season. Garcia has struck out 51 in 51 ⅔ innings, and he has held opponents to a .197 batting average.
First baseman Jacob Gonzalez went 1-for-2 with a walk in the first game. He has been one of the South Atlantic League's best players since his promotion from Class-A Bradenton on May 10. He has hit safely in 24 of 30 games since then, with 11 multi-hit games. Gonzalez is 38-for-113 (.336) with six doubles, a triple, five home runs and 15 RBIs.
Center fielder Hudson Head, a 21-year-old rated by MLB Pipeline as the No. 20 prospect in Pittsburgh's farm system, went 2-for-2 with a walk and has reached base in 32 of his last 37 games.
Sammy Siani, a 21-year-old outfielder, leads the Hoppers with 17 stolen bases. He was the 37th overall pick in the 2019 draft, a high school player selected between the first and second rounds.
In his career at the News & Record, journalist Jeff Mills won 10 national and 12 state writing awards from the Associated Press Sports Editors, the Society for Features Journalism, and the N.C. Press Association.