IL notes: Bauers ignoring distractions
Rays No. 5 prospect back for second season with Bulls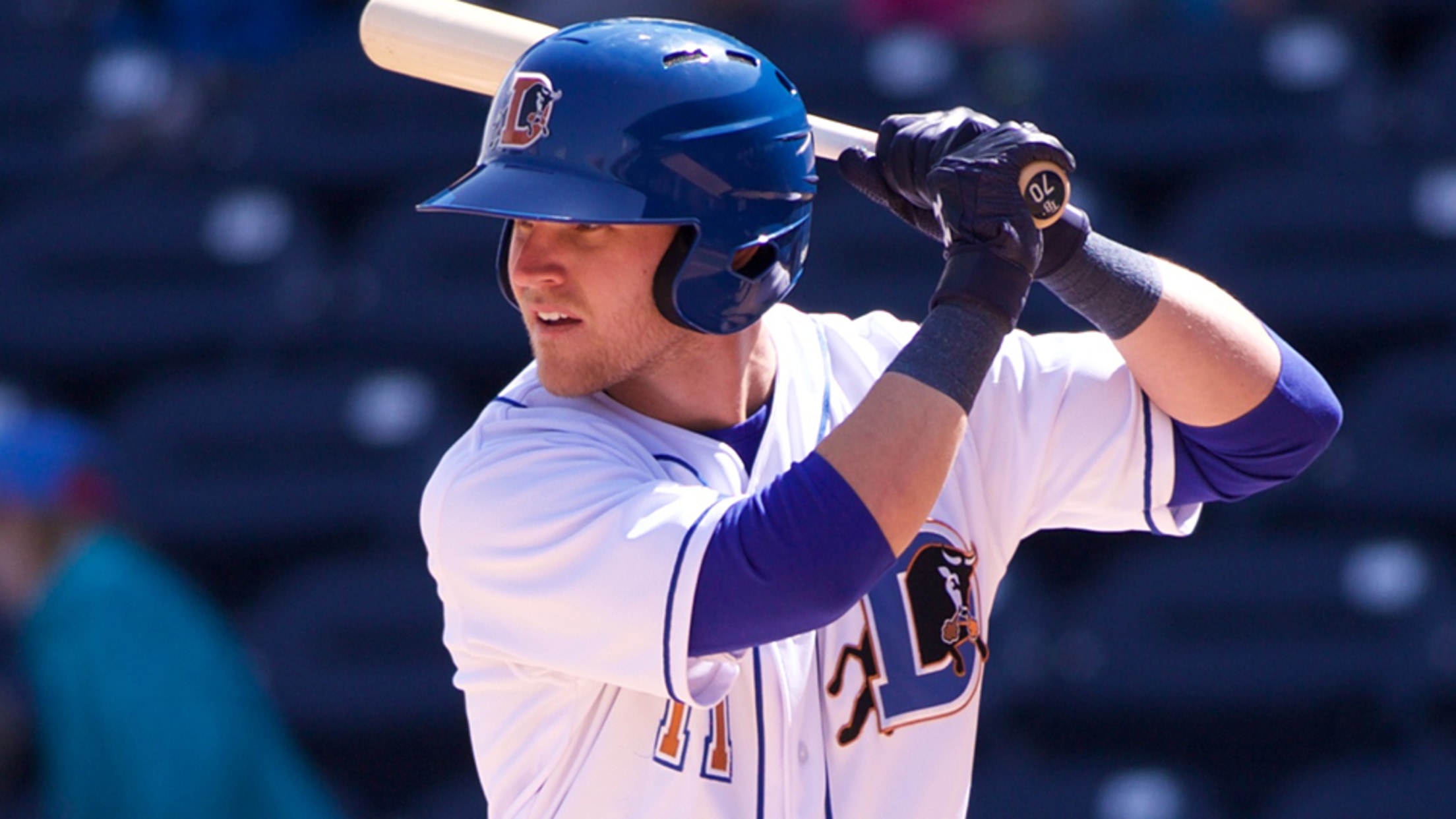 Jake Bauers recorded a pair of three-hit games for Durham last week. (Chris Robertson/KZONEimages)
Jake Bauers had a good season with Durham in 2017.The left-handed-hitting first baseman batted .263 in 132 games, hammering 13 home runs and finishing second on the team with 63 RBIs. Despite being one of the youngest players in the International League, Bauers ranked second with 78 walks and led
Jake Bauers had a good season with Durham in 2017.
The left-handed-hitting first baseman batted .263 in 132 games, hammering 13 home runs and finishing second on the team with 63 RBIs. Despite being one of the youngest players in the International League, Bauers ranked second with 78 walks and led the loop with 79 runs scored while finishing fifth with a .368 on-base percentage.
It was no surprise when Bauers entered 2018 as the fifth-ranked prospect in a stacked Rays farm system. What may have come as a surprise was that the California native was sent back to the IL to begin this season.
"I think he learned a lot from last year," Durham manager Jared Sandberg said. "Last year, he worried about when he was going up -- and he never went up. I think those distractions are behind him and he'll be able to put together some big numbers this year."
Bauers admitted that the biggest lesson he learned last season might have been to focus on what happens on the field and ignore everything else.
"It was tough for me in the first half because I was worrying about everything that was happening above me [in the Major Leagues]," he said. "I kept thinking about things I had no control over. If you have a good year in High-A, you know you're going to Double-A; and when you have a good year in Double-A, you know you're going to Triple-A. But you know nothing is guaranteed in Triple-A. And jumping to the Majors is really the only jump that matters."
Through 19 games with the Bulls this season, Bauers was hitting .250 with two homers and eight RBIs. But he feels he's a better hitter in his second IL tour.
"I realize what pitchers are trying to do more now," he said. "Pitchers have a game plan, and they try to attack you the same way over three or four games. Last year, I think I was a little defensive in terms of reacting to what teams were trying to do instead of attacking. This year, I'm trying to figure out what the other teams are trying to do and attack off of that."
While Sandberg said Bauers is looking to hit for more power, he was quick to add that he was not worried about Bauers failing to tap into his ability to drive the baseball.
"The power tool is usually one of the last [tools] to develop," Sandberg said. "He's still young and he's still at one of the higher levels in baseball. Without him trying to do too much, we're looking for more power -- which could mean more doubles."
And as for what happens off the field?
"I notice [the moves], I still see them," Bauers said. "But they don't affect how I play. They don't affect what I do at the plate or in the field, and they don't affect my game plan. And I can't let them affect the way I go out and play."

In brief
The hit collector:
Buffalo 2B
Tim Lopes
collected two hits in his season debut on April 9 at Pawtucket, and the 23-year-old infielder has not stopped. He has at least one hit in all 11 games he's played, giving him .450 batting average. Lopes also has drawn five walks to give him a .511 on-base percentage.
A pair of "kings:"
The Indianapolis rotation has had two strong starters in right-handers
Nick Kingham
and
Tyler Eppler
. Kingham is 2-1 with a 1.59 ERA that ranks seventh in the league, while Eppler is 2-1 and his 1.93 ERA ranks ninth. Promoted to Pittsburgh on Sunday, Kingham also is fourth in the IL with 27 strikeouts, while Eppler allowed two hits over six scoreless innings in his last start on April 24 against Syracuse.
De Aza keeps hitting and hitting and hitting ... :
Veteran Syracuse outfielder
Alejandro De Aza
ranks second in the IL with a .373 average through 19 games, having posted a 12-game hitting streak early this season. The 34-year-old also has more walks (10) than strikeouts (nine) and ranks fourth in the league with a .456 on-base percentage.
He said it
: "It's not going to get better in a week, but I'm seeing improvements and that's kind of the mindset I'm at. I'm trying to get small improvements each day." --Scranton/Wilkes-Barre 3B
Brandon Drury
to the
Wilkes-Barre Times Leader
. Drury was diagnosed with an irritated tendon running from his neck to his head, which had caused "pressure and tightness" in head and neck along with blurry vision and ear problems. In his first two games with the RailRiders, he was 4-for-7 with three runs scored.
John Wagner is a contributor to MiLB.com.