Kokoska's big evening not enough as Fresno falls 8-6 to Modesto 
Zach Kokoska: 3-for-3, HR, 2 2B, 2 RBI, R, BB; Grizzlies lose 5th straight road game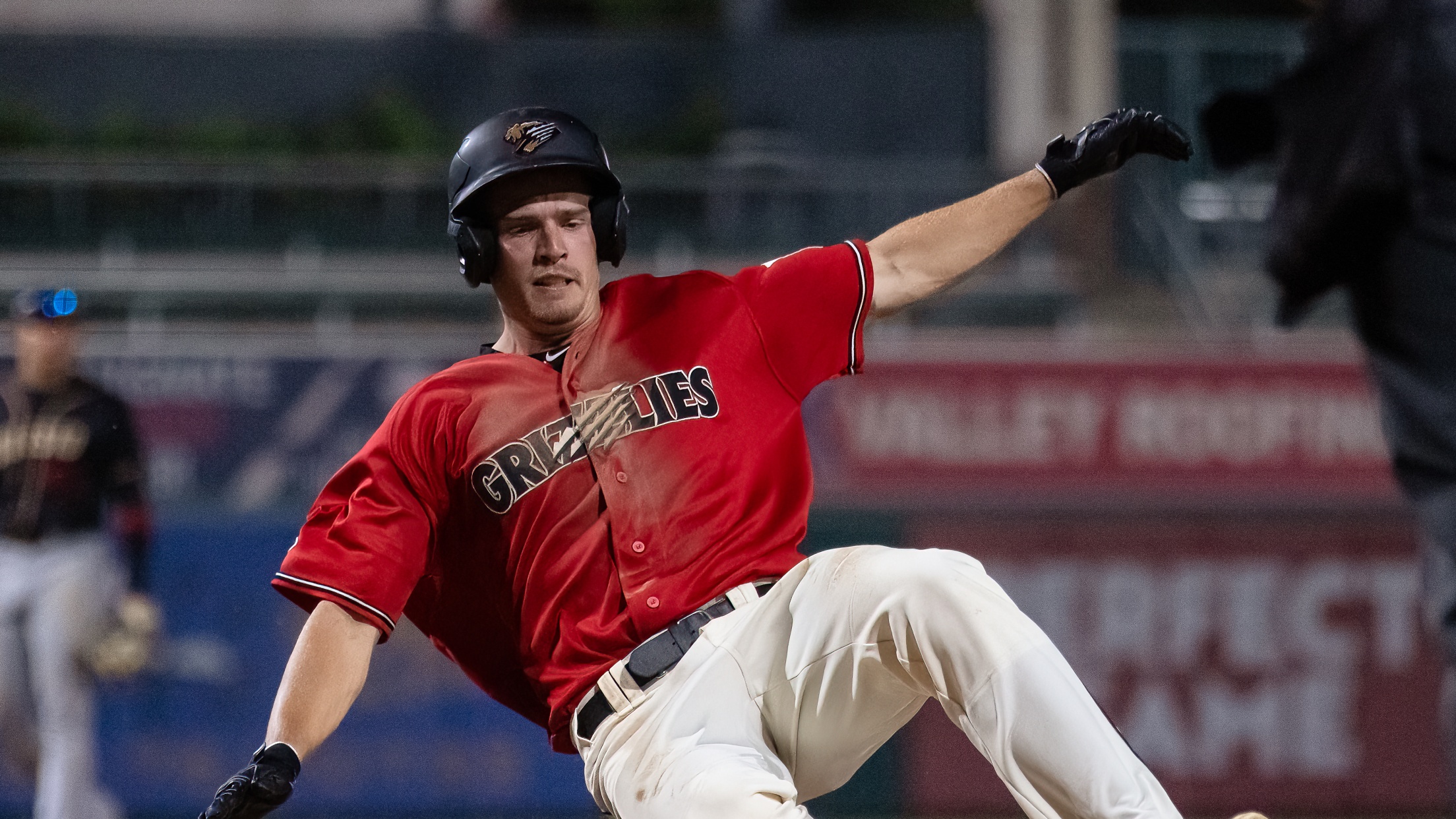 Modesto, CA (Tuesday, July 26) – The Fresno Grizzlies (55-36, 14-11) dropped an 8-6 affair to the Modesto Nuts (44-47, 14-11) Tuesday evening from John Thurman Field. Fresno lost their fifth straight road contest, tying a season-long and stumbled to Modesto for the fifth consecutive time. The Grizzlies are now
Modesto, CA (Tuesday, July 26) – The Fresno Grizzlies (55-36, 14-11) dropped an 8-6 affair to the Modesto Nuts (44-47, 14-11) Tuesday evening from John Thurman Field. Fresno lost their fifth straight road contest, tying a season-long and stumbled to Modesto for the fifth consecutive time. The Grizzlies are now 13-4 in the first game of a series and 11-3 on Tuesday's.
Fresno's lineup pounded nine hits with seven of them landing for extra-bases. In the top of the second, Braxton Fulford and Zach Kokoska blasted back-to-back homers, the fifth instance by the Grizzlies in 2022. Fulford's eighth bomb of the year carried 463 feet while Kokoska enjoyed his 10th longball of the season. Besides going deep, Kokoska smacked two doubles, walked once and drove in another run in the sixth. Adael Amador also added a pair of doubles, stole a base and scored twice. Both Yanquiel Fernandez and Juan Guerrero mustered RBI singles with Guerrero extending his hit streak to nine contests.
On the other side, the Modesto offense tallied 13 hits with eight of the nine batters notching at least one rip. Of the 13 hits, six of them came in a six-run fourth inning. Robert Perez Jr. started the frame with a double. He would score on a Walking Cabrera single. After a Ben Ramirez single, Brett Rodriguez powered in both runs with a double. Then, Victor Labrada traded places with Rodriguez after a double to left. The onslaught of hits would end after Edwin Arroyo laced a triple, plating Labrada. Arroyo finished with two triples on the night.
Grizzlies' righty Cullen Kafka (3-3) took the defeat after five and one-third innings. He allowed 10 hits, the most by a Fresno pitcher in an outing this season. Tyler Ras followed Kafka with one and two-third frames of scoreless ball. He gave up one hit and struck out four. Nuts' starter Bryan Woo lasted four and two-thirds innings, punching out eight. Brayan Perez (2-2) received the victory after one-plus frames of work. Tyler Driver secured a hold after one and two-thirds innings of shutout baseball. Jorge Benitez seized his 11th save of the season after recording four outs. The clubs are back to battle tomorrow night from Modesto.
Top Performers: Fresno Grizzlies (Colorado Rockies)
• DH Zach Kokoska (3-3, HR, 2 2B, 2 RBI, R, BB)
• SS Adael Amador (2-4, 2 2B, 2 R, BB, SB)
• RHP Tyler Ras (1.2 IP, 1 H, 0 R, 0 ER, 0 BB, 4 K)
• C Braxton Fulford (1-4, HR, RBI, 2 R)
Top Performers: Modesto Nuts (Seattle Mariners)
• 2B Brett Rodriguez (1-2, 2B, 2 RBI, 2 R, 2 BB)
• SS Edwin Arroyo (2-5, 2 3B, RBI, 2 R)
• CF Victor Labrada (3-5, 2B, RBI, R)
• 1B Robert Perez Jr. (2-4, 2B, R, BB, SB)
On Deck:
Wednesday, July 27 @ Modesto Nuts, Fresno RHP Brayan Castillo (1-4, 6.06) vs. Modesto RHP Michael Morales (4-6, 5.49) 7:05 pm PT
ON THAT FRES-NOTE:
Benny Montgomery was hit by a pair of pitches in his first two at-bats.