Carrillo throws blanks again for Loons
Dodgers prospect scatters six hits over seven shutout innings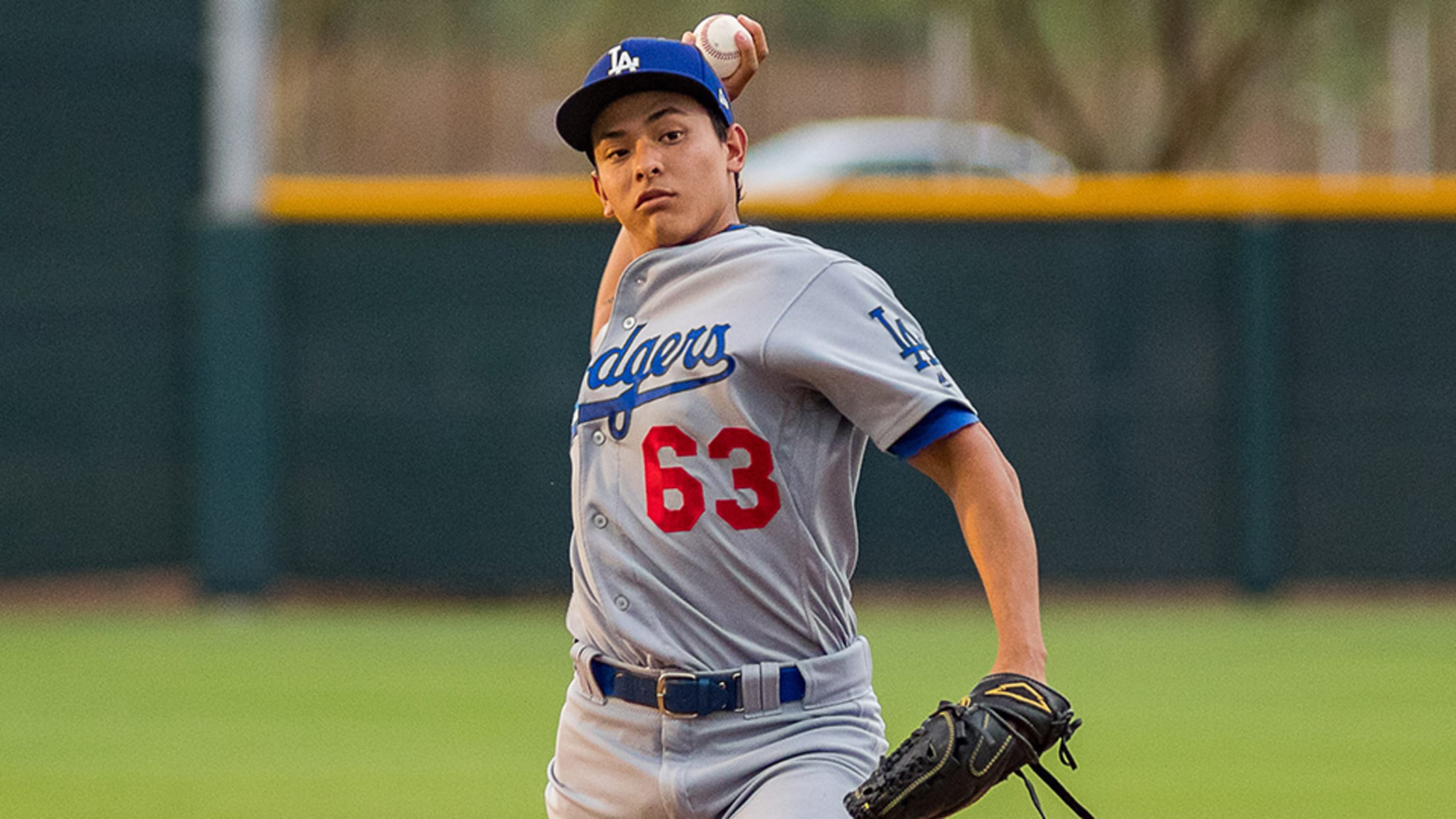 Gerardo Carrillo is 4-1 with a 1.31 ERA in 12 games, including nine starts, across two levels this season. (Freek Bouw/Phrake Photography)
Gerardo Carrillo quickly convinced the Dodgers he was ready for full-season ball. All he's done is reward their faith.The Dodgers' 27th-ranked prospect scattered six hits over a career-high seven innings on Saturday as Class A Great Lakes blanked West Michigan, 1-0, at Fifth Third Ballpark. He walked one batter and
Gerardo Carrillo quickly convinced the Dodgers he was ready for full-season ball. All he's done is reward their faith.
The Dodgers' 27th-ranked prospect scattered six hits over a career-high seven innings on Saturday as Class A Great Lakes blanked West Michigan, 1-0, at Fifth Third Ballpark. He walked one batter and struck out seven.
Carrillo (2-1) has not allowed an earned run in his last 22 innings and has given up 10 hits in his past 20, walking three batters while fanning 13 over that stretch.
Pitching coach Bobby Cuellar has been impressed.
"Right now, his delivery is not as good as he wants it, but the tenacity he has, the feel for the game that he has and the stubbornness sometimes that he has that, 'I'm going to throw this pitch and I know it's going to work,'" Cuellar said. "Even to do that, you have to have a feel and a trust for your ability to do things. This young man has a lot of trust in himself and a lot of trust in his ability and has a knowledge that I probably can't teach, that 'I can throw a pitch and it will work.'"
The right-hander needed 88 pitches, including 57 strikes, to get through seven innings and lowered his ERA to 1.43 in eight Midwest League starts.
Gameday box score
Carrillo trained with the Mexican League's Tijuana Toros before signing with the Dodgers for $75,000 in July 2016. He pitched in the Rookie-level Dominican Summer League in 2017 but came to the States this year and made only four outings in the Rookie-level Arizona League to show the front office he was ready for a bigger challenge.
At just 19, he was promoted to Great Lakes on July 13. He's held opponents scoreless in half of his starts with the Loons.
Standing 6 feet tall and weighing 154 pounds, Carrillo can hit 97 mph with his fastball, according to MLB.com, and has a changeup that overwhelms young hitters. He didn't dominate Saturday, working with baserunners in each of the first five innings, but he avoided trouble each time and finished strongly, striking out four of his final seven hitters.
"If you've been around baseball long enough, you know that I don't have that answer for you," Cuellar said about how a smaller pitcher can generate that kind of velocity. "I've been around some guys that are not very big and throw pretty hard themselves. I was fortunate enough to be a pitching coach with Pedro Martinez [with the Expos] and he wasn't a very big guy, either. I really can't tell you -- his arm works a certain way, his extension works a certain way and then the ball comes out of his hand. I'm sure that I can't exactly tell you what he does, but it works."
The changeup was especially good for Carrillo, Cuellar said.
"It's an arm speed thing," the coach said of the pitch's effectiveness. "But here's this little guy who hits up to 94 [mph] on you, and all of sudden it's pretty close hand speed and toward the end of the night, the last two or three innings, the hand speed on the fastball and the changeup were really, really close together. He threw a lot more changeups toward the end and, in fact, the last guy he struck out was a changeup.
"I guess once he got more comfortable the way he threw it, the better the arm speed was. It's just a feel. He'll change his delivery, go fast and go slow. It's a feel he has right now."
Darien Nunez pitched two scoreless innings, striking out two, for his second save.
The Loons did just enough on offense, breaking through in the eighth on Gersel Pitre's Little League homer. He doubled to right field and scored on Dylan Rosa's throwing error.
Chance Kirby matched Carrillo, allowing three hits over seven scoreless innings for West Michigan, but Will Vest (3-3) took the loss after allowing Pitre's double.
Vince Lara-Cinisomo is a contributor to MiLB.com. Follow him on Twitter @vincelara.