Lugnuts walk off TinCaps in wild 9th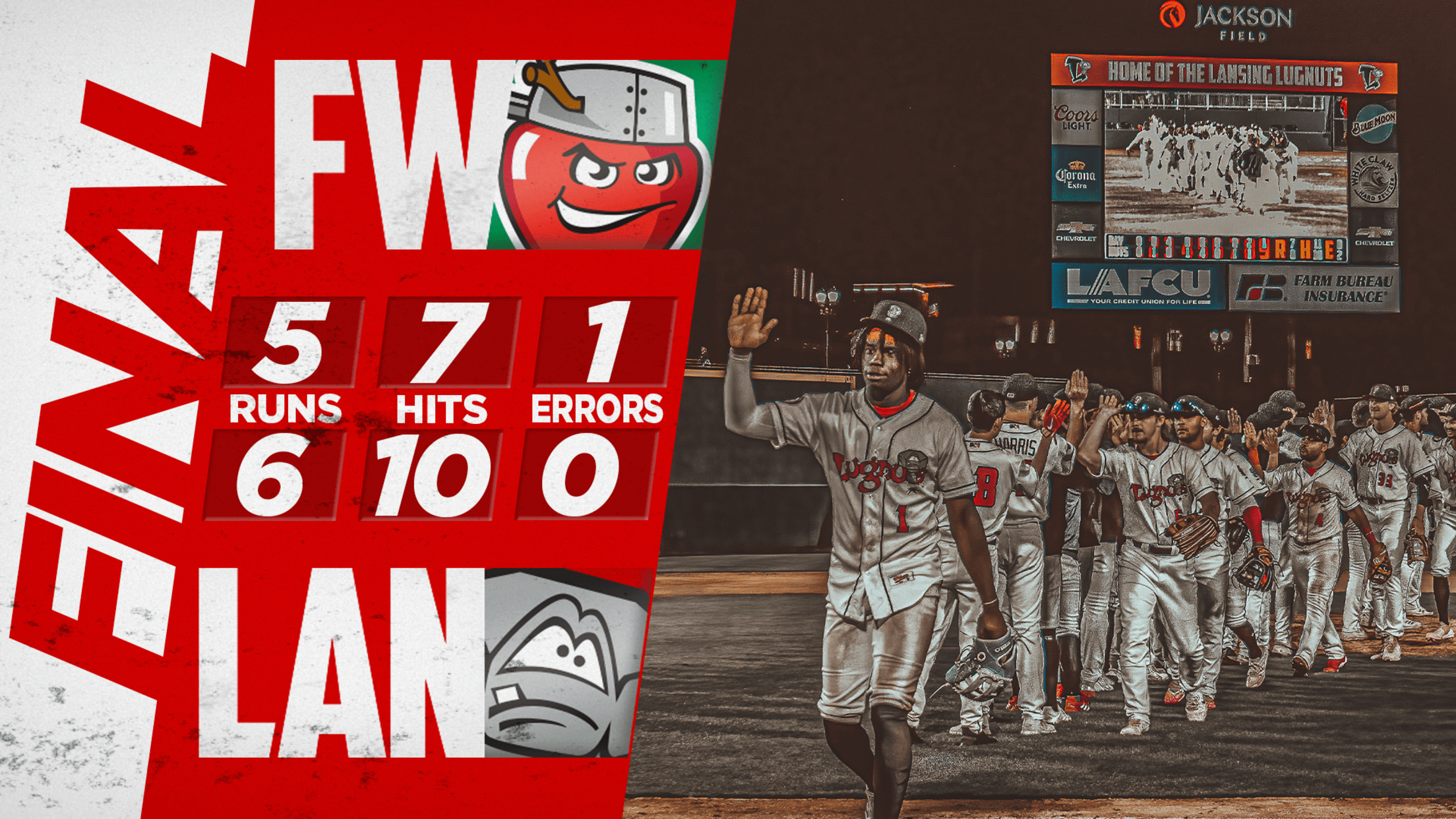 LANSING, Mich. – The Lansing Lugnuts (23-38) lost a 4-0 lead in the ninth inning, only to rally behind a Tyler Soderstrom game-tying triple and Lawrence Butler game-winning single for a 6-5 victory over the Fort Wayne TinCaps (25-37) before a Saturday night Star Wars crowd of 7,103 at at
LANSING, Mich. – The Lansing Lugnuts (23-38) lost a 4-0 lead in the ninth inning, only to rally behind a Tyler Soderstrom game-tying triple and Lawrence Butler game-winning single for a 6-5 victory over the Fort Wayne TinCaps (25-37) before a Saturday night Star Wars crowd of 7,103 at at Jackson® Field™.
It was the Lugnuts' fourth walkoff win of the year and Butler's second moment as the hero, the first a walkoff walk against West Michigan on May 6.
Starting pitcher Blake Beers turned in his fourth consecutive quality start since arriving from Stockton, scattering three hits and four walks in six scoreless innings, and the Lugnuts backed the Michigan Wolverine with two runs in the first and two in the fifth.
Before the epic finale, tonight began with @blake_beers, who was, as always, quality. pic.twitter.com/gWSgTj5IwX

— Lansing Lugnuts (@LansingLugnuts) June 19, 2022
But after Angello Infante pitched perfect seventh and eighth innings, the TinCaps' offense awoke against Charles Hall in the ninth. Brandon Valenzuela and Wyatt Hoffman opened the frame with singles. After a strikeout of Jarryd Dale, Olivier Basabe singled to load the bases. Hall struck out Kelvin Melean, and then struck out pinch-hitter Agustin Ruíz – but the third strike escaped catcher Soderstrom for a run-scoring wild pitch as Ruíz dashed to first base, keeping the bases loaded and keeping the TinCaps alive.
The Lugnuts turned to left-hander Kumar Nambiar in search of the final out, but Corey Rosier drew a run-scoring walk on a 3-2 pitch to bring the TinCaps within 4-2. Robert Hassell III followed with a flare down the left field line. Left fielder Jonny Butler dove for it but the ball fell. Hassell III raced to second as three TinCaps scored, pushing Fort Wayne into a stunning 5-4 lead. Butler was shaken up on the play, with Gabriel Maciel substituting in for him in left.
Nambiar then struck out Lucas Dunn to retire the side, a fourth strikeout in the half-inning.
That set the stage for the bottom of the ninth, with Fort Wayne turning to left-hander Ramon Pérez in search of the final three outs.
Maciel, batting in Jonny Butler's spot, led off by beating out a bunt single to first base, putting the tying run on base immediately. After Jack Winkler popped out, Soderstrom sent a drive to deepest right-center, where it caromed into center field, away from right fielder Basabe. Maciel sprinted home with the tying run while a fired-up Soderstrom pulled into third base. The next batter was Lawrence Butler, who lined a Pérez curve into left-center to plate Soderstrom and win the game.
Butler finished with three hits, a walk and three RBIs in five plate appearances.
This is the way. pic.twitter.com/gt0KDMZ2qQ

— Lansing Lugnuts (@LansingLugnuts) June 19, 2022
One game remains in the six-game series, set for 1:05 p.m. Sunday in a Capital City Market Kids Day with postgame Kids Run the Bases and ice cream at Capital City Market. Lugnuts right-hander Shohei Tomioka (4.22 ERA) duels with TinCaps lefty Robert Gasser (4.61 ERA). For more information or to purchase tickets, visit lansinglugnuts.com or call (517) 485-4500.
# # #