McCade Brown's magnificent start wasted as Fresno falls 6-0 to Inland Empire
McCade Brown: 6.0 IP, 2 H, 0 R, 0 ER, 2 BB, 7 K (ties career-high IP)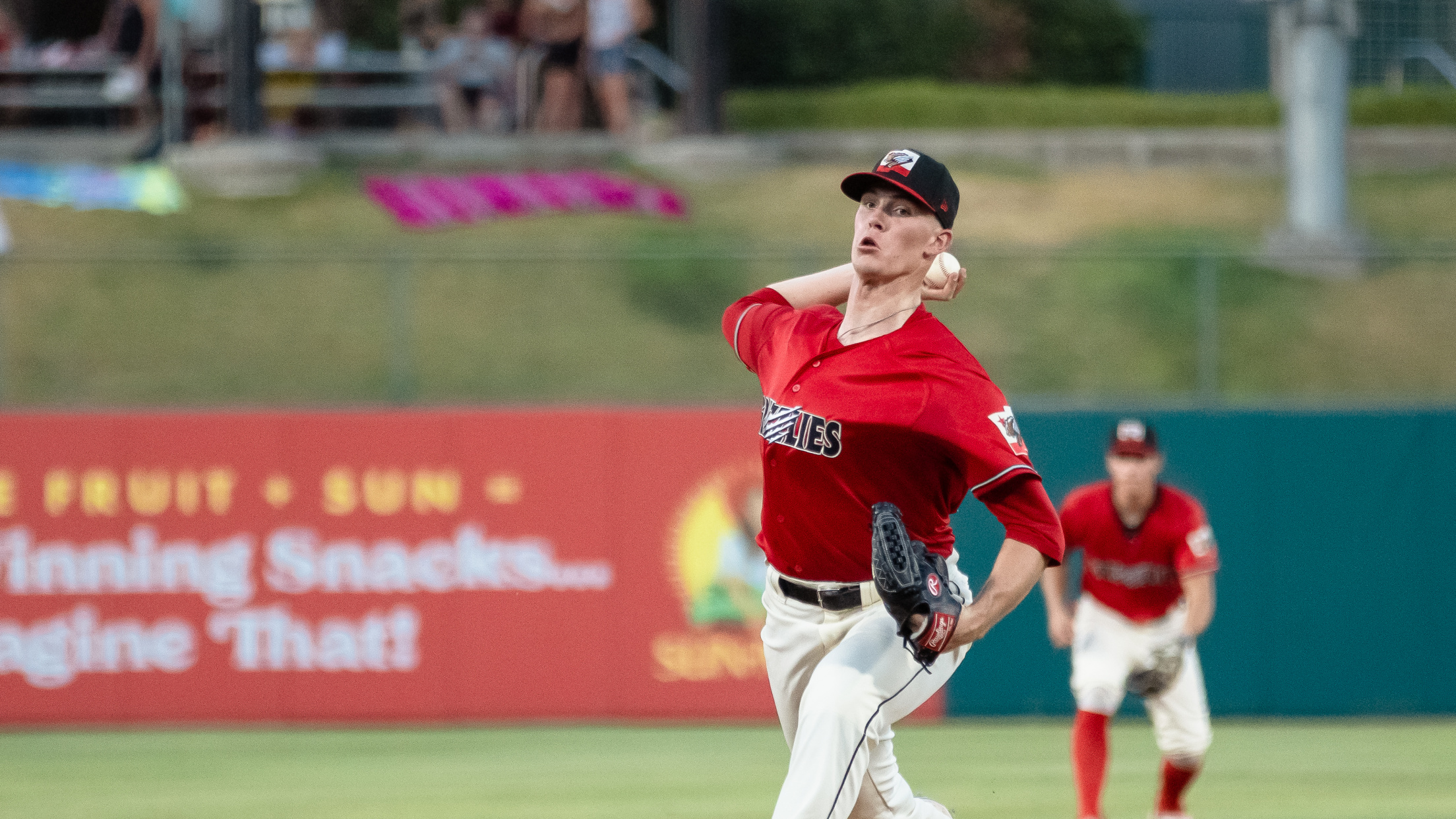 San Bernardino, CA (Saturday, August 13) – The Fresno Grizzlies (63-44, 22-19) were defeated by the Inland Empire 66ers (55-52, 23-18) 6-0 Saturday night from San Manuel Stadium. Fresno was held scoreless for just the second time this season (April 22 vs. Lake Elsinore) and mustered three hits for the
San Bernardino, CA (Saturday, August 13) – The Fresno Grizzlies (63-44, 22-19) were defeated by the Inland Empire 66ers (55-52, 23-18) 6-0 Saturday night from San Manuel Stadium. Fresno was held scoreless for just the second time this season (April 22 vs. Lake Elsinore) and mustered three hits for the second straight evening. Despite the loss, eight of the nine Fresno batters reached base safely.
The Grizzlies and 66ers traded zeroes for seven and a half innings before Inland Empire broke it open in the bottom of the eighth. The home team plated six runs on seven hits and one Fresno error. BJ Boyd started the frame with a hustle double and scored on an Alexander Ramirez seeing-eye single to center. Then, Jadiel Sanchez poked a single to right, which was misplayed, allowing Ramirez to waltz home. Kevin Watson Jr. switched places with Sanchez after smoking a triple to center. He would scamper to the dish on a sacrifice fly. Next, David Calabrese and Edgar Quero smacked back-to-back hits, putting runners in scoring position. Adrian Placencia concluded the inning with a two-run single to center.
The six-run frame provided no-decisions to both starters, who were excellent. Grizzlies' righty McCade Brown tied his career-high with six scoreless innings. He permitted a pair of hits and walks while fanning seven. Brown tossed 80 pitches with 54 of them for strikes. 66ers' starter Chase Chaney hurled six shutout frames as well. He gave up two hits and walks while punching out five. Fresno reliever Sergio Sanchez (7-3) agonized the setback after that rough eighth and Inland Empire righty Roman Phansalkar (1-0) earned his first professional victory. The squads wrap up the series tomorrow evening from San Manuel Stadium.
Top Performers: Fresno Grizzlies (Colorado Rockies)
• RHP McCade Brown (6.0 IP, 2 H, 0 R, 0 ER, 2 BB, 7 K)
• 1B Bryant Quijada (1-4)
• LF Juan Guerrero (1-4)
Top Performers: Inland Empire 66ers (Los Angeles Angels)
• 66ers Pitching (9.0 IP, 3 H, 0 R, 0 ER, 5 BB, 6 K)
• C Edgar Quero (2-3, 2 2B, R, BB, CS)
• DH BJ Boyd (2-4, 2B, R)
On Deck:
Sunday, August 14 @ Inland Empire 66ers, Fresno RHP Jarrod Cande (4-3, 4.01) vs. Inland Empire RHP Julio Goff (7-8, 5.21), 5:35 pm PT
ON THAT FRES-NOTES:
Yanquiel Fernandez saw his 12-game hit streak come to an end (0-3, BB).
The squads have played eerily similar series in back-to-back seasons, with the Grizzlies taking the first three contests and the 66ers picking up victories the next two games. Inland Empire would go on to split the 2021 series with Fresno.