Baltimore's Rutschman, Rodriguez take flight
Orioles, Royals, Marlins soar in updated prospect rankings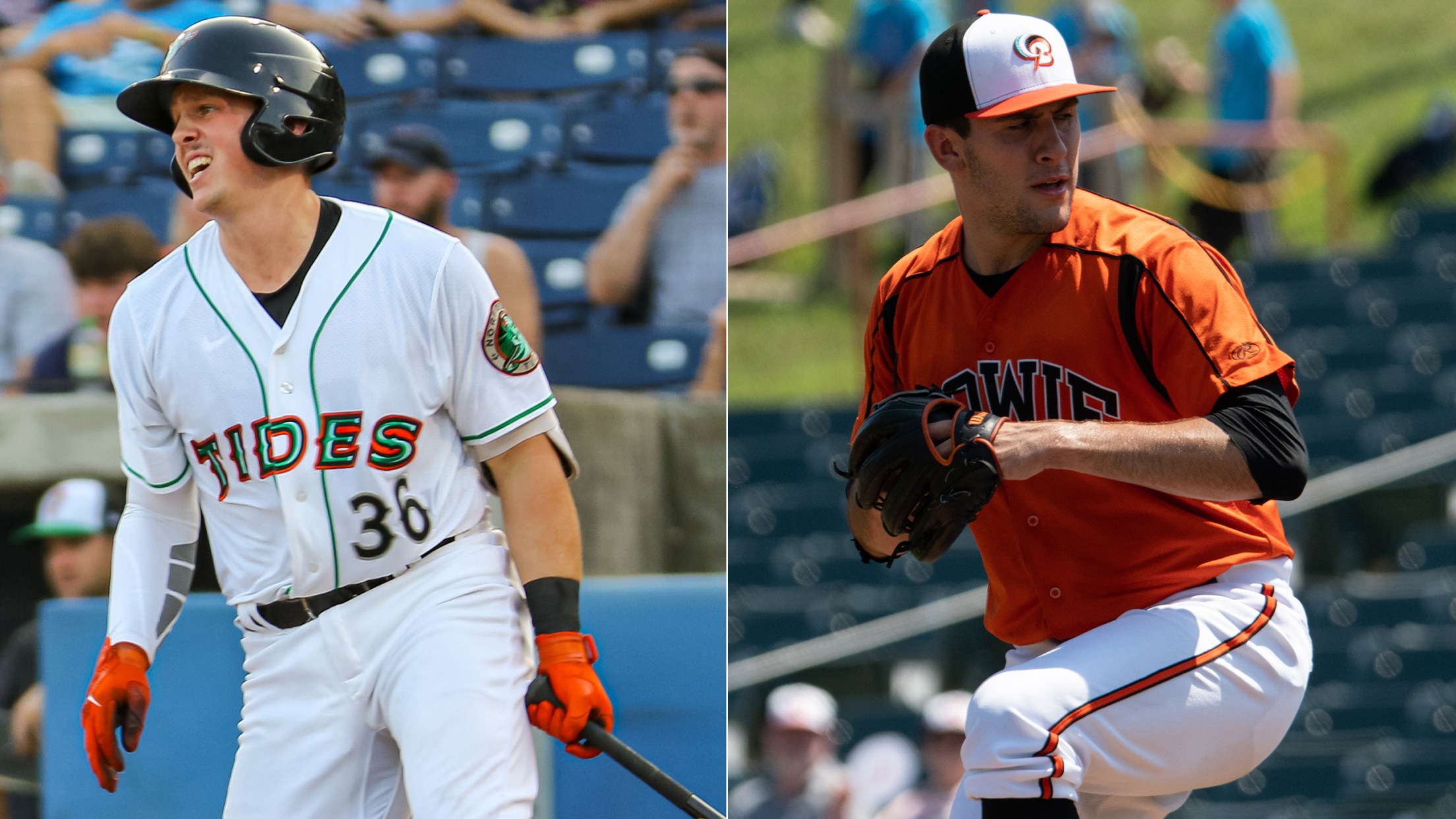 Adley Rutschman stands as baseball's top prospect and Grayson Rodriguez as top pitcher in Pipeline's updated rankings. (Steven Goldburg/Bert Hindman)
Birds of a feather apparently do flock together, at least in MLB Pipeline's Top 100 midseason rankings. Led by top overall prospect Adley Rutschman and No. 8 Grayson Rodriguez, the Orioles can claim ownership of the top position and top pitching prospects in the sport. It's only the second time
Birds of a feather apparently do flock together, at least in MLB Pipeline's Top 100 midseason rankings.
Led by top overall prospect Adley Rutschman and No. 8 Grayson Rodriguez, the Orioles can claim ownership of the top position and top pitching prospects in the sport. It's only the second time since MLB.com began ranking prospects in 2004 that an organization has been bestowed with such an honor. The White Sox were the first team to earn the distinction during the 2017 midseason rankings, when Yoan Moncada and Michael Kopech held down the top spots respectively.
Rutschman's hold on the No. 1 ranking comes as no surprise. The 22-year-old took over the spot from Wander Franco, who had a lock on the prime position for four preseason and midseason Top 100s before graduating last month. The Rays shortstop was one of 27 players who have graduated from the preseason rankings after losing their eligibility in the Majors.
The journey began for Rutschman as the first overall pick in the 2019 Draft and has reached an apex with a brilliant all-around season. Recently promoted to Triple-A Norfolk, the 23-year-old has put together a .284/.397/.519 slash line with 37 extra-base hits, 19 homers, 66 runs and 61 RBIs in 86 games.
Like his one-time batterymate, Rodriguez has a well-deserved nod as the game's best young pitching prospect. After posting a 1.54 ERA and fanning 40 of the 88 batters he faced with High-A Aberdeen, the 21-year-old was promoted to Double-A Bowie, where he's continued his run of dominance. Rodriguez hasn't surrendered more than two runs in 11 of his 13 starts for the Baysox, including one or fewer earned runs nine times. Overall, the right-hander is 8-1 with a 2.19 ERA, an 0.79 WHIP and 128 strikeouts in 81 1/3 innings.
While the Orioles' 1-2 punch continues to march toward The Show, the rest of the Top 100 list was in virtual upheaval. Eleven players from the 2021 Draft -- starting with the fourth overall pick Marcelo Mayer of the Red Sox at No. 9 -- made the cut. Other notables from this year's impressive Draft class include Jack Leiter (No. 12), who was selected second overall by the Rangers, and top overall pick Henry Davis of the Pirates (No. 23).
Led by No. 28 prospect Khalil Watson -- the 16th pick in last month's Draft -- the Marlins have the most players on the Top 100 list with seven. The Royals are right behind them with six Top 100 prospects while the Orioles, Pirates, Rays and Tigers placed five on the list.
The Astros and White Sox were the only teams without a Top 100 prospect.
Michael Avallone is a contributor to MiLB.com. Follow him on Twitter @MavalloneMiLB.