Minor League Promos of the Decade: 2019
The 2010s conclude with poignant theme nights, regional flair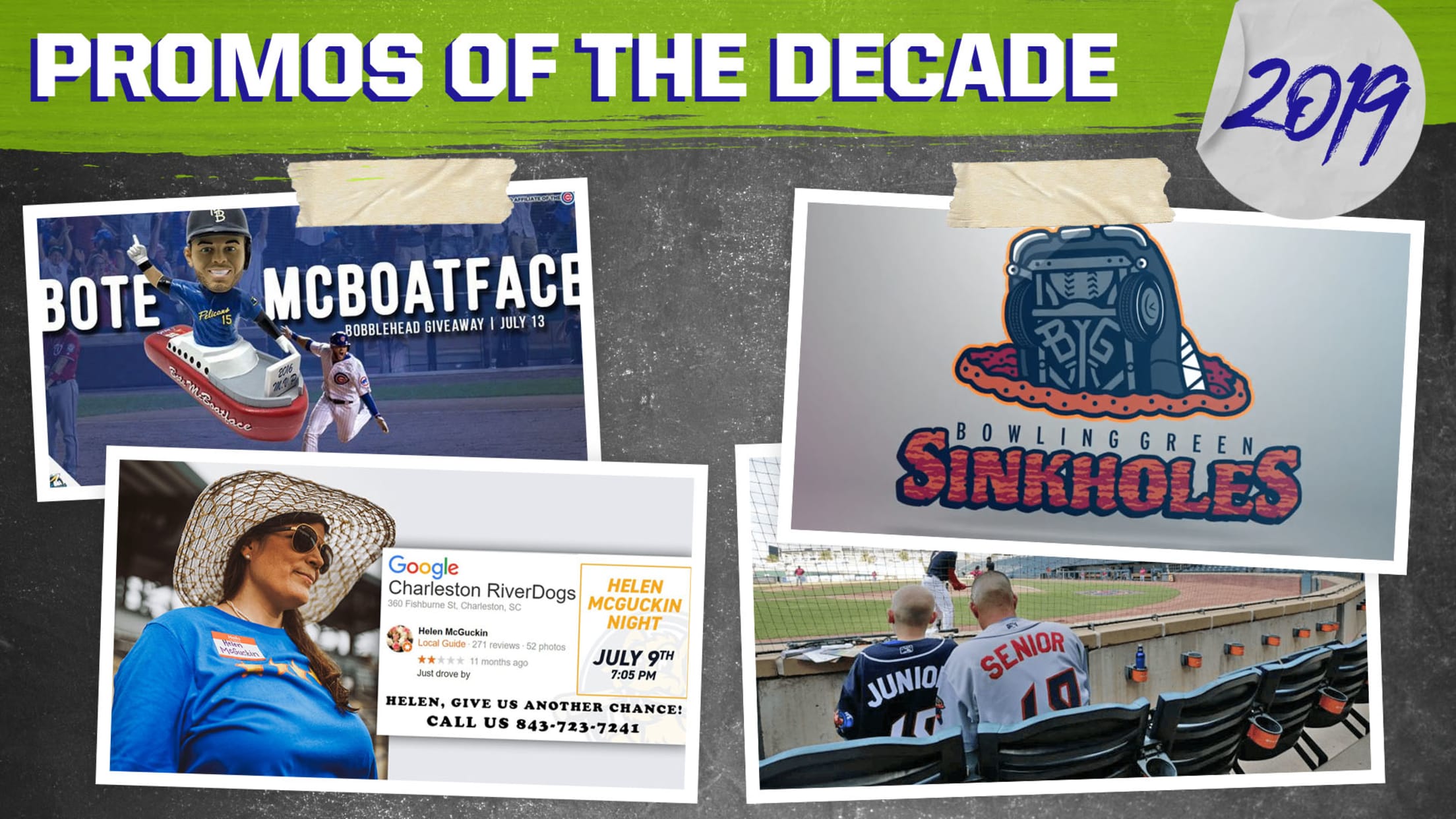 2019's best promos were a wide-ranging hodgepodge of innovative, boundary-pushing offerings of sheer brilliance.
The lack of a 2020 Minor League Baseball season meant the lack of gameday promotions. However, there are still plenty of promotions upon which we can reminisce. This marks the 10th and final article in a year-by-year series chronicling the past decade's most notable Minor League Baseball gameday promotions. To
The lack of a 2020 Minor League Baseball season meant the lack of gameday promotions. However, there are still plenty of promotions upon which we can reminisce. This marks the 10th and final article in a year-by-year series chronicling the past decade's most notable Minor League Baseball gameday promotions. To share your own favorite promotions of the decade that was, please reach out via email ([email protected]) or Twitter (@bensbiz). Previous installments: 2010; 2011; 2012; 2013; 2014; 2015; 2016; 2017; 2018.
"Two for Tuesday," in which a team offers 2-for-1 tickets on a traditionally underperforming night of the week, is a commonplace promotion. In 2019, the Double-A Jacksonville Jumbo Shrimp transcended the quotidian.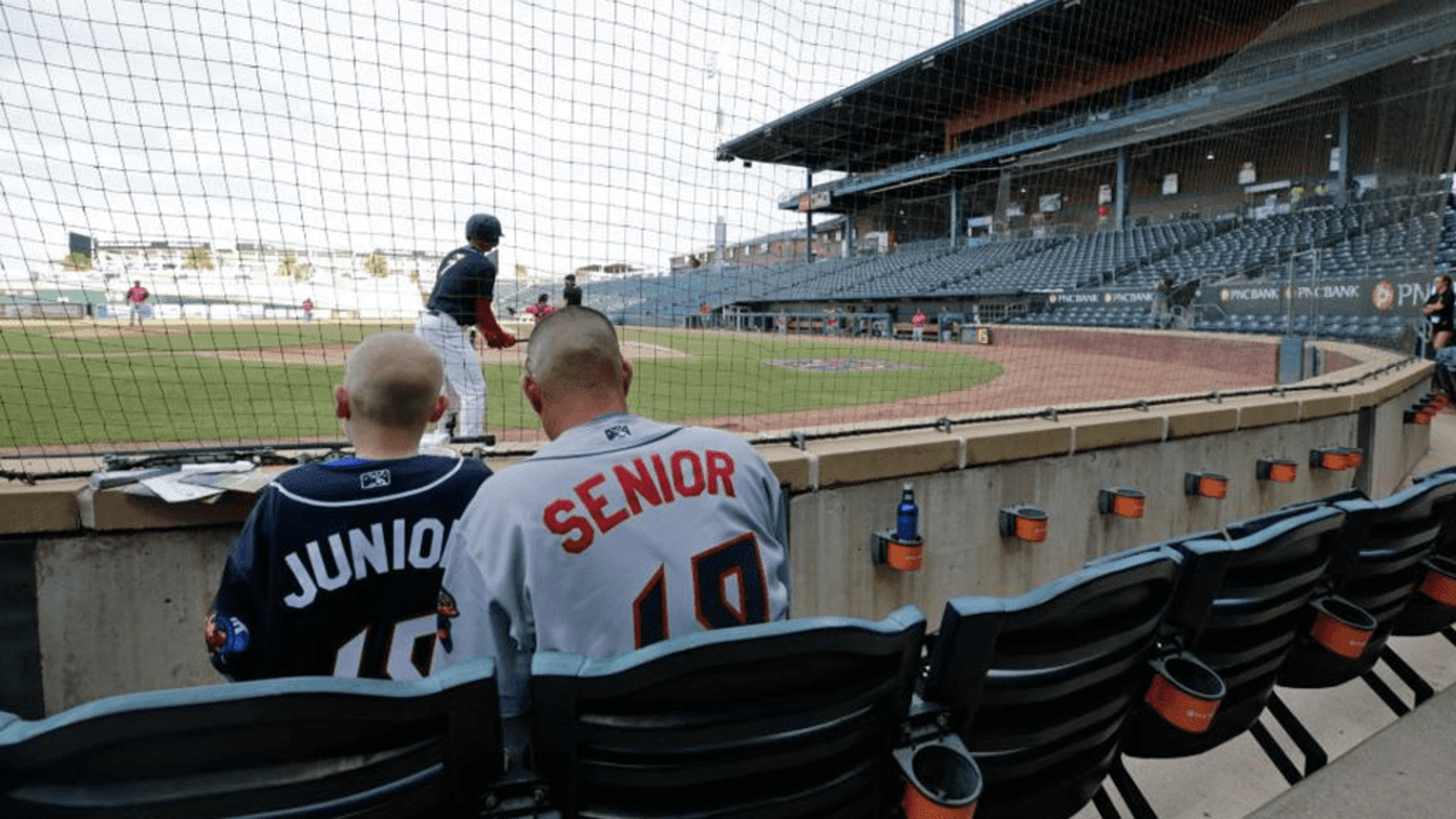 On July 30, the Jumbo Shrimp took the "Two for Tuesday" idea literally by only admitting two fans to the ballpark. This resulted in the lowest attendance in Southern League history, but the Jumbo Shrimp were motivated by far more than the desire to pull off a goofy publicity stunt. The two fans were 12-year-old Joshua "Junior" Ribeiro, battling a rare form of cancer, and his father, Joshua Sr. The Jumbo Shrimp, in partnership with the local Dreams Come True wish-granting charity, provided the Ribeiros with the baseball experience of a lifetime. Joshua Jr. had the run of the park as he met the players, scrambled for foul balls, caught T-shirts and enjoyed all the concession items he could eat. Meanwhile, the team staged a party for fans just outside the left-field Tiki Terrace. When the game became official in the fifth inning, those fans were admitted to the ballpark so they too could cheer for Junior. Simply put, this was the best promotion of the season.
The Jumbo Shrimp weren't the only team to stage a notable Tuesday night promotion. On July 9, the Class A Charleston RiverDogs held an unprecedented endeavor in the form of Helen McGuckin Night.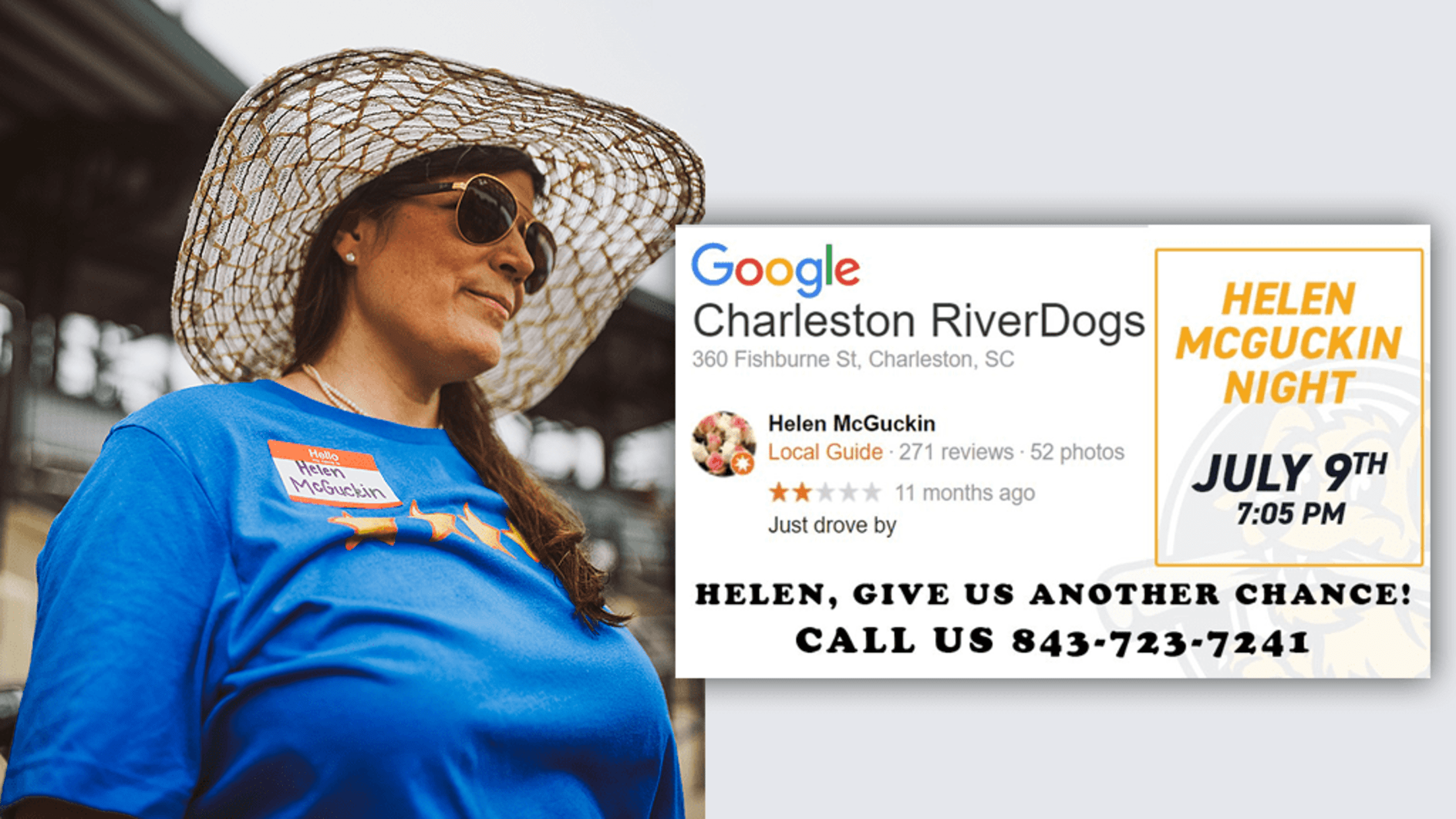 In May 2018, the RiverDogs received the following review from McGuckin, a level 7 local guide on Google: "Just drove by, 2 out of 5 stars." This assessment, honest but seemingly unfair, prompted the RiverDogs to embark on a quest: find Helen McGuckin and do everything in their power to change that two-star review to five.
Were they successful? Yes and no. The RiverDogs did indeed find McGuckin, but she was unable to attend the ballgame in question. The team then recruited an alternate Helen McGuckin to enjoy the ballpark experience that the real McGuckin was promised. Just another normal night at the ballpark.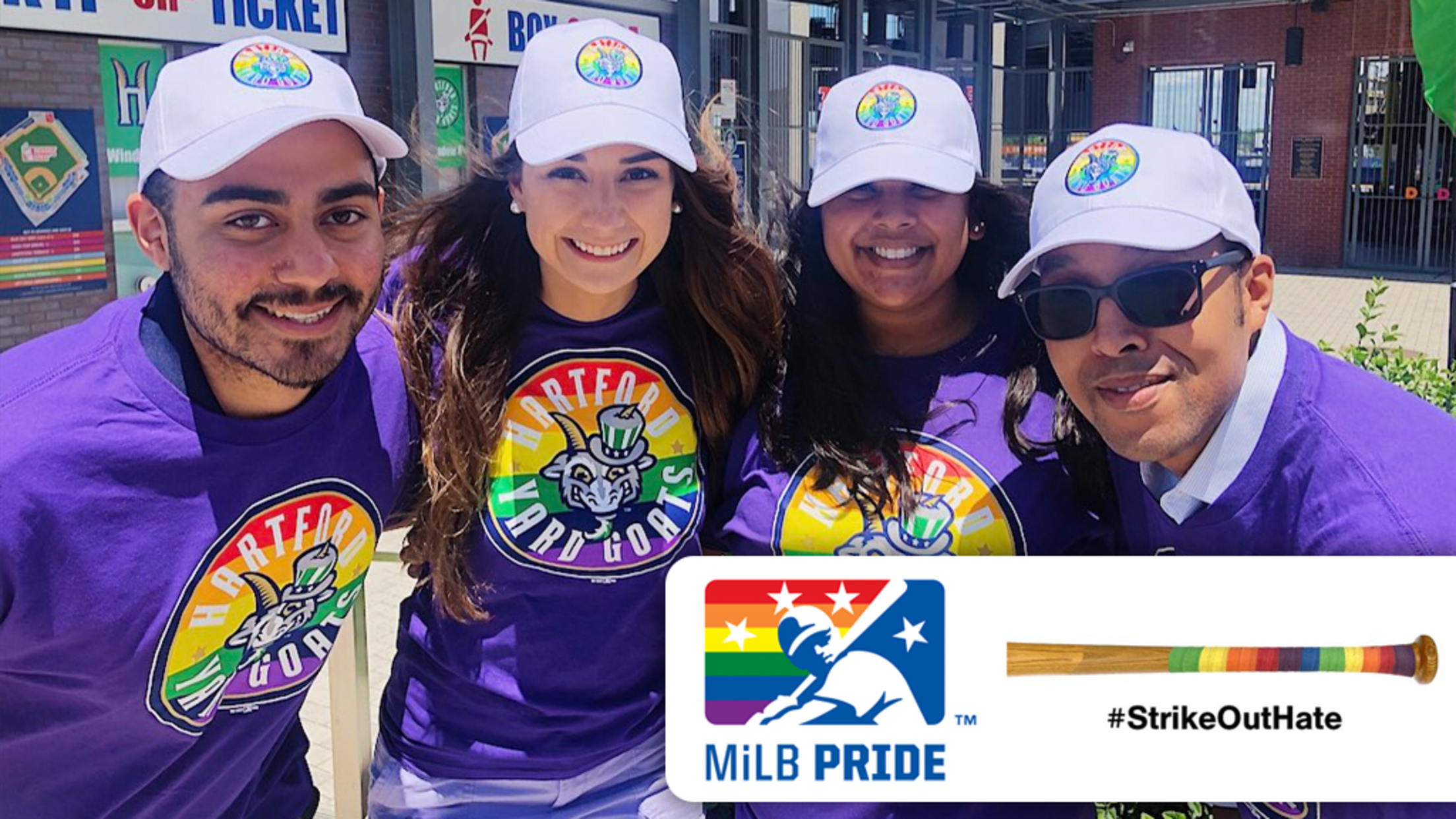 As the 21st century began, Pride Nights at Minor League ballparks were virtually unheard of. Even five years ago, they were few and far between. But in 2019, these celebrations of the LGBTQ community finally broke into the mainstream. Minor League Baseball announced its industry-wide MiLB Pride initiative in June, and more than 65 teams participated.
"[MiLB Pride] hopefully feeds competition and gives team a sense of calm, that they're joining a party that's already going on," said Vincent Pierson, then Minor League Baseball's director of diversity and inclusion. "You embrace a community that might not have always felt safe at the ballpark. You correct that stigma and feel comfortable standing on that."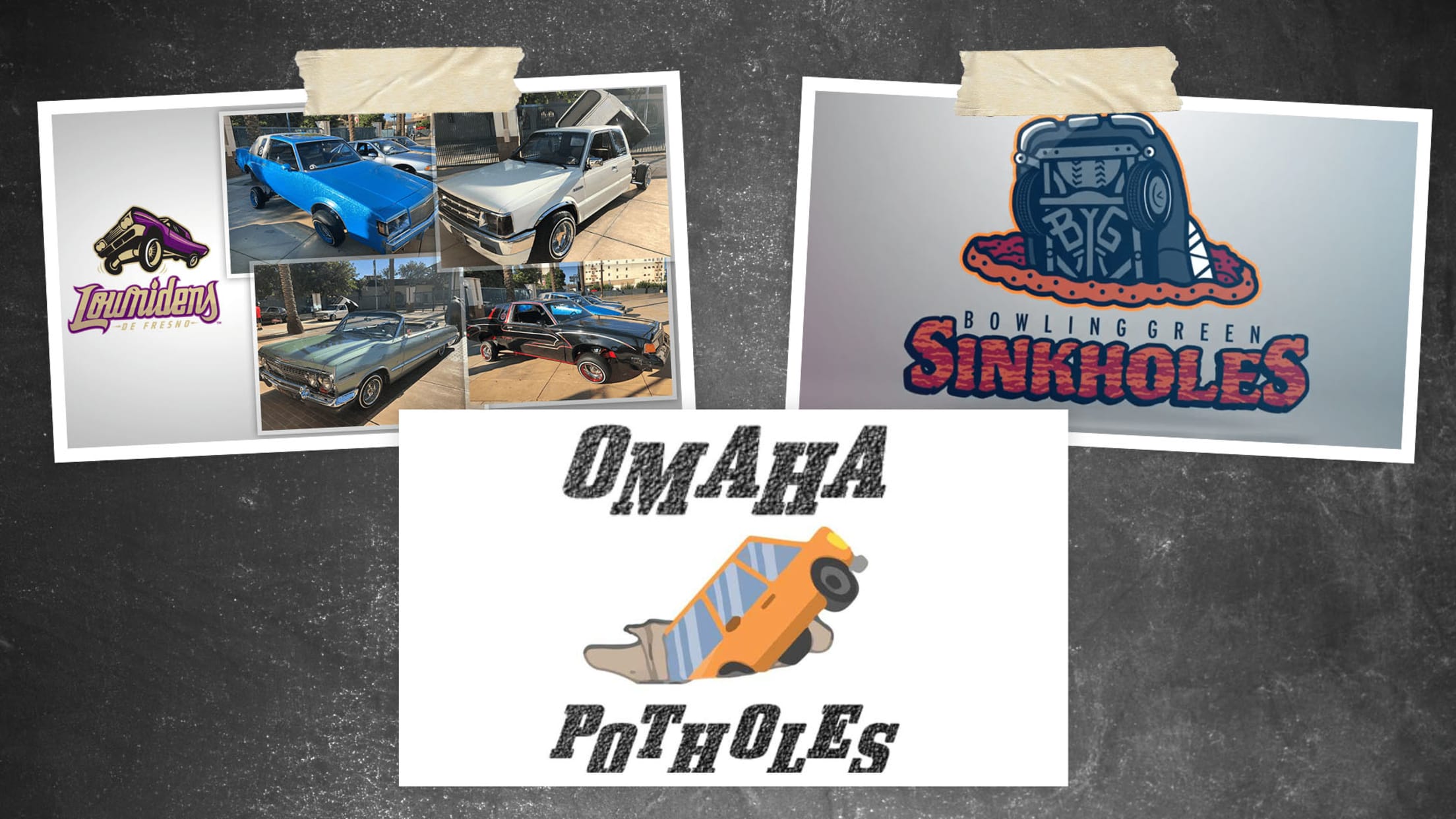 Regional food-based promotions were a popular endeavor in 2019, as they had been in every season since 2015. But this was a season that was defined by regional celebrations of all kinds. One unlikely trend involved the celebration of automobiles that were low to, in or under the ground.
Bowling Green Hot Rods, "Sinkholes" -- The Class A Hot Rods celebrated the fifth anniversary of the time a giant sinkhole opened under Bowling Green's National Corvette Museum and eight classic cars plunged into the abyss. Their Sinkholes jerseys featured a submerged car with "BG" visible on the undercarriage.
Fresno Grizzlies, "Lowriders" -- The Triple-A Grizzlies made their debut entry in Minor League Baseball's Copa de la Diversión program. The Lowriders moniker celebrated Fresno's car culture as well as the city's central placement between the fertile lowriding scenes of San Jose and Los Angeles.
Omaha Storm Chasers, "Pot Holes" -- On April 1, the Royals' Triple-A affiliate tweeted that "[T]his season on June 31st, we will be playing as the Omaha Potholes!" It was a joke, of course, but it went viral. The response prompted the team to stage an evening in honor of Omaha's many potholes and those who work diligently to repair them.
Regional theme nights took on many other largely uncategorizable forms in 2019. Four more notable examples follow forthwith.
Altoona Curve, "Yinzers" -- On select weekend home games throughout the season, the Double-A Curve "paid tribute to the familiar second-person plural pronoun 'yinz' that is commonly used by people of Western and Central Pennsylvania."
Iowa Cubs, "Caucuses" -- On Aug. 30, the Triple-A Cubs celebrated their state's first-in-the-nation voting status by playing a game as the Caucuses.
Syracuse Mets, "Butter Sculptures" -- The Triple-A Syracuse Mets play in close proximity to the New York State Fair, an annual 13-day Empire State celebration. Their Butter Sculptures identity literally celebrated butter sculptures, a creamy State Fair tradition since 1969.
Wisconsin Timber Rattlers, "Udder Tuggers" -- Dating back to 2009, the Class A Timber Rattlers have staged a Salute to Cows promotion honoring the local dairy industry. In 2019, they milked this evening for all it was worth by playing a game as the Udder Tuggers.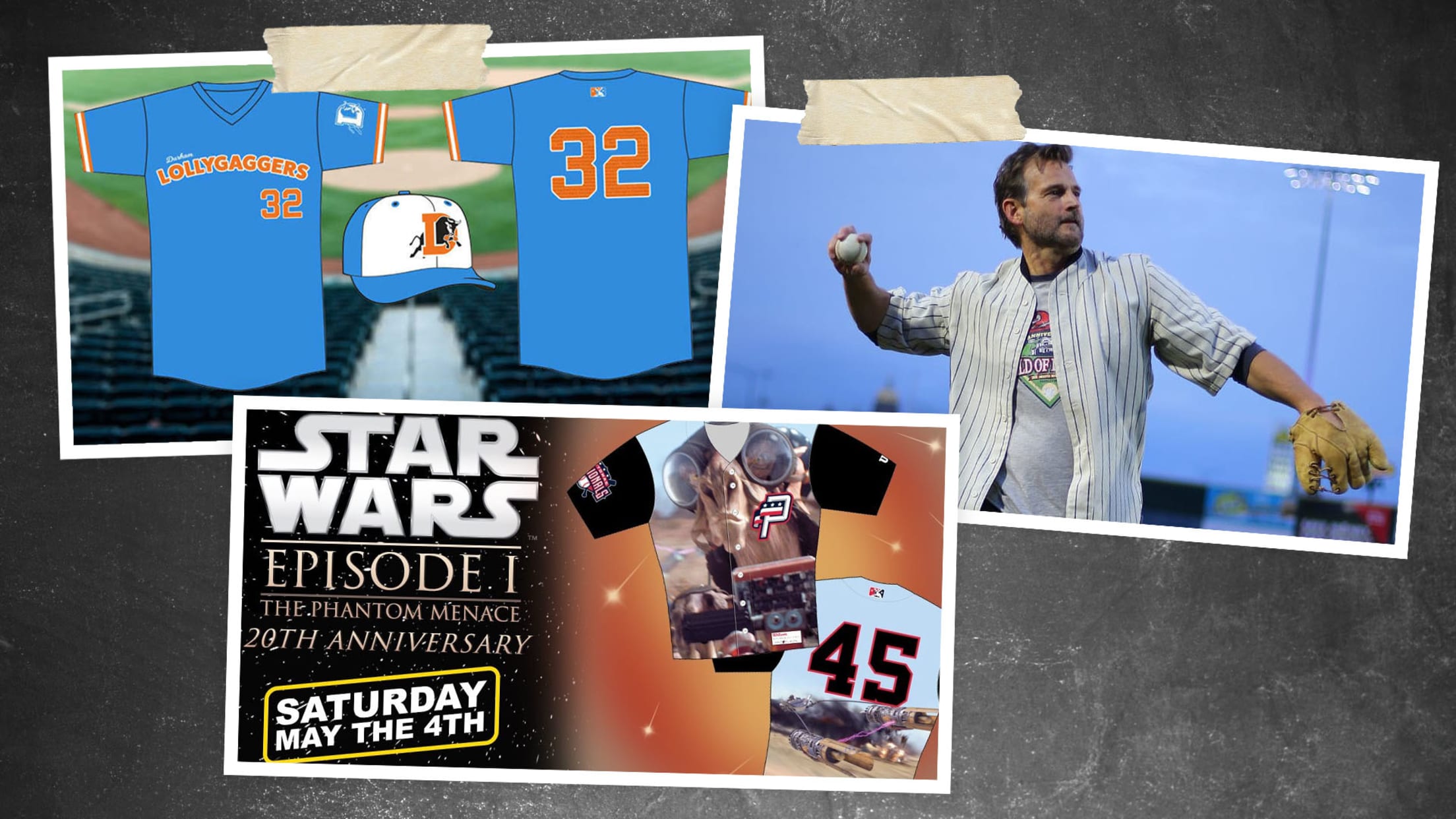 Of course, pop culture-themed promos proliferated in 2019. Who could forget celebrations like the following?
Durham Bulls, "Lollygaggers" -- "You guys, you lollygag around the infield. You lollygag your way down to first. You lollygag in and out of the dugout. You know what that makes you?" This memorable quote -- from "Bull Durham," of course -- inspired the Triple-A Bulls to change their name to the Lollygaggers.
"Field of Dreams" Night (multiple teams) -- Dozens of clubs across the country paid homage to "Field of Dreams" on the occasion of its 30th anniversary. Dwier Brown, the actor who played John Kinsella, was a special guest during many of these evenings. Want to have a catch?
"Star Wars" Night (multiple teams) -- "Star Wars" commemorations were, of course, legion. The most unique "Star Wars" theme jersey came courtesy of the Class A Advanced Potomac Nationals, who suited up in honor of Anakin Skywalker's pod-racing archnemesis Sebulba.
Stockton Ports, "Creedence Clearwater Revival" -- Class A Advanced Stockton is only 16 miles from Lodi, a town that CCR once wrote a song about. Does a celebration of the greatest American rock band of all time really need any more justification than that?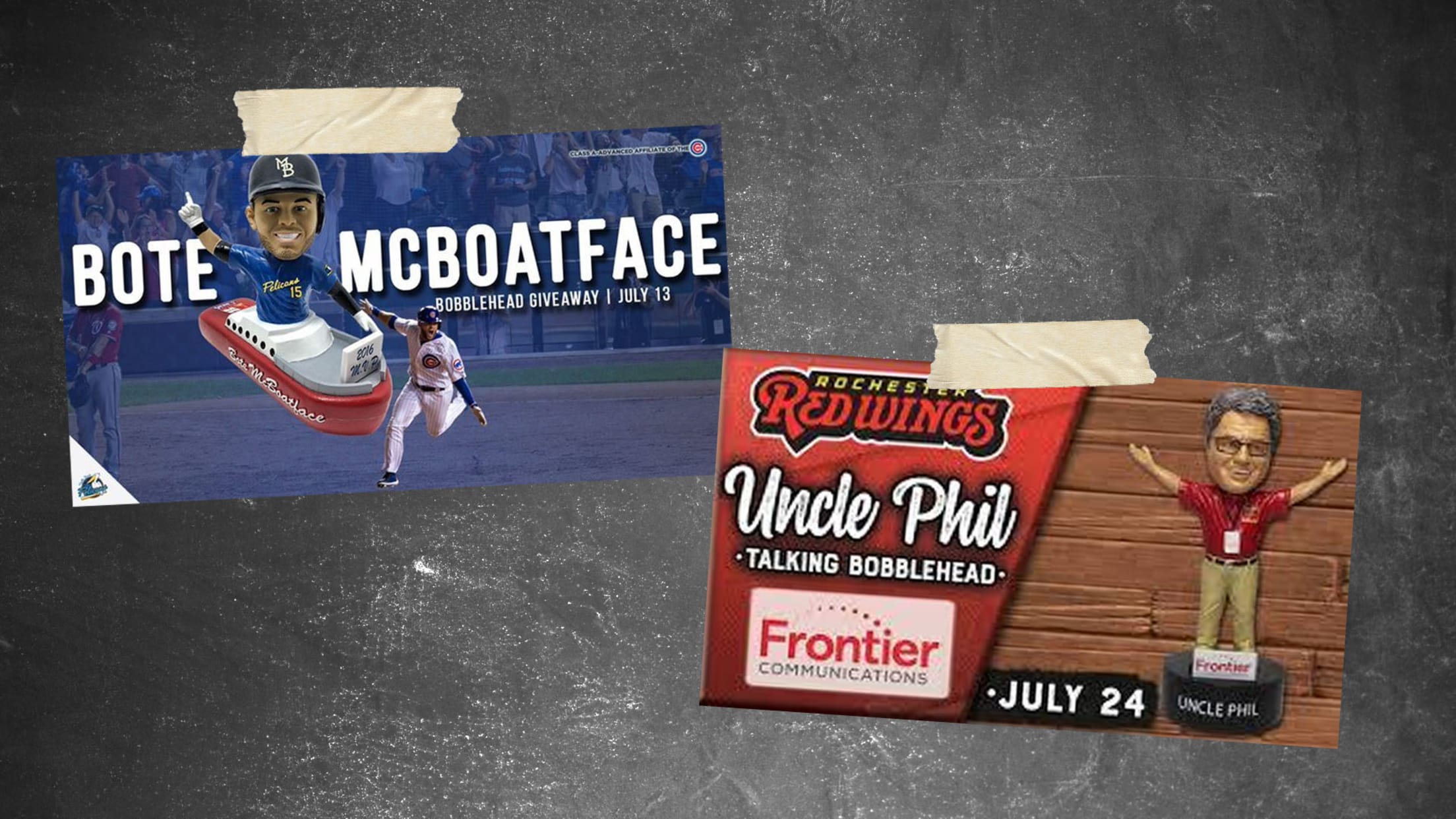 Shockingly, the word "bobblehead" has yet to appear in this column. Here are two of 2019's most worthy bobbleheads:
Myrtle Beach Pelicans, "David Bote McBoatFace" -- In 2016, the United Kingdom's National Environmental Research Council ran an online vote to name a new vessel. "Boaty McBoatface" won, and thus a recurring online joke was born. The Class A Advanced Pelicans made this gag a physical reality when they gave away a Bote McBoatface bobblehead honoring 2012 Pelican David Bote.
Rochester Red Wings, "Uncle Phil" -- "Uncle Phil" Salamone is a legendary Triple-A Red Wings usher, much revered by the team's fan base. The gregarious septuagenarian was honored with his own bobblehead -- and it talked. "Hi everybody!" said the bobblehead. "Welcome to Frontier Field! Uncle Phil loves you!"
He's our uncle, he's your uncle, he's everyone's uncle...and he LOVES YOU! ❤️

Get your Uncle Phil TALKING Bobblehead on July 24!

(🔊 Sound up) pic.twitter.com/SqYJNEUOsD

— Rochester Red Wings (@RocRedWings) January 17, 2019