Mother's Day Magic as Grizzlies walk-off Rawhide 6-5 on wild pitch 
Fresno scored three runs in the bottom of the 9th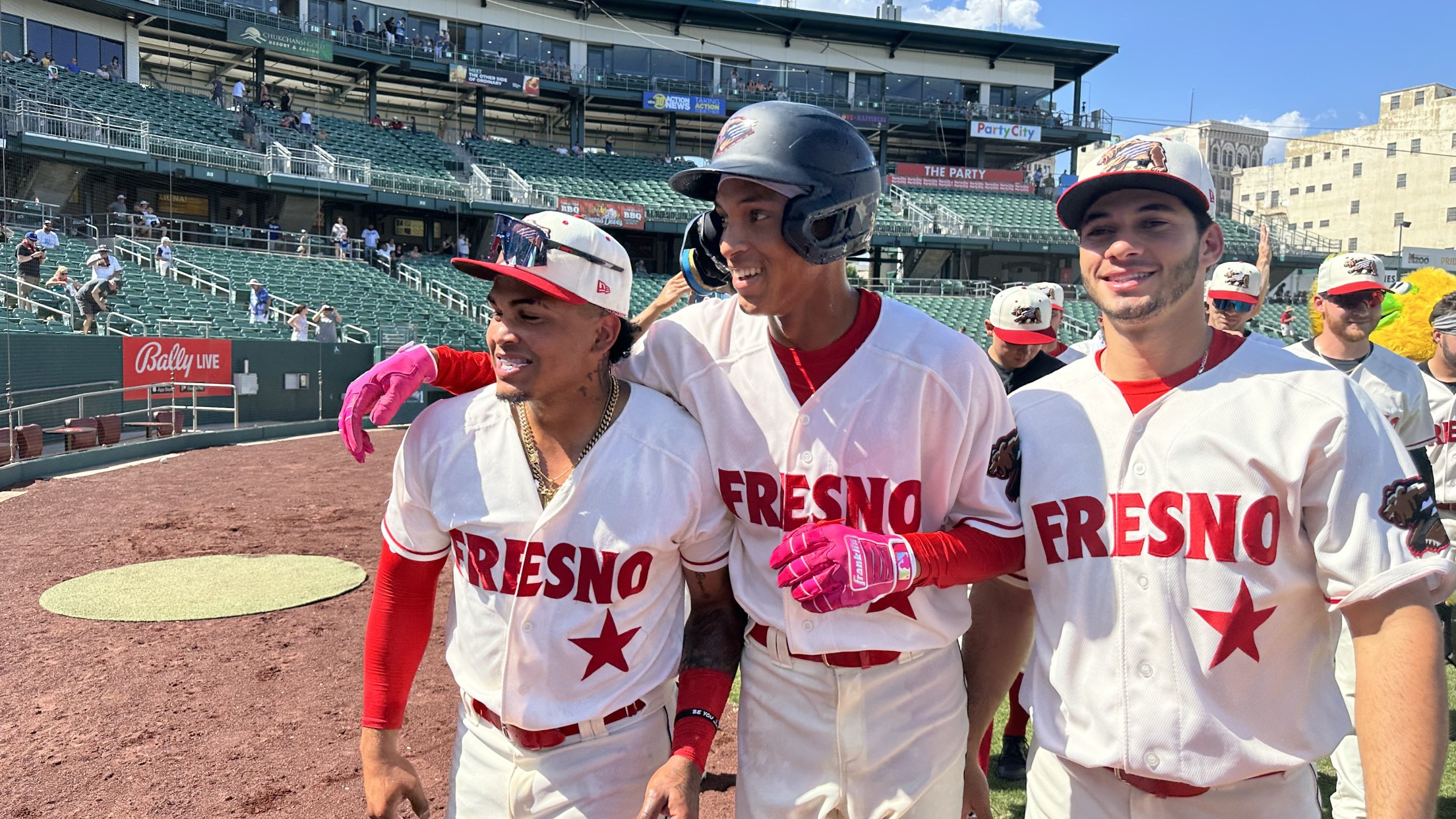 Fresno, CA (Sunday, May 14) – The comeback claws were out on Mother's Day, as the Fresno Grizzlies (18-15) walked-off on the Visalia Rawhide (12-21) 6-5 Sunday afternoon. Fresno scored three runs in the ninth with Andy Perez scampering home on a wild pitch to seal the deal. It was
Fresno, CA (Sunday, May 14) – The comeback claws were out on Mother's Day, as the Fresno Grizzlies (18-15) walked-off on the Visalia Rawhide (12-21) 6-5 Sunday afternoon. Fresno scored three runs in the ninth with Andy Perez scampering home on a wild pitch to seal the deal. It was the Grizzlies third walk-off of the year, second walk-off of the series and second walk-off on a wild pitch this season (April 16 vs. Stockton, Luis Mendez, 11th inning). Fresno earned a series victory and extended their win streak to a season-high four games. The Grizzlies improved to 22-2 at home and 39-9 all-time against the Rawhide, continuing their recent success against them with their 17th triumph in the last 19 matchups.
Visalia jumped out to an early 1-0 lead in the third when Anderdson Rojas laced a single, plating Juan Corniel. Fresno tied the game at one in the fifth when Robby Martin waltzed home on a Rawhide miscue. Visalia extended their advantage to 3-1 after RBI singles by Christian Cerda and Ronny Polanco in the sixth.
In the seventh, Jesus Bugarin cut the Grizzlies deficit to 3-2 when he ripped a single, scoring Skyler Messinger. The Rawhide made it 5-2 in the eighth when Polanco crushed a two-run clout to left-center field, his second of the year.
With Fresno trailing by three heading into the eighth, the comeback claws started to show. In the eighth, Messinger poked a single to left-center, adding Jake Snider. After a clean ninth by Tyler Hoffman (2-0, win), the Grizzlies were ready to roar. EJ Andrews Jr. led off the ninth with a triple and scored on a balk. Bugarin then walked and thundered home on a Perez double to the left-center field wall. After a groundout moved Perez to third, Snider was issued an intentional base on balls. Snider inched to second on a defensive indifference, putting the double play ball out of chance. Then, a strikeout for the second out made things interesting. With Martin at the dish in a 2-2 count, he saw a wild pitch skip away from the catcher and Perez scampered to the plate to send the Mother's Day crowd home happy.
Alfred Morillo (3-1) suffered the blown save and loss. Fresno starter Jackson Cox (no-decision) struck out a quartet of batters over four innings in his home debut and second start of 2023.
Today's article was written by ChatGPT
Top Performers: Fresno Grizzlies (Colorado Rockies)
LF EJ Andrews Jr. (3-4, 3B, R, BB, SB)
CF Jesus Bugarin (2-4, RBI, R, BB)
SS Andy Perez (1-5, 2B, RBI, R; Walk-off run)
RF Robby Martin (1-3, 2B, R, BB)
3B Skyler Messinger (2-4, RBI, R)
Top Performers: Visalia Rawhide (Arizona Diamondbacks)
3B Ronny Polanco (2-4, HR, 3 RBI, R)
DH Christian Cerda (1-3, RBI, R, BB)
2B Juan Corniel (2-4, R, SB)
On Deck:
Tuesday, May 16 @ Modesto Nuts, Fresno LHP Caleb Franzen (1-1, 4.00) vs. Modesto RHP Tyler Cleveland (2-1, 5.83), 7:05 pm PT
ON THAT FRES-NOTE:
Over their past eight games, the Grizzlies have scored 37 of their 49 runs in innings 7-9. In their last seven contests, Fresno has recorded 17 runs in the eighth inning. The Grizzlies have enjoyed four comeback wins and two walk-offs in the seventh inning or later.