Mets acquire righty Kilome for Cabrera
Phillies No. 10 prospect headed to New York for veteran infielder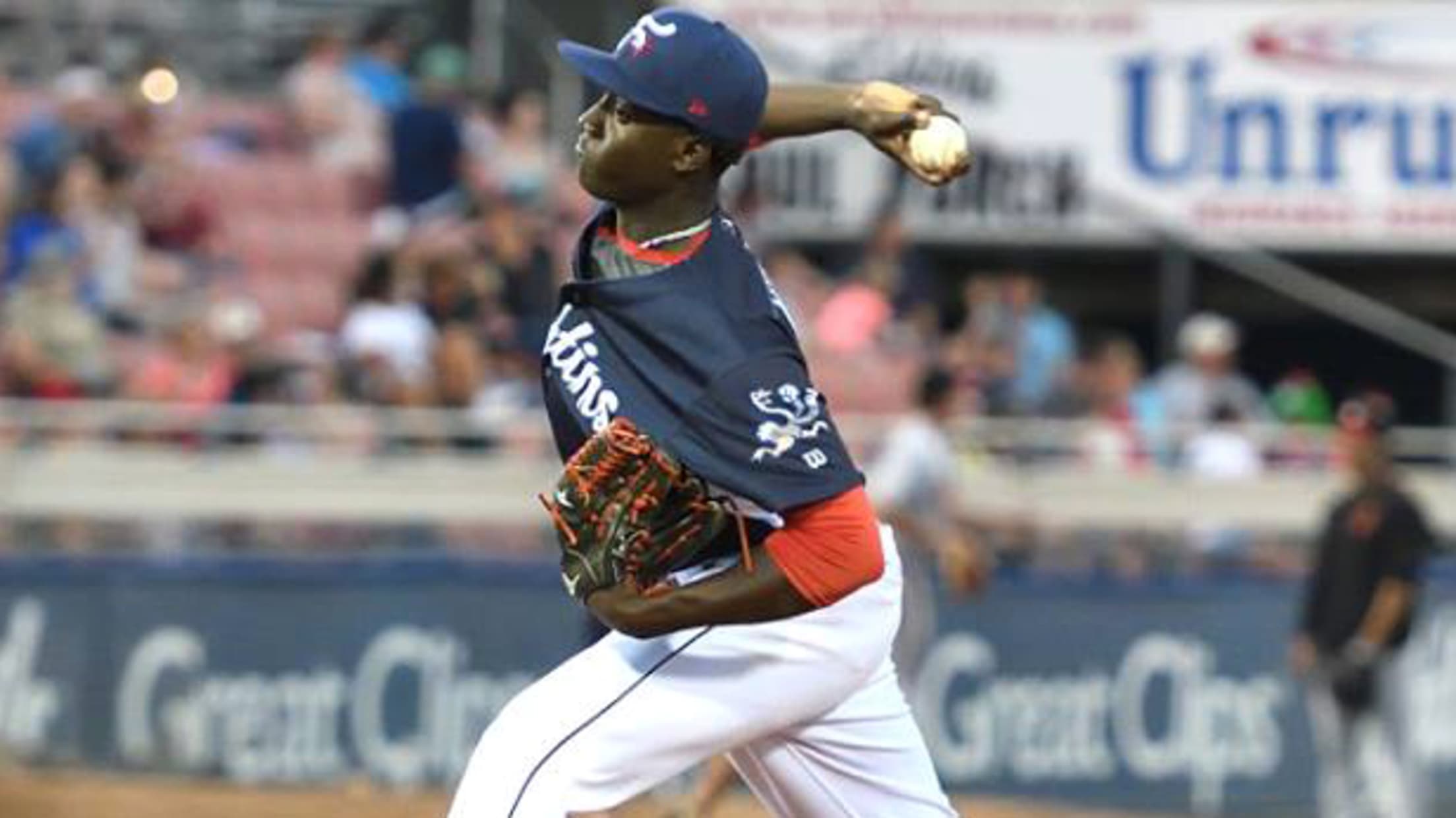 Franklyn Kilome owns a 3.51 career ERA in five seasons in the Philadelphia farm system. (George Youngs Jr./Reading Fightin Phils)
Heading into the season, the Mets hoped Asdrúbal Cabrera could help them get back to the playoffs in 2018. Instead, he's helping them rebuild their farm system.New York traded the versatile 32-year-old infielder to Philadelphia in exchange for Franklyn Kilomé, the Phillies' No. 10 prospect, on Friday. Kilome was 4-6
Heading into the season, the Mets hoped Asdrúbal Cabrera could help them get back to the playoffs in 2018. Instead, he's helping them rebuild their farm system.
New York traded the versatile 32-year-old infielder to Philadelphia in exchange for Franklyn Kilomé, the Phillies' No. 10 prospect, on Friday. Kilome was 4-6 with a 4.24 ERA in 19 starts for Double-A Reading.
Despite his mediocre season-long numbers, Kilome has been at his best lately. After allowing six runs to Erie in his final June start, Kilome has gone 2-1 with a 2.16 ERA and 21 strikeouts in 25 innings during the month of July.
The 6-foot-6, 175-pound right-hander has gotten progressively better every month; after posting a 5.60 ERA in April, he had a 4.75 ERA in May and a 4.66 ERA in June before his impressive July, in which he didn't allow a single home run. Kilome allowed just seven long balls in 102 innings this season, which is tied for the fewest among Eastern League starting pitchers with at least 100 innings pitched.
The 23-year-old was signed as an international free agent out of the Dominican Republic in January 2013 and features a 70-grade fastball that consistently hits the upper-90s. Kilome's curveball rates as above-average with flashes of being plus, while his changeup is still a work in progress, as is his command. He walked 51 batters for the Fightin Phils after issuing 52 free passes in 127 innings at Reading and Class A Advanced Clearwater in 2017, when he posted a combined 2.83 ERA with 103 strikeouts across two levels.
The Phillies thought highly enough of Kilome to protect him from the Rule 5 Draft and add him to the 40-man roster this past offseason, and he has received high praise for both his makeup and intelligence; he quickly learned English after making his stateside debut in 2015.
Cabrera was batting .277/.329/.488 with 18 home runs and 58 RBIs in 98 games for the Mets. The pending free agent is on pace to top his career high of 25 home runs set in 2011 with the Indians, and his current .817 OPS would also represent a career-best number.
Twins add three prospects for Escobar: Before Miguel Sano was recalled from Triple-A Rochester on Friday, Minnesota sent third baseman Eduardo Escobar to Arizona in exchange for D-backs No. 11 prospectGabriel Maciel, No. 19 prospect Jhoan Duran and Ernie De La Trinidad.
All three prospects heading to Twins were making their full-season debuts for Class A Kane County in 2018. Maciel, a speedy 19-year-old outfielder, was hitting .287/.362/.333 with one home run and 14 stolen bases. Duran was 5-4 with a 4.73 ERA over 15 starts, and the 20-year-old right-hander struck out 71 in 64 2/3 innings.
De La Trinidad ranked third in the Midwest League with a .403 on-base percentage and seventh with a .311 batting average. The 22-year-old outfielder added eight home runs and 56 RBIs in his time with the Cougars.
Escobar was enjoying a breakout season in Minnesota, as the 29-year-old infielder was batting .274/.338/.514 with 15 home runs and a team-leading 63 RBIs in 97 games for the Twins.