Offensive barrage by Grizzlies crack Nuts 13-8 for series split
Robby Martin: 3 doubles (ties single-game franchise record); Ryan Ritter: 3-for-4, HR, 2B, 2 RBI, 2 R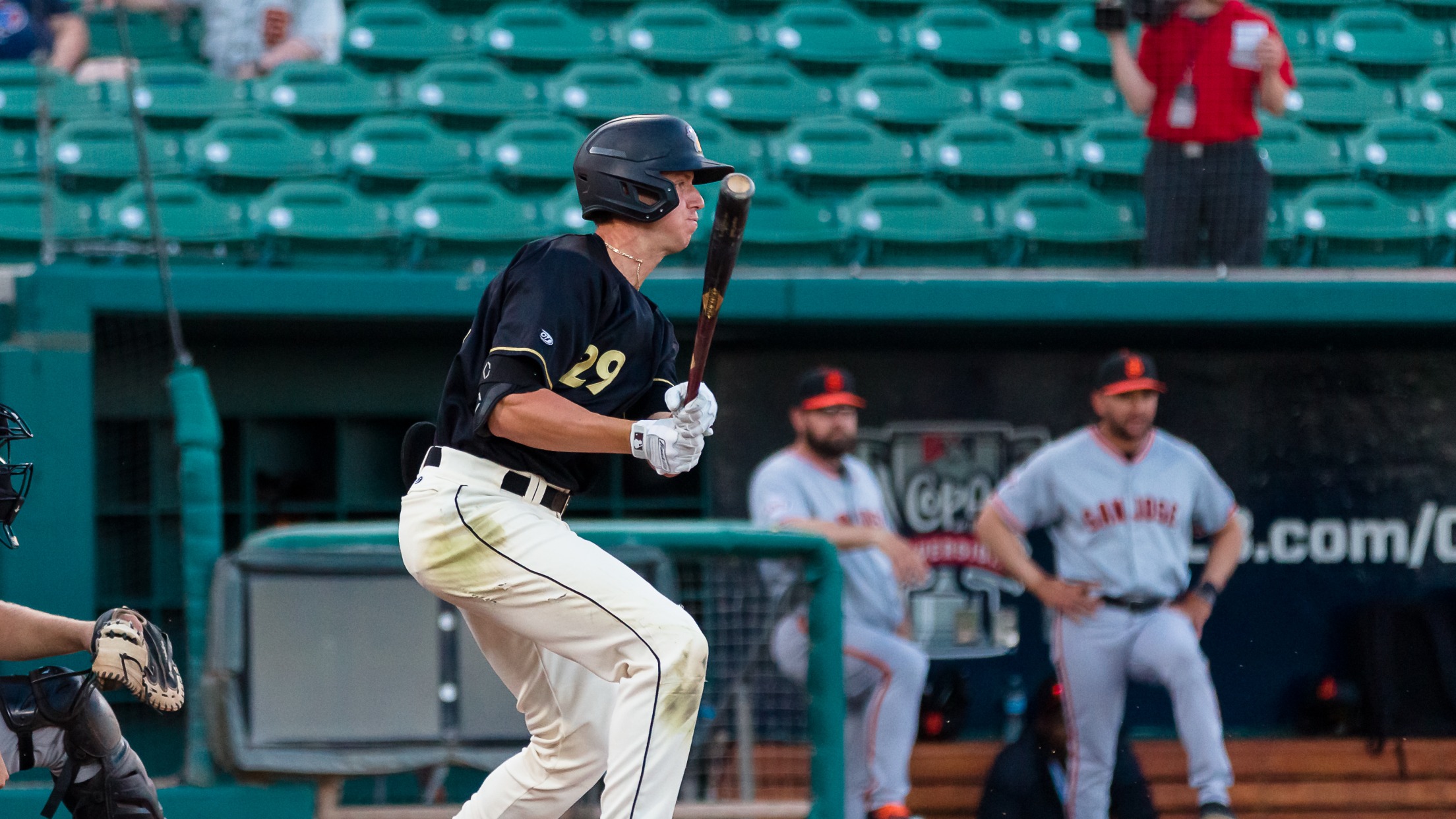 Modesto, CA (Sunday, May 21) – The Fresno Grizzlies (21-18) powered past the Modesto Nuts (20-19) 13-8 Sunday afternoon from John Thurman Field. Fresno earned a series split and took sole possession of second place in the California League Northern Division standings. The Grizzlies have won 28 of their 55
Modesto, CA (Sunday, May 21) – The Fresno Grizzlies (21-18) powered past the Modesto Nuts (20-19) 13-8 Sunday afternoon from John Thurman Field. Fresno earned a series split and took sole possession of second place in the California League Northern Division standings. The Grizzlies have won 28 of their 55 meetings against the Nuts since they joined the same league in 2021.
Fresno plated at least one run in seven of their nine innings, scored at least one run in their last six frames and came back from two three-plus run deficits (4-0 in 1st, 8-5 in 4th). Overall, the Grizzlies offense tallied 13 runs on 13 hits and five walks. Five batters enjoyed multiple hits and four players etched two or more RBI.
In the bottom of the first, Modesto brought eight batters to the plate and took a 4-0 lead. Over their past two games, the Nuts recorded nine runs in the first inning. Andrew Miller roped a two-RBI double to left field and Freuddy Batista blasted a two-run homer to deep left field. All four runs were charged to Fresno starter Ryan Rolison. The southpaw was making his second rehab start for the Grizzlies after missing last year from shoulder surgery. Rolison is the first Rockies 40-man player to make a rehab appearance for Fresno since the teams became affiliated with one another.
Despite the deficit, the Grizzlies roared back in front with one run in the second and four runs in the fourth. Robby Martin spanked two RBI doubles, one in the second and another in the fourth. Kody Huff mustered a groundout, scoring Bryant Betancourt. Jean Perez added Martin with a single to left and Ryan Ritter smoked a double to plate Perez.
Modesto returned the favor with four runs of their own in the bottom half of the fourth, grabbing an 8-5 lead. A slow, groundball single from Gabriel Gonzalez to third netted both Edryn Rodriguez and Curtis Washington Jr. Then, Gabe Moncada and Miller crushed RBI singles for the Nuts. That concluded the Modesto scoring as Fresno would provide eight unanswered runs over their final five frames.
In the fifth, Martin swatted his third RBI double of the game, tying a Grizzlies single-game franchise record (last time: Benny Montgomery at San Jose, 9/11/22). Then, pinch-hitter Skyler Messinger belted a two-run double down the left field line, knotting the contest at eight. In the sixth, Ritter powered Fresno ahead 9-8 with a solo shot to left field, his 10th longball of the season and third over his past two games.
Messinger extended the Grizzlies advantage to 10-8 in the seventh when he provided his third RBI thanks to a single to left. Fresno inched home two more runs in the eighth from a Jesus Bugarin single and double play. Bugarin lengthened his hit streak to nine games. In the ninth, the Grizzlies made it 13-8 on a Huff sacrifice fly. Huff was robbed by Modesto center fielder Washington Jr., who made a highlight reel catch.
Fresno's Jackson Cox (1-0) received his first professional win after three innings of work. Gabriel Barbosa secured his first save after a trio of scoreless frames, striking out three. Modesto lefty Holden Laws (2-3) suffered the setback. The squads are both off on Monday.
Today's article was written by ChatGPT
Top Performers: Fresno Grizzlies (Colorado Rockies)
SS Ryan Ritter (3-4, HR, 2B, 2 RBI, 2 R, BB)
RF Robby Martin (3-5, 3 2B, 3 RBI, 2 R)
PH/3B Skyler Messinger (2-2, 2B, 3 RBI, R, BB)
1B Bryant Betancourt (2-4, 2B, 3 R, BB)
Top Performers: Modesto Nuts (Seattle Mariners)
RF Andrew Miller (2-5, 2B, 3 RBI, R)
1B Gabe Moncada (3-5, 2B, RBI, R)
C Freuddy Batista (1-5, HR, 2 RBI, R)
On Deck:
Tuesday, May 23 vs. Stockton Ports, Stockton TBA vs. Fresno LHP Caleb Franzen (1-1, 5.34), 11:05 am PT
ON THAT FRES-NOTE:
Over their past 15 games (10-5 record), the Grizzlies have scored 57 of their 92 runs in innings 7-9. In that span, Fresno has recorded 29 runs in the eighth inning. The Grizzlies have enjoyed five comeback victories and two walk-offs in the seventh inning or later during this stretch.