Ordonez's walk-off single caps off Fresno's 7-6 comeback win over Visalia
Grizzlies break five-game home losing streak with a three-run 9th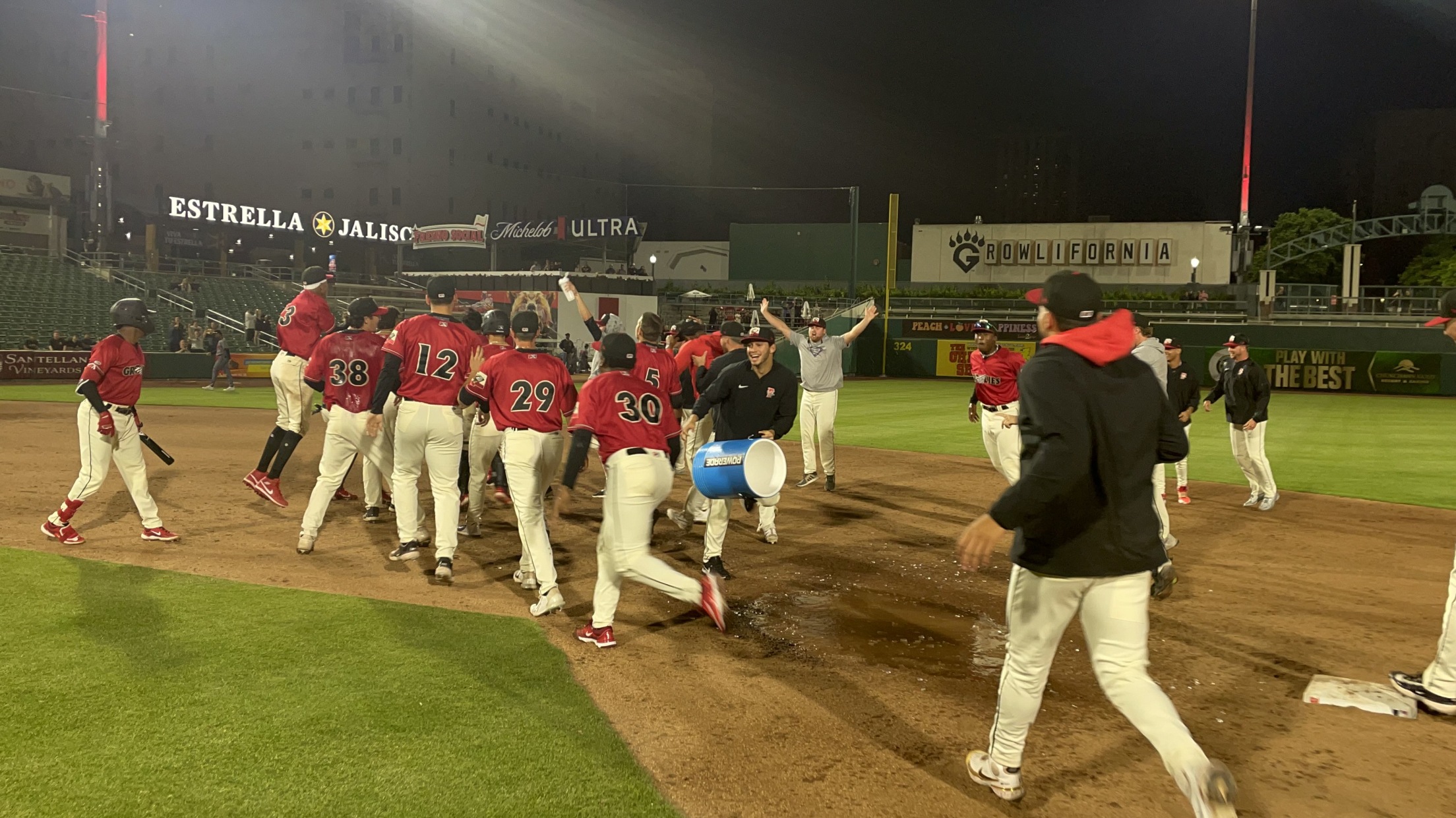 Fresno, CA (Thursday, May 11) – The comeback claws were out in full force Thursday night from Chukchansi Park, as the Fresno Grizzlies (15-15) walked off on the Visalia Rawhide (12-18) 7-6. Fresno scored three runs in the bottom of the ninth, capped off by a Jesus Ordonez single to
Fresno, CA (Thursday, May 11) – The comeback claws were out in full force Thursday night from Chukchansi Park, as the Fresno Grizzlies (15-15) walked off on the Visalia Rawhide (12-18) 7-6. Fresno scored three runs in the bottom of the ninth, capped off by a Jesus Ordonez single to right. It was the second walk-off and first game-winning hit for Fresno this season (wild pitch on April 16 vs. Stockton). The Grizzlies improved to 19-2 at home and 36-9 all-time against the Rawhide. Fresno has won 14 of their last 16 games against their Highway 99 rivals. The Grizzlies also ended their five-game home losing streak and two-game skid to the Rawhide.
Fresno and Visalia each scored early runs in the contest. In the first, Andy Perez poked a single to center, plating Jake Snider, who roped a double. A half frame later, Manuel Pena laced a single, adding Ronny Polanco. The Grizzlies clawed ahead in the fifth with a Rawhide throwing error, allowing EJ Andrews Jr. to scamper home. Fresno extended their lead in the seventh to 4-1 after RBI singles by Perez and Bryant Betancourt. Snider opened the frame with his second triple of the season.
In the ninth, the Rawhide brought nine batters to the dish, scoring five runs and taking a 6-4 advantage. Alvin Guzman tallied two RBI on a ground-rule double and Pena yielded a sacrifice fly. Before the ball was dead, the Grizzlies checked to see if the runner left early from third and the ball was thrown away. This resulted in Visalia grabbing the lead. A Jose Fernandez single expanded the Rawhide advantage to 6-4.
Despite another epic frame by Visalia, Fresno's comeback claws came out in full force in the ninth. Perez looped a single and Ryan Ritter walked to start the inning. A groundout advanced the runners and Parker Kelly drew a walk to load the bases. Andrews Jr. worked the count and walked as well, bringing home a run. Then, Skyler Messinger tied the contest with a sacrifice fly, bringing Jesus Ordonez to the plate. Ordonez was making his first start at home after joining the Grizzlies last week. On a 1-1 pitch, Ordonez slapped a single to right, past the first baseman and into the right field. The party was on as the Grizzlies mobbed Ordonez at second, giving Fresno a walk-off and crucial win.
Grizzlies' starter Michael Prosecky did not factor in the decision despite tying career-highs in innings (6) and strikeouts (7). He allowed one run on two hits and three walks. Davis Palermo (1-0) received the decision after mustering two big outs in the ninth. Tyler Hoffman and Felix Ramires worked clean innings. Josh Swales (0-3) took the Rawhide defeat. The clubs are back in action tomorrow for Star Wars Night in front of a sold out crowd.
Tonight's article was written by ChatGPT
Top Performers: Fresno Grizzlies (Colorado Rockies)
DH Jesus Ordonez (1-5, RBI; walk-off 1B with 2 outs)
LF Jake Snider (2-4, 3B, 2B, 2 R, BB)
3B Andy Perez (3-5, 2 RBI, R, SB, CS)
LHP Michael Prosecky (6.0 IP, 2 H, 1 R, 1 ER, 3 BB, 7 K)
Top Performers: Visalia Rawhide (Arizona Diamondbacks)
CF Alvin Guzman (1-4, 2B, 2 RBI, R)
2B Manuel Pena (1-3, 2 RBI)
DH Juan Corniel (1-4, 2B, R)
On Deck:
Friday, May 12 vs. Visalia Rawhide, Visalia RHP Jose Cabrera (0-2, 4.15) vs. Fresno RHP Jordy Vargas (2-1, 5.63), 6:50 pm PT
ON THAT FRES-NOTES:
Grizzlies' manager Steve Soliz was ejected in the 7th inning by home plate umpire Jabril Geter-Abdulah (balls and strikes).
Both Luis Mendez and Andy Perez made multiple defensive web gems during the contest.
Over their past five games, the Grizzlies have scored 31 of their 36 runs in innings 7-9. In their last four contests, Fresno has recorded 15 runs in the eighth inning.