Past generations guide Astros' Kessinger
Shortstop's grandfather, dad and uncle all played pro ball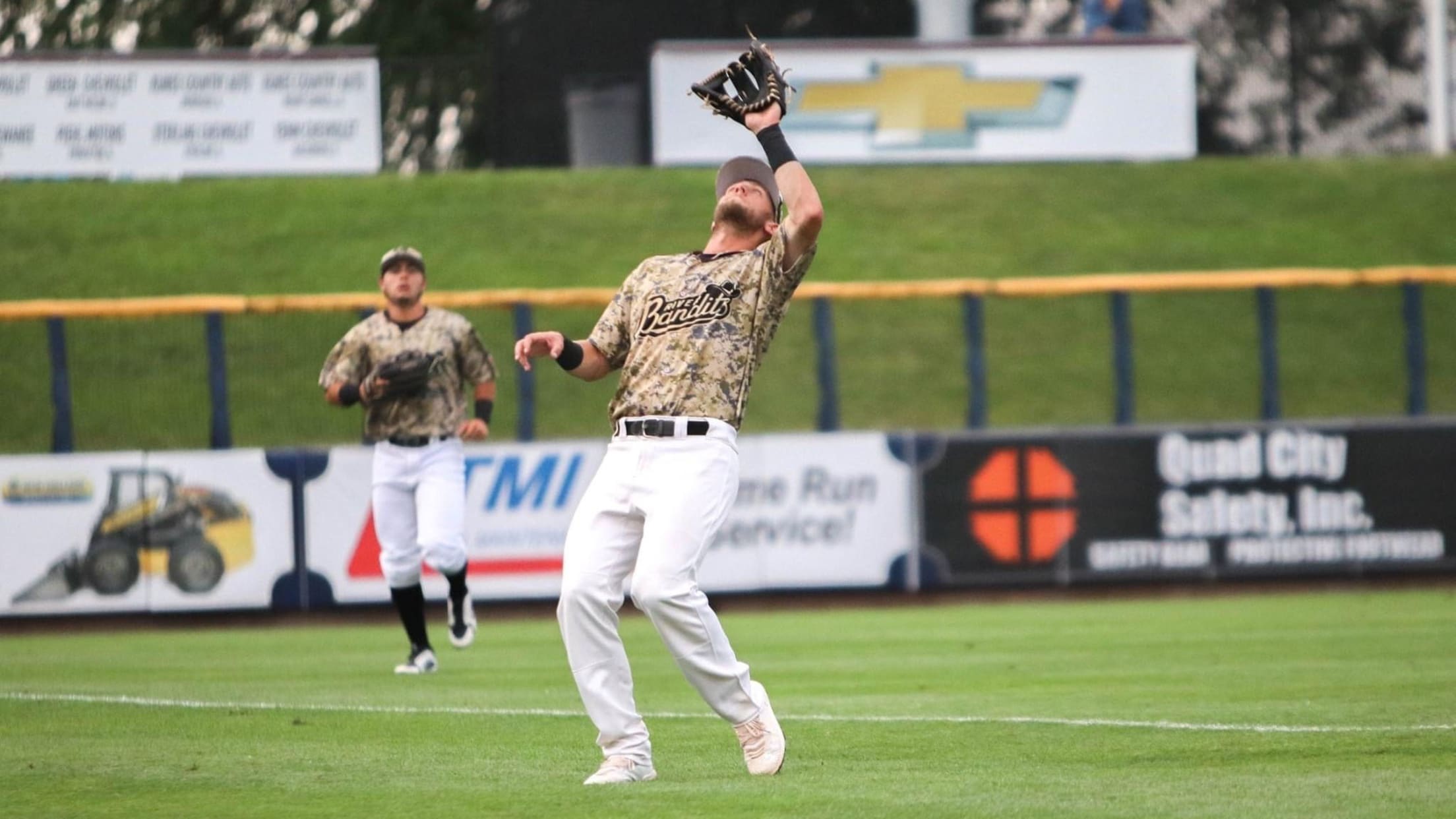 Grae Kessinger started 49 games for Class A Quad Cities in 2019 -- 23 at shortstop, 19 at third base and seven at second base. (Josh Franzen/Franimal Fotografy)
Somewhere around Grae Kessinger's sophomore year of high school, in between games of a summer league doubleheader, the young shortstop sat down with his dad, Kevin Kessinger. Grae had made a great play in the field during the first game. It came up in their conversation. Then he walked away,
Somewhere around Grae Kessinger's sophomore year of high school, in between games of a summer league doubleheader, the young shortstop sat down with his dad, Kevin Kessinger. Grae had made a great play in the field during the first game. It came up in their conversation. Then he walked away, likely to get something to eat before Game 2 started.
Another parent filled the seat next to Kevin. Were you talking to Grae about the play? Of course, Kevin replied. Well, what did you tell him? The parent had it all wrong. The exchange had gone the other way.
"I said, 'Tell him?'" Kevin recalled. "I was asking him how he knew to do it. I didn't know. He's just got a gift for it. It comes from his granddaddy."
It's not that Kevin doesn't know the game. He first realized his place in baseball when he was around the same age as Grae was that summer day. Kevin sat next to his dad, six-time All-Star Don Kessinger, in the Wrigley Field dugout. In front of him stood Ernie Banks, Fergie Jenkins and Ryne Sandberg -- all future Hall of Famers. These were Don's friends. Years later, the Cubs drafted Kevin too.
Now it's Grae's turn. Houston made him the 68th overall pick in the 2019 Draft. He's the Astros' 15th-ranked prospect, described by MLB Pipeline as someone who "makes plays at shortstop thanks to his knack for positioning himself and his high baseball IQ." His scouting report might as well be a family history because so much of how he approaches the game came from Kevin, his "best friend." So much of the way he plays the game looks like Don, his "Pop." And though the professional careers of Kevin and Don went in opposite directions, both provide lessons for Grae as he navigates the early years of his own.
"It's something that I think motivates me," Grae said. "I think it motivates me that I know these people in my family, they gave it all they got every single day. They tell me about it and that makes me want to do it even more."
Don signed with the Cubs in 1964 and spent most of that season with the Double-A Fort Worth Cats. He debuted in the big leagues at the end of the year and was a regular by '65.
"The Cubs were kind of in transition with shortstops, so I think they figured I might as well learn there than somewhere else," Don said. "It was great for me."
He played 16 seasons, the first 12 with the Cubs. His final year, 1979 with the White Sox, he served as player-manager. He won two Gold Gloves. He and his wife, Carolyn, had two sons. Keith Kessinger was born in 1967 and Kevin in '69. Keith went on to play in 11 Major League games after being a 36th-round pick of the Orioles in 1989. He hit one home run.
Kevin's career didn't get that far. He passed on the Draft after his junior year at Ole Miss -- all the Kessingers were Rebels at one point -- to play another year for Don, who became the head coach in Oxford, Mississippi, midway through Kevin's time in college. About halfway through his senior season, Kevin felt he had given away an at-bat. He made the final of an inning and steamed. As he jogged back out to the outfield, he turned back to throw his helmet toward the dugout. Something in his back popped.
He tried to play through it. He tried to rest. Doctors thought it was nothing serious. The Cubs took him in the 22nd round of the 1992 Draft. He flew out to the team's complex in Arizona to rehab. He felt great for several weeks until a random swing aggravated what was initially believed to be a soft-tissue injury. Turns out it was a disc in his back. He couldn't run.
"The doctor kind of looked at me and just said, 'Your career is over,'" Kevin said. "'It's either you have surgery or you don't, but you're not going back to play.'"
Kevin got two at-bats and a couple of innings with Class A Short Season Geneva in the New York-Penn League in 1992, basically as a courtesy for the hard work he put in to get that far. That was it.
Grae was born five years later. His first word was ball. He made diving grabs on the couch that precede his memory. As a preteen, he laughed when Kevin offered to spend the summer at a friend's lake house instead of on the summer baseball circuit.
Kevin coached his son up until his Grae's teenage years. Their teams were good. The message that drove them -- and defined how Kevin has raised his sons -- was shaped by the abrupt end to Kevin's playing days.
"Don't have any regrets when you walk off that field. Leave it all out there," Kevin said. "That's not just saying it, because literally you don't know when that's it. I didn't know that day that I was playing and doing well and actually hit a home run in that game that I was going to be hurt from then on."
The message hasn't faded. It's why Grae never wants to question whether he should have dived for a ball or hustled for a double.
"It just really set a good tone for how I wanted to play the game for the rest of my life … to have no regrets," Grae said. "And when I'm doing that, when I'm playing that way, I think the game is so much fun."
If Kevin helped mold Grae's mind-set, Don passed down his Gold Glove. Some of it is natural, maybe genetic or "God-given," Grae said. But he and Don spent many postgame conversations breaking down plays Grae made at shortstop.
One summer day around the time Grae was in eighth grade, he and Don took a fungo bat and a stopwatch out to the field. Don hit grounders, then started the stopwatch when the ball hit Grae's glove. He stopped it when Grae's throw reached first base. They went through backhands, forehands, straight shots and slow rollers to find out what techniques worked best for Grae. When Grae was in the hole, for example, he produced the best time if he slid to one knee to grab the ball, popped up, then threw.
"He made that play totally different than I did and yet the way he made it was without question the fastest way for him," Don said. " ... I was just thrilled with his coachability."
Time helps Grae slow down. It taught him double plays have a higher success rate if he takes a deliberate turn and places the ball in the second baseman's chest rather than a hurried off-target toss. It enabled him to reevaluate his strengths as his arm has matured. The stopwatch is still what comes out when he feels rushed.
"That helped me to be the shortstop I am now," Grae said.
There's a joke in the Kessinger family that Grae and Kevin are the same person. Kelly, Grae's mother, said she only married one of them. Both men have the same sense of humor and mannerisms. And even with a generation between them, Don sees a smoothness in his grandson's game that helped him thrive in the big leagues for 16 years.
"I absolutely always say that I'm a part of an awesome book and I'm writing my own chapter, but I'll lean on [my family], for sure," Grae said. "If I'm going through a tough time with hitting or defense or whatever it is, or if I just need to talk to someone who's been there, who's had the 0-for and then they're on a bus for six hours to play the next day -- I have that person I can reach out to and just talk. It doesn't even have to be about the specific game or specific play, just someone who's been there. And there's so many people on my side that I can reach out to for that. It's very comforting knowing that I have all their support and they believe in me and they've been there before so they know what it's like."
In Grae's first pro season, during which he moved around the infield and hit .232/.333/.308 in 62 games between Class A Short Season Tri-City and Class A Quad Cities, a minor swing change put him in a slump. Don called. He told him it wasn't going to be the first time he goes 0-for or strikes out twice in a game or makes an error. He told him that to get better, he has to play with a good attitude every day. Grae went 4-for 5 the next day.
The lecture sounded a lot like one of Grae's favorite stories from Don's playing days. Don was getting ready to head to Wrigley Field for a game against the Cardinals in June 1971. He told Carolyn he was tired, and she suggested he request a day off. No way, Don replied. Asking for a day off can end up turning into a career off if you're not careful, he argued. That day, with Steve Carlton on the mound for St. Louis, he went 6-for-6 and scored the winning run in the 10th inning.
"What the major thing to say to Grae was, you're not always going to feel great," Don said. "Nobody is 100 percent over the course of a Major League season, yet you've got a job to do. You go out there and play as hard as you can. You never know which one is going to be your day. That was all I was saying to him, and the good thing about Grae is he seems to take those things and doesn't say much about them. But he heard you."
Joe Bloss is a contributor for MiLB.com. Follow him on Twitter @jtbloss.