PCL witnesses ties for first time in 20 years
New Orleans, Fresno draws mark league's first deadlocks since 1996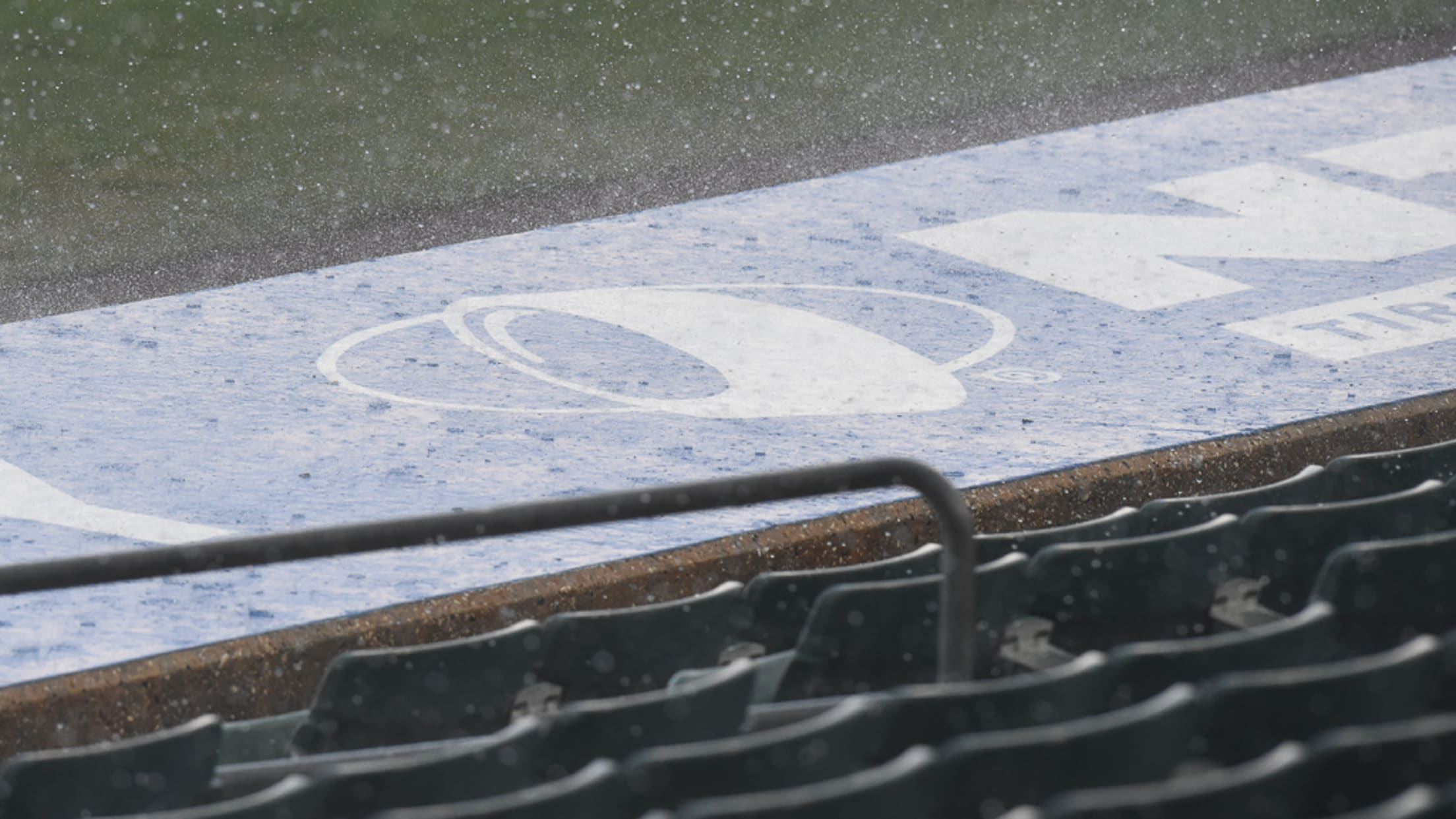 Rain washed away the final innings of Monday's series finale in New Orleans. (Parker Waters/New Orleans Zephyrs)
It had been 20 years since there was a tie in the Pacific Coast League. Within a span of 80 minutes Monday, there were two. Around 4:15 p.m. ET, the Tacoma Rainiers and New Orleans Zephyrs halted play for good after five-plus innings due to rain, and the game ended
It had been 20 years since there was a tie in the Pacific Coast League. Within a span of 80 minutes Monday, there were two.
Around 4:15 p.m. ET, the Tacoma Rainiers and New Orleans Zephyrs halted play for good after five-plus innings due to rain, and the game ended in a 2-2 deadlock. Veteran Mike Baxter was at the plate with one out and Mike Zunino on first base when the rain caused a weather delay, eventually leading to the fourth tie in the Seattle affiliate's franchise history and the first since 1985.
The Zephyrs had gone even longer without tying a game. Their last one was in 1976, when the franchise was known as the Denver Bears. With Tacoma flying back to the West Coast at 6:45 p.m. CT and no chance of resuming the game quickly thanks to the heavy rainfall, the decision was made to call the game.
"I have not seen a measured amount of rain at that tremendous amount on the field," said Dwight Hall, the PCL's director of baseball operations. "A good portion of the field was under water and the tarp flipped over itself, so the infield skin received a lot of water. There was some doubt whether it could be fixed at all without drying overnight."
New Orleans starter Paul Clemens logged the elusive complete-game no-decision, allowing two earned runs on three hits and two walks while striking out three over 5 1/3 frames. It marked the 28-year-old Marlins right-hander's first career complete game.
Barely an hour later, around 5:35 p.m. ET, a 6-6 game between the Colorado Springs Sky Sox and Fresno Grizzlies was called after 10 innings due to travel curfew. With both teams taking commercial flights after the game, PCL rules state no inning could start after the curfew of 2:30 p.m. PT, approximately three-and-a-half hours after first pitch.
"There is no set time; we do quite a few at 3:30 and 3:45," said Hall. "We've gone as short as 3:15, but we've also gone four or five hours, which can still come into play if you have weather delays during the game. When you're traveling across three time zones on commercial flights, it's become a necessary evil for the next day's games.
"We've had very few of these come to the point that the curfew was reached. I think we had one each in the last two years, and true to baseball, just when you think something can't happen in our great game -- such as having two in one day -- it did. Hitting the curfew is a rare occurrence, and we'd prefer it not to have an impact on the outcome of the game like it did. The only thing worse would be one team not making their scheduled game tomorrow because of running into travel issues."
The Sky Sox are no strangers to ties, as they were involved in the league's last one on Aug. 29, 1996 -- a 9-9 deadlock against the Calgary Cannons. That contest -- the last matchup of the 1996 season between the two teams -- also went into extra frames and was suspended due to rain in the bottom of the 10th.
Astros' No. 2 prospect A.J. Reed and No. 28 Andrew Aplin collected RBI singles in a three-run third inning that put the Grizzlies ahead, but Brewers' No. 18 prospectMichael Reed crushed a grand slam in the fifth to give the Sky Sox a 5-3 lead. Eury Pérez's home run for Fresno in the bottom of the eighth capped the scoring.
Milwaukee's top pitching prospect, Jorge López, allowed three earned runs on six hits and two walks over 4 2/3 innings.
While statistics count for both games since they reached official status, they also will be designated "canceled games" in the PCL ledger, according to Hall. They will not be reflected in the standings for either team.
While the Pacific Coast League had been able to avoid ties in the 21st century, other leagues across Minor League Baseball haven't been so lucky. Last season, there were seven, only one of which happened above the Class A Advanced level -- an April 13 game between the Jackson Generals and the Jacksonville Suns in the Double-A Southern League.
The Class A Savannah Sand Gnats saw their Minor League-best 18-game winning streak end last Aug. 23, when rain ended their season finale -- the second game of a doubleheader against Kannapolis -- in a 1-1 draw.
Chris Tripodi is a producer for MiLB.com. Follow him on Twitter @christripodi.