P-Nats outlast rain, Hillcats in semifinals
Corredor belts grand slam in long-delayed decisive Game 5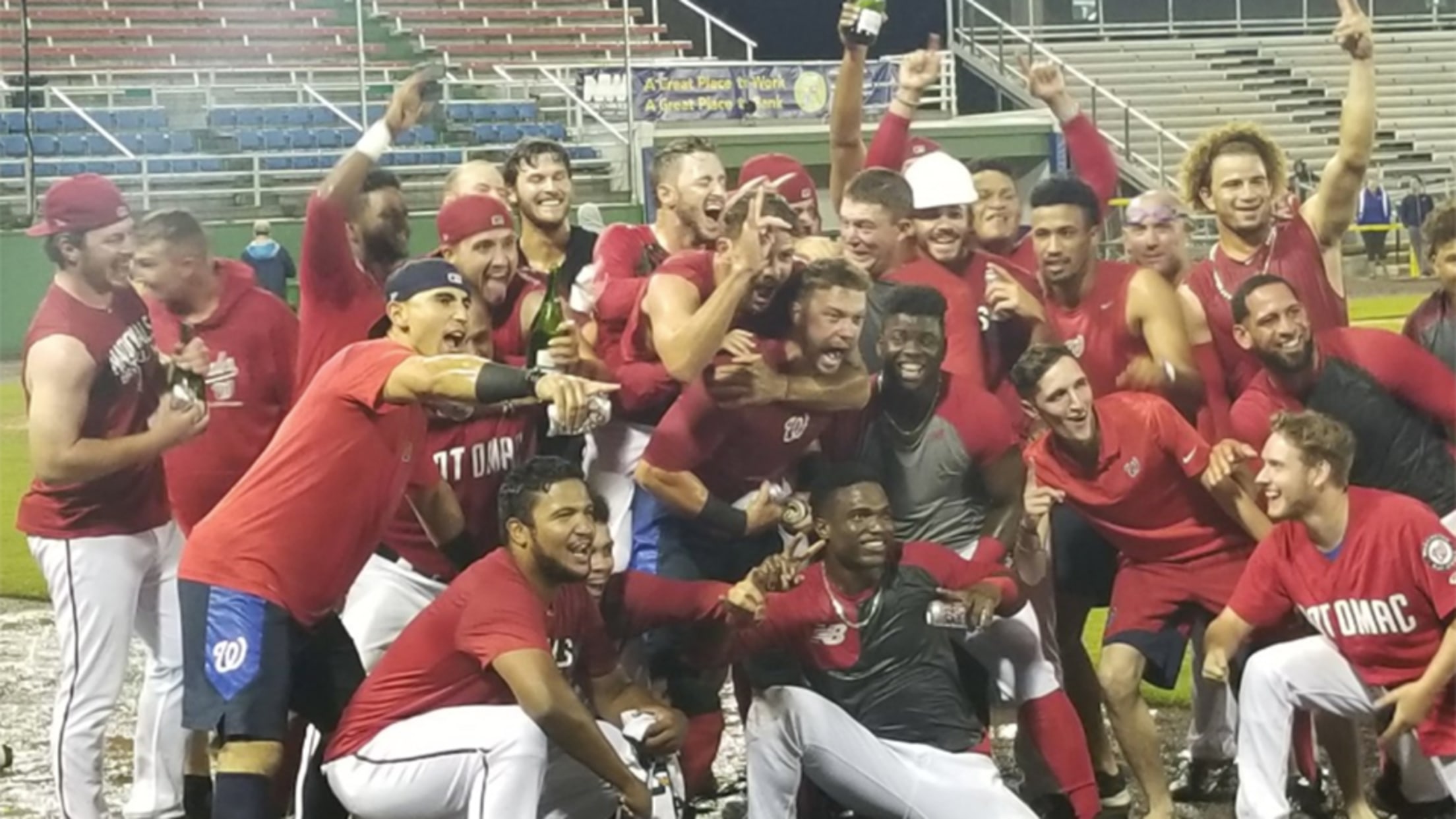 Potomac didn't give Lynchburg the chance to defend its Mills Cup title with the elimination. (Lisa Milisa)
A five-hour rain delay and a subsequent power outage didn't make it a quick affair. But the Class A Advanced P-Nats will take it. Washington infield prospect Aldrem Corredor slugged a grand slam to lead Potomac to a 6-2 win over Lynchburg in decisive Game 5 of their best-of-5 Carolina League
A five-hour rain delay and a subsequent power outage didn't make it a quick affair. But the Class A Advanced P-Nats will take it.
Washington infield prospect Aldrem Corredor slugged a grand slam to lead Potomac to a 6-2 win over Lynchburg in decisive Game 5 of their best-of-5 Carolina League semifinal series. The loss ended the Hillcats' bid for a second consecutive Mills Cup.
Gameday box score
"We were just sitting around, sleeping on yoga mats and any other mat they could find to sleep on really," Potomac manager Tripp Keister said of the rain delay. "We just waited for our chance and we came out ready to grind."
The Nationals advanced to the Mills Cup Finals for the first time since 2014, when they took home the trophy by besting Myrtle Beach.
Lynchburg started the scoring with Jorma Rodriguez's RBI double to center field in the second inning, but Tres Barrera tied the game with an RBI double to left and later scored on Indians No. 15 prospectEli Morgan's wild pitch later in the inning.
Corredor slugged his grand slam to left-center on a 2-0 count in the eighth off Lynchburg's Dalbert Siri to provide the Nationals plenty of insurance.
"It got caught up with where the wind was going and got out," Keister said. "And the dugout erupted, that's for sure."
Rodriguez picked up another RBI in the ninth during a last-ditch effort for the Hillcats, but Jacob Condra-Borga induced two groundouts to close out the series.
• Complete postseason coverage »
Potomac won the final two games of the series to advance and Keister was thrilled with his team's resilience.
"We've been playing without a safety net from yesterday until today," the skipper said. "I mean, quite frankly we let one slip away Game 3. ... I just felt like we've persevered all year long, we had great at-bats and just kind of just see what happens."
Washington's No. 27 prospectJackson Tetreault allowed one run on five hits over five innings. The right-hander struck out five and didn't issue any walks. Tetreault labored through some long at-bats, adding on to his pitch count and forcing the Nationals to call to their bullpen sooner than they wanted to, but Keister was satisfied with the results of his first playoff start.
"He didn't get ahead of hitters and got himself in some deep counts, but he found a way to make some pitches and only give up a run and end up getting the win," the manager said. "It was a good outing for him."
Morgan suffered the loss after surrendering two runs on four hits while fanning four and issuing a walk over 5 1/3 frames.
Potomac will face Buies Creek in the Mills Cup Finals after the Astros swept Wilmington in three games. The best-of-5 series begins Tuesday at Jim Perry Stadium.
Josh Horton is a contributor to MiLB.com. Follow him on Twitter @joshhortonMiLB