Prospect Q&A: Braves outfielder Harris
No. 64 prospect discusses offseason work, World Series fandom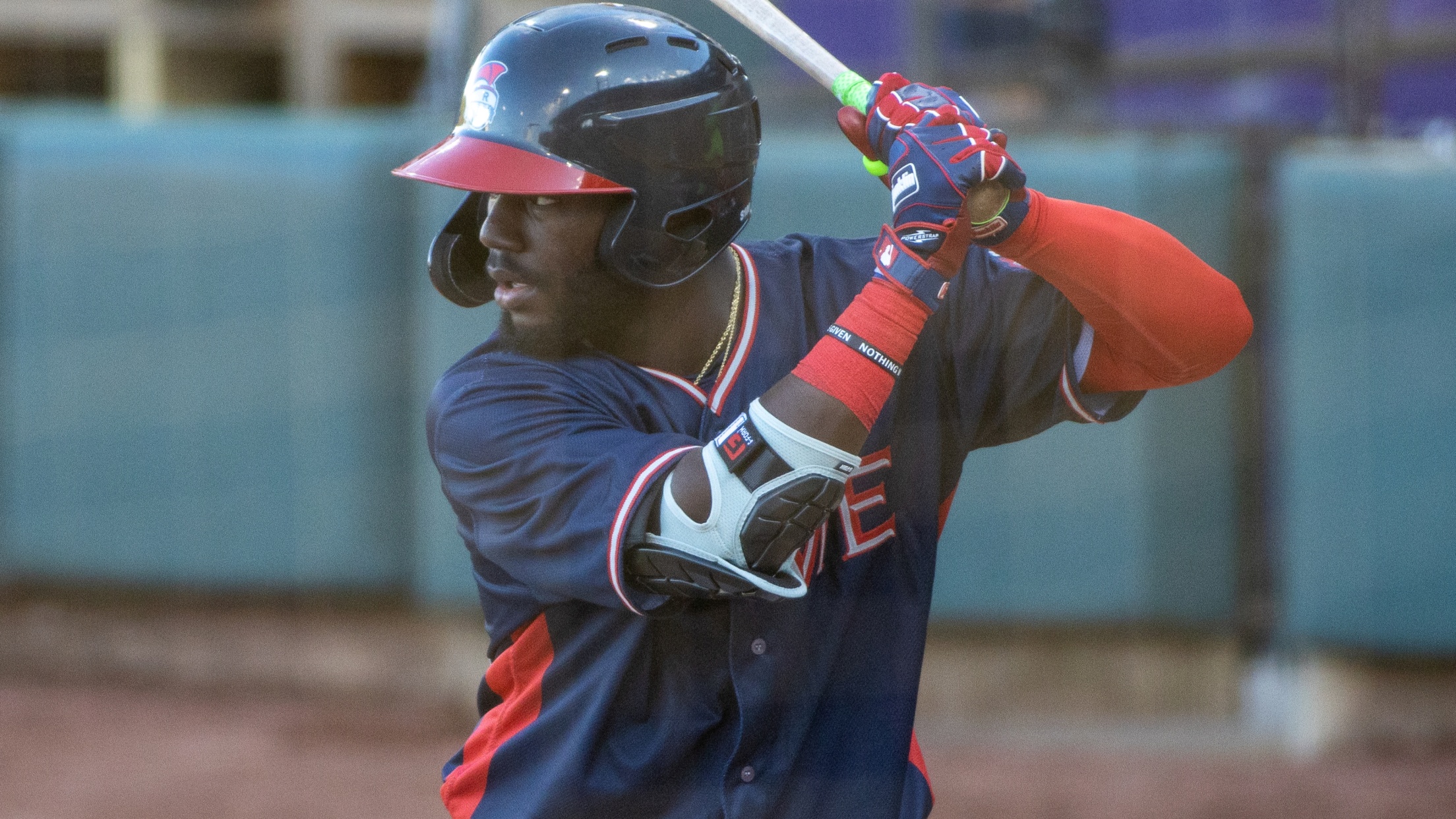 Michael Harris II cut down his strike out rate from 21.1 percent over the first month of last season to 15.6 percent over the final 24 games. (Brian Cendejas/MiLB.com)
After Atlanta brought in a cornerstone first baseman to replace another, Michael Harris II became the only Braves prospects remaining on MLB Pipeline's Top 100 list. The 21-year-old outfielder entered last season as Atlanta's No. 12 prospect, but finished as the organization's Minor League Player of the Year. Harris batted
After Atlanta brought in a cornerstone first baseman to replace another, Michael Harris II became the only Braves prospects remaining on MLB Pipeline's Top 100 list.
The 21-year-old outfielder entered last season as Atlanta's No. 12 prospect, but finished as the organization's Minor League Player of the Year. Harris batted .294/.362/.436 with 36 extra-base hits, 64 RBIs and 27 stolen bases for High-A Rome. He carried that success into a ridiculously hot Opening Week for Double-A Mississippi and could certainly push his way onto the big-league roster by season's end.
In the latest installment of MiLB.com's Q&A series, Harris discusses the offseason work that goes into maintaining all five plus tools as well as the changes in approach that helped him reduce his chase and strikeout rate over the course of last season. The Ellenwood, Georgia, native also talks about the Braves' affinity for locally produced prospects and his memories of the club's World Series victory.
MiLB.com: It was an odd start to the year with the lockout, but how was camp for you?
Michael Harris II: Camp is always good. It's always good to get back going. Getting back into the swing of things, trying to get the body back going, get conditioned. It's good to have Major League guys come back in enough time so I could get some kind of big-league camp again. That's really a big part of my camp, and I've really just been feeling good and trying to maintain that feeling.
MiLB.com: What was camp like before the Major Leaguers arrived?
Harris: It was pretty much the same as just regular Minor League camp. The coaches came about the same time as the players. So, it was basically just a Minor League camp.
MiLB.com: Was there anything specific you focused on improving this spring?
Harris: I never really try to give a specific part of my body any more attention than the other. I try to just maintain the whole body, get everything flowing and just get ready for the season and stay injury-free. ... [With my game it's the] same thing. I try to keep everything in line -- defense, baserunning, hitting. Just try to keep everything stable -- same as the body.
MiLB.com: The Braves love having local guys in the organization. What's it like to be part of that group?
Harris: It's huge. Definitely having multiple teams in the area -- I have a pretty big support system, so that really helps. It gives me a lot of confidence. I'm really just ready to get to Atlanta because I've been watching for so long and seeing what this organization has been doing for years and the success it's brought players. I'm just ready to get up there.
MiLB.com: Where were you this past fall when the Braves won the World Series?
Harris: I believe I was at home when they won. It was a crazy feeling because a lot of Atlanta teams don't really pull through in the end, but we finally got it. Being a part of the organization made it even more special for me.
MiLB.com: The team traded away a lot of top prospects this offseason, but you held on. What was that time like for you?
Harris: It's definitely a good feeling to see your name at the top [of prospect rankings]. But at the same time, I just got to go out and keep playing every day and control what I can control because they don't necessarily go through and pick in the order of the rankings of who they want next or who's ready. So I just go out every day and do what I can do and show them what I can do for the organization.
MiLB.com: After last season, your farm director referred to you as a well-rounded, five-tool player. What's it like for you to hear that assessment?
Harris: It's a good feeling because I try to make sure everything is in tune with each other. I don't try to work on one specific thing. I've been doing that for a long time. So I guess it's really just paid off since I've started playing baseball.
MiLB.com: You had a great year in Rome in something of a breakout season. What clicked for you last year?
Harris: I think it's just staying focused on what you're doing at the time. I don't really take my at-bats to defense, or, if I was to get on by error, I don't take that to the basepaths with me. It's just like, you're doing whatever you're doing at that time. So, I feel like, if I'm struggling at the plate, I got to find a way to make a difference in the outfield or as a teammate or on the bases. So, I just try to find different ways to impact the game and try and get the 'W.'
LETTSSSS GOOOOOOOOOOOOOOOOOOOOOOOOOOOOOOOOOOOO!WE'RE THE WORLD SERIES CHAMPS!!!!💍💍 BRAVES COUNTRY IS THE BEST!!⭐️#DiditforHank44 @Braves pic.twitter.com/2YgF23jCzH

— Michael Harris II (@MoneyyyMikeee) November 3, 2021
MiLB.com: What was the key to your success against lefties, and your consistency against both lefties and righties?
Harris: I kind of go at it the same way I do against righties. It's all about preparation and routine before the game. Just knowing the pitcher and knowing how they like to work, where they like to work, what they do in certain situations. It's really just preparation.
MiLB.com: With that information, how has that evolved over time? Is it maybe more abundant now than when you started?
Harris: There's definitely a lot of information I've gotten over the years. Different coaches -- you hear a lot of things, so you just try to soak in the things that you think work best for you and try to better your career. I really just take in certain things, not even just from coaches, but from different players -- things they do and things they say work for them. I just try to see what works for me and try to piece it into my game.
MiLB.com: Scouts mention your chase rate being a little high last year. Was that something you noticed?
Harris: It came up last year. I'm normally an aggressive hitter. And I feel like last year, in the beginning of the season, I was a little too aggressive. I was still making contact on balls out of the zone, but I wasn't getting as many walks as I was trying to hit everything. So, the second half of the season, I really worked on trying to see pitches and actually swinging at pitches earlier in the count that I could drive. So, that really got my walk rate up at the end.
MiLB.com: What does a successful 2022 season look like for you?
Harris: I don't try for anything numbers-wise. For me, I just try to go out and have fun every day and give 110 percent. If I do that, I feel good and whatever happens, happens because I can't control it after I do it.