Prospect Q&A: Nationals shortstop House
No. 48 prospect discusses swing timing, defensive footwork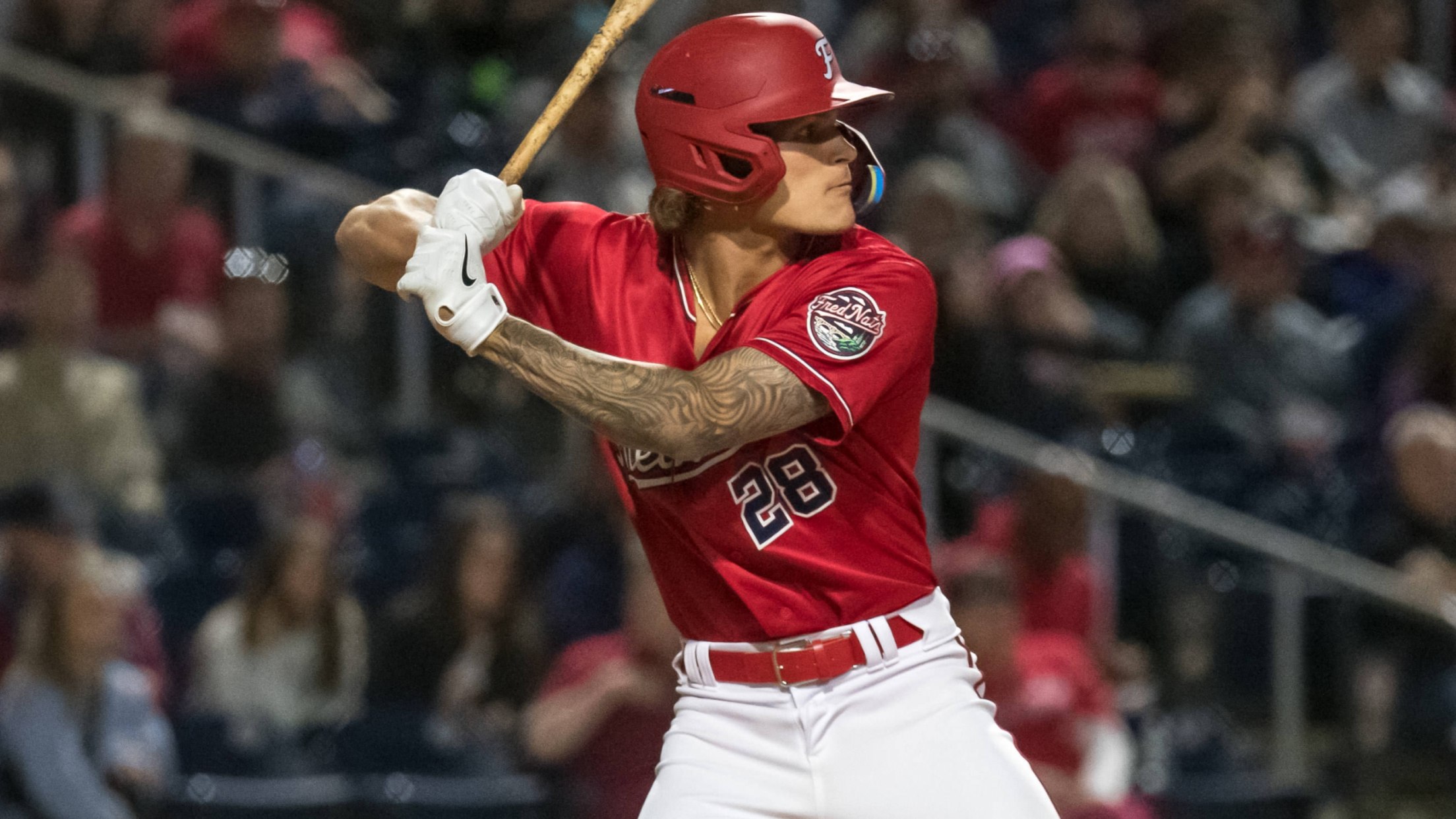 Drafted No. 11 overall in 2021, Brady House has 17 hits and 13 RBIs through his first 11 games with High-A Fredericksburg. (Edward Maurer/Fredericksburg Nationals)
Ever since he was drafted last year, Brady House has not stopped hitting. The second-ranked Nationals prospect has gotten off to a roaring start with Single-A Fredericksburg. House entered Thursday as the Carolina League leader with 17 hits in his first 46 at-bats (.370 average), and he has a share
Ever since he was drafted last year, Brady House has not stopped hitting.
The second-ranked Nationals prospect has gotten off to a roaring start with Single-A Fredericksburg. House entered Thursday as the Carolina League leader with 17 hits in his first 46 at-bats (.370 average), and he has a share of the circuit's RBI lead with 13 through his first 11 games.
House's immediate success in 2022 was a continuation of his first professional action in the Rookie-level Florida Complex League last year. More than a month away from his 19th birthday at the time, House clubbed four homers and batted .322 with a .970 OPS in his first 16 professional games last year.
The 6-foot-4, 215-pound shortstop was a potential No. 1 overall pick entering his final season at Winder-Barrow High School in Georgia. He went to the Nationals at No. 11 and has hit the ground running ever since.
In the latest installment of MiLB.com's Q&A series, House talks about the finer points of his game, including the self-evaluation of his swing and the tool that will keep him at shortstop going forward. He also discusses his first Spring Training experiences and the wealth of resources available to professional ballplayers.
MiLB.com: What was your first camp experience like? Anybody in particular you were looking forward to working with?
Brady House: My goal going into Spring Training was just picking some of the coaches' brains. There was no one specific I was looking for.I think being around a bunch of the guys and getting little bits and pieces from everyone has really helped me so far.
MiLB.com: Was there any specific tool or aspect of your game you wanted to emphasize heading into the season?
House: I'd say hitting-wise, probably just working on my approach mentally. I haven't really changed anything with my swing, but I've been working on some things -- pitch selection and all that good stuff hitting-wise. And then, fielding, just footwork, footwork, footwork. I think footwork will keep me at shortstop as long as I can, as long as I keep it going.
MiLB.com: Did you get help on that from any veterans or coaches?
House: For sure because whenever I came into Spring Training, I had had the same approach that I had in the GCL last year and everything. And whenever I came here we kind of tweaked things -- not big changes, but just kind of tweaked a little. So for sure, I have learned a good bit.
MiLB.com: What type of things did you tweak?
House: Just pitch selection and reading if it's not a pitch that I want, then I don't necessarily have to swing at it unless I get two strikes, then I'll have to protect. But, early on in the count, just looking for a pitch that I like and I know I can do damage with and if I don't like it, just take it. And then, if it's a good pitch for a strike, then you got to tip your hat to the pitcher for that. So, just looking for good pitches and my pitch selection has been the main thing.
MiLB.com: You mentioned that your defensive footwork is going to keep you at shortstop -- what type of work goes into that?
House: I'd say just getting with the strength coordinators and infield coach because whenever I am fielding we want to work on side-to-side movement and getting a good jump on the ball whenever I'm on the field. And then whenever I'm off the field, of course in the weight room, we're working on speed and then we'll do exercises to improve little things like that.
MiLB.com: What was it like for you to do all this work in a professional facility with a wealth of resources for the first time?
House: There's a bunch of things that I didn't have access to before I got here. A lot of the film rooms and all the little gadgets -- the Rapsodo, TrackMan -- anything that they have is better for you. And whenever you want to look at it, whenever you want to do it, that's available to you. Yeah, I didn't previously have all that stuff, so it's really good to have it if you want it.
MiLB.com: Is there something within this data that you've either focused on or have gained a greater interest in after using it?
House: The main thing that I used is just film and looking at film and I'd say I'm not really changing things because of TrackMan or anything like that, but if there is something in the film room that we see -- like a side angle on my swing -- the film usually shows your timing and where your hands are and how you're loaded and everything like that. If something like that needs to be changed, yes.
MiLB.com: What are the types of things you look for on film, and how would you describe your swing when things are going right?
House: I'd say whenever it's going really good for me, my swing is calm and more smooth and direct to the ball instead of just trying to swing hard and hurry up because that means usually that my timing is off. So, as long as my timing is good, and my swing is smooth and I'm loading back smooth, that's usually key for me.
MiLB.com: Going back to the Draft, did you know the Nationals were interested?
House: I'm very grateful that I ended up here. Great, great program. Great facilities, great coaches. All welcoming players. Previously, before the Draft, I had not talked to the Nationals really. I think my agent had been in contact and all that good stuff. ... I knew they had came to my high school games and I had played Area Codes with the Washington Nationals team.
MiLB.com: What was the first experience with professional coaches like after you signed?
House: When I got there I did extended camp for like two weeks and they were just trying to prepare me for the game. They weren't really trying to change anything because they have seen me play before. Whenever I got there it was just, I played until instructional league and then we started getting the ball rolling and talking more about swing and feel and all that good stuff.
MiLB.com: The numbers in the FCL were obviously impressive, what was it like playing pro for the first time?
House: It was awesome. I've never been able to play games every day. It was a grind for sure, but in the long run it wasn't even half a season. I prepared myself for this year, and I'm ready to go play a full season and be there whenever I can be for whenever they need me and do whatever they need me to do.
MiLB.com: The power numbers were especially great last year -- how do you stay locked in power-wise?
House: I'm not too worried about home runs. I know that as along as my swing is good, line drives are going and I'm moving runners over and sacrifice flies and all that good stuff, and I know that home runs will come. As long as I'm doing my job at the plate, I think the home runs will come.
MiLB.com: It seems like it all went well, but how was the adjustment to professional pitching?
House: It has been really good pitching. I think the only way for me to adjust was to make sure my timing was right. If my timing it right, I feel like I can get to any ball that is thrown, so I was just working on that.
MiLB.com: What does a successful version of 2022 look like for you?
House: I'd say just doing everything in my power to help the team succeed and help the organization succeed. Whatever they need from me -- I want to be there, and hopefully they can use me wherever they need me, and I can just be that guy that is there and can do whatever they need me to do.