Prospect Roundup: Games of May 23
Chapman hits 10th homer this month; Pivetta shines in 'Pigs return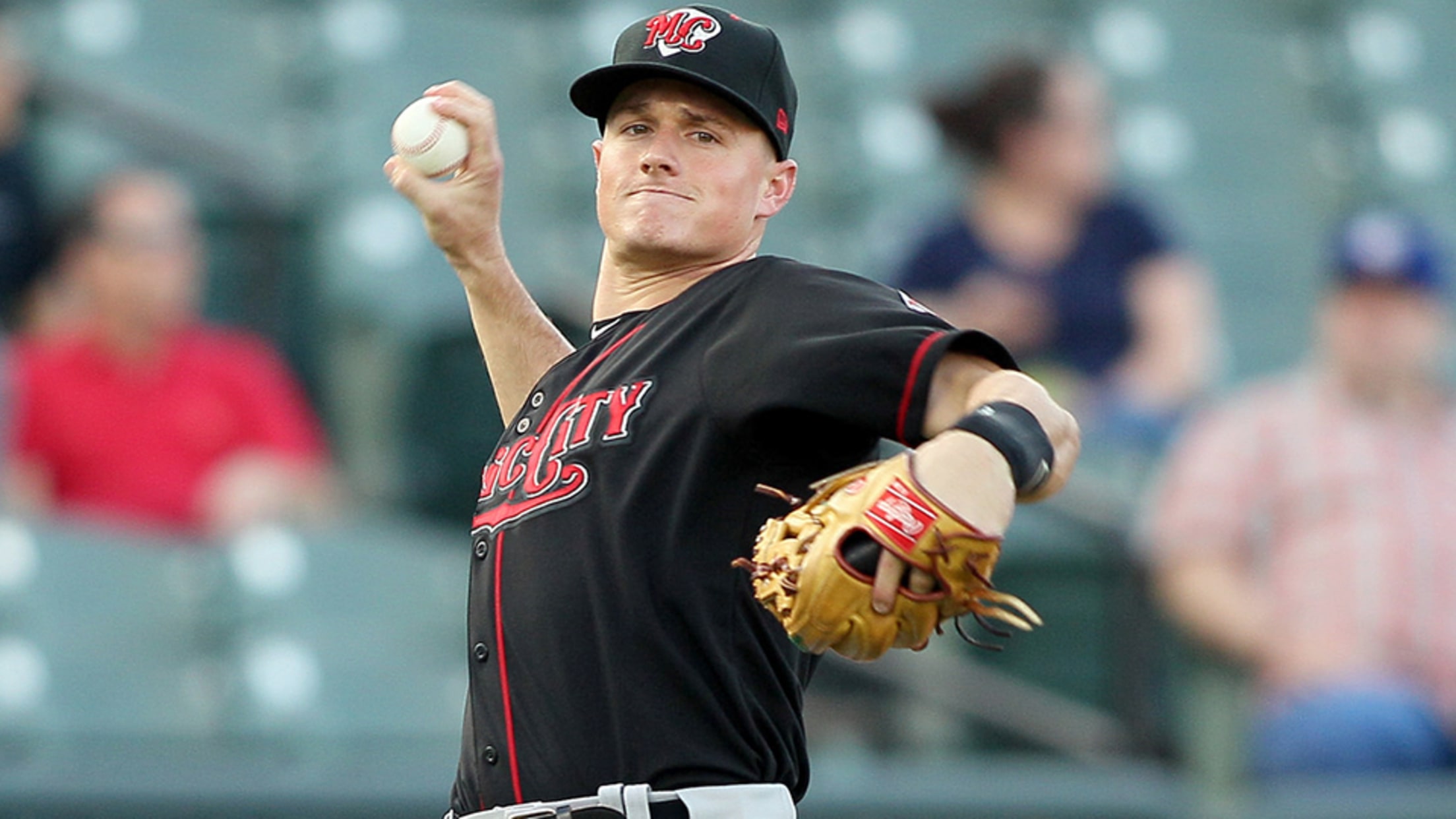 Matt Chapman ranks sixth in the Pacific Coast League with a .594 slugging percentage over 29 games. (Jim Redman/MiLB.com)
Athletics 3B Matt Chapman, Triple-A Nashville: 2-for-5, HR, 3B, RBI, 2 R, K -- Oakland's No. 4 prospect went deep for the second straight game and the fifth time in his last eight contests Tuesday. Chapman leads the Minors with 10 homers this month; no one else has more than eight. The
Athletics 3B Matt Chapman, Triple-A Nashville: 2-for-5, HR, 3B, RBI, 2 R, K -- Oakland's No. 4 prospect went deep for the second straight game and the fifth time in his last eight contests Tuesday. Chapman leads the Minors with 10 homers this month; no one else has more than eight. The 24-year-old's return to Triple-A got off to a rough start when he missed two weeks in April with a wrist injury, but he's caught up now. Chapman is hitting .284/.375/.741 with 15 extra-base hits in 22 games in May, and given his impressive defense at the hot corner, his stock has been soaring these past few weeks. With Trevor Plouffe not exactly exuding confidence (0.2 WAR over 43 games), Chapman could be plying his trade in Oakland before long.
Phillies RHP Nick Pivetta, Triple-A Lehigh Valley: 7 IP, 7 H, 1 R, 1 ER, 0 BB, 9 K, 84 pitches, 66 strikes -- Making his first Triple-A start in a little over a month, the Phillies' No. 12 prospect showed why he got moved to the Majors in April. Pivetta is now 4-0 with a 1.04 ERA, 33 strikeouts and only two walks over his four starts (26 innings) with Lehigh Valley. The four he made in the Majors didn't go nearly as well -- 5.12 ERA over 19 1/3 innings -- but the 24-year-old right-hander has shown enough at Triple-A, specifically in the control department, that he'll be back at the head of the line the next time the Phillies need a starter.
D-backs LHP Anthony Banda, Triple-A Reno: 6 IP, 3 H, 1 R, 1 ER, 2 BB, 8 K, 111 pitches, 66 strikes -- Speaking of Major League auditions, the D-backs' top prospect kept himself in the conversation with a bounceback effort Tuesday night. The 23-year-old lefty had allowed 10 earned runs in 12 innings over his last two outings but rebounded with his second quality start of the season in a 2-1 win over Iowa. The D-backs' pitching depth has taken a hit with Taijuan Walker being placed on the disabled list last weekend with a blister, while Shelby Miller is out for the season after undergoing Tommy John surgery. Banda, who already has a spot on the 40-man roster, is in the promotion discussion along with former top prospect Braden Shipley should Arizona need a starter, and he did himself a service in that debate Tuesday.
Reds 1B Gavin LaValley, Class A Advanced Daytona: 4-for-5, HR, 2B, 2 RBI, R, K -- The Reds' No. 26 prospect flirted with the cycle in his first four-hit game of the season Tuesday night, the latest in a string of strong performances in his return to the Florida State League. Over his last four games, LaValley is 8-for-16 with two homers and three doubles, pushing his season line up to .281/.339/.521 through 44 games. The Reds decided to send the 22-year-old back to Class A Advanced after he produced an .805 OPS in 92 games for Daytona last season, and with the way he's heating up, they might decide it's time he gets his first taste of Double-A before the end of June.
Braves 3B Austin Riley, Class A Advanced Florida: 2-for-5, HR, RBI, 3 R, 3 BB, doubleheader -- Florida and Clearwater completed a suspended game from Monday before playing seven innings in a nightcap, and the bulk of Riley's damage -- namely the homer and all three walks -- came Tuesday. The Braves' No. 12 prospect moved into a tie for fourth in the Florida State League with his eighth homer of the season in Game 1, but power has always been his strength. The fact that he walked three times is perhaps the most encouraging part of his performance. After taking a free pass in only four percent of his April plate appearances, the 20-year-old owns a 10.8 percent walk rate in May. It's reminiscent of the improvements Riley made over the second half of last season with Class A Rome, but the fact that he's adjusting earlier this time around is even better news.
Sam Dykstra is a reporter for MiLB.com. Follow and interact with him on Twitter, @SamDykstraMiLB.