Prospect season in review: Mets' Baty
No. 45 overall prospect made his presence felt in first full season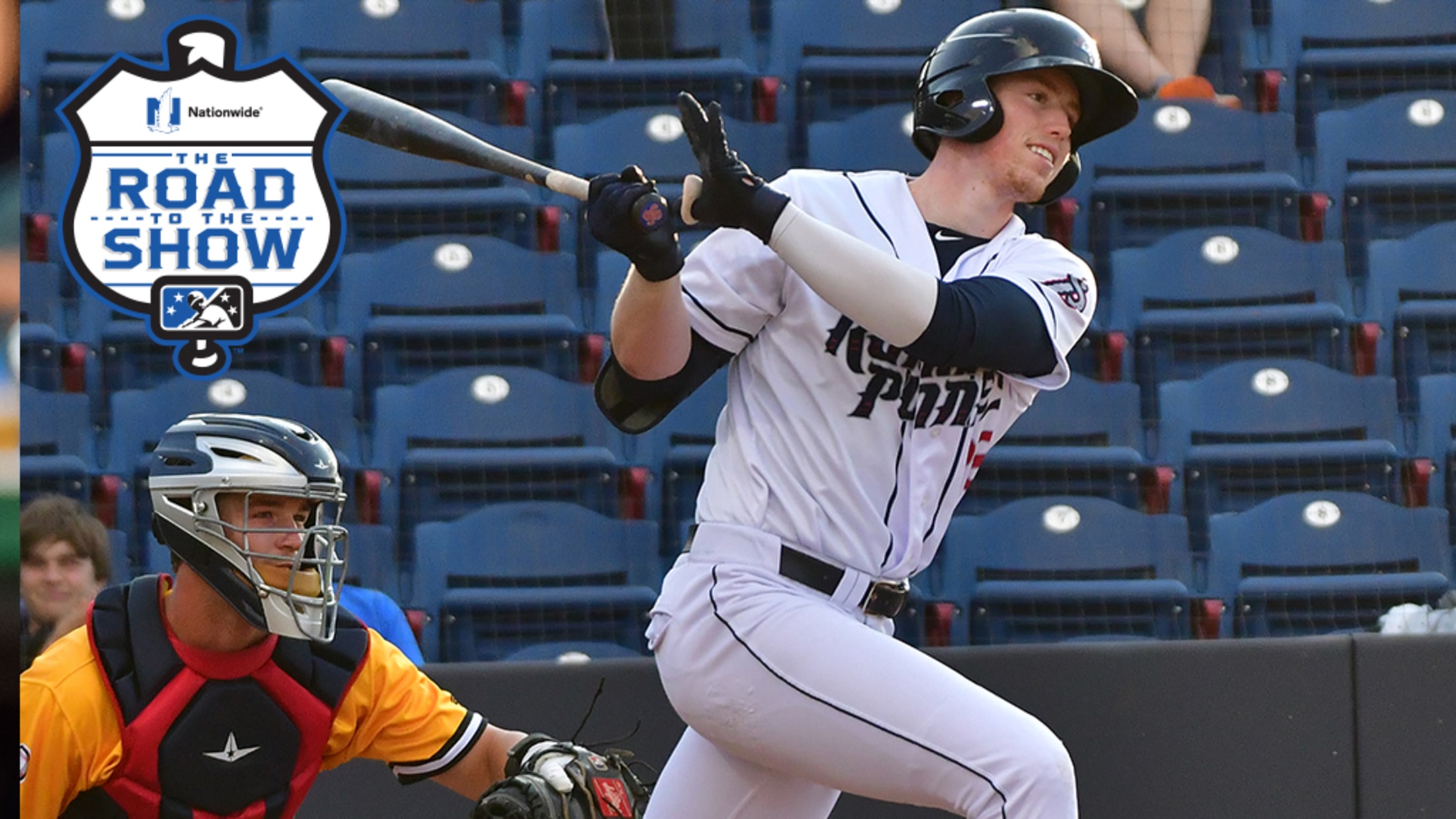 Brett Baty clubbed 12 homers and drove in 56 runs across two levels in his first professional season. (Rick Nelson/MiLB.com)
MiLB.com's Prospect Season in Review series spotlights players who shined brightest during the 2021 campaign. Here's a look at second-ranked Mets prospect Brett Baty. Brett Baty made a lot of noise in his first full Minor League season. The Mets' second-ranked prospect climbed from High-A Brooklyn to Double-A Binghamton before
MiLB.com's Prospect Season in Review series spotlights players who shined brightest during the 2021 campaign. Here's a look at second-ranked Mets prospect Brett Baty.
Brett Baty made a lot of noise in his first full Minor League season.
The Mets' second-ranked prospect climbed from High-A Brooklyn to Double-A Binghamton before finishing with Salt River in the Arizona Fall League. Baty has had eye-catching power since his days as a prep prospect. And at every level in 2021, including 10 at-bats in the Grapefruit League, he made triple-digit exit velocities the norm.
"His bat in Spring Training, it just had a different gear. The ball just seemed to go further than you thought off the bat, and that's pretty special. I've only seen that in a couple guys," Mets director of player development initiatives Jeremy Barnes told NorthJersey.com in October. "It's crazy to say this, and I don't want to put too much pressure on him, but I think there's still more to come, I think there's still more in the tank."
Across the two levels in the regular season, Baty batted .292/.382/.473 with 12 homers, 22 doubles, one triple, 56 RBIs and 43 runs scored. He posted an identical batting average with a .777 OPS, seven extra-base hits and 15 RBIs in 25 games in the AFL.
When the Mets landed him with the No. 12 pick in the 2019 Draft, there was some concern about whether Baty -- who tore up his Texas high school league as a 19-year-old senior -- was a legitimate first-rounder or just a man amongst boys.
Turns out, he was probably both.
Baty experienced that same phenomenon in Brooklyn, tearing up the High-A East to the tune of 14 doubles and seven homers with a .309 average and .911 OPS in 51 games. He had an incredibly hot start to the season, going 14-for-48 (.396) with 16 RBIs in his first 13 games. He finished on a high note, batting .324 over his final 10 games at the level leading into his Futures Game appearance.
Baty went hitless in two at-bats at Coors Field, but his first promotion to Double-A awaited on the other side of the break.
It took a while for Baty to find his stroke at the new level. He had just five hits through his first 36 at-bats (.139) until the first of two four-hit games with Binghamton ignited an absolute tear. Baty batted .351 with five homers and 18 RBIs over the next 15 games.
"I'm getting less quality pitches to hit in the zone at this level. Pitchers command their stuff a little bit better," Baty told MLB.com after a two-homer night against Hartford in August. "I would say the same kinda happened to me in 2019 when I went up to Kingsport. It's just a different environment, and I wanted to get acclimated a little bit, but now I'm starting to feel way more comfortable. I'm still staying confident and everything. It's just these little adjustments that I had to make whenever I got promoted, so I think I'm turning it around right now, and it feels good."
Baty finished out the year with a .272 average and .788 OPS at Binghamton.
His AFL season started with a bang -- he had eight hits in his first 18 at-bats (.444) and walked four times. Baty also had back-to-back three-hit games leading into a Fall Stars appearance, during which he roped a double that registered a 103.6 mph exit velocity.
The No. 45 overall prospect produced an 11.9 percent walk rate throughout the regular season and a 10.8 percent rate in the AFL. He also hit the ball on the ground more than 55 percent of the time at Brooklyn and Binghamton. Neither of those figures is ideal for a hitter with his type of power potential.
Though he can get a little pull-happy, the lefty-swinging Baty is capable of using the whole field in his approach and is adept at driving extra-base hits to the left-center field gap. He went to the opposite field 31 percent of the time during the regular season. Baty also batted .278 with eight extra-base hits, 13 RBIs and 10 walks against southpaws.
Listed at 6-foot-3 and 210 pounds, Baty naturally had the size, but the Mets also became enamored with his athleticism as a Draft prospect. He played basketball at Lake Travis High School for his dad, Clint, who was the head coach of the program, and also pitched and played the outfield.
When he was drafted, the Mets intended to keep Baty at his natural position of third base. He played third exclusively in the AFL, but the club tested his versatility with 18 games in left field, most of which came in Binghamton, where he split time at third base with Mark Vientos, the club's sixth-ranked prospect.
"I really enjoyed it," Baty told MLB.com in October. "Showing off some versatility, some athleticism. It was really cool to get out there because we have two really highly ranked third-baseman prospects. So to show off the versatility that I could play somewhere other than third base was really cool this year."
Baty committed 16 errors, only one of which came in the outfield, during the regular season. He should remain capable of holding down both positions as he progresses through the Minors. But it will be his bat that will take him to the next level.
There's still power there that hasn't been unleashed. But when he finds it, the Mets should have a very loud presence in their lineup for years to come.