Prospects in the Cardinals' 2020 player pool
Top prospect Carlson leads way in talented St. Louis group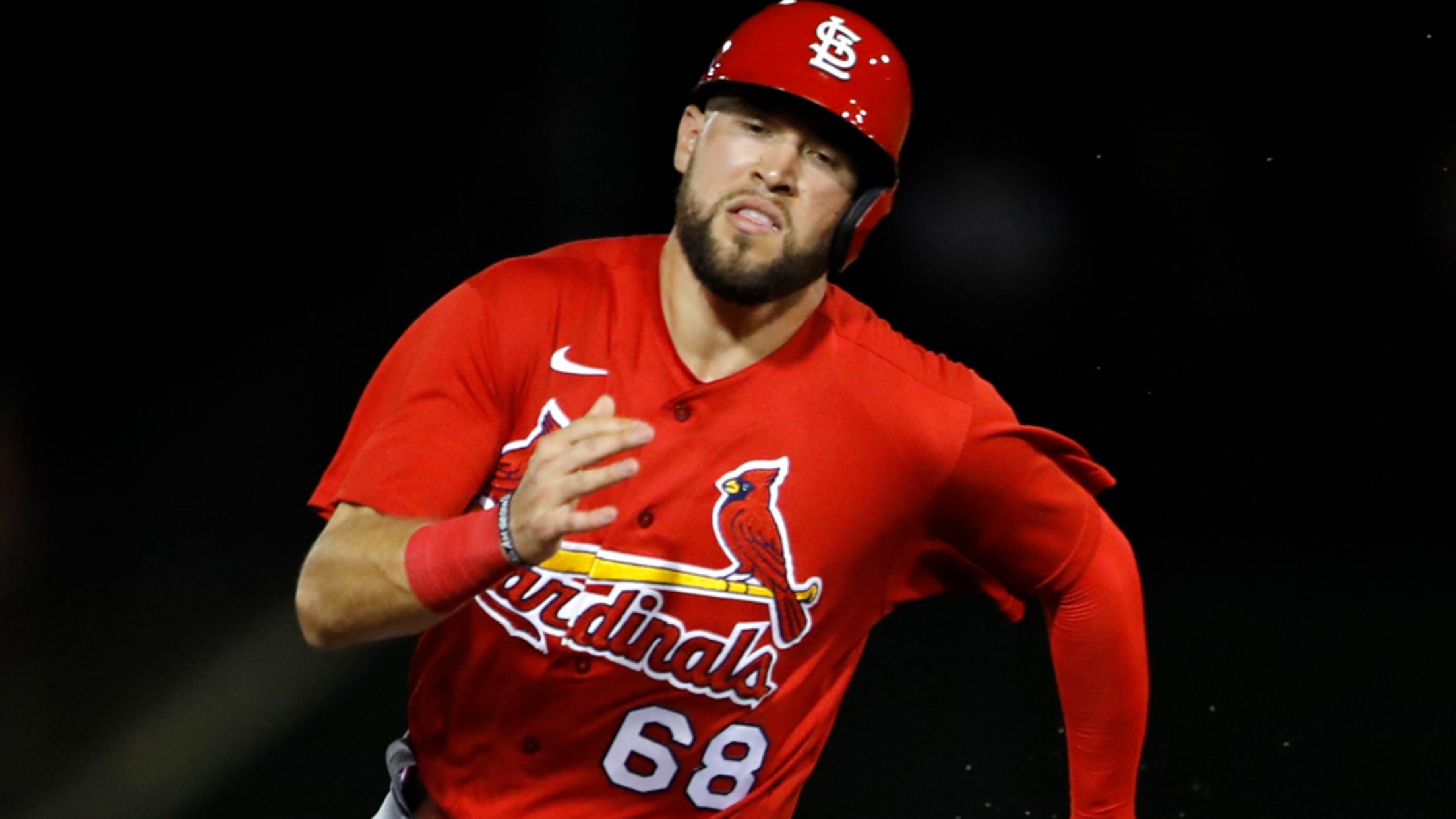 Dylan Carlson made his big league debut in 2019 and was a Spring Training invitee this year. (Julio Cortez/AP)
As part of the new rules for the 2020 Major League season, each of the 30 organizations will maintain a 60-man player pool for the duration of the campaign. Some members of the player pool will feature on the active Major League roster while others will work out at an
As part of the new rules for the 2020 Major League season, each of the 30 organizations will maintain a 60-man player pool for the duration of the campaign. Some members of the player pool will feature on the active Major League roster while others will work out at an alternate training site in the hopes of staying fresh for a potential callup or getting in much-needed development time.
The MiLB.com staff is rounding up the notable prospects in each organization's 60-man player pool and analyzing what the new system will mean for their 2020 seasons.
The Cardinals ended a three-year postseason drought -- their longest since the start of the 21st century -- by capturing the National League Central crown last year before running into a buzzsaw in the eventual World Series champion Nationals. Although Washington swept St. Louis in the National League Championship Series, Cards fans have a wealth of reasons to be optimistic entering 2020.
St. Louis has included a solid group of prospects in its 60-man player pool for Major League Baseball's unusual new season. While only one of those prospects ranks among MLB Pipeline's Top 100, five are part of the Cardinals' Top 10.
Prospects who aren't in big league camp or don't capture a spot on the roster to start the big league season will head to the home of the Double-A Springfield Cardinals, the franchise's alternate training site for the restart.
Dylan Carlson, OF: St. Louis' top prospect is MLB's No. 17 overall and the most highly touted talent in the system. The 21-year-old outfielder spent 126 games between the Minors' highest levels last year with Springfield and Triple-A Memphis. In 108 Double-A contests, Carlson batted .281/.364/.518 with 21 homers and 59 RBIs. After his promotion, he finished the year on a tear with a .361/.418/.681 slash line in 18 Pacific Coast League contests. The California prep product and 2016 first-round pick was likely to see St. Louis at some point in 2020, having been invited to big league camp for the first time.
Ivan Herrera, C: Another non-roster invitee to big league Spring Training back in January, Herrera has rocketed into St. Louis' top prospect conversation with three terrific seasons as a pro. The backstop started last season at Class A Peoria at just 18 years old as one of the Midwest League's youngest players and pushed his way to the Florida State League after fewer than 70 games. Having finished the Minor League season with Palm Beach, Herrera played 10 games in the Arizona Fall League and batted .324/439/.382 for Glendale. While the young catcher's offensive profile is his best tool, the Cardinals love the way he's grown defensively since debuting in the Rookie-level Dominican Summer League in 2017.
Andrew Knizner, C: The Cards have three catching prospects in their top 15, and Knizner already has reached The Show. The North Carolina State product made his Major League debut in June 2019 and played 18 games with the big club, spending most of his time at Triple-A. With Memphis, Knizner batted .276/.357/.463, belted 12 homers and drove in 34 runs in 66 games. He's only been a catcher since his sophomore year with the Wolfpack but has continued to make big strides, throwing out 42 percent of attempted basestealers last year with Memphis and nailing three of four during his limited big league exposure. If he makes the Major League club, he'll get to spend time learning under one of the game's all-time greats at the position in Yadier Molina.
Genesis Cabrera, LHP: Like Knizner, Cabrera made his big league debut last year. Riding a 70-grade fastball to the game's highest level, the southpaw reached the Majors after parts of six seasons with two organizations in the Minors -- but he's still only 23. Cabrera capitalized on a shift to the bullpen last year at the big league level. While 18 of his 20 Minor League appearances a year ago came in a starting capacity, the lefty relieved in all but two of his 13 big league games and earned a spot on St. Louis' postseason roster, thanks to strong work out of the 'pen. That versatility provides multiple pathways for Cabrera, who touches 99 mph with his fastball while working in a curveball and changeup. He was sidelined at the start of Summer Camp after a positive COVID-19 test.
Nolan Gorman, 3B: A week after players began reporting for Summer Camp, the Cardinals added a dozen to their taxi squad. That list includes Gorman and Matthew Liberatore, their second- and third-ranked prospects, respectively. Gorman, the No. 19 overall Draft pick in 2018, made a name for himself as an amateur with prodigious raw power and kept up that effort in his first year as a pro. He bashed 17 homers and compiled a .570 slugging percentage across two Minor League levels in 2018. He hasn't caught on as quickly at higher levels, totaling 15 homers in twice as many games last year. He gets a bit pull-happy at times and his strikeout figures are high. But he's shown an ability to make hard contact, posting a .365 BABIP last year with Palm Beach.
Matthew Liberatore, LHP: Liberatore joined the Cardinals -- and his good friend Gorman -- in the January deal that sent Jose Martinez and Randy Arozarena to Tampa Bay. The 20-year-old shows advanced command of a four-pitch mix that features three potential plus offerings. Liberatore's best pitch is his curveball, but his fastball and changeup also flash elite potential. The 6-foot-4, 200-pounder posted a 3.10 ERA with 8.73 K/9 in 16 appearances with Class A Bowling Green last year. He has the chance to be at the front of a rotation one day, but his inclusion on the taxi squad probably won't get him to the Majors this summer.
Junior Fernandez, RHP: Fernandez dominated three Minor League levels as a reliever last year, leading to his first Major League callup in August. With Palm Beach, Springfield and Triple-A Memphis, the 23-year-old came out of the bullpen 45 times, converted 11 of 12 save opportunities and posted a 1.52 ERA. He also struck out 80 and walked 30 over 65 innings. Though his big league numbers weren't as good, a 5.40 ERA and 0-1 record in 13 appearances, Fernandez is the type of pitcher who could break out in a shortened season.
Other notables
Right-handed pitchers Johan Oviedo, Jake Woodford and Kodi Whitley all ranked among St. Louis' top 15 prospects. Oviedo's stuff is electric with a fastball that ranges up to 98 mph complemented by a high spin rate slider, a curveball and changeup. ... The 39th overall pick in the 2015 Draft, Woodford went wire-to-wire with Memphis last year, posting a 4.15 ERA in 26 starts, opening the season with a 3.56 ERA through 17 outings. ... Whitley has emerged on the scene after being a 27th-round pick in 2017 out of the University of Mount Olive and was terrific last fall in the AFL, putting up a 1.64 ERA in nine relief appearances with 13 strikeouts and one walk over 11 innings. ... Malcom Nunez (No. 16) won the Dominican Summer League triple crown with a .415 average, 13 homers and 59 RBIs in 2018. The $300,000 signee out of Cuba batted .229 in the Appalachian and Midwest leagues in his first action stateside last year. ... Roel Ramirez (No. 25) switched to primarily a relief role in 2017 and reached Triple-A last year. The right-hander was part of the Tommy Pham trade with Cabrera in 2018. ... Angel Rondon (No. 13) held a 2.93 ERA across two levels last season and ascended to Double-A in his first full year. The right-hander features a potentially plus fastball-curveball combination. ... Third baseman Jordan Walker and pitcher-infielder Masyn Winn, the Cards' first two picks in last month's Draft, were also added to the taxi squad on Wednesday.
Tyler Maun is a reporter for MiLB.com and co-host of "The Show Before The Show" podcast. You can find him on Twitter @tylermaun.