Prospects in the Rangers' 2020 player pool
Jung, Huff lead talented contingent of prospects hoping for a shot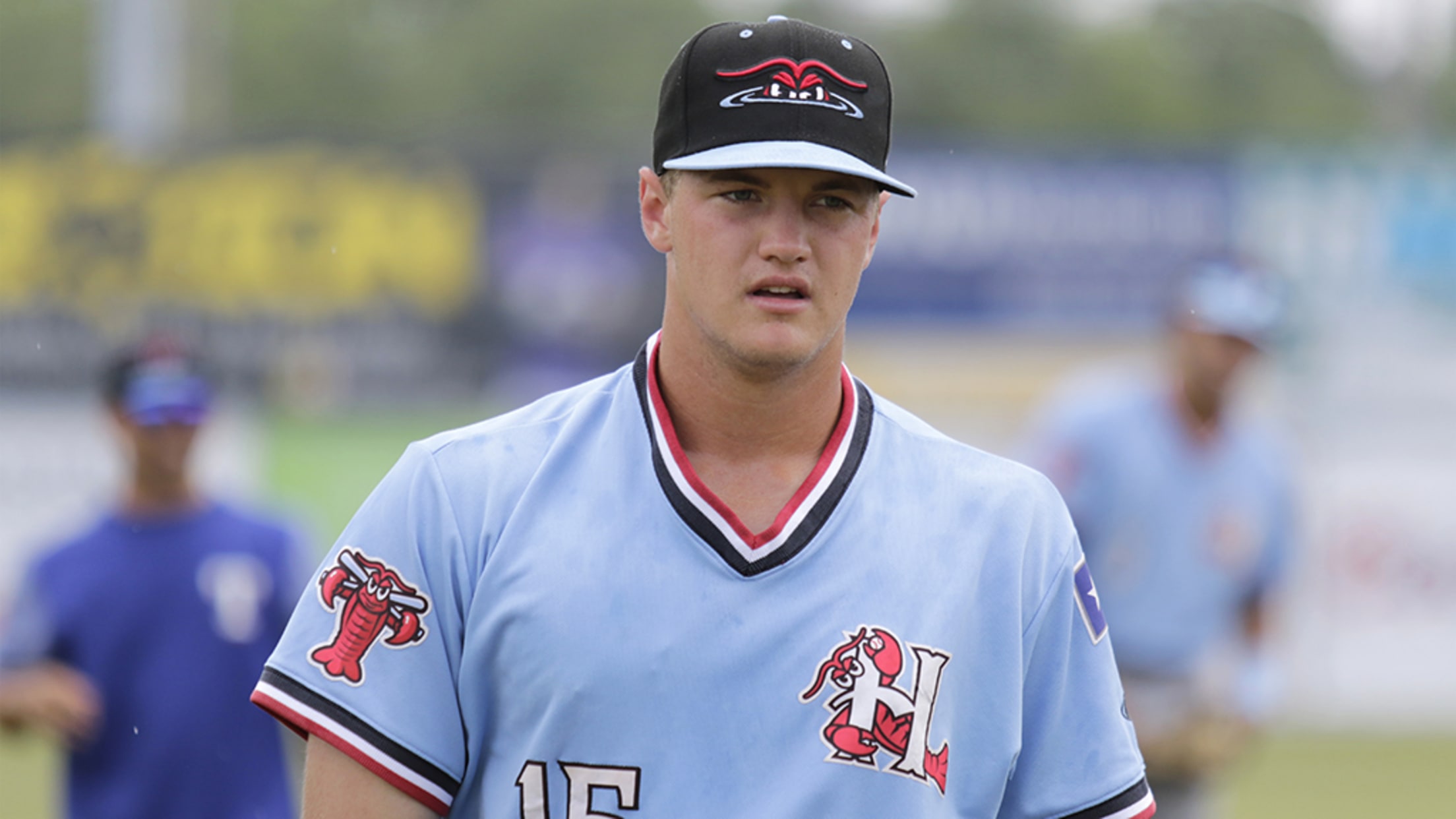 Josh Jung made his professional debut in 2019 and batted .316/.389/.443 with 17 extra-base hits and 28 RBIs across two levels. (Andy Grosh/MiLB.com)
As part of the new rules for the 2020 Major League season, each of the 30 organizations will maintain a 60-man player pool for the duration of the campaign. Some members of the player pool will feature on the active Major League roster while others will work out at an
As part of the new rules for the 2020 Major League season, each of the 30 organizations will maintain a 60-man player pool for the duration of the campaign. Some members of the player pool will feature on the active Major League roster while others will work out at an alternate training site in the hopes of staying fresh for a potential callup or getting in much-needed development time.
The MiLB.com staff is rounding up the notable prospects in each organization's 60-man player pool and analyzing what the new system will mean for their 2020 seasons.
The Rangers were among teams who left themselves some wiggle room in their player pool, allocating 55 of the 60 spots in their initial release. The roster includes Texas' three top prospects, Josh Jung , Sam Huff and Leody Taveras plus seven more from MLB Pipeline's Top 30. While the likes of Jung and Huff -- both Top 100 prospects -- are considered cornerstones of the Rangers' future, expecting either to see time in the Majors this season figures to be a longshot.
That isn't necessarily the case with other prospects on the list. As Summer Camp workouts get underway, Texas will use its brand-new stadium, Globe Life Field, as its primary training site. Not yet ready to cede the spotlight, Globe Life Park, which sits directly across the street from its replacement, will serve as an alternate site in preparation for the season beginning July 23 or 24.
Josh Jung, 3B: There was a specific reason Jung was the eighth pick in last year's Draft out of Texas Tech -- he's good. The top Rangers prospect and No. 55 on the overall Top 100 list strutted his stuff in his professional debut in 2019. Considered one of the most polished hitters in last year's Draft, Jung's best talent -- his bat -- proved as good as advertised in the Rookie-level Arizona League and Class A Hickory. The San Antonio, Texas, native put together a .316/.389/.443 slash line with 17 extra-base hits and 28 RBIs while hitting safely in 31 of 44 games. It's unlikely the 22-year-old will see Major League action with such limited experience on his résumé, but he is that much closer to reaching Arlington.
Sam Huff, C: The second-ranked Texas prospect also is not expected to see the Majors in 2020, but it's certainly not for a lack of performance or talent. The 22-year-old exploded in 2019 with career highs across the board while playing with Class A Advanced Down East and Hickory. Huff batted .278/.335/.509 with 28 homers among his 52 extra-base hits and 72 RBIs in 127 games. The Phoenix, Arizona, product was named MVP of the 2019 All-Star Futures Game and was rewarded with a Cactus League non-roster invitation in the spring. The No. 74 overall prospect sports a 6-foot-4, 230-pound frame that is unusually large for a catcher. While Huff has made great strides behind the dish, his receiving skills are not yet on par with his booming bat.
Leody Taveras, OF: While chances of seeing Texas' top two prospects take the field at Globe Life Field are remote, the same can't be said for Taveras. The No. 3 Rangers' prospect has yet to reach Triple-A, but as he nears his 22nd birthday and fifth professional campaign, there are circumstances in which he could pop up for a debut late in the year. Taveras rebounded from consecutive mediocre seasons to record one of his best between Double-A Frisco and Down East. Along with a career-high 32 stolen bases, the switch-hitting outfielder enjoyed a second consecutive Carolina League All-Star campaign with a .279/.344/.376 slash line in 519 at-bats. Taveras' 60-grade speed and 65-grade defense in center field gives him a leg up on a potential Major League debut, but he'll have to cut down on his strikeout rate, which soared to a career-high 21-percent in 2019.
Nick Solak, IF/OF: The time for Texas' fifth-ranked prospect is now. More precisely, it began in 2019 when Solak impressed with a .293/.393/.491 line in 33 games in his first taste of Major League action. That came on the heels of a career year for the 25-year-old, even with the interruption of a trade from the Rays last July 13. With Triple-A Durham and Nashville, Solak batted .289/.362/.532 with a career-high 27 homers among his 47 extra-base hits. The Woodridge, Illinois, native scored 79 runs, drove in 74 and displayed the line-drive stroke that made him an All-American and team captain at the University of Louisville. Solak's defensive home has yet to be fully established, although most of his reps in the Minors came at second base.
Anderson Tejeda, SS: Few prospects are looking forward more to getting back on the field than the Rangers' No. 8 prospect. Following a breakout .259/.331/.439 campaign that included 18 homers and 74 RBIs in 2018 with Down East, Tejeda began the year in extended spring training and managed barely a month's worth of games before his season officially ended on May 31, 2019, after he injured his shoulder. The Dominican Republic native managed a .234/.315/.386 slash line in 43 contests for the Wood Ducks before he was sidelined. A solid defender with a terrific arm, Tejeda's time as a Major Leaguer isn't likely to come in 2020 for a multitude of reasons, not the least of which is his role at a premium defensive position.
Joe Palumbo, LHP: The need for pitchers could be even more pronounced this season and Palumbo fits the bill as Texas' most Major League-ready prospect on the mound. The 25-year-old made his big league debut in 2019 and amassed seven appearances, including four starts, across five separate stints. Palumbo struggled in his brief time with Texas, but proved to be one of the better pitchers whenever he stepped foot on a Minor League mound. The ninth-ranked Rangers prospect won three games and posted a 3.01 ERA while averaging 12 strikeouts per nine innings in 17 appearances (16 starts) between Triple-A Nashville and Frisco. He tossed six hitless frames in his final outing for the Sounds last Aug. 15. With six Triple-A starts under his belt, the 2013 30th-round Draft pick could use more experience, but necessity or want probably will prove enough to give Palumbo time with Texas this season.
Sherten Apostel, 3B: Another of Texas' not-quite-ready contingent, Apostel will nevertheless have the opportunity to impress the organization directly. The No. 10 Rangers prospect has above-average power, which manifested itself into a career-high 21 homers last year with Hickory and Down East. Strikeouts (120 in 418 at-bats in 2019) are an issue, though he's certainly not alone in that regard. Although his defense at the hot corner grades out as average, Apostel makes up it for with a strong arm, but his future could lie elsewhere as he grows into his 6-foot-4, 200-pound frame.
Demarcus Evans, RHP: Perhaps no other player has such a golden opportunity to stake a claim to a big league roster spot than relief pitchers. Evans fits nicely into that category on the strength of a robust Minor League career that has produced a 2.53 ERA, a .173 opponents' batting average and a whopping 13.7 strikeouts per nine innings. A starter his first three seasons, the club's No. 22 prospect moved to the bullpen in 2018 and has been nearly unhittable since. Beginning with Hickory and continuing through Frisco last season, the 6-foot-4, 270-pounder is 10-1 with a 1.32 ERA and 203 strikeouts over 116 frames, an average of 15.8 K's per nine. Featuring a 93- to 96-mph fastball and impressive spin rate, Evans' swing-and-miss stuff could land him a spot in a rebuilding Rangers bullpen.
Tyler Phillips, RHP: The 22-year-old followed up the best season of his career with a solid, if unspectacular, 2019. Phillips won't blow anyone away, but he generates plenty of ground balls with a sinking/tailing fastball and a strong changeup that proves deceptive coming from his 6-foot-5 frame. After proving more than ready for the Carolina League to begin last season, the right-hander finished up in Frisco, where he endured ups and downs. All told, the Lumberton, New Jersey, native went 9-11 with a 3.71 ERA and a 1.14 WHIP in 24 appearances, including 22 starts. While a bullpen role is always a possibility, Phillips figures to remain a starter for the foreseeable future thanks to his above-average command and control. However, his inability to overpower hitters and without any Triple-A experience likely will work against him reaching the Majors in 2020.
Jonathan Hernández, RHP: The 23-year-old made the jump directly from Double-A to the Majors for nine late-season appearances -- and two starts -- for Texas. Although his numbers in the Texas League weren't overwhelming, Hernandez did average nearly a strikeout per inning, thanks to a heater that tops out at 99 mph and sits in the 93- to 97 range. Texas' 25th-ranked prospect averaged 97 mph with his fastball as a reliever in the bigs, which gives the organization another power arm to call upon.
Other notables: Alex Speas has a unique opportunity to make the jump from Class A to the bigs. Tommy John surgery limited the 22-year-old to a pair of outings in the Rookie-level Arizona League last year, but armed with a fastball that tops out at 102 mph, Speas has held opponents to a .188 batting average while striking out 107 in 71 2/3 innings in his career. Inexperience and control (6.9 walks per nine) could hold him back. Wei-Chieh Huang is another arm to keep an eye on as a swingman for the Rangers. The Taiwan native has been a model of consistency as a Minor Leaguer and made his big league debut last season. ... Andy Ibáñez showed pop and the ability to hit for average with Nashville last season, slugging 20 homers and batting .300. Former Cardinal Adolis García , who blasted 32 roundtrippers with Triple-A Memphis in 2019, is another option who can change a game with one swing.
Michael Avallone is a writer for MiLB.com. Follow him on Twitter @MavalloneMiLB.