Quad Cities, Peoria compete in charity blood drive
'Out for Blood' winner to be honored ahead of rivals' final series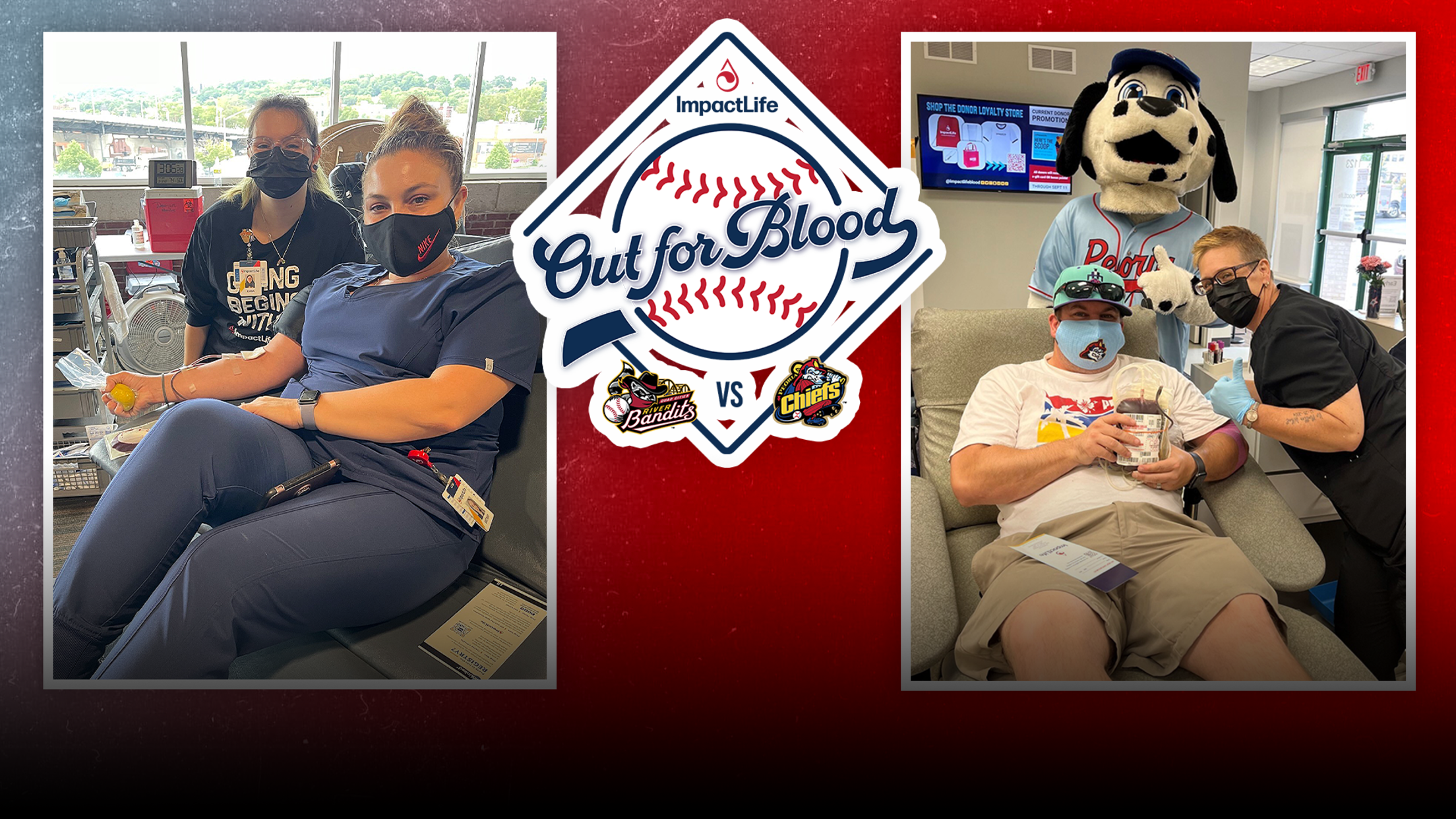 The Out for Blood competition began in May with a donation from Peoria assistant general manager Gary Olson, right. (Quad Cities River Bandits/Peoria Chiefs)
Dave Heller is no stranger when it comes to giving back to the community. As the president of High-A Quad Cities, Heller has helped organize countless community fundraisers, ranging from paying the college tuition for four area students to donating anywhere between $85,000 to $100,000 annually to the local Genesis
Dave Heller is no stranger when it comes to giving back to the community.
As the president of High-A Quad Cities, Heller has helped organize countless community fundraisers, ranging from paying the college tuition for four area students to donating anywhere between $85,000 to $100,000 annually to the local Genesis Health System. The River Bandits' footprint is noticeable throughout the Quad Cities.
The club has added to that footprint with their "Out for Blood" campaign, which has pitted the River Bandits' fanbase against the Peoria Chiefs' fanbase to see which could generate more donations for the ImpactLife Donor Center.
"We've been a long-time partner with ImpactLife and they told us that they were expanding into Peoria, so we thought this would be a great way for them to get recognition and build awareness in that market while also exciting our fan base here by starting a competition with one of [our] natural rivals," Heller said.
The competition started in May with a donation from Gary Olson, the Chiefs' assistant general manager. It ends on Sept. 7 in conjunction with the season-ending series between the Midwest League adversaries. Fans have been able to take part in the competition by giving blood at the ImpactLife Donor Center or at a mobile blood drive location, which were also set up at each team's ballpark.
"This is the definition of a win-win to me," Heller said. "We're helping a sponsor build awareness, helping ignite our fan base and we're doing something that's really going to help save lives and help people who are in crisis. This is the best of Minor League Baseball."
The timing of the competition worked perfectly, as blood donations typically take a dip in the summer months.
"This drive was a way that we're able to connect with our fans and the community; it benefits everybody," said Olson.
As of Aug. 24, Olson said that Chiefs fans had donated a total of 62 units of blood, which will save an estimated 186 lives. Additionally, Olson said the Chiefs have been able to sign up 17 first-time donors, a huge number for a group that's trying to establish a footing in the Peoria community.
"This is something that's totally different," Olson said. "We always want to create smiles and memories, and now we're able to do all that and save people's lives. It's something that's bigger than yourself."
That sentiment is shared on the other side of the rivalry.
"It means the world that we're able to help our neighbors and friends in the Quad Cities and be there when they need them," Heller said. "That's what this community is all about. It means a great deal to us and means even more that we can have some fun and hopefully beat Peoria while we're doing it."
At the conclusion of the drive, the team that generated the most donations will get an award that the winning team will keep until next year. After that, the teams will commence on a six-game, season-ending series that will add another chapter to the rivalry. But no matter what happens on the field, both teams agree that the biggest victory will have occurred off the field and in the community. The seats should be filled with fans who helped make a difference as well, as everyone who donated also received two tickets to any game in the series.
"It's always fun to win," Heller said. "When we can generate additional interest and participation in a blood drive in the Quad Cities and help our friends in Peoria do the same, then we're not just winning on the field. We're winning off the field, too."