Rangers' Crouse on track for 2021 return
Sixth-ranked prospect had elbow surgery following '19 season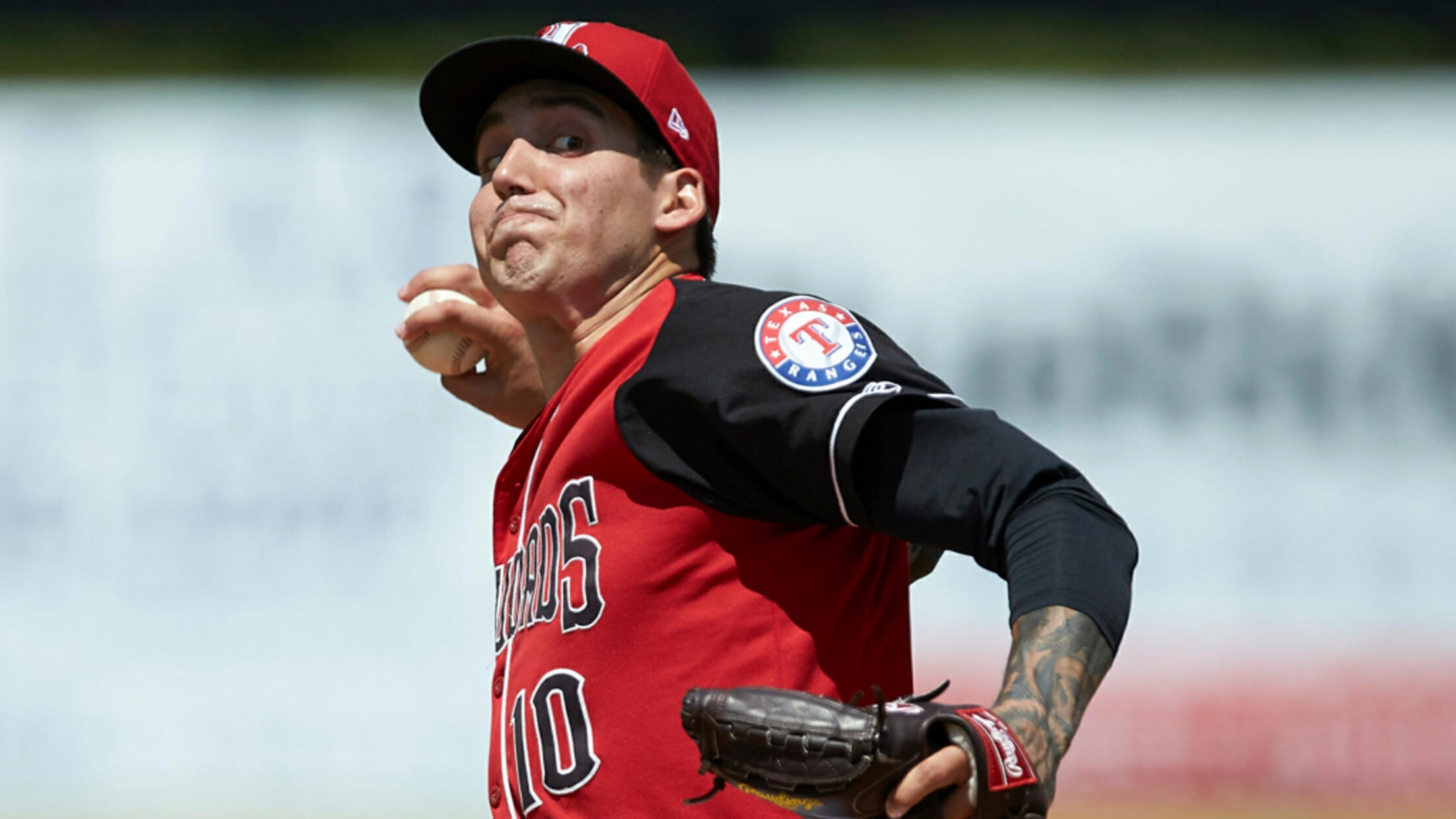 Hans Crouse compiled a 4.41 ERA in 19 starts for Class A Hickory during the 2019 season. (Brian Westerholt/Four Seam Images)
The Rangers got positive returns from a lot of highly regarded prospects on the field at their alternate training site during baseball's off-kilter 2020 season. One of Texas' top talents wasn't included in that group, but he's still been progressing in the offseason. Sixth-ranked Rangers prospect Hans Crouse has become
The Rangers got positive returns from a lot of highly regarded prospects on the field at their alternate training site during baseball's off-kilter 2020 season. One of Texas' top talents wasn't included in that group, but he's still been progressing in the offseason.
Sixth-ranked Rangers prospect Hans Crouse has become something of a folk figure since Texas plucked him out of a California high school in the second round of the 2017 First-Year Player Draft. A unique figure on any staff, the right-hander draws regular Mark Fidrych comparisons for in-game quirks like utilizing a handful of different deliveries along with a penchant for talking to himself and grooming the dirt on the mound.
Those things may have "dropped him to the Rangers with the 66th pick" as MLB Pipeline describes Crouse's selection, but there's no debating his success since then. In 42 Minor League outings, including 38 starts, Crouse went 11-4 with a 3.27 ERA and 168 strikeouts against 45 walks over 162 1/3 innings.
The 2020 season would've been an opportunity for a breakout year. The Rangers shut down Crouse in August 2019 due to bone spurs in his pitching elbow that necessitated surgery two months later. While the campaign wasn't to be, Crouse went back to work anyway.
"He's been good," Rangers director of Minor League operations Paul Kruger said last month. "He's been throwing. He's completely healthy and we're excited about where he's at and excited about the things he's going to become here in 2021."
Crouse wasn't part of Texas' 60-man roster or at the club's alternate site, and he missed out on instructional league play due to a personal matter that kept him home in California. Still, the Rangers are excited about where he is.
"Obviously, we wish we had a season and we could've seen what we all know and think of Hans," Kruger said, "but he's completely healthy and will be ready to roll here next season."
When healthy, Crouse sports a plus fastball that touches 99 mph along with a wicked slider. Both pitches are graded at 65 on Pipeline's 20-to-80 scouting scale. Getting back on the mound in a game situation would've been an obvious positive, but the Rangers haven't spent any time lamenting the misfortunes of 2020 with their prospects.
"Those words that we 'lost' a season or we lost reps we need to make up are things that we try to avoid," Kruger said. "It's more about what can we do to prepare ourselves for this upcoming season. I think that's the biggest thing. We have to maintain our health and get our bodies and minds and skills ready for a 2021 season."
In addition to his two best pitches, Crouse improved his changeup, which he threw more in 2019 due to the irritation caused by the bone spurs when he slung sliders. Having to work through that issue as a precursor to the struggles all of baseball has endured this year, especially on the Minor League side, can be assets for Crouse and all other players going forward, according to Kruger.
"Not only for their career but for life in general, it's to expect the unexpected and always be prepared to overcome adversity," Kruger said. "It's something we talk about a lot. It's the nature of our game that you're put into adverse situations and situations that are uncomfortable, and the best in the business are able to overcome those and not dwell on the negative. I think that's one.
"No. 2, we preach a lot and it's kind of been our staple here at [instructs], control what you can control. Obviously, we couldn't control the virus and the situation it put us in, but what we could control is our effort and our attitude every single day to getting the most out of it, whether we were at the [alternate site], at our homes, able to go to a place or a field, so on and so forth. I think those are the two things we hope that when they show up next year, in April or whenever the Opening Day is for the Minor Leagues, that they remember from this."
Given a return to normalcy or something resembling it next year, Crouse likely would open at the Class A Advanced level with a whole lot of lessons from two challenging years in his back pocket.
"Expect the unexpected. Overcome adversity. Control what you can and just relish the moment. Never take it for granted," Kruger said.
Tyler Maun is a reporter for MiLB.com and co-host of "The Show Before The Show" podcast. You can find him on Twitter @tylermaun.