Recipe for Success: a dash of triples, a pinch of Castillo and a grand slam garnish; Grizzlies cook up 16-3 victory over 66ers
Fresno collects 4 triples; Fernandez smacks grand slam; Castillo: 6.0 IP, 1 ER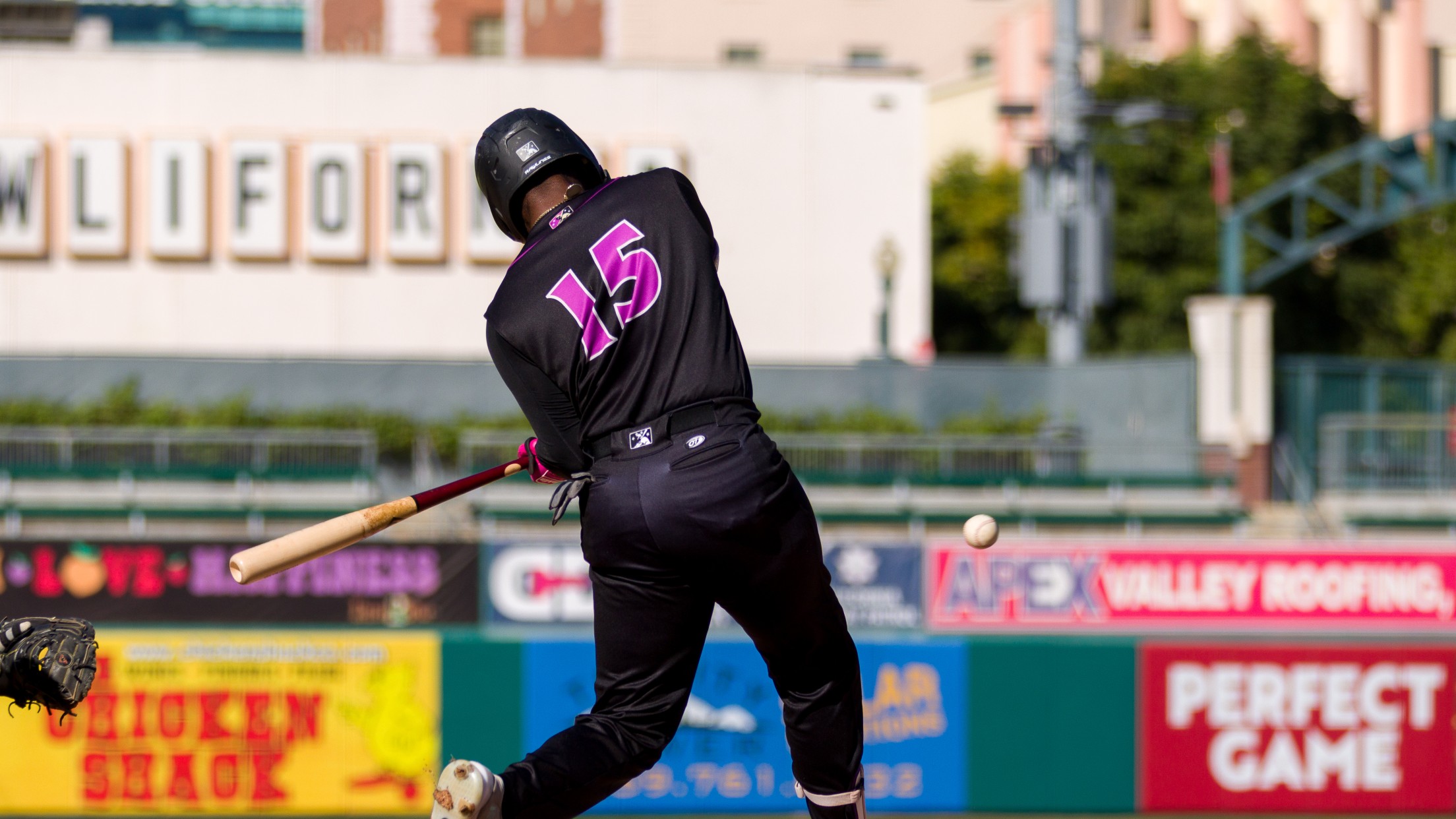 San Bernardino, CA (Thursday, August 11) – What's the best way to feed a bunch of hungry Grizzlies looking for their fifth straight win? How about an appetizer of triples, an entrée of fantastic pitching and a dessert of grand slam pie. That's what the Fresno Grizzlies (63-42, 22-17) cooked
San Bernardino, CA (Thursday, August 11) – What's the best way to feed a bunch of hungry Grizzlies looking for their fifth straight win? How about an appetizer of triples, an entrée of fantastic pitching and a dessert of grand slam pie. That's what the Fresno Grizzlies (63-42, 22-17) cooked up against the Inland Empire 66ers (53-52, 21-18) Thursday night from San Manuel Stadium.
Fresno's offense sizzled for 16 runs on 18 hits and seven walks. Every Grizzlies starter recorded one hit or more and scored at least one run. 11 of the 12 Fresno batters reached base at least once and eight players supplied one or more RBI. Of the 18 hits, seven of them landed for extra-bases with four going for triples. The four triples tallied the most hit by the Grizzlies lineup in a game this season. Cuba Bess (2nd), Benny Montgomery (5th) and Zach Kokoska (6th) all roped triples and waltzed home on the next play. Bess scored on a single while the other two scampered in on sacrifice flies. Braxton Fulford smoked the other triple in the fourth, plating a run. All four three-baggers happened within the first two batters of that specific inning. Both Montgomery and Kokoska led off their frames with triples.
Besides the quartet of triples, the Grizzlies pounded 14 more hits, including a grand slam. Yanquiel Fernandez was the recipient of the grand slam, his 15th tater of the year. Fernandez has mashed two of Fresno's four grand slams this season. The right fielder also drove in a team and game-high six RBI while extending his hit streak to 11 contests. Fernandez finished with three hits and two runs as well. Montgomery and Ben Sems rocked doubles to help the rout. The duo combined for seven hits and five runs scored. Adael Amador mustered a walk and hit while scratching across two runs. Both Juan Brito and Juan Guerrero whacked one hit and raced home twice. AJ Lewis brought in two runs with a pinch-hit single to right.
Thanks to the offensive juggernaut, Grizzlies starter Brayan Castillo (2-4, win) was able to settle into the contest. Castillo tied his career-high with six innings of one-run ball. He allowed a trio of hits and walks while fanning two. The righty also induced two early double plays. Castillo has tossed 11 frames over his last two outings. He has permitted three runs on four hits and six walks while punching out six. Ever Moya and Sergio Sanchez secured the victory with three innings of work. The three total strikeouts are a season-low by the Fresno staff.
On the other side, the 66ers lineup inched across three runs on four hits. Adrian Placencia crushed a double to center in the sixth, adding Tate Kolwyck. In the seventh, a groundout and Jeremy Arocho single pushed home the other two runs. Fernando Guanare (3-4) suffered the defeat after four-plus frames of action. The squads are back to battle tomorrow evening from San Manuel Stadium.
Top Performers: Fresno Grizzlies (Colorado Rockies)
• RF Yanquiel Fernandez (3-5, GS, 6 RBI, 2 R)
• CF Benny Montgomery (3-5, 3B, 2B, 4 R, BB)
• 3B/SS Ben Sems (4-5, 2B, 2 RBI, R, CS)
• RHP Brayan Castillo (6.0 IP, 3 H, 1 R, 1 ER, 3 BB, 2 K)
Top Performers: Inland Empire 66ers (Los Angeles Angels)
• 3B Tate Kolwyck (1-2, 2B, R, BB)
• RF Jeremy Arocho (1-2, RBI, BB)
• 2B/SS Adrian Placencia (1-4, 2B, RBI)
On Deck:
Friday, August 12 @ Inland Empire 66ers, Fresno RHP Victor Juarez (5-4, 4.64) vs. Inland Empire RHP Kelvin Caceres (3-2, 3.67), 7:05 pm PT
ON THAT FRES-NOTES:
The Grizzlies scored in six of their nine innings, including a six-run sixth. They added four runs in the seventh as well.
Zach Kokoska joined Yanquiel Fernandez (Sunday) and Juan Guerrero (twice) as the only 2022 Fresno batters to notch two hits in a single inning. Kokoska recorded his pair of hits in the sixth.
Benny Montgomery's four runs tied a season-high by a Fresno batter.