Ritter, Fresno mount late game comeback, but succumb to Modesto's three-run 8th, 9-7
Ryan Ritter: 3-for-4, 2 HR, 3 RBI, 2 R, BB; Grizzlies trailed 6-0 after 2nd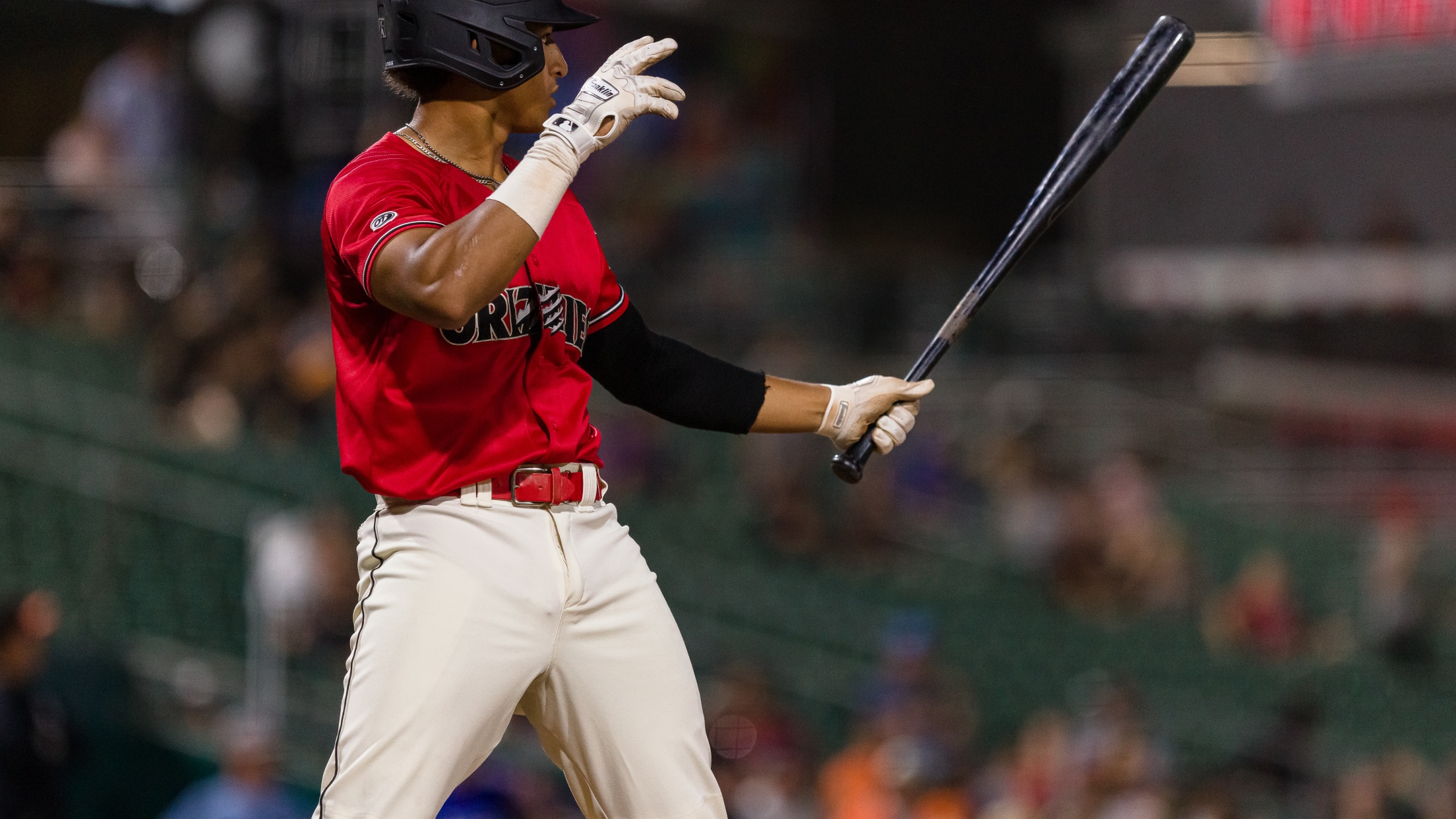 Modesto, CA (Saturday, May 20) – The Fresno Grizzlies (20-18) fell to the Modesto Nuts (20-18) 9-7 in a wild game Saturday night from John Thurman Field. The squads combined for 16 runs on 19 hits, 12 walks, three hit-by-pitches and two errors. In eight of the nine innings, one
Modesto, CA (Saturday, May 20) – The Fresno Grizzlies (20-18) fell to the Modesto Nuts (20-18) 9-7 in a wild game Saturday night from John Thurman Field. The squads combined for 16 runs on 19 hits, 12 walks, three hit-by-pitches and two errors. In eight of the nine innings, one team scored at least one run. Fresno and Modesto have split their 54 matchups over the past three years (27 wins each).
In the bottom of the first, Modesto brought 10 batters to the plate, recording five runs. A bases-loaded fielding error by Fresno starter Connor Staine allowed Josh Hood to open the scoring. Then, Colin Davis hammered a grand slam to left-center field, his fourth homer of the season. Staine exited the contest with only two-thirds of an inning pitched.
The Nuts extended their advantage to 6-0 in the second on a Milkar Perez sacrifice fly. Despite the early deficit, the Grizzlies offense started clawing back into the contest. In the third, Ryan Ritter launched a solo shot to left-center field, his eighth wallop of the year. Fresno added one run in the fourth thanks to a Robby Martin RBI double and one more run in the fifth from a groundout that netted Luis Mendez.
The Grizzlies knotted the game at six with a three-run seventh inning. Mendez reached on a bunt single, yielding Skyler Messinger. Then, Ritter mashed his second tater of the contest, a two-run clout to left-center field. It was Ritter's ninth bomb of 2023.
In the eighth, Modesto took a 9-6 lead after another Perez sacrifice fly, a Fresno fielding error and a Tatem Levins RBI single. The three-run advantage was just enough, as the Grizzlies supplied one final run in the ninth. Jesus Bugarin's RBI single lengthened his hit streak to eight games, a current team-long.
Nuts' reliever Chris Jefferson (1-1) earned the triumph while Grizzlies' righty Tyler Hoffman (2-1) suffered the setback. Stefan Raeth notched his third save of the season. The clubs wrap up the series tomorrow afternoon from John Thurman Field.
Tonight's article was written by ChatGPT
Top Performers: Fresno Grizzlies (Colorado Rockies)
DH Ryan Ritter (3-4, 2 HR, 3 RBI, 2 R, BB)
RF Robby Martin (2-4, 2B, RBI)
2B Luis Mendez (1-3, RBI, 3 R, HBP)
Top Performers: Modesto Nuts (Seattle Mariners)
RF Colin Davis (1-4, HR, 4 RBI, R, BB)
DH Tatem Levins (3-5, 2B, RBI)
2B/3B Josh Hood (2-4, 2B, 3 R, BB)
On Deck:
Sunday, May 21 @ Modesto Nuts, Fresno LHP Ryan Rolison (REHAB, 0-0, 0.00) vs. Modesto RHP Michael Morales (2-0, 2.67), 2:05 pm PT
ON THAT FRES-NOTES:
Fresno lefty Felix Ramires struck out three over 1.1 scoreless innings of relief.
The Grizzlies pitching staff combined for a season-high 10 walks.
Over their past 14 games (9-5 record), the Grizzlies have scored 53 of their 79 runs in innings 7-9. In that span, Fresno has recorded 27 runs in the eighth inning. The Grizzlies have enjoyed five comeback victories and two walk-offs in the seventh inning or later during this stretch.