Road Preview: Somerset at Hartford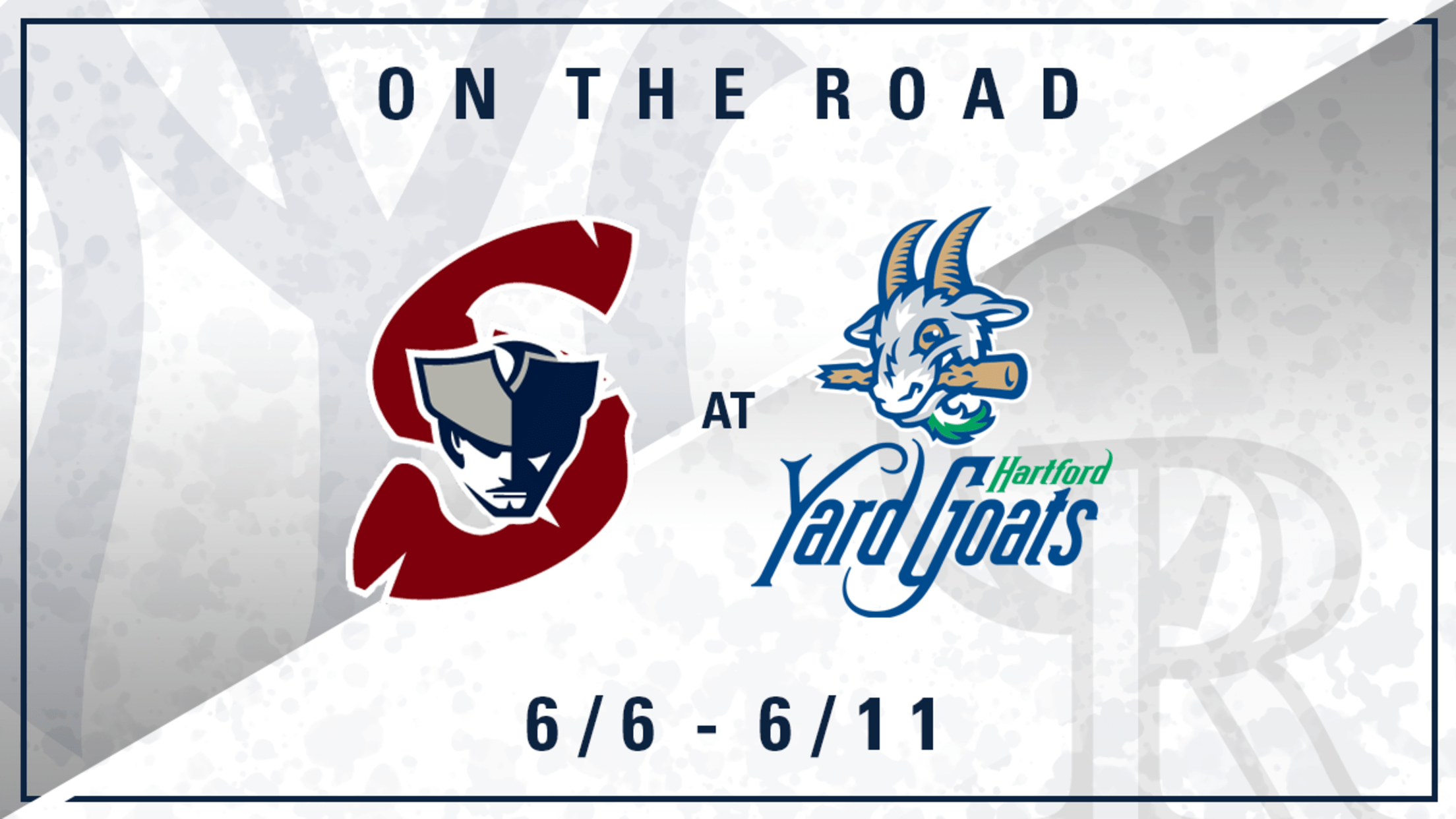 Somerset moved to within just 2.5 games of first place Portland on the heels of a 10th inning walk-off RBI single on Sunday that allowed the Patriots (29-21) to take four-of-six against the Sea Dogs with just 15 games remaining in the Eastern League's first half slate. The team will
Somerset moved to within just 2.5 games of first place Portland on the heels of a 10th inning walk-off RBI single on Sunday that allowed the Patriots (29-21) to take four-of-six against the Sea Dogs with just 15 games remaining in the Eastern League's first half slate. The team will now hit the road for a short trip just 165 miles north for their first meeting of the season with the fifth place Hartford Yard Goats (23-27).
Before diving into that matchup and what's in store, we'll take a look back at the week that was and break down who is hitting their stride for the second place Patriots.
Powered by Hardman: Infielder Tyler Hardman homered three times against Portland last week to give him a team-high 11 long balls on the season, which ties him for third overall in the EL. The 24-year-old Oklahoma-product drove in nine of his 29 runs last week alone.
Martian taking off: After going 1-for-4 with a walk on Sunday, top-prospect Jasson Dominguez is now riding a season-high 11-game on-base streak. The 20-year-old outfielder is now batting a season-best .211 and his .374 on-base percentage leads Somerset due in large part to the fact that he has drawn an EL best 42 walks thus far. After hitting just .140 in April, Dominguez hit .237 in May and certainly seems to be hitting his stride heading into the dog days of Summer.
The Right Fitt: After facing a bit of a tough adjustment to the upper levels in early April, right-hander Richard Fitts is showing signs of settling in after two strong starts against Portland last week. The 23-year-old Fitts had an ERA of 6.21 as recently as May 18, but three-straight quality outings have lowered that mark to 4.73. In two starts against Portland last week, the Auburn-product tossed 12 innings and allowed just four earned runs with just two walks and 14 strikeouts. In his first year at Double-A, Fitts leads the team in punch outs with 55 and has tossed a team-high 51.1 innings.
Roster Additions: In a slew of moves prior to last week's games, Somerset added a few key pieces to the roster that could prove to be key contributors for them down the stretch. Outfielder Aaron Palensky was promoted from High-A Hudson Valley as the South Atlantic League leader in homers with 12 and certainly seemed to warrant the jump with a stellar .352/.434/.744 slash-line in 32 games.
The bullpen also received a big boost by adding southpaw Edgar Barclay to the mix. The 25-year-old Barclay opened the season on the IL with elbow inflammation but has looked strong in his first two games upon returning – he has struck out five and allowed two hits over 2.1 scoreless frames thus far.
Knowing the Opponent: The Yard Goats sit in fifth place hovering just below .500 at 23-27 and enter action on Tuesday losers of three straight. Hartford has a roster with some very highly touted prospects, but their young core has faced a learning curve that has not necessarily resulted in eye-popping statistical success. Their .229 team batting average ranks 11th overall of the 12 teams in the EL while their .317 team on-base percentage is a league worst mark. On the flip side, the Yard Goats have had a rough stretch in terms of mound production as reflected in their EL worst 5.61 team ERA.
Outfielder Zac Veen is the Colorado Rockies top-prospect according to MLB Pipeline and the ninth overall pick in the 2020 draft has had a bit of a tough go in the first half thus far, slashing .214/.313/.642 with just two homers but has managed to go 18-for-19 on stolen base attempts.
Catcher Drew Romo was the 35th overall pick in that same draft as Veen and the Rockies third ranked prospect on MLB Pipeline has also been forced to make adjustments in his first taste of Double-A in 2023. The backstop has hit just .203 with three homers and 15 RBI and that is to be expected as his bat continues to develop in pro-ball after being selected out of high school not all that long ago.
Hunter Goodman, the Rockies 13th ranked prospect on MLB Pipeline, has been the proverbial straw that stirs the drink for the Yard Goats offense so far in 2023. The 23-year-old Goodman was Colorado's 4th round draft selection out of Memphis in 2021 and in his first full-season at Double-A has hit an EL best 16 homers and driven home a league-high 51 runs while splitting time between first base and left field.
Series Probable Pitchers:
Tues. RHP Clayton Beeter (3-2, 2.66 ERA) vs. RHP Nick Garcia (0-4, 8.62 ERA)
Wed. RHP Gray Fenter (2-2, 5.13 ERA) vs. RHP Gabriel Hughes (0-0, 0.00 ERA)
Thurs. RHP Blane Abeyta (3-3, 6.44 ERA) vs. RHP Case Williams (1-5, 7.59 ERA)
Fri. RHP Yoendrys Gomez (0-0, 0.00 ERA) vs. LHP Joe Rock (0-1, 3.45 ERA)
Sat. RHP Richard Fitts (2-4, 4.73 ERA) vs. RHP Chris McMahon (1-1, 5.88 ERA)
Sun. RHP Clayton Beeter (3-2, 2.66 ERA) vs. RHP Nick Garcia (0-4, 8.62 ERA)
Matt Kardos | SomersetPatriots.com Beat Writer
Matt Kardos has covered the Yankees minor league system for over a decade and will spend his 11th season on the beat covering the Patriots for SomersetPatriots.com. Throughout his career, Matt has contributed to MLB.com, YES Network and Pinstriped Prospects. When he's not at the ballpark, Matt enjoys traveling with his wife Kimberly, watching Jets football and collecting sports cards.