Rockies prospects add seasoning to Fresno Tacos 9-5 win against Stockton 
Tacos/Grizzlies set new franchise record for most wins (20) against a team in a single season; Yanquiel Fernandez: HR, 3 RBI; McCade Brown: 6.0 IP, 8 K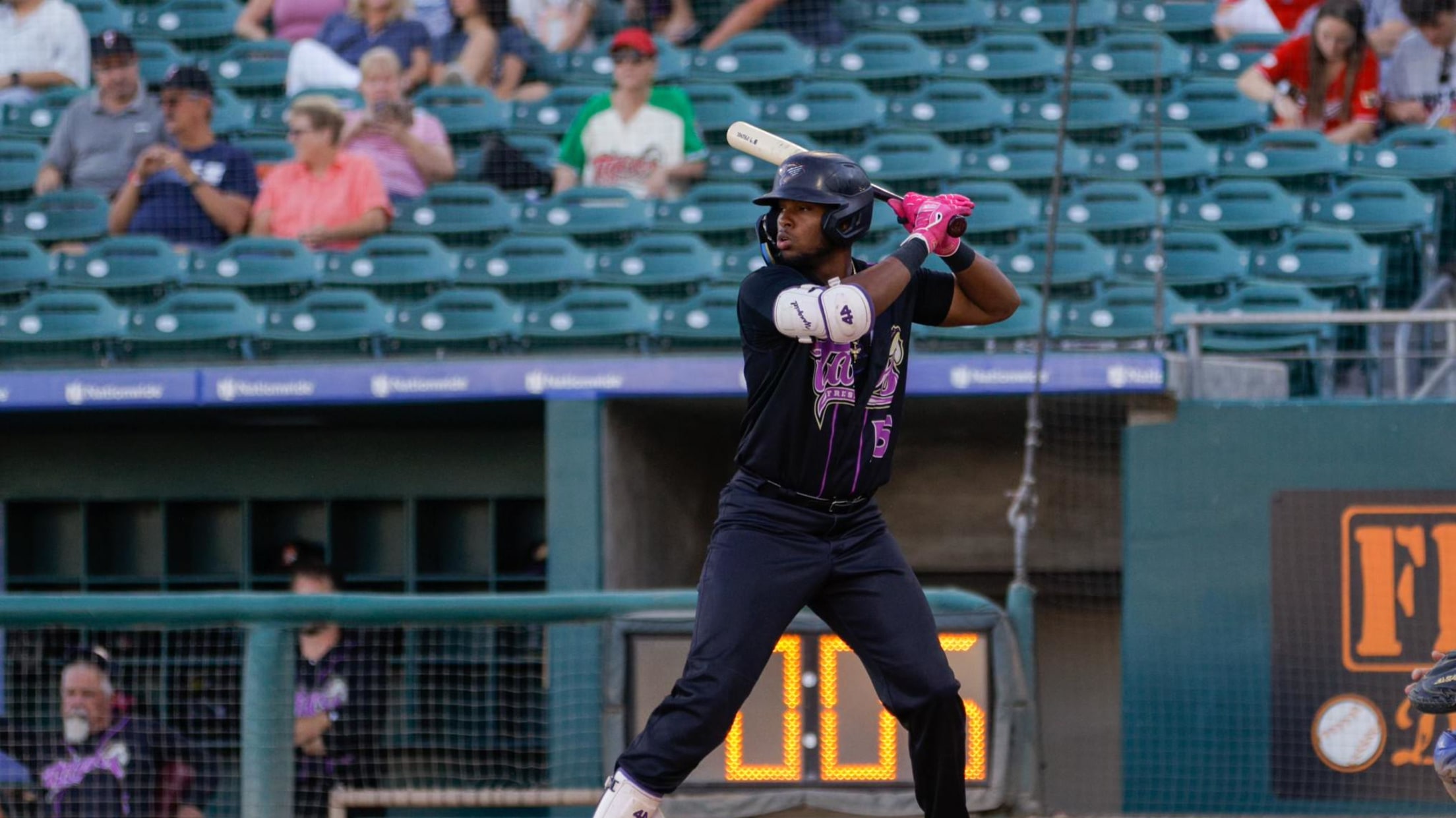 Fresno, CA (Saturday, July 23) – The Fresno Tacos (54-35, 13-10) cooked up a 9-5 victory over the Stockton Ports (32-57, 7-16) Saturday night from Chukchansi Park. With the triumph, the Tacos set a new franchise record for wins (20) against a team in a single season. The Tacos improved
Fresno, CA (Saturday, July 23) – The Fresno Tacos (54-35, 13-10) cooked up a 9-5 victory over the Stockton Ports (32-57, 7-16) Saturday night from Chukchansi Park. With the triumph, the Tacos set a new franchise record for wins (20) against a team in a single season. The Tacos improved to 20-3 (+105 run differential, 194-89) against the Ports this year and 37-10 against Stockton over the past two seasons. Fresno has now won seven straight home games and rose to 12-4 in the second contest of a series.
Five of the Rockies Top 30 prospects were on full display for the Tacos on Saturday. In the first, Rockies #4 prospect Adael Amador roped a double to leadoff the game. He would waltz home on a chopper to center by Rockies #5 prospect Benny Montgomery. The center fielder would score on the next batter when Rockies #16 prospect Yanquiel Fernandez whacked an oppo taco two-run homer to left. It was Fernandez's 12th clout of the year. In the third, Rockies #22 prospect Juan Guerrero launched a two-run no-doubter to left field, his 11th wallop of the season. An inning later, Fernandez picked up his third hit and RBI of the evening, a single to left. That base hit notched Montgomery, who finished with a pair of hits and runs. Amador would round out the scoring in the fifth with a groundout, adding Zach Kokoska.
Thanks to the offensive support, Rockies #28 prospect McCade Brown (3-4) cruised to his third win of 2022. Brown tied his career-high with six innings of three-run ball (two earned). He allowed five hits and one walk while punching out eight. He would give way to a quartet of relievers with three of them recording scoreless outings. Sergio Sanchez and Bryce McGowan tossed a frame apiece while Ever Moya secured his first save after fanning the final batter of the game. On the other side, Ports righty Mitch Myers (4-7) suffered the loss after four innings of work. Skylar Szynski and Ed Baram combined for three frames of shutout relief for Stockton.
The Ports offense enjoyed nine hits with two of them leaving the yard. In the second, T.J. Schofield-Sam pummeled a solo shot to right-center field. Junior Perez provided the other firework, a bomb in the ninth. It was his ninth tater of the year. Shane McGuire, Alexander Campos and Mariano Ricciardi ripped two hits apiece. The squads conclude their series tomorrow with the Tacos looking for the sweep.
Top Performers: Fresno Tacos (Colorado Rockies)
• DH Yanquiel Fernandez (3-5, HR, 3 RBI, 2 R)
• RF Juan Guerrero (1-3, HR, 2 RBI, R, 2 BB)
• CF Benny Montgomery (2-5, RBI, 2 R, SB)
• RHP McCade Brown (6.0 IP, 5 H, 3 R, 2 ER, 1 BB, 8 K)
Top Performers: Stockton Ports (Oakland Athletics)
• 1B T.J. Schofield-Sam (1-4, HR, 2 RBI, R)
• CF Junior Perez (1-3, HR, RBI, R, BB)
• SS Alexander Campos (2-4, R)
• DH Mariano Ricciardi (2-4, R)
On Deck:
Sunday, July 24 vs. Stockton Ports, Stockton RHP Dheygler Gimenez (0-2, 6.59) vs. Fresno RHP Jarrod Cande (3-2, 3.30), 5:05 pm PT
ON THAT FRES-NOTES:
The alter ego that started it all, the Fresno Tacos, returned to Chukchansi Park this series for "Tacos Weekend." This year's Tacos colorway features purple and black as a tribute to both the Colorado Rockies, Major League affiliate of the Grizzlies, and the team's original 1998 branding.
Fresno has mashed 55 homers over their 23 affairs against Stockton this season, with four contests of five taters or more. On the other side of the ball, the Tacos' pitching staff has struck out 205 batters over the past 19 contests against the Ports.