Machado fans 14 in seven innings for Rocks
Royals prospect flirts with club history while setting career high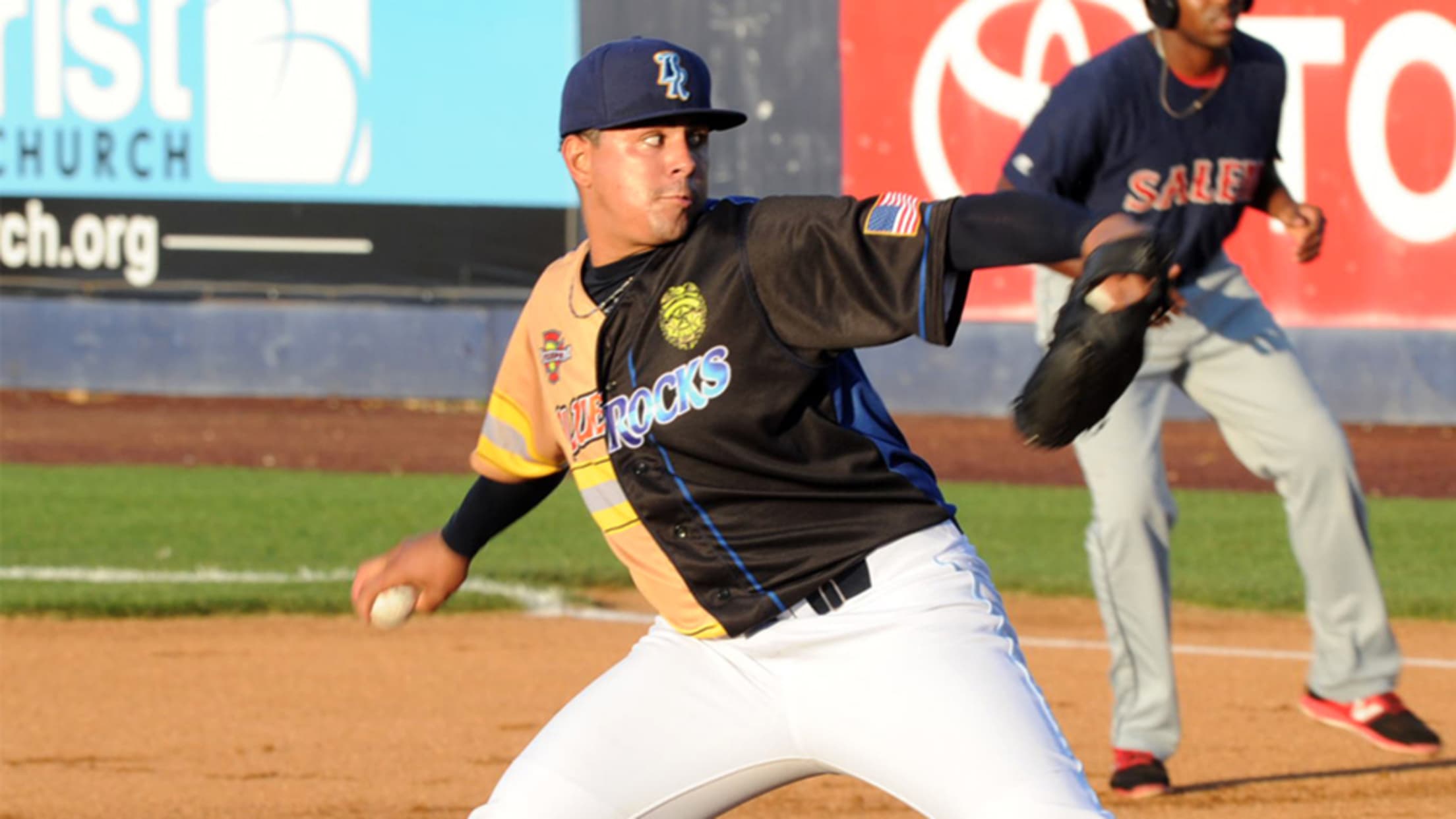 Andres Machado had 20 strikeouts in his first four starts for Wilmington. (Brad Glazier/Wilmington Blue Rocks)
It remains to be seen which role Andres Machado could have the most success with in his career, but he made quite a statement on Saturday.Making his fifth start since joining the rotation, the Royals prospect tallied a career-best 14 strikeouts over seven innings in Class A Advanced Wilmington's 8-3
It remains to be seen which role Andres Machado could have the most success with in his career, but he made quite a statement on Saturday.
Making his fifth start since joining the rotation, the Royals prospect tallied a career-best 14 strikeouts over seven innings in Class A Advanced Wilmington's 8-3 win over Salem at Frawley Stadium. Machado gave up one run on six hits and walked one.
"He pitches with a big fastball and the slider has continued to improve since we put him in the rotation," Blue Rocks pitching coach Charlie Corbell said. "It kind of came together a little bit tonight."
Gameday box score
The 24-year-old right-hander had to work around three hits in the first two innings, which included an RBI double by Jeremy Rivera in the second. From there, Machado (4-7) retired eight consecutive batters, including five straight punchouts.
"He weathered a little bit of traffic early, managed to get through that and powered the fastball through the zone," Corbell said. "The slider stayed at the bottom and below and it just helped put the package together."
Machado fanned the side in order on 10 pitches in the fourth and duplicated the feat with 14 pitches in the sixth against a Salem lineup that's become quite familiar recently.
"We've played these guys a ton in the last three weeks," Corbell said. "Last time out, [Machado] pitched well early, ran into some trouble, elevated some pitches and they got some swings on him. Tonight, he was able to make some pitches to get out of trouble. We played good defense behind him and he just kind of fed on it and kept going."
The native of Venezuela recorded his final punchout against Tyler Spoon leading off the seventh. Machado threw 75 strikes among his season-high 102 pitches.
"Anytime you possess an upper-90s fastball, when you can get it tilted to the bottom of the strike zone and you throw a hard slider with some quickness in it, it makes it very difficult on hitters," Corbell said. "He's been working hard on staying close in his delivery, keeping a good tempo and working with a little bit of an angle to the fastball."
This level of dominance wasn't always on display, however. Machado joined the Blue Rocks after spending five years in Rookie-level competition and struggled initially. In 12 relief appearances, the 6-foot, 175-pounder surrendered 10 earned runs over 21 2/3 innings.
"He was basically in a little bit of a 'throw' mode instead of a 'pitch' mode," Corbell said. "He'd really light up the gun but not really composed in terms of the quality of pitches he was making time and time again."
After Royals No. 20 prospectFoster Griffin was promoted to Double-A Northwest Arkansas on May 29, the organization decided to give Machado another shot in the rotation.
"You put a guy in the rotation, but it doesn't mean he's going to stay there by any means," Corbell said. "He's got a big arm and he lines up as a guy who could end up working at the back end of a Major League bullpen, but that will all work its way out as he moves through the system."
Machado came three whiffs shy of tying the single-game club record, set by Glendon Rusch on Aug. 17, 1995.
"It was enjoyable to watch," Corbell said. "As you watch a kid succeed, you know the hard work they've put in to what they've done. We are looking for consistency in performance to performance, and it was a great night for Andres.
"But the bottom line is we need to string together consistent quality and as he gets more and more experience, he'll be able to do that."
Tim Hill struck out four over the final two innings in relief of Machado.
Chris DeVito had three hits -- including a homer -- and four RBIs, while D.J. Burt added three hits and two RBIs for Wilmington.
Michael Peng is a contributor to MiLB.com. Follow him on Twitter @MichaelXPeng.