Scouting report: D-backs shortstop Lawlar
Game's No. 23 overall prospect already proving he can do it all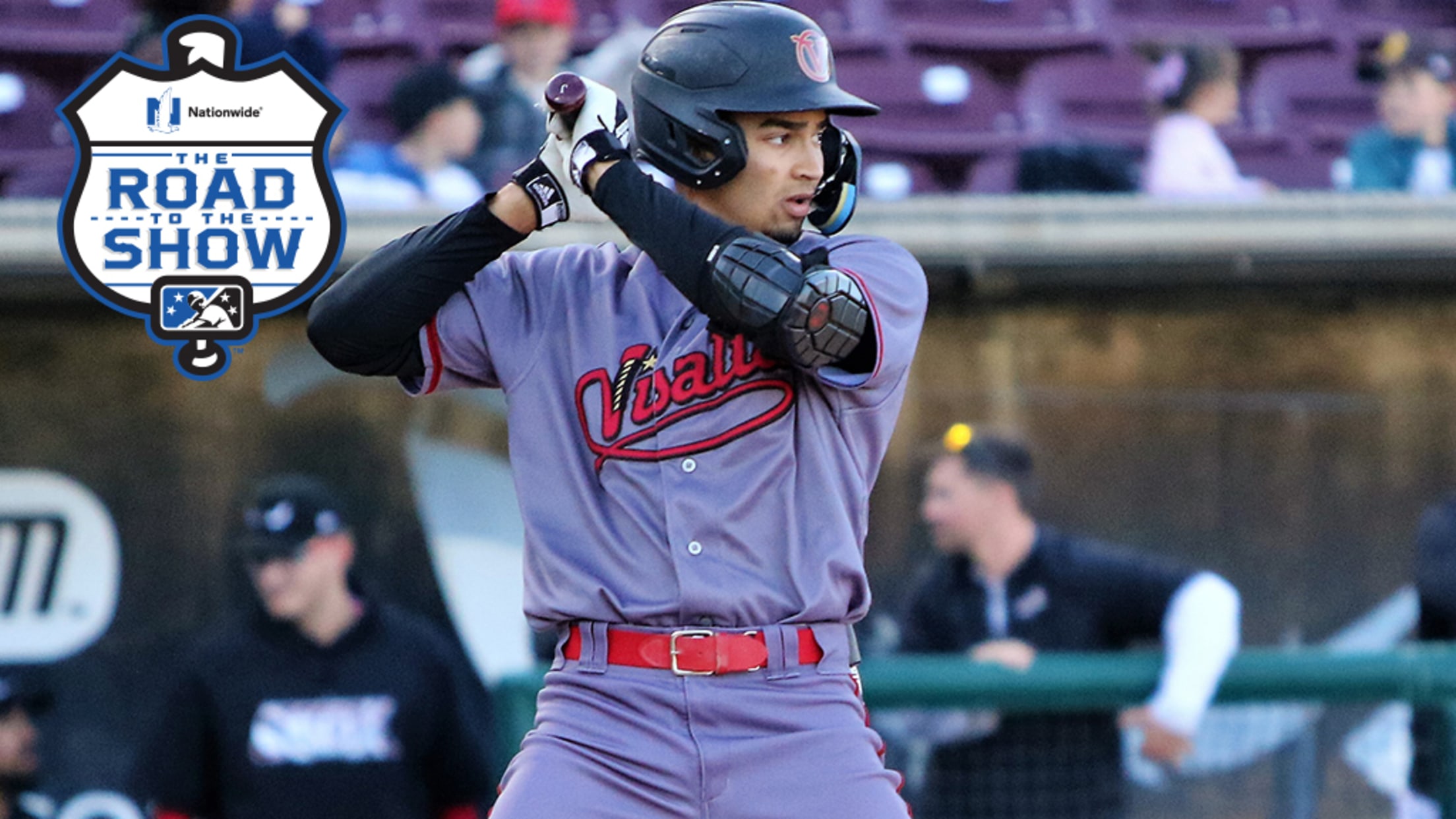 Jordan Lawlar collected 17 hits and nine stolen bases through his first 13 games with Single-A Visalia. (Jerry Espinoza/MiLB.com)
MiLB.com's Scouting Report series spotlights players who are just starting their professional careers, focusing on what the experts are projecting for these young phenoms. Here's a look at third-ranked D-backs prospect Jordan Lawlar. Jordan Lawlar was forced to hit the reset button almost immediately in the Minors. After being drafted
MiLB.com's Scouting Report series spotlights players who are just starting their professional careers, focusing on what the experts are projecting for these young phenoms. Here's a look at third-ranked D-backs prospect Jordan Lawlar.
Jordan Lawlar was forced to hit the reset button almost immediately in the Minors.
After being drafted by Arizona at No. 6 overall last July, Lawlar had his first professional season cut short by a labrum tear. Now just shy of a month with Single-A Visalia, he's shown off every tool that earned him top pick consideration ahead of that Draft.
The third-ranked D-backs prospect has hits in 17 of his first 48 at-bats (.354 average) with three homers, a double, nine runs and six RBIs. He has also stolen nine bases in 11 tries.
Although he wasn't selected with the No. 1 overall pick, the 19-year-old was one of four first-rounders to command a signing bonus greater than top selection Henry Davis' agreement with the Pirates.
"We were excited that he was there for us at six, there's no doubt," D-backs scouting director Deric Ladnier told reporters after the Draft. "I mean, just electric tools -- really good feet, really good hands, really good arm. Good range, good instincts, ability to steal bases, ability to hit for power. He checks all the boxes, quite frankly, and just a wonderful human being.
"He's just a super athlete with a projectable body. And all of those things that he possesses are the type of tools that we as evaluators, we're always looking for when we go to the ballpark and we could pretty much walk out of the ballpark and check every box, which doesn't happen a lot."
The D-backs lured Lawlar away from his commitment to Vanderbilt with a $6,713,300 signing bonus, which was nearly $1 million more than slot value. He played two games in the Rookie-level Arizona Complex League before feeling some discomfort in his right shoulder.
Josh Barfield, the club's farm director, announced that injury required season-ending surgery just four days after Lawlar made his professional debut.
Following the surgery, Lawlar joined an exclusive group of D-backs prospects who took advantage of Chase Field's proximity to the club's facilities at Salt River.
Corbin Carroll, the D-backs' second-ranked prospect, also finished the season rehabbing a shoulder injury he suffered in May with High-A Hillsboro. After his surgery, Carroll and Barfield came up with the idea to shadow Major League advanced scout Jeff Gardner and sit in the scouts' section during D-backs' home games. By the final month of the season, Gardner had been joined by a number of rehabbing youngsters, including Lawlar.
"They go to their rehab every day and then they come here every night," Gardner told the Arizona Republic in September. "It's impressive for young kids to take the time to do that."
Like Carroll, anticipation of Lawlar's first full -- and healthy -- season was reasonably high.
"We talk a lot about baseball IQ, and we always say that's not something that you innately have," Barfield told MLB.com during camp. "It's something that's learned, and it comes from aptitude and a desire to learn and grow. Those guys [Carroll and Lawlar] have that in spades. I feel like yes, this is going to be [Lawlar's] first real experience in professional baseball, but in a lot of ways, he's better prepared than a lot of kids that he plays against."
It's been just 13 games so far, but Lawlar has already been one of the more dangerous hitters in the California League. The No. 23 overall prospect ranks third on the circuit in batting average and stolen bases, fourth in homers, on-base percentage (.484) and OPS (1.047) and sixth in slugging percentage (.563).
Lawlar has shown his gifted athleticism in the early going, but hasn't been very polished defensively. He's committed six errors -- four fielding, two throwing -- through 10 games at shortstop.
There's plenty of time for Lawlar to show all five of his tools can be above average. His incredible start has shown what he's capable of when healthy, and he can prove to be another jewel in one of the game's best farm systems.
Here's what the experts at MLB Pipeline have to say about Lawlar:
Scouting Grades (20-80 scale)
Hit: 55
Power: 55
Run: 60
Arm: 60
Field: 55
Overall: 55
"As a five-tool shortstop from a Dallas-area high school, Lawlar inevitably draws parallels to Bobby Witt Jr., the No. 2 overall pick in 2019 by the Royals. While Witt had louder tools and was more advanced after growing up around the game as the son of a 16-year big leaguer, Lawlar entered 2021 as the consensus top high school prospect and won Gatorade's Texas high school player of the year award. The D-backs selected him with the sixth overall pick and signed him away from his Vanderbilt commitment with an above-slot bonus of $6.71 million. But a shoulder injury ended his professional debut after just two games (five at-bats) in the Rookie-level Arizona Complex League.
Lawlar is a more polished hitter than Witt was at the same stage with a quick, compact right-handed swing and a mature, patient approach, though he struck out more than expected as a senior. He focuses on working the gaps and has a knack for inside-outing balls to right field. With his bat speed and the projectable strength in his 6-foot-2 frame, he should develop solid power once he adds strength and starts turning on more pitches.
Lawlar's plus speed plays well on the bases and in the field, and he'll even clock some well-above-average run times on occasion. With plenty of range, quick hands and a strong arm, there's no doubt he'll stick at shortstop, though like most youngsters he needs to improve his consistency."