Scouting report: Braves' Jared Shuster
Crafty left-hander can help build a dangerous rotation in Atlanta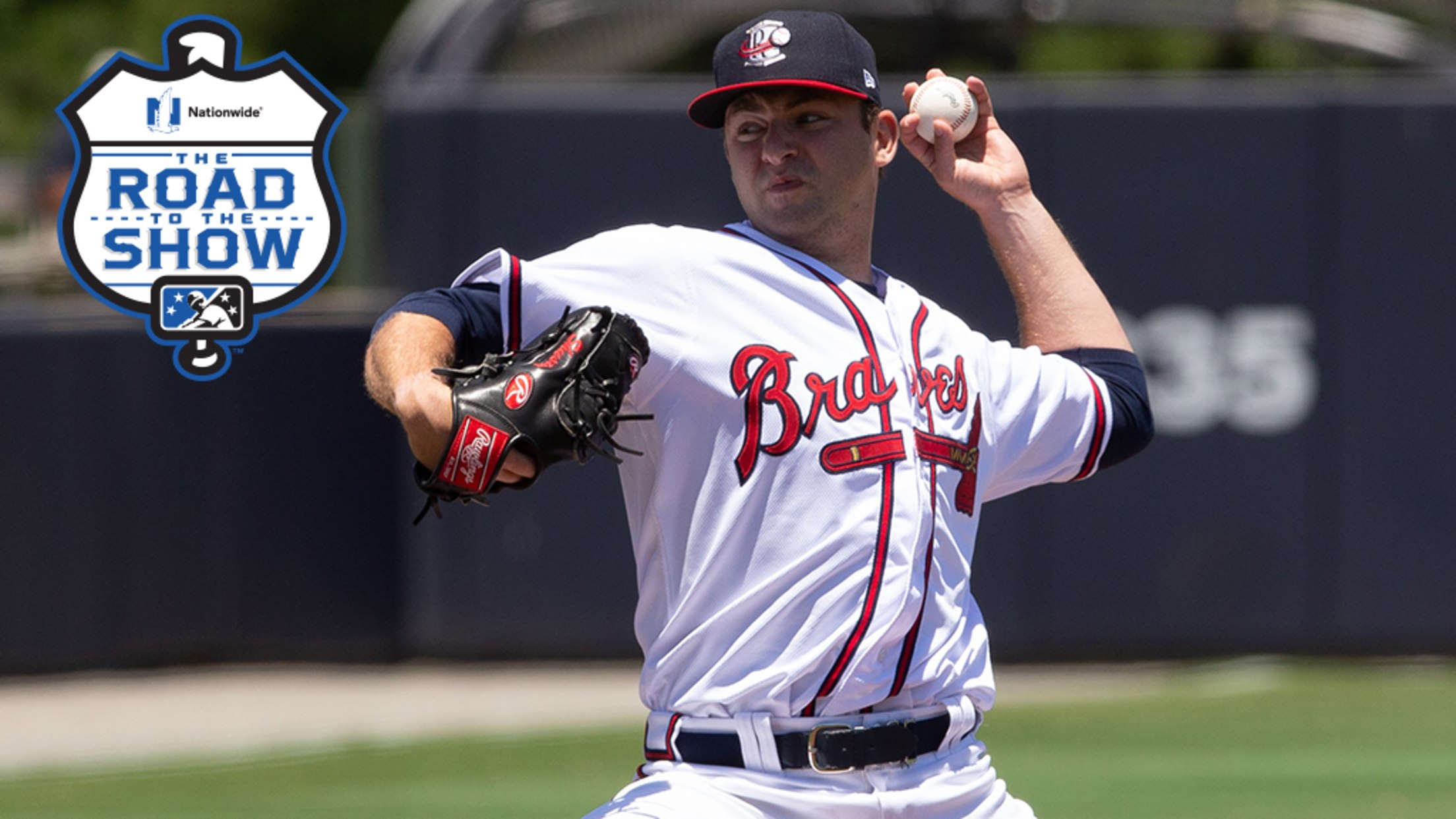 Jared Shuster improved his Draft stock immensely during the 2019 Cape Cod League season. (Rome Braves)
MiLB.com's Scouting Report series spotlights players who are just starting their professional careers, focusing on what the experts are projecting for these young phenoms. Here's a look at ninth-ranked Braves prospect Jared Shuster. For more player journeys on The Road to The Show, click here. It's safe to say that
MiLB.com's Scouting Report series spotlights players who are just starting their professional careers, focusing on what the experts are projecting for these young phenoms. Here's a look at ninth-ranked Braves prospect Jared Shuster. For more player journeys on The Road to The Show, click here.
It's safe to say that the Braves had the Wake Forest pitching staff scouted pretty well.
Beginning with ninth-ranked prospect Jared Shuster in 2020, Atlanta has called upon a Demon Deacon starter for its first-round selection in each of the past two Drafts. While 2021 first-rounder Ryan Cusick is just getting started with Low-A Augusta, Shuster is already beginning to settle down after a promotion to Double-A Mississippi.
For the Massachusetts native, it took a summer on the Cape to get to this point.
Shuster's status as a Draft prospect was vaulted by his 4-0 record and 1.40 ERA in 32 innings for Orleans in 2019. He wasn't quite the strikeout artist in the Cape Cod League that he was at Wake Forest, but he showed a more refined command and ability to execute pitches that might have been missing in college ball.
By the time the left-hander got back to Winston-Salem, he lowered his walk rate from more than 5 per nine innings to 1.37 in the pandemic-shortened season. And his K/9, which was already more than 11 in his first two college seasons, reached 14.69 through his four starts in 2020.
Even with that improvement, Shuster was not widely viewed as a first-round talent.
But the Braves had only four selections in the already shortened 2020 Draft. The club lost its second-round pick after signing free agent reliever Will Smith, who rejected the Giants' qualifying offer that winter. They also forfeited the compensation pick they received after the Twins signed Josh Donaldson when they subsequently signed Marcel Ozuna, who also declined a qualifying offer, then from the Cardinals.
With hopes to maximize the talent available with just four selections, Atlanta selected Shuster with the No. 25 overall pick in last year's Draft.
"Strategically, we feel we were able to get a good left-handed pitcher in the beginning," Braves vice president of scouting Dana Brown told MiLB.com after the Draft. "Maybe we could save some money on that pick and potentially sign some of our high ceiling players that may slide in the Draft. That could make up the gap of not having a second rounder."
The strategy seems to have worked out quite well.
Shuster signed for a $2.20 million bonus, which was just enough below slot to be able to reallocate that pool money toward fifth-rounder Bryce Elder's $847,500 bonus. Elder, the Braves' No. 11 prospect who was thought to be a mid-round talent, slid to the final round and is already pitching to a 2.78 ERA through his first four starts with Triple-A Gwinnett.
But there was obviously more to Shuster than a below-slot signing.
Now 23 years old, Shuster has a 4.37 ERA with 84 strikeouts across 68 total innings in his first professional season. The 6-foot-3, 210-pounder made 15 appearances with High-A Rome before getting the bump to Mississippi on Sept. 1. Shuster went 2-0 with 73 strikeouts in 58 ⅓ innings at Rome but only completed five innings in just three of those starts.
He had an inauspicious start in Mississippi, allowing eight runs over four innings in his first Double-A start, but he bounced back to turn in 5 ⅔ one-run innings in his next outing.
"We feel like this is a pitcher with some upside play to him," Brown said after the Draft. "We feel like the aptitude is really good."
Shuster's best pitch is a changeup that produces a lot of swing and miss, while his fastball velocity jumped from the high-80s to the low-to-mid 90s in the past two years.
Jared Shuster strikes out his fourth batter with runners in scoring position 😎😎

We head to the 6th still scoreless pic.twitter.com/j0bvpd01tQ

— Mississippi Braves (@mbraves) September 9, 2021
While he still may have a way to go in developing a slider, the Braves seem to be willing to give him ample opportunity to do so. He was included in Atlanta's 60-man player pool last year and got some extra work at the instructional league after the alternate site broke.
The Braves have not missed a beat at the Major League level. The big-league club is currently in line for its fourth consecutive division title. But the organization did take a hit at the prospect ranks in the past few years.
They were levied with a long list of punishments in 2017 for previous international signing infractions that cost them more than a dozen prospects and a lot of international bonus money, only to have No. 8 overall pick Carter Stewart decide not to sign with the club in 2018.
Shuster seems to be part of the group helping to turn the page on that era for Braves development. While he'll always be tied closely to and perhaps even quickly outshined by Cusick and Elder, Shuster can provide a sort of depth that can make for an excellent rotation.
"I feel like I have a really high ceiling and I'm going to work hard to reach that ceiling," Shuster told MLB.com
Here's what the experts at MLB Pipeline have to say about Shuster:
Scouting grades (20-80 scale)
FASTBALL: 55
SLIDER: 50
CHANGEUP: 60
CONTROL: 50
OVERALL: 45
"As the 2020 Draft approached, there were a number of college left-handers most slated to get taken in the first round. Shuster, who was ranked No. 77 on MLB Pipeline's Draft Top 200 at the time of the Draft, making him the No. 8 ranked college southpaw on the list, wasn't one of them. But after a big step forward in the Cape Cod League the summer prior and a very strong start with Wake Forest before the shutdown, the Braves believed enough to take him No. 25 overall then let him make up for lost innings with work at the alternate training site and in instructional league play.
The Braves saw a lefty in the spring of his junior year with a lot more velocity than he had previously, going from someone who topped out at 92 to someone who regularly hit 95 mph and could reach back for 97 mph, thanks to the offseason work he put in at Cressey Performance. He once featured a sinking two-seamer, but now relies on a riding four-seamer with good success. His changeup immediately became one of the best in the Braves system, an 80-mph offspeed pitch with tumble that he'll throw at any point in the count. His breaking ball is his third pitch, but the Braves think there's upside in his slider.
Control had been a major issue over his first two years at Wake Forest (5.2 BB/9), he walked only 1.4 per nine on the Cape and during his junior season. It's not the smoothest delivery, but he repeats it well enough to point to a future of throwing strikes, giving him a ceiling of a mid-rotation starter."