Scouting report: Pirates' Nick Gonzales
Pittsburgh's top 2020 Draft pick already surging in MiLB debut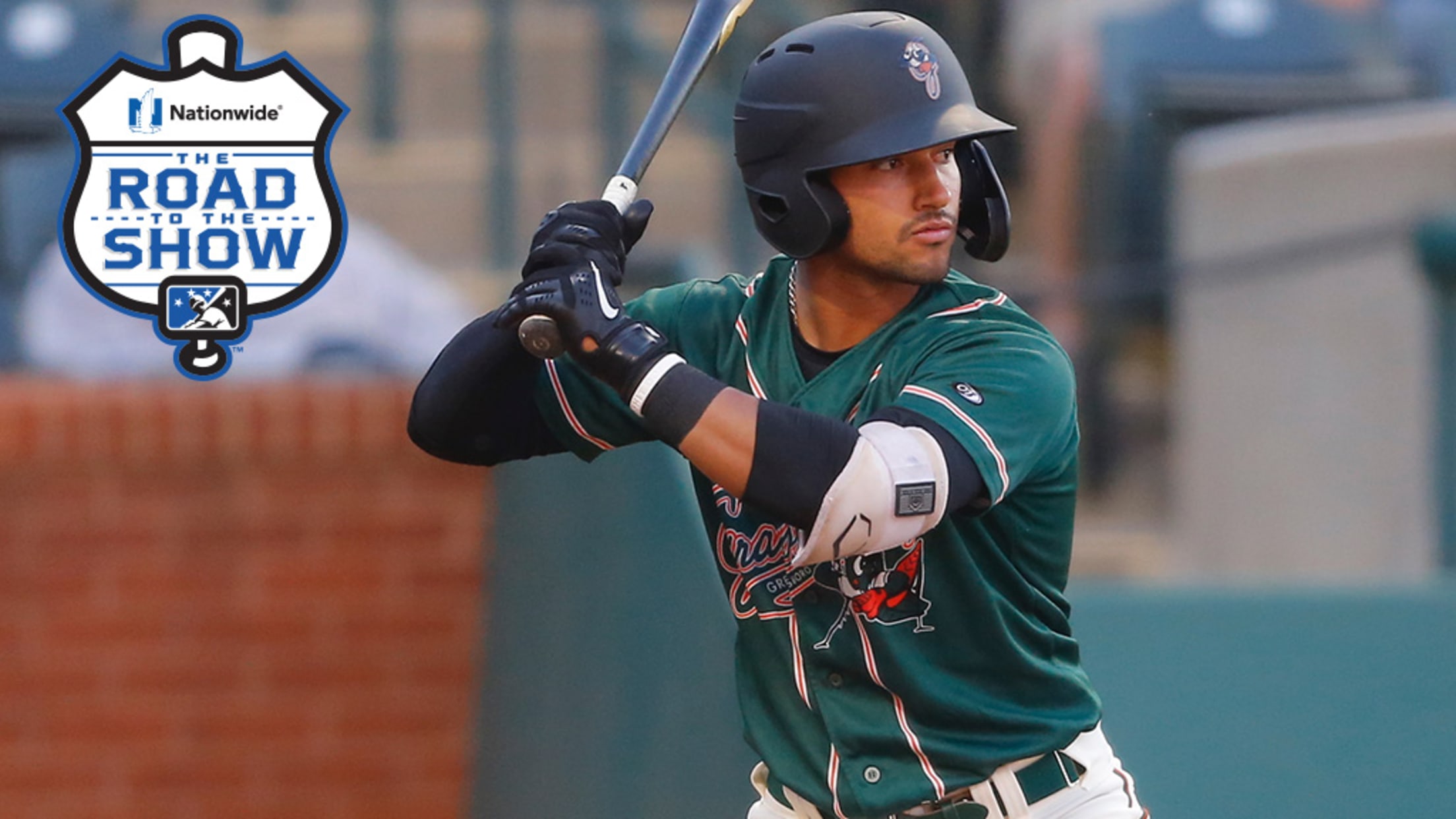 Nick Gonzales made his Minor League debut with High-A Greensboro in 2021. (Chris Robertson/MiLB.com)
MiLB.com's Scouting Report series spotlights players who are just starting their professional careers, focusing on what the experts are projecting for these young phenoms. Here's a look at second-ranked Pirates prospect Nick Gonzales. For more player journeys on The Road to The Show, click here.
MiLB.com's Scouting Report series spotlights players who are just starting their professional careers, focusing on what the experts are projecting for these young phenoms. Here's a look at second-ranked Pirates prospect Nick Gonzales. For more player journeys on The Road to The Show, click here.
Nick Gonzales put up numbers so eye-popping at New Mexico State -- as a walk-on who went undrafted out of high school -- that they almost generated more skepticism than belief. The 1.021 OPS he registered in 57 games as a freshman was the worst of his career. It moved to 1.304 in 55 contests the following season and an unreal 1.765 in his -- albeit pandemic-shortened -- 2020 collegiate campaign of 16 games.
How could anyone be that good with the bat?
The Pittsburgh Pirates are believers, and their No. 2 prospect is already rewarding that faith.
The Bucs nabbed Gonzales with the seventh overall pick in the 2020 Draft, and with no Minor League season to initiate his professional campaign, decided to test him in unorthodox waters. The pandemic sparked the creation of Major League alternate training sites, where Pittsburgh got to see its first-round pick in action at his future Double-A home in Altoona. After the conclusion of the 2020 season, Gonzales went to instructional league for more work among his prospect colleagues.
RBI double off the wall for @Pirates first-rounder Nick Gonzales. pic.twitter.com/zefAJrqsib

— MLB Pipeline (@MLBPipeline) March 17, 2021
"He's going to continue to grow in so many areas because of who he is," Pirates senior director of amateur scouting Joe DelliCarri told MiLB.com last year. "The passion for the game. The passion for learning. Very focused and very intentional young man. So, albeit, we all think he's a terrific young hitter. The industry similarly going into this Draft thought he was a good young hitter. But it really lies in growth in all areas because of who he is."
The Pirates were encouraged not only by Gonzales' consistently brilliant work at the plate during his NCAA career, but also by his MVP season in the Cape Cod League in 2019. There, the Arizona native batted .351/.451/.630 with seven home runs in 42 games.
Gonzales is part of a loaded infield prospect core in the Pittsburgh system. Third baseman Ke'Bryan Hayes, the organization's top prospect, is already impressing at the big league level despite missing time with injury earlier this season. Gonzales, baseball's No. 32 overall prospect, slots in right behind him in the system's rankings. Uber-talented shortstops Oneil Cruz and Liover Peguero are ranked fourth and fifth.
While reports can be thin on content from alternate site and instructional league work, the Pirates were obviously happy with Gonzales' early progression after the Draft. Scrapping his initial plan to train in Arizona for the summer when he was added to Pittsburgh's 60-man player pool, Gonzales spent last summer and fall immersed -- as much as any prospect could be in 2020 -- in his new organization
"I got to see pitching that I probably wouldn't have seen had we just had a regular season. ... I got to see some really quality pitching and see how I matched up against them, and also I got to show the Pirates staff that I can play and do this against good pitching and everything like that," Gonzales told MLB.com last year. "It's been good."
Gonzales was picked as a shortstop but got the majority of his work at second base in Altoona and at instructs. That's where he may fit long-term in the Pirates' infield of the future. Still, his calling card is that impressive hit tool which he worked on refining at the alt site.
"I've been able to stay in the zone, I would say, swinging at good pitches," he told MLB.com last year. "I try to limit the chases as much as I can and then do damage on pitches that are in the middle of the plate. That's where my approach has been helping me."
Nick Gonzales had the boys boppin after beating the throw to first to walk-off in the bottom of the 10th! #RaiseTheJollyHopper pic.twitter.com/QEGdiZwSSZ

— Greensboro Grasshoppers (@GSOHoppers) May 16, 2021
After an odd first year in professional baseball, Gonzales is now fully into his career, starting this season with the High-A Greensboro Grasshoppers. Through his first 13 games, the infielder posted an impressive .294/.368/.549 slash line with seven doubles and two homers among his first 15 hits.
Here's what the experts at MLB Pipeline have to say about Gonzales.
Scouting grades (20-80 scale)
HIT: 60
POWER: 45
RUN: 55
ARM: 55
FIELD: 50
OVERALL: 55
"Gonzales racked up serious numbers during his college career at New Mexico State, including a ridiculous .448/.610/1.155 line in 16 games during his shortened junior year in 2020. Since the Aggies are known for playing in an extreme hitters' paradise, Gonzales' MVP performance in the Cape Cod League, where he hit .351/.451/.630 with wood in his hands, did as much to put him high on the Draft radar and land him No. 7 overall to the Pirates, who gave him full pick value to sign before sending him to their alternate camp and instructs to get as many reps as possible.
"Few question Gonzales' ability to swing the bat from the right side of the plate. Talk to anyone who watches the 5-foot-10 infielder swing and they rave about his bat speed, how fast his hands are and how quick to the ball he is. He demonstrated during his time at the alternate training site that he can hit any fastball, with 60 percent of the fastballs he put in play in Altoona registering exit velocities of over 100 mph. He did a nice job of recognizing spin as well, though that's a steeper learning curve as he faced advanced breaking stuff for the first time. There's every confidence he'll adjust to that as well and with his bat speed, he could eventually have average power.
While he was drafted as a shortstop, the spot he played as a junior, and got some time there in Altoona, Gonzales played second base almost exclusively at instructs, with nearly everyone believing that to be his long-term home. He runs well and is athletic enough to be acceptable there, but it's his bat that will get him to the big leagues in a hurry."
Tyler Maun is a reporter for MiLB.com and co-host of "The Show Before The Show" podcast. You can find him on Twitter @tylermaun.