Scouting report: Padres' Robert Hassell III
Last year's eighth overall pick gifted with talent, plate awareness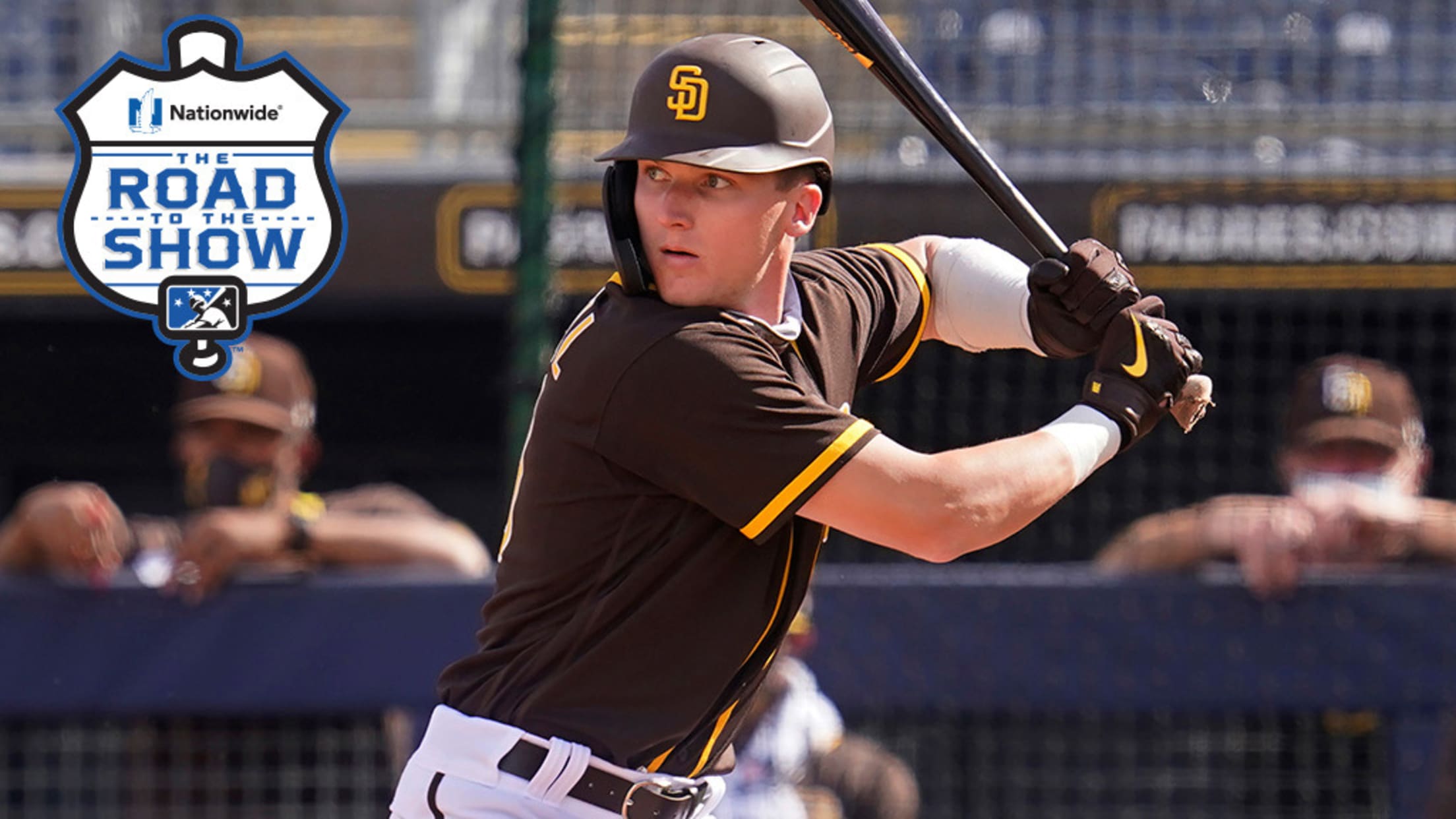 Ranked as the No. 50 overall prospect and fourth in the Padres system, Robert Hassell III was a two-time Tennessee Gatorade Player of the Year in high school. (Sue Ogrocki/AP)
MiLB.com's Scouting Report series spotlights players who are just starting their professional careers, focusing on what the experts are projecting for these young phenoms. Here's a look at fourth-ranked Padres prospect Robert Hassell III. For more player journeys on The Road to The Show, click here. It wasn't a matter
MiLB.com's Scouting Report series spotlights players who are just starting their professional careers, focusing on what the experts are projecting for these young phenoms. Here's a look at fourth-ranked Padres prospect Robert Hassell III. For more player journeys on The Road to The Show, click here.
It wasn't a matter of if Robert Hassell III would be chosen in the 2020 Draft, only how soon. The answer was pretty quickly, perhaps even quicker than he thought.
MLB Pipeline ranked Hassell its 16th-best prospect entering last year's Draft and the seventh-best high schooler. Armed with a sweet left-hand stroke that generates line-drive power to all fields, San Diego jumped at the chance to take the Franklin, Tenn., native with the eighth overall pick. Hassell's selection marked the fourth consecutive year the Padres went the high school route in the first round.
We like it, @robert_hassell3. We like it a LOT.#PadresOnDeck · #PadresST pic.twitter.com/IvD6x36aZt

— San Diego Padres (@Padres) March 1, 2021
"We think we added the best prep hitter in the class," Padres scouting director Mark Conner told MLB.com after the selection.
Along with the consecutive state player-of-the-year awards on Hassell's résumé, San Diego took note of his eye-opening performance at the MLB Prospect Development Pipeline Showcase in the summer of 2019. He batted .385/.467/.654 with five extra-base hits and eight RBIs during the month-long showcase. The southpaw also pitched -- as he did in the 2014 Little League World Series -- allowing an unearned run over six innings while showcasing a low-90s fastball and a solid breaking pitch.
Hassell added more luster to his shine by hitting over .500 and earning International Player of the Year honors for his performance at the 18-U World Cup in South Korea later that summer.
"Robert was very intriguing to us because of the bat he possesses," Conner told MiLB.com last year. "From a young age, he's been a natural hitter. He's definitely a hit-first package, somebody who has a good awareness of the strike zone, has plate discipline. He has a strong desire to put the ball in play and he does not like striking out."
Bobby Barrells isn't just a nickname, it's a fact.

/ @robert_hassell3 / pic.twitter.com/R39OMoGvZY

— Lake Elsinore Storm Baseball (@Storm_Baseball) May 16, 2021
The two sides came to a quick agreement on a signing bonus on June 23, 2020 for $4.3 million. The cancellation of the last year's Minor League season meant Hassell spent the summer at San Diego's alternate training site. Like most teams, the Padres wanted to get an up-close-and-personal look at their fourth-ranked prospect, extending him a non-roster invitation. Hassell responded by belting a double off the wall in his first Cactus League at-bat.
It's no wonder Padres general manager A.J. Preller raved that Heller has "as good a bat as anyone in the country."
The 19-year-old was assigned to Low-A Lake Elsinore to begin his professional career, and true to form, has not disappointed in the early going, collecting 14 RBIs in his first 17 games with nine extra-base hits.
Here's what the experts at MLB Pipeline have to say about Hassell:
Scouting grades (20-80 scale)
HIT: 60
POWER: 50
RUN: 55
ARM: 55
FIELD: 55
OVERALL: 55
"Hassell was the best all-around hitter and pitched well at the inaugural Prospect Development Pipeline League last June and July, then led the U.S. national team in almost every offensive category while batting .514/.548/.886 at the under-18 World Cup in South Korea in September. Though there was some split opinion about the quality of his tools beyond his bat, he became the first high school player (No. 8 overall) taken in the 2020 Draft. The first Tennessee prep position player selected in the first round since Mike White in 1986, he signed for a below-slot $4.3 million. Hassell was impressive as the youngest mainstay at the Padres' alternate training site, then turned in an eye-opening performance during fall instructional league to tie a bow on his first pro experience.
Hassell separated himself from his peers as the best pure high school hitter in the 2020 Draft. A combination of excellent hand-eye coordination and physical strength allows Hassell to repeatedly barrel balls with his impactful left-handed swing. He gets good plate coverage with his long arms and lashes line drives to all fields when he's at his best, projecting as a plus hitter. He controls the zone well for a young player, showing on-base skills on top of the natural hitting ability. Padres officials are increasingly confident that Hassell will exceed his power projections in the pro ranks, and they point to his currently hitting ability and remaining physical development as reasons to be optimistic.
Hassell faced questions about his defensive profile ahead of the Draft, with some scouts pegging him as more of a corner outfielder in the pro ranks than a true center fielder. That is less of a concern now after Hassell, an above-average runner, performed very well defensively at the premium position in instructional camp, leading some club officials to peg him as the organization's best defensive outfielder. He could become an even better defender at an outfield corner and has more than enough arm strength -- he was clocked up to 93 mph off the mound in high school -- to play right field."
Michael Avallone is a contributor to MiLB.com. Follow him on Twitter @MavalloneMiLB.