Langeliers, Elder leading Braves' new wave
Prospect duo could become formidable battery mates in Atlanta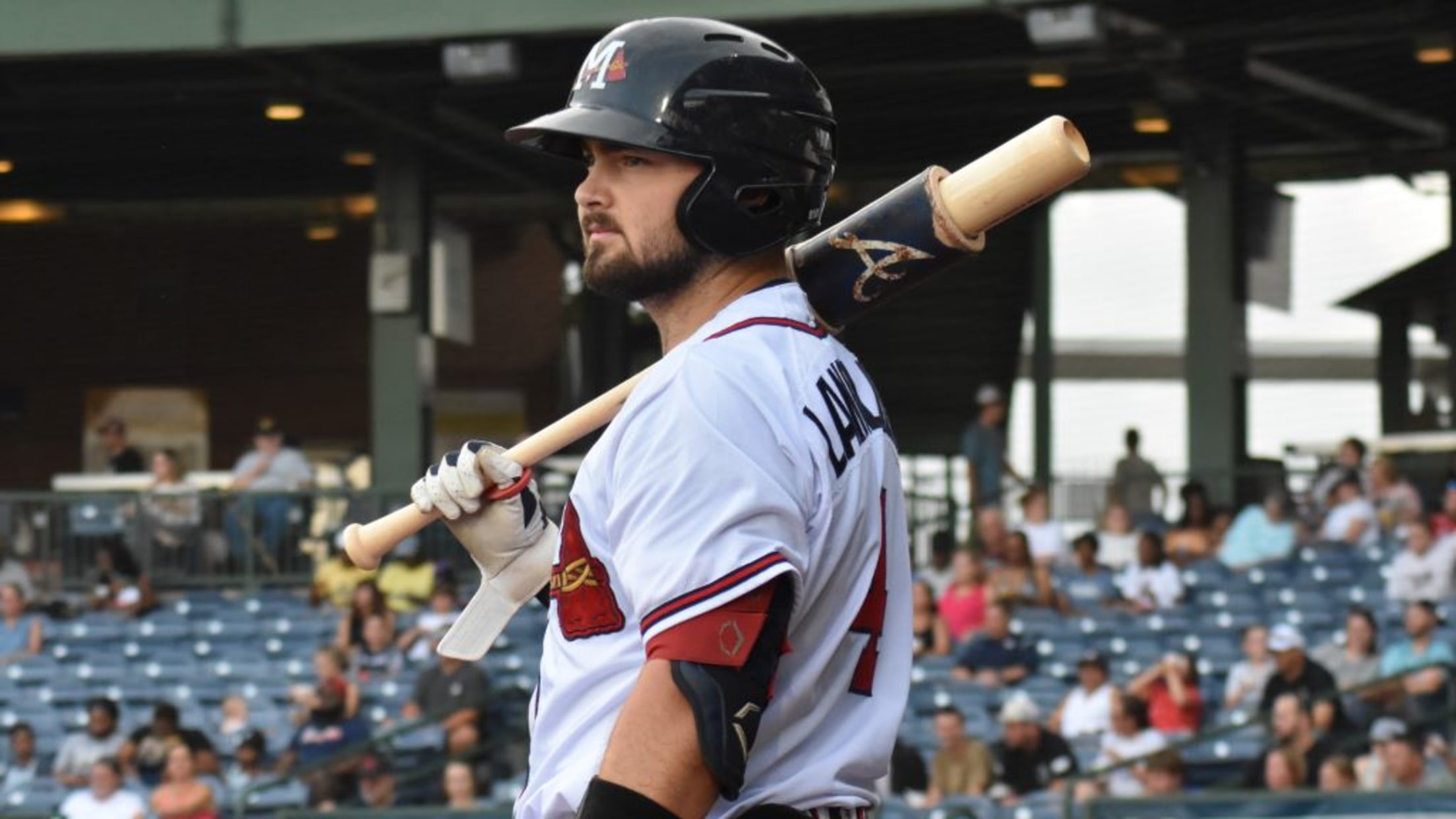 Shea Langeliers slugged 22 homers and drove in 53 runs across two levels in his first full season. (Walter Barnard/Mississippi Braves)
Each offseason, MiLB.com goes position by position across each system and honors the players -- regardless of age or prospect status -- who had the best seasons in their system. Click here to locate your favorite club. Much of the Braves' recent stretch of dominance is owed to their player
Each offseason, MiLB.com goes position by position across each system and honors the players -- regardless of age or prospect status -- who had the best seasons in their system. Click here to locate your favorite club.
Much of the Braves' recent stretch of dominance is owed to their player development success.
After winning the pennant for the first time in 22 years, Atlanta has already jumped out to an early World Series lead against the Astros. During that span since their last championship appearance, they've won 11 division titles, including each of the past four years.
That streak coincided with the emergence of homegrown All-Stars such as Ronald Acuña Jr. and Ozzie Albies, and it's continued in these playoffs with players like Austin Riley, Max Fried and Ian Anderson.
Most of the organizational success at the Minor League ranks in 2021 came at the upper levels. After finishing in first place in the Double-A South with a 67-44 record, Mississippi defeated Montgomery in five games to win the league title. Gwinnett didn't fare as well in the Triple-A Final Stretch, but they were the only other affiliate to finish the season with a winning record.
Overall, the Braves' five Minor League clubs produced a .517 winning percentage, and with six of their top 10 prospects playing in either Triple-A or the Majors this season, the organization seems to have what it takes to make their current stretch of Major League success sustainable.
Braves Organization All-Stars
Catcher -- Shea Langeliers, Mississippi (92 games), Gwinnett (five games): The Braves challenged their second-ranked prospect with a Double-A assignment in his first full season, and Langeliers delivered.
"Hitting in some tough offensive environments, I think the quality of the offensive production was really impressive for sure this year," said Ben Sestanovich, the Braves' assistant general manager and player development director.
The No. 69 overall prospect batted .256/.339/.494 with 22 homers, 15 doubles, 53 RBIs and 59 runs scored. The 23-year-old played in just 54 professional games after being drafted ninth overall in 2019 and had similar offensive production, just without the homer prowess.
If Langeliers can continue to be a competitive at-bat, he could be on the fast track to the Major Leagues. He's been one of the most impressive defensive catchers at the prospect ranks since his time at Baylor University. And he continued that performance in 2021, throwing out 31 of 74 runners attempting to steal.
"I think on a given night, he'll show you all sorts of stuff behind the plate," Sestanovich said. "He made some of the more impressive throws from behind the plate that I've seen, honestly, from a Minor League catcher. And then I think, just his game-calling back there, his relationships with pitchers -- guys love throwing to him. All the intangibles really stood out."
First base -- Johan Camargo, Gwinnett (104 games), Atlanta (15 games): The 27-year-old has been a steady Major Leaguer since 2017, but he spent most of the 2021 season in Gwinnett learning to play a new position that the organization was short on at the upper levels of the Minors.
Camargo had traditionally played on the other side of the infield throughout his career and needed some period of adjustment at first. But by Sestanovich's estimation, he transformed himself into a solid defensive first baseman.
And he just happened to lead all qualified Braves' Minor Leaguers in average (.326), slugging percentage (.557), OPS (.958), wRC+ (155) and hits (126). He was also fourth with 19 homers and third with 67 RBIs.
"The contact skills were impressive. Really, he was pretty even as far as handling right-handed and left-handed pitching from both sides of the plate., which I think really stood out," Sestanovich said. "Playing a position he wasn't familiar with and still having that kind of offensive year, I think it's pretty impressive."
Camargo was on the Braves' NLCS roster and could be on standby for the World Series.
Second base -- Braulio Vasquez, Low-A Augusta (73 games): There's not much of an offensive profile to Vasquez's game, but there is some real speed there. The 22-year-old led the system with 40 stolen bases while batting .220 with 15 extra-base hits for the GreenJackets. Vasquez matched his stolen base numbers from four previous seasons.
Surely, his numbers could have been inflated by some of the new rules limiting pickoff attempts at Low-A. But most of the infield production at the prospect level for the Braves was done by players on the other side of second base.
Third baseman -- Vaughn Grissom, Augusta (75 games), High-A Rome (12 games): The 20-year-old had one of the best seasons in the Minors among Braves prospects. He finished second to Camargo with a .319 average, .882 OPS and 143 wRC+, while leading the system with a .418 on-base percentage.
"I think the biggest thing is his instincts on the field. He's a baseball player. He's a baseball rat. He shows up to the yard with energy every day," Sestanovich said. "I think he's a guy who's probably got some of the best hand-eye in the system. I think the bat to ball is really impressive."
Grissom wasn't in High-A very long, but he showed right away that he could handle the pitching at the next level. The club's No. 13 prospect collected 14 hits in 37 at-bats (.378), drew 11 walks and struck out just five times.
He played more of his natural position of shortstop than third base but also got in 10 games at second base.
The game-winning RBI single from Vaughn Grissom earns our #WOWPlayoftheGame in our 8th straight home win!!! Check it out here!#CatchTheBuzz x #ForTheA pic.twitter.com/7dv4hEFMxb

— Augusta GreenJackets (@GreenJackets) August 25, 2021
Shortstop -- Braden Shewmake, Mississippi (83 games): The overall numbers for the 2019 first-rounder don't paint a pretty picture. But consider that Shewmake hit .099 in May and his season looks a little more impressive.
"He turned it around and had a really nice year there in Double-A and played really good defense at shortstop," Sestanovich said.
Shewmake batted .228 with a .672 OPS, 12 homers and 40 RBIs overall. He seemed to get the hang of things in July, batting .357, but he stumbled again down the stretch, hitting .184 in September.
Like Langeliers, it was a pretty aggressive assignment to send Shewmake, the No. 21 overall selection in 2019, to Double-A in his first full season. So there's still plenty of time for the club's No. 8 prospect to figure things out. But it was a noticeably down year for infielders throughout the system.
Outfielders
Michael Harris II, Rome (101 games): The Braves do love to find talent locally -- there is plenty in the area. And they seem to have struck gold with Harris.
The 20-year-old batted .294/.362/.436 with seven homers, three triples, 64 RBIs and 55 runs scored with Rome this season. His 26 doubles were tied with Cade Bunnell for the most in the system.
"He's pretty well rounded," Sestanovich said. "He impacts the game in a lot of different ways, which is pretty exciting. Legitimately this guy's pretty exciting in all facets."
The fourth-ranked prospect in the system was set to be a two-way player at Texas Tech, but the Braves shifted him to a full-time outfield role at their alternate site last year. Harris' terrific season also earned him a spot in the Futures Game at Coors Field in July.
Travis Demerritte, Gwinnett (81 games), FCL Braves (one game): The 27-year-old Minor League veteran went to high school in the Atlanta area and landed with the club after being designated for assignment by the Tigers in February.
He was limited by an oblique injury in the middle of the season but hit 22 homers, which was as many as all but one other Braves Minor Leaguer. He finished sixth in the system with 64 RBIs and if he had qualified, his .558 slugging percentage and .958 OPS would have topped the system.
"He's always been able to hit the ball really hard, and he definitely did that again," Sestanovich said. "When he was healthy and playing, he made pretty loud contact and really helped that Gwinnett squad. I think on defense he certainly made some strides there."
Demeritte was drafted by the Rangers as a second baseman in the first round in 2013. He made the move to the outfield in his first stint with the Braves organization in 2018 and spent 54 games in right field this season, committing just one error and recording five assists at the position.
Jesse Franklin V, Rome (101 games): The Braves got a little taste of what the 2020 third-rounder can do in the alternate site in 2020. After an understandably slow start in May, Franklin displayed an impressive power-speed combination that could move him quickly through the Minors.
"I think probably, a combination of the power in a pretty pitcher-friendly park, the defense was probably better than we expected in the outfield, the makeup is really good, he's an intelligent kid," Sestanovich said.
Franklin led the system with 24 homers while batting .244/.320/.520 with 61 RBIs and 55 runs scored. He also stole 19 bases in 23 attempts and committed four errors in the outfield. The Braves' No. 17 prospect missed all of the pandemic-shortened 2020 season in his junior year at the University of Michigan after breaking his collarbone during a skiing accident in the offseason. He's currently finishing the year with Peoria in the Arizona Fall League.
Honorable mention -- Orlando Arcia, Tyler Collins: The 27-year-old Arcia is another MLB almost-veteran that the Braves kept stashed in Gwinnett for much of the year. Arcia was dealt to Atlanta from the Brewers during the first week of the regular season and batted .282/.351/.516 with 17 homers, 37 RBIs and 54 runs scored for Gwinnett. Arcia went hitless in three at-bats with the Braves so far this postseason. The 18-year-old Collins was selected in the eighth round of this year's Draft out of McKinney Boyd HS in Texas. He absolutely tore up the pitching in 23 games in the Rookie-level Florida Complex League, batting .347 with an .877 OPS, two triples, four doubles and 12 stolen bases.
Right-handed starting pitcher -- Bryce Elder, Rome (nine starts), Mississippi (nine starts), Gwinnett (seven starts) -- Once again, the Braves weren't shy about giving their higher-ranked prospects aggressive assignments and moving them quickly through the ranks -- particularly the three pitchers drafted in 2020.
Elder, the club's No. 11 prospect, stood up to every challenge at three different levels in his first professional season. The No. 156 overall selection in last year's Draft compiled a 2.75 ERA with 155 strikeouts in 137 2/3 innings -- the most among all pitchers in the Minors, edging Gwinnett teammate Kyle Wright.
"He's really advanced. He's a really good athlete, and I think that shows on the mound. Just his ability to repeat and make pitches," Sestanovich said. "I think the big thing this year was just the improvement of the slider. It really took a step forward kind of starting last year at the alternate site and was a legit weapon for him across three levels. I think pitchability and slider are probably the biggest strengths of his and both were on display this year."
Elder's strikeout totals were the most in the system while opposing batters hit just .192 against him.
Left-handed starting pitcher -- Jared Shuster, Rome (15 games), Mississippi (three starts): The club's ninth-ranked prospect and the No. 25 overall selection in 2020 struggled after a promotion to Double-A but earned the trust of the organization to get the Game 1 start in the playoffs.
Shuster held a 4.44 overall ERA with 90 strikeouts in 73 innings between the two levels.
"Certainly the best left-handed changeup in our organization, and I had some scouts tell me like maybe one of the better left-handed changeups they saw all year," Sestanovich said.
Relief pitcher -- Indigo Diaz, Rome (18 games), Mississippi (14 games): Although he completed just 45 innings this season, Diaz had one of the best seasons among relievers in the Minors and catapulted himself into the Braves top prospects list, finishing the year at No. 21.
A 27th-round Draft pick out of Michigan State in 2019, Diaz compiled a 1.20 ERA with 83 punchouts and five saves this season. Diaz fills up the zone with a four-seam fastball and can throw a hard slider with downer, almost curveball-like movement. He's also getting some extra work in at the Arizona Fall League.
Honorable mentions -- Darius Vines, Spencer Strider, Joey Estes, Brooks Wilson: The 23-year-old Vines pitched to a 2.92 ERA with 129 strikeouts over 22 starts with Rome and Augusta, earning the promotion in June. Strider famously pitched across four levels of the Minors in his first professional season and finished the year on the big-league roster. Overall, the 22-year-old compiled a 3.64 ERA with 153 strikeouts over 94 innings in the Minors. Estes and Vines had very similar seasons. The 20-year-old right-hander pitched to a 2.91 ERA with 127 strikeouts in 99 innings for Augusta. Wilson had a season which rivaled that of Diaz. The former starter struck out 84 batters over 50 innings with a 2.34 ERA and six saves at Mississippi and Gwinnett.